Watch out, Mr. Bond! 007's Watches in Review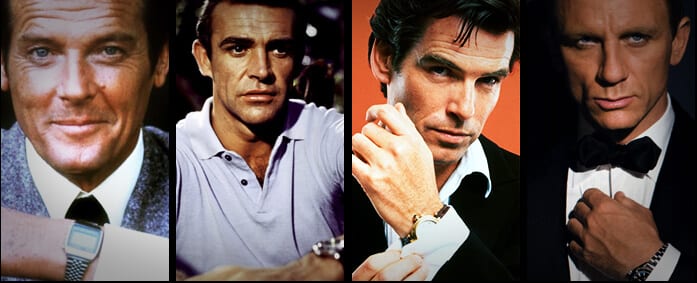 007's watches from "Dr. No" to "Spectre"
You don't have to be a die-hard James Bond fan to know that 007 has a license to kill and one for lucrative product endorsements. From Bond's earliest appearance in the novels of Ian Fleming, the author was meticulous about the type of watch his hero should wear. "He could not just wear a watch. It had to be a Rolex", Fleming stated in his novel, "Casino Royale", maintaining that "a gentleman's choice of timepiece says as much about him as does his Savile Row suit". There's no doubt that James Bond's watches have always been an integral part of his legendary identity and flair. Fleming himself was a Rolex man through and through, turning up on the set of the first three Bond films wearing a bow-tie and his ever-present Rolex Oyster Perpetual Explorer.
Rolex vs. Omega: The Fight over Bond's Wrist
Rolex and Omega have been shooting it out with each other for years for the privilege of appearing on 007's wrist, and why not? It translates into a very healthy increase in sales. Rolex watches appeared in nine of the James Bond movies, with Omega starring in more recent ones. Since "GoldenEye" in 1995, the Omega Seamaster wristwatch has been the spy timepiece of choice, worn by Bond in every 007 film. This watch holds a special place in the hearts of Bond fans and watch collectors alike. In fact, Omega created a one-of-a-kind, 18k yellow gold Seamaster "Aqua Terra" wristwatch especially for the 50th anniversary of "Goldfinger", which recently sold at Christie's for 106,000 CHF (approximately $114,000 U.S.) – over eight times its estimated price.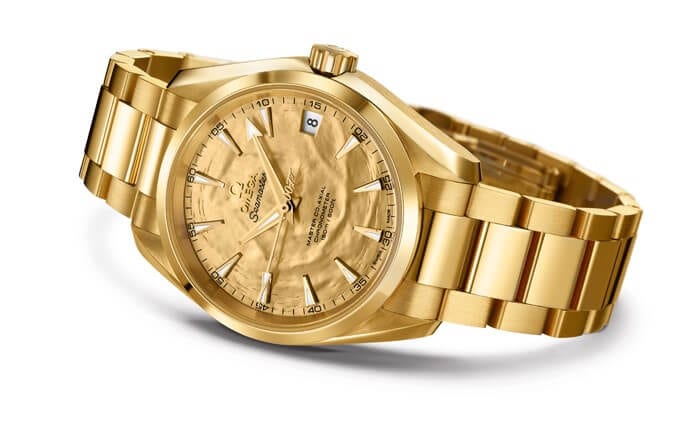 007's Omega Watches on Screen
For many fans, Omega is the brand they most closely associate with Bond; note the dialogue between Vesper Lynd and Bond in "Casino Royale" as she tries to guess the brand of watch he is wearing. No doubt this signaled a change-over in endorsements from one company to the other: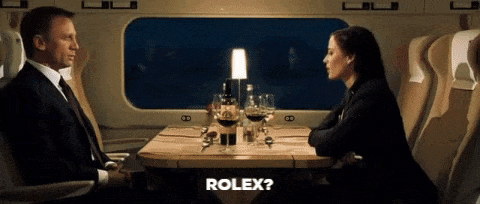 "Vesper Lynd: Rolex?
James Bond: Omega.
Vesper Lynd: Beautiful."

Throughout the years, Bond would receive several clever adaptations to his watches. In 1965's "Thunderball" ingenious techno-geek and ever-present-man-with-the-gadgets, Q, made him a watch with a built-in Geiger counter that could measure the radio-activity levels in his surroundings, a useful feature for 007 during the era when the threat of nuclear war was on everyone's mind. In "Live and Let Die", the Bond watch features a buzz saw, so that 007 is able to free himself from the clutches of a villainous enemy. An integrated magnet also diverts bullets. Watch this video, to see Roger Moore as Bond testing its magnet.
Bond was often given watches by Q that included different gizmos. Some were made by Rolex, some came without a brand name, and several were made by Seiko ("The Spy Who Loved Me", "Moonraker", "For Your Eyes Only", "Octopussy", "A View to a Kill").
So where did this fascination with the 007 watch all begin?
It began in 1962 when Sean Connery starred in the first Bond movie "Dr. No" wearing a Rolex Oyster Perpetual Submariner ref: 6538, seen here as he strolls along the beach with the "it-girl-du-jour", Swiss bombshell Ursula Andress. In this movie, he also wears a Gruen Precision subsidiary-seconds ref: 510. Of course, all eyes were on bikini-clad Ursula in this movie in the never-to-be-forgotten scene when she steps out of the ocean, hair dripping seductively. No-one was watching the watches, that's for sure.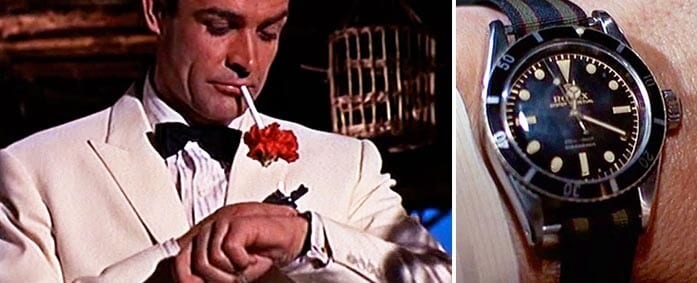 In 1963, Sean Connery made his second Bond movie, "From Russia with Love" sporting the same model Rolex Submariner ref: 6538 and a Gruen Precision Subsidiary-Seconds ref: 510. It is a simple, elegant dress watch (seen above right) counterbalancing the sportier look and functionality of the Submariner.
This combination would see him through "Goldfinger" in 1964 and "Thunderball" in 1965. In "Thunderball" he also wore a Breitling Top Time 2002.3 / N.
Interestingly, Pussy Galore, who was Goldfinger's pilot and played by British actress, Honor Blackman, wore a men's Rolex GMT, the first woman to do so on screen. Many Rolex collectors refer to the models of Rolex worn in "Goldfinger" as The James (Rolex Submariner, Reference 6538) and The Pussy (Rolex GMT, Reference 6542).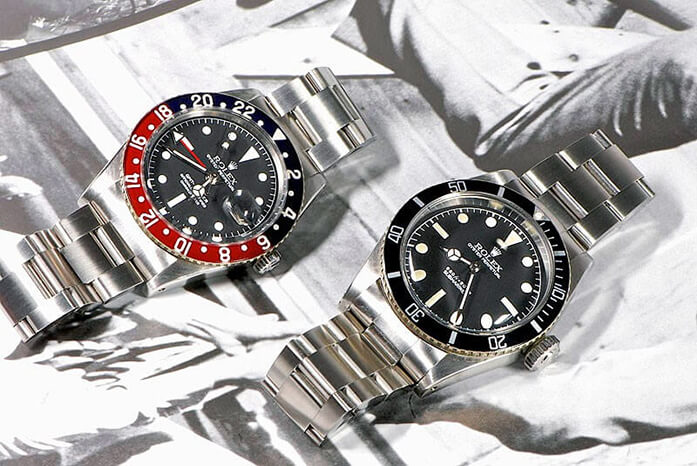 David Niven stepped into the role of Sir James Bond in the 1967 spoof "Casino Royale". His brand of watches is not known in this hilarious send-up of the James Bond myth – a good thing, perhaps. In the same year, Sean Connery came back to star in "You Only Live Twice" wearing a Gruen Precision Subsidiary Seconds ref: 510 again.
Former star of "The Saint" on British TV, Roger Moore starred in his first Bond movie in 1973. It was "Live & Let Die" and featured Bond girl, Jane Seymour.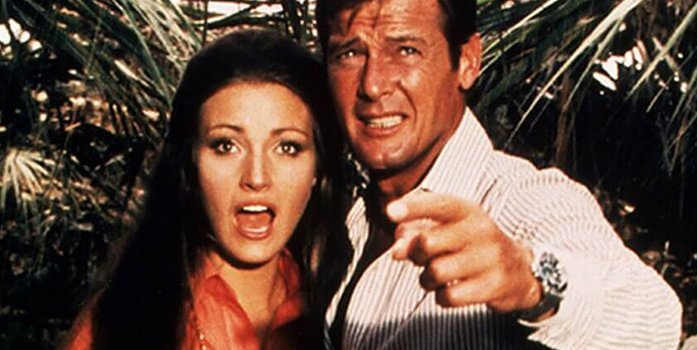 His choice of watch? A Hamilton Pulsar P2/2900 ("Astronaut") and a Rolex Submariner ref: 5513 with various gadgets. As "The Man with the Golden Gun" in 1974, Moore also wore a Submariner ref: 5513. Flash forward to his next few movies all of which featured Seiko watches. "The Spy Who Loved Me" in 1977 showed Moore with a Seiko LC Quartz digital wristwatch DK001, 0674 5009 (with special gadget effects). In 1979's "Moonraker" the Seiko was a quartz LC Memory-Bank Calendar wristwatch SFX003 / M354 5013 and in 1981 ("For Your Eyes Only") the combination chosen was a Seiko Professional Divers' 600m ref: S60583 7549-7009 and an Alarm-Chronograph duo-display wristwatch WHV005 / H357 5040. In 1983's "Octopussy", Moore, as Bond, wore a Seiko Sports 100 pseudo-analog wristwatch WLK005 / G757 5020.
Connery's return in "Never Say Never Again" in 1983 did not highlight any particular watch but when Roger Moore came back in 1985 in "A View to a Kill", Seiko made it déjà vu all over again – this time with the Seiko Quartz two-tone ref: SPD094 / 6923 8080 and the Seiko Quartz Diver's 150m wristwatch ref: SPW001 / H558 5000
Enter a new (tag!) team in 1987. Timothy Dalton and Tag Heuer (Professional 200 meters wristwatch ref: 980.013 and the Tag Heuer Professional Night Dive wristwatch 980.031) team up in "The Living Daylights". Dalton has "A License to Kill" in 1989, using a Rolex Submariner ref: 16610 to keep him punctual for his next dangerous assignment.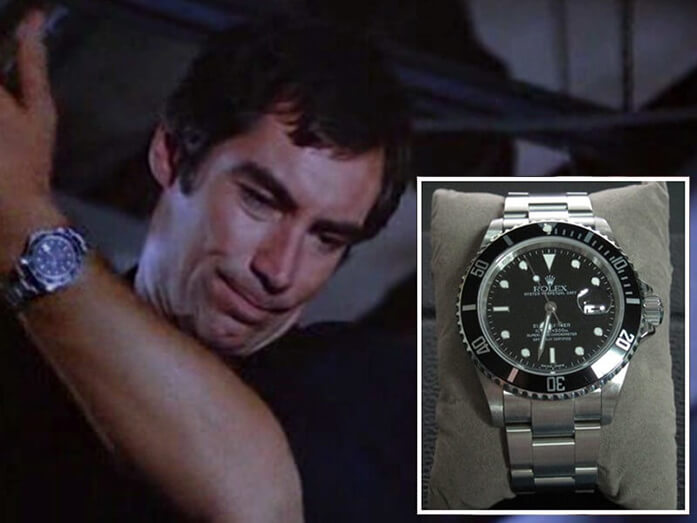 Who's next? Irish heartthrob Pierce Brosnan made his debut in 1995 in "GoldenEye" and went on to star in "Tomorrow Never Dies" (1997), "The World Is Not Enough" (1999) and "Die Another Day" (2002), the latter starring another new Bond girl, Halle Berry. Time for Omega to take the starring role; the watches of choice for this 007 were the Omega Seamaster 2531-80 and the 2541.80.
Daniel Craig took over the role of James Bond in 2006, this time with the straight-faced version of "Casino Royale". For him? The Omega Seamaster ref: SU 168.1630 and the Seamaster Planet Ocean ref: 2900.50.91. "Quantum of Solace" in 2008 shows Craig sporting a Seamaster Planet Ocean ref: 2201.50. In "Skyfall" in 2012 he moves to a Seamaster Planet Ocean ref: 232.30.42.21.01.00, a Seamaster Planet Ocean Titanium and a Seamaster Aqua Terra ref: 231.10.39.21.03.001.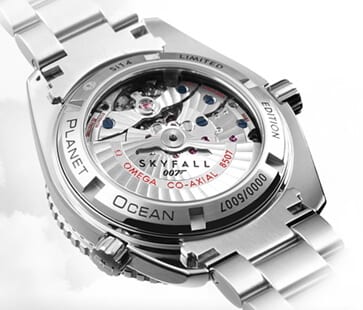 To celebrate its seventh performance in a supporting role in a Bond film, Omega created the Seamaster Planet Ocean 600M Skyfall Limited Edition watch. Only (yes, you guessed it) 5,007 of these watches were made available – and they are much sought after by watch collectors and Bond fans worldwide.
The latest (and 24th) Bond movie "Spectre". also starring Daniel Craig, opens in theaters in November 2015. To commemorate the occasion, Omega introduced the Seamaster Aqua Terra James Bond Limited Edition at this year's Baselworld Watch Fair in Switzerland. It's a dressy sports watch – or perhaps a sporty dress watch. Anyway, it's perfect for the ageless playboy (and spy). You can see the engraved Bond family coat of arms on the dial featuring their Latin motto: Orbis Non-Sufficit ("The World is Not Enough"). It features a deep blue textured dial; the Bond family coat of arms is also on the yellow second hand. It is 41mm in diameter comes with the Omega 8507 caliber movement. The numbers "15,007 Gauss" on the dial shows that the watch can withstand 15.000 Gauss of magnetism – an important feature if you are as attractive as 007 is to all women within a 100 mile radius – and, of course, the watch is limited to exactly 15,007 pieces.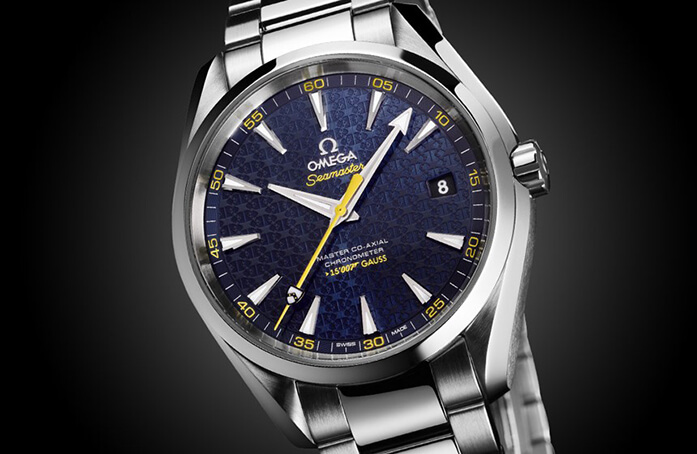 So there you have it. A Brief History of Time – Bond style.
James Bond's Watches – What's Next?
Who knows? Maybe in the future, the Bond franchise will gather up its endorsements and head for a galaxy far, far away so that James can do battle with inter-stellar villains. If so, he will need a suitable looking timepiece. He need look no further than a couple of futuristic stunners launched at Baselworld 2015.
Perhaps the MB&F HM3 MegaWind Final Edition with its radical "bullhead" dial and luminous green numerals? Or the revolutionary HYT H3 displays the time via two bellows that push colored liquid through a capillary – a visual metaphor for the endless fluidity of time.
Pretty appropriate for the spy who never ages.
//= get_template_directory_uri() ?> //= get_template_directory_uri() ?> //= get_template_directory_uri() ?> //= get_template_directory_uri() ?> //= get_template_directory_uri() ?> //= get_template_directory_uri() ?>
©2011-2023 Worthy, Inc. All rights reserved.
Worthy, Inc. operates from 45 W 45th St, 4th Floor New York, NY 10036