All You Need to Know About Rolex Watches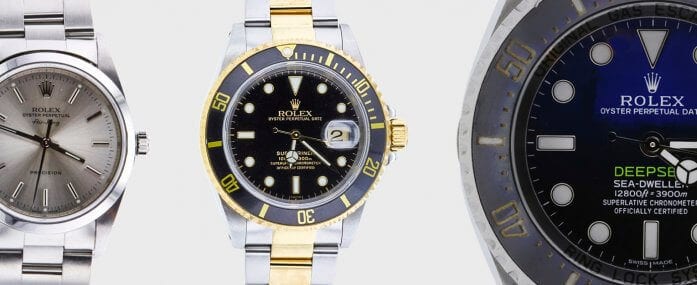 Rolex watches marry function with style, making a statement like no other. We invite you to strap on your Submariner and take a deep dive into the fascinating world of Rolex, as we explore the brand's history and much more.
All About Rolex Watches
Rolex Models
Air King · Cellini · Date/Datejust · Daytona Cosmograph · Explorer · GMT Master & GMT Master II · Milgauss · Presidential
Rolex Brand and History
If you consider Rolex to be one of Switzerland's top watch brands, you're correct. But there's more to the story. The company got its start in England, when German watchmakers Hans Wilsdorf and his brother-in-law, Alfred Davis, founded the watch brand Wilsdorf and Davis in 1905. Most of their pocket watches bore a "W&D" hallmark inside the case back. These pocket watches are extremely rare today and are typically worth a small fortune.
Thanks to the ease of pronunciation in any language and the ability to fit on watch cases, the brand name "Rolex" was registered in 1908, and thus an icon was born. The Rolex company name was registered in 1915. Good times didn't last long. When World War I broke out and luxury imports became subject to greater tax levies, the watchmakers decided to make the best of the situation and move their entire company to Switzerland, where the watchmakers had opened an office in 1908, and where their suppliers were located.
Over the years, Rolex distinguished itself as a leader in the evolution of wristwatches, offering many innovations and industry "firsts." In 1910, the company earned a chronometer certification – the first ever to be given to a wristwatch. In 1920, Rolex's official name became Montres Rolex S.A. Later, it was shortened to the name we're familiar with today, Rolex S.A.
In 1926, the Rolex Oyster was hailed as the first dustproof and waterproof watch with a hermetically sealed case protects the delicate movement inside. This innovative watch became wildly popular after Mercedes Gleitz wore one around her neck while swimming the English Channel. Now honored as an entire collection with all Rolex Oyster models offering waterproof capacity to a depth of at least 100 meters, these watches can travel far beyond the reach of the average recreational diver!
The Rolex Oyster soon became the choice of mountain climbers, who could rely on it while scaling tall Himalayan peaks where challenges included low oxygen levels and temperatures far below freezing. In 1953, a new Oyster was born: The Rolex Explorer. This watch offered even greater durability, double waterproofing, and a sturdy all-steel bracelet. Today's Oyster Perpetual Explorer remains a popular choice among adventurers of every stripe.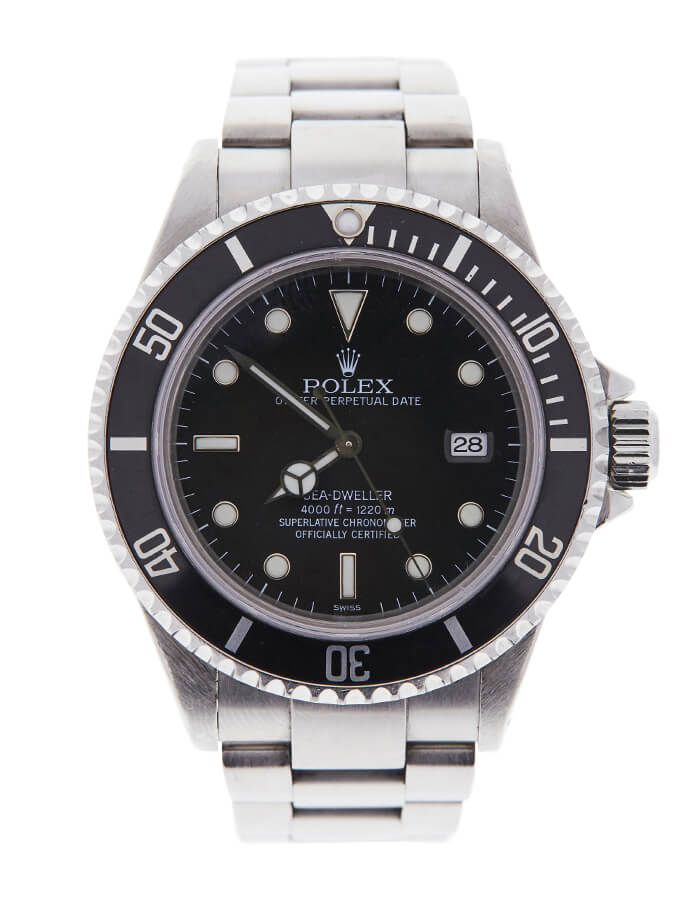 Time marched on quickly and in 1954, the company introduced its Rolex GMT Master, a dual-time watch built with the needs of flight crews in mind. 1955 saw the introduction of the Rolex Reference 6234 Chronograph, which quickly gained a following – a relief after the company's first attempt at a chronograph received a lukewarm reception during WWII. The simple Chronograph spent 10 years in production. While it wasn't the most popular Rolex of its day, the "Pre-Daytona" is now a valuable rarity, often selling for over $20,000. In 1963, a year after taking on the role of Daytona's official timekeeper, Rolex introduced the Cosmograph Reference 6239, which was designed with a large tachymeter scale on the bezel in keeping with the needs of racecar drivers. Today, the Rolex Daytona exists in multiple variations, and is among the most popular models in production.
In 1956, the Day-Date was introduced as a true technological marvel, thanks to a dial that featured a day and date that changed automatically. Just a few features separate the original from some of today's models, including a new number system, a nearly scratch-proof sapphire crystal, and some internal advancements.
The year 1963 saw yet more innovation with the introduction of the Rolex Space-Dweller, which fitted the Explorer ref. 1016 with a dial that read "Space-Dweller" rather than "Explorer." While this model never gained the popularity of others, it's a rarity that fetches incredible prices at auction today.
Hans Wilsdorf must have been thrilled to see how far his watches had come since the company's early days; he passed away in 1960 and ever since, the Hans Wilsdorf Foundation has owned and run Rolex, ensuring that part of the company's profits go to charity.
When you wear a Rolex, you're wearing more than one of the world's top luxury watch brands; you are also wearing a piece of history. Thanks to the company's pioneering spirit, Rolex watches have been worn by record-breaking explorers of every discipline.
The Most Popular Rolexes
Rolex's collections are home to some of the most iconic watches ever created. All offer special technology and innovations to appeal to different sectors, and all are built to exacting standards. Even so, some models enjoy greater popularity than others. While everyone has a favorite, here is a list of the ten most popular Rolexes:
Rolex Watch Movements
Every Rolex produced is a marvel, with intricate components that interact with exacting precision and do far more than provide an accurate accounting of the time. Among the best watch movements ever produced, Rolex relies on self-winding movements that have been certified as chronometers by COSC, the Swiss Official Chronometer Testing Institute. While there are some variations between models, many Rolex watch movements offer the following components and features:
A large balance wheel with gold Microstella nuts
A blue Parachrom hairspring assembly with a Rolex overcoil that counters gravity for exceptional precision in all positions while being impervious to magnetic fields
A traversing balance bridge for rigidity and shock absorption.
A self-winding perpetual rotor powered by the motions of the wearer's wrist.
An escapement with a toothed escape wheel and a pallet fork, which move at a rate of 28,800 beats per hour, producing the signature Rolex "tick-tock" sound.
Paraflex shock absorbers
Mirror-polished screw heads
Beveled edges on all components
Circular-grained plates and gear trains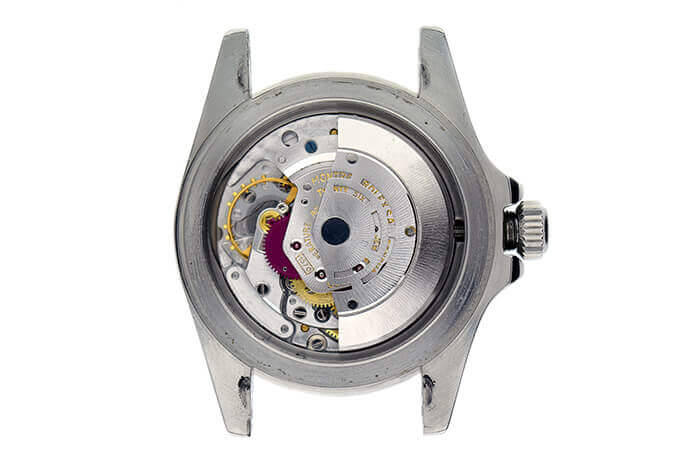 Rolex as an Investment
Thanks to a combination of the finest materials, best manufacturing practices, and timeless design elements seen in Rolex watches, these timepieces are among the best when it comes to holding value.
Because they are popular with collectors, certain Rolex watches make smart investments so long as they are in excellent condition. If you are looking for Rolexes that offer good resale value, you'll want to keep the following models in mind:
Day Date
Daytona
GMT Master
Submariner
Yacht Master
Famous Rolex Watches
From English football star Harry Kane to larger-than life character James Bond, Rolex has some amazing ambassadors. In Bond's case, author Ian Fleming insisted that only a Rolex would do for the famous spy, stating that "a gentleman's choice of timepiece says as much about him as his Savile Row suit." The first three Bond films showcased Bond wearing a Rolex Oyster Perpetual Explorer – the perfect choice for risk-taker like James. Sean Connery sported a Rolex Submariner in Dr. No as well as the next seven Bond films he made.
Many actors choose Rolex as their signature timepiece. Steve McQueen often wore a chronometer rated no-date Submariner. Robert Redford sported a Rolex Submariner 1680 onscreen and in his private life, while Paul Newman preferred a Rolex Daytona. This famous watch was a gift from Newman's wife, Joanne Woodward, and bore the inscription "Drive Carefully, Me" on the case back. It sold for a stunning $15.5 million, soundly beating the Bao Dai Rolex, a one-of-a-kind timepiece which belonged to Vietnam's last emperor, His Majesty Bao Dai. In comparison with Paul Newman's Rolex, the Bao Dai Rolex sale price of $5,060,427 seems like a paltry sum.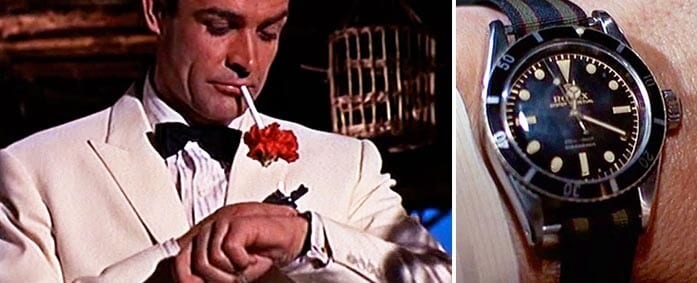 How to Spot a Fake Rolex
Fake watches are a dime a dozen, and expert counterfeiters are better than ever at producing timepieces that often pass for the real thing. You'll want to take a close look at our in-depth report covering the methods used to spot a fake Rolex. In it, you'll learn how to tell a variety of components and features from those found on authentic Rolex watches:
Appearance: Rolex case backs and engravings are unique, as are GMT hands.
Metal quality: Rolex uses only the finest materials, and it shows.
Magnification: Certain Rolex features stand out under magnification.
Feel in hand: Authentic Rolex watches are heavy for their size, with unique details and winding crowns.
Tick Tock: Rolex watches have a smooth, even, signature tick that's unmistakable.
Numbers and Holograms: Rolex goes to great pains to produce authentic watches complete with unique model and serial numbers, and dial details. Some older models have holograms, but these were discontinued and are not seen on post-2007 Rolex watches.

While these details are good indicators of Rolex authenticity, counterfeiters are now so good at producing fakes that only a qualified Rolex expert can tell for sure whether the watch is the real thing. This is accomplished by removing the case back and checking the movement for authenticity.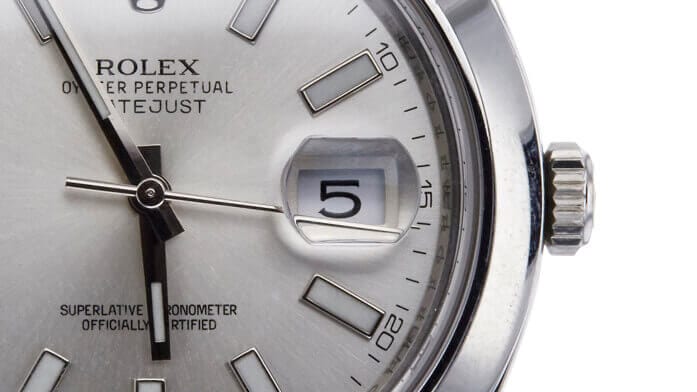 Noteworthy Rolex Auctions
At Worthy, we help clients sell Rolex watches old and new alike. Some stand out as exceptional examples of the treasures waiting for a new lease on life.
Even in fair condition, a classic Rolex attracts attention. Among our highlighted auctions was a Rolex 69178 Datejust in yellow gold, with a classic gold bracelet, complication, and diamond accents. With 171 buyers competing, it ultimately sold for $4,140.
In contrast, a Rolex 116515 Daytona in very good condition ultimately fetched $17,482 even though it was missing the original box and papers. This beautiful watch offered a rose gold case, a contrasting dial in black, and a black leather band. It caught the attention of 124 buyers, who enthusiastically offered bids averaging more than $11,000 at the start of the auction.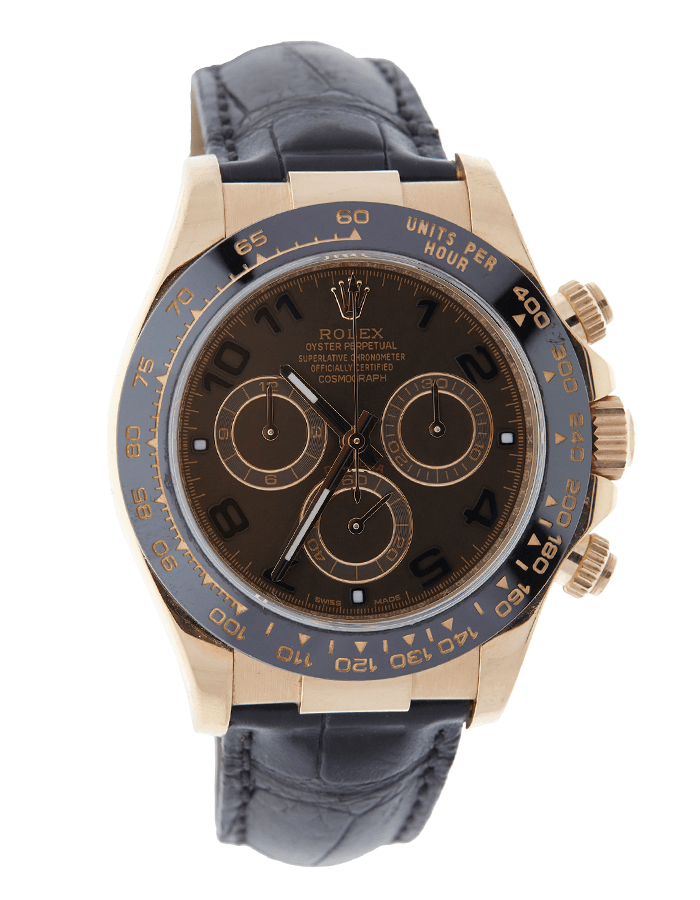 We've saved the best of our noteworthy Rolex auctions for last: A vintage Rolex Submariner 6538 that is believed to have appeared on the set of the James Bond films Dr. No, Goldfinger, From Russia with Love, and Thunderball made its way to Worthy thanks to a watch collector who had to let it go. A very exciting piece with a fantastic history, this vintage Rolex attracted over 700 buyers and sold to the highest bidder for $60,000.
As it turns out, those hoping to sell Rolex watches are in very good company, whether the timepiece is a newer model or an old one with a fascinating story to tell. If you are interested in selling a Rolex, we can help you get more for it.
More About Rolex Watches On Worthy
Top 9 Rolex Auctions on Worthy · Rolex As A Smart Investment · How To Spot A Fake Rolex · Most Popular Rolex Watches · James Bond's Rolex Watches
//= get_template_directory_uri() ?> //= get_template_directory_uri() ?> //= get_template_directory_uri() ?> //= get_template_directory_uri() ?> //= get_template_directory_uri() ?> //= get_template_directory_uri() ?>
©2011-2023 Worthy, Inc. All rights reserved.
Worthy, Inc. operates from 45 W 45th St, 4th Floor New York, NY 10036