Tiffany's Most Iconic Collections—And A Dozen More Icons You Never Knew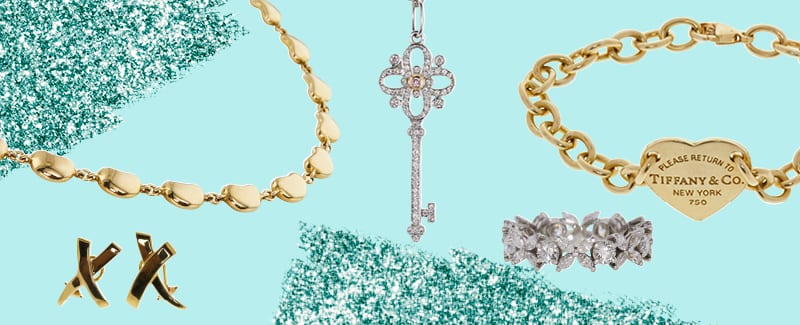 When you think about Tiffany & Co.'s most iconic collections, you probably think of Paloma Picasso, Elsa Peretti, and Jean Schlumberger, or perhaps its popular silver "Return To Tiffany" collection.
Whether your knowledge about Tiffany comes from the movies, the radio, or your own collection of jewelry, we'd bet you didn't know how much of what is now standard in the American jewelry industry started with Tiffany. Here's a sampling of some of its "hidden" icons.
12 Tiffany & Co Fun Facts
1. Virtually every single American owns something created by Tiffany, including you! Keep reading to find out what.
Tiffany & Co. was founded in 1837 by Charles Lewis Tiffany and John B. Young, but the original store did not emphasize jewelry! Tiffany, Young and Ellis was founded as a "stationery and fancy goods emporium" in Connecticut.
In Tiffany's early years, America still was largely an agrarian society, though the Industrial Revolution was well underway. With it came the start of a new moneyed class of individuals who created their own wealth, as opposed to landed gentry that inherited it.
2. Tiffany was one of the first retailers anywhere to mark goods with a set price and not haggle.
Tiffany was ready to serve America's new moneyed class with all the trappings of genteel life, but the retailer also insisted on cash, no credit. If you couldn't afford it, you didn't own it.
Within a year of its opening, the retailer moved from Connecticut to New York City, at 259 Broadway in Lower Manhattan. It would gradually move uptown until it arrived at the corner of Fifth Avenue and 57th Street in 1940, where its flagship remains today.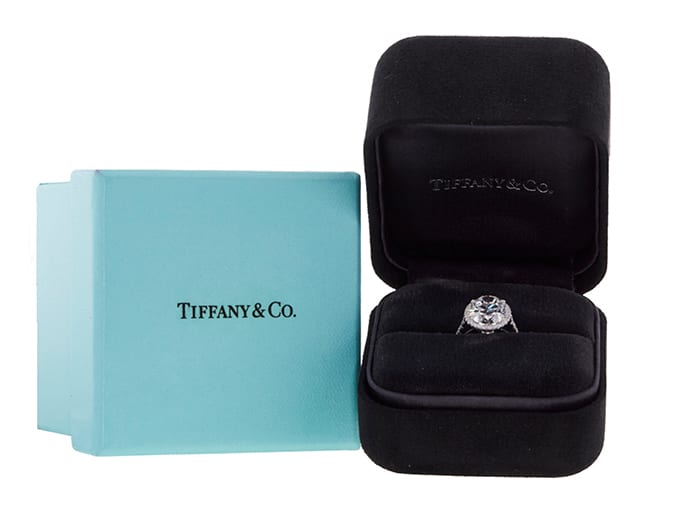 3. Tiffany's first mail-order catalogue (spelled with the "ue") was published in 1845—a full 43 years before Richard Sears first mailed out a catalog advertising jewelry and watches and 48 years before the first official Sears, Roebuck & Co. catalog was published in 1893.
Ironically, Richard Sears's first catalog probably had more jewelry in it than Tiffany's first catalogue. Tiffany's catalogue, called the "Blue Book," is still published annually today. Tiffany's iconic blue color is trademarked and has its own Pantone number.
4. Tiffany was the first American company to institute the .925 standard for sterling silver, later adopted by the U.S. government as the official standard.
In 1853, Charles Lewis Tiffany took control of the company, renamed it Tiffany & Co., and shifted its emphasis to jewelry. By buying up diamonds from European aristocrats and bringing them back home, he let America's elite buy diamonds domestically for the first time.


5. Abraham Lincoln bought his wife a necklace and earring set of seed pearls from Tiffany in 1862. Mary Todd Lincoln wore them to his Inaugural Ball.
Many American presidents have since turned to Tiffany to supply gifts to various heads of state.
6. During the Civil War, Tiffany supplied the Union army with swords, surgical instruments, and flags.
Following the Civil War, America marched into the Gilded Age and Tiffany along with it. Winning various awards at Paris's Exposition Universelle (i.e. World's Fair), the jeweler was rapidly gaining prestige. It introduced gold fashion jewelry in 1868, offering not just the elite but a growing upper-middle class an opportunity to own luxury.

In 1876, Charles Lewis Tiffany met a young gemologist named Dr. George Frederick Kunz, who sold him an exceptional tourmaline. It was rare at that time for colored gemstones to be used in jewelry, and especially if they weren't rubies, emeralds, pearls, or sapphires. Dr. Kunz joined the company, making Tiffany the first jeweler to have a gemologist on staff, another iconic move. He spent his life searching out unusual gems, something that would become a signature Tiffany style. Kunz introduced such stones as aquamarine, yellow beryl, demantoid (green) garnet, and American-mined gems like Montana sapphires and more. In 1903, the beautiful delicate lilac-pink spodumene discovered in the Pala mine in California was named Kunzite in honor of Kunz's contributions.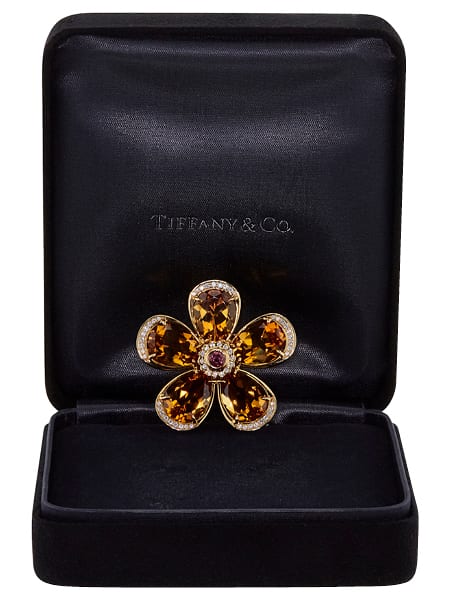 7. Both the Great Seal of the United States and the famous "NY" logo of the New York Yankees baseball team were originally designed by Tiffany.
The "NY" design was struck onto a police medal of honor created by Tiffany in 1877. The ball club would adopt it as its logo 32 years later. In 1885, Tiffany redesigned the Great Seal—the same one that's on the dollar bill today—which means virtually every single American has something designed by Tiffany!
At the turn of the 20th century, Art Nouveau was the reining design trend. Louis Comfort Tiffany—whose name is synonymous with Art Nouveau—took over as design director upon his father's death in 1902. But although the Tiffany name graces the famous stained glass lamps that exemplify Art Nouveau style, a century later an art professor at Rutgers University proved the original design was not invented by Tiffany himself.
8. Tiffany named Morganite after financier JP Morgan.
One of the Gilded Age's most prominent figures, John Pierpont Morgan was a major gemstone collector and Tiffany customer. He commissioned Dr. Kunz to assemble an impressive collection (which he later donated to the American Museum of Natural History). The jeweler named a delicate pink beryl Morganite to honor its famed client.
9. In addition to Morganite and Kunzite, Tiffany also brought tanzanite and tsavorite to market.
Tanzanite was discovered in the 1960s at the foot of Mt. Kilimanjaro in Tanzania, and tsavorite (a rich green garnet) was discovered in 1970 at the Tsavo National Park on the border of Kenya and Tanzania. Thanks to Tiffany, both are popular in jewelry today.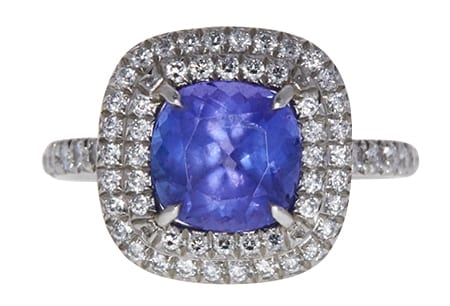 10. The "Tiffany setting," the ultimate classic for a diamond solitaire engagement ring, was revolutionary in its day. Designed in 1886, it was the first time a diamond appeared to float above the band.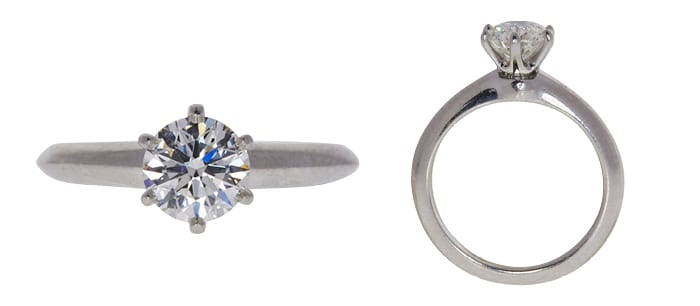 11. Famed pop artist Andy Warhol collaborated with the company to create Tiffany holiday cards between 1956 and 1962. The jeweler still sells note cards, a nod to its roots as a stationer.
Following WWII, Americans—tired of Depression-era privation and wartime rationing—went on a consumption binge. Tiffany launched the first of what would come to be its lineup of iconic jewelry designers, Jean Schlumberger.
Schlumberger joined Tiffany in 1956. His designs were famous for their whimsical, often nature-based themes using gold, gemstones, enamel, and pearls. An original signed Schlumberger is a rare find and fetches top dollar at auction.
Elsa Peretti joined Tiffany in 1974 with a bold, modern, sculptural aesthetic that was revolutionary. She both elevated sterling silver to fine jewelry status and brought diamonds down out of formality and into everyday dressing with her trademarked Diamonds By The Yard station necklace. She also mixed precious metal and silk cord—unheard of until then.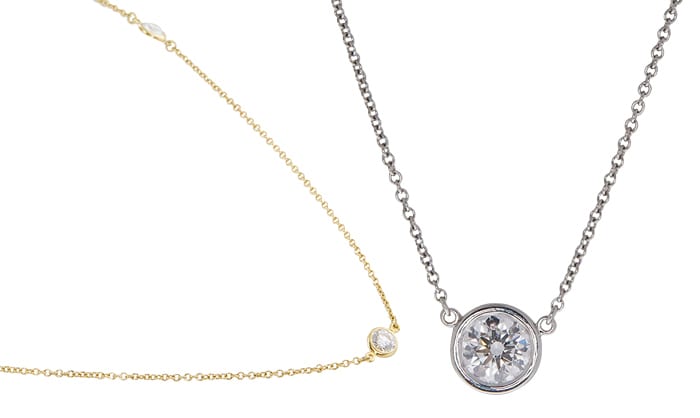 Paloma Picasso—daughter of cubist master Pablo—joined Tiffany in 1980. Her famous XO and scribble designs were inspired by the street graffiti that was all over New York City at the time.
Tiffany later enjoyed short collaborations with famed architect Frank Gehry and designer Francesca Amfitheatrof, whose "T" collection is the latest iconic Tiffany collection.
12. Tiffany created the Vince Lombardi Trophy for the first NFL Super Bowl in 1967. Not to be outdone, the NBA commissioned Tiffany to create its championship trophy in 1978, which at 16 pounds weighs more than twice as much as the seven-pound Super Bowl trophy.

Top 7 Most Iconic Tiffany Collections
Jean Schlumberger
In 1956, Jean Schlumberger's designs proved that jewelry could be fun, fashionable, and wearable during the day, not just serious, expensive, or reserved for after dark. Of French birth, Schlumberger's family roots in the textile business informed his designs in gold, gemstones, enamel, and pearls, and his global travels further inspired a line of jewelry that spanned the worlds of art, fashion, and fine jewelry. He was the first jewelry designer to win the coveted Coty American Fashion Critics' Award, and Paris's Musée des Arts Décoratifs (where the exhibition that launched Art Deco originated) houses Schlumberger's original designs and honored him with a retrospective in 1995.
An original signed Schlumberger is a rare find and fetches top dollar at auction.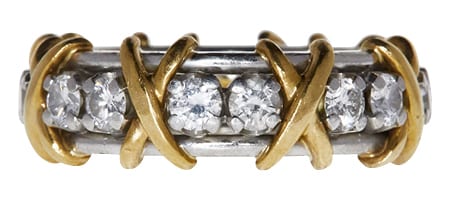 Paloma Picasso
Anne Paloma Ruiz-Picasso y Gilot is the daughter of famed Spanish Cubist painter Pablo Picasso (she appears in several of his works) and French painter Françoise Gilot. Growing up in an artistic household, it was natural that she too would be creative. Her original chosen medium was fashion but during her early years as a costume designer in Paris her talent for jewelry design became apparent and she pursued a formal education in jewelry design. After designing accessories for Yves St. Laurent and jewelry for Greek jeweler Zolotas, she joined Tiffany in 1980. Although she was passionately inspired by the vast collection of gemstones the jeweler had, her most famous work remains her "graffiti" inspired line.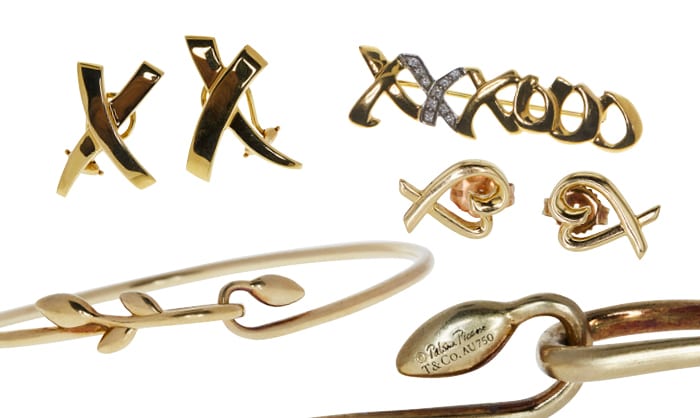 Elsa Peretti
A philanthropist and former fashion model, Italian-born Elsa Peretti walked the runway for Halston, posed for renowned photographer Helmut Newton, frequented New York City's Studio 54, and more. She brought her modern sensibility to jewelry and silverware, first gaining notoriety through a boutique at Bloomingdales. She joined Tiffany in 1974 with a contract to design silver jewelry, and was its leading designer by the end of the decade, as her modern, sculptural silver pieces—often worn on a silk cord instead of traditional chain—resonated with the younger clientele the jeweler was trying to reach. Some of Peretti's most iconic design collections include Bean, Bone, Mesh, Open Heart, and Zodiac.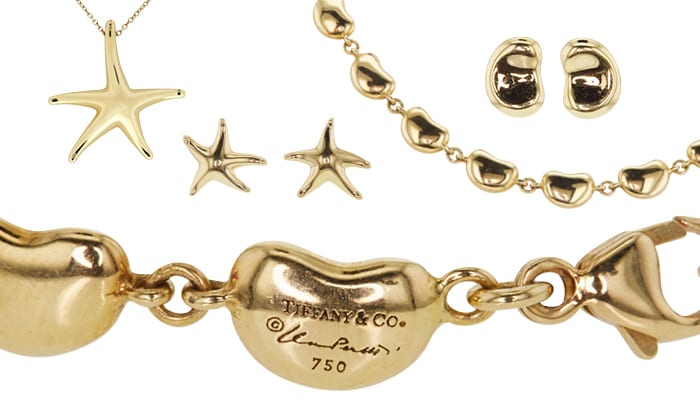 Return To Tiffany
The iconic Return To Tiffany collection began with two keychain designs launched in 1969. Each had a tag with a unique registration number, ensuring that if the keys were ever lost, all the finder had to do was toss them into a mailbox and they'd be sent back to the jeweler, who would in turn look up the number and contact the owner. The "Return To Tiffany" tags became the foundation of another iconic silver jewelry collection, and today also is found on gold and diamond jewelry.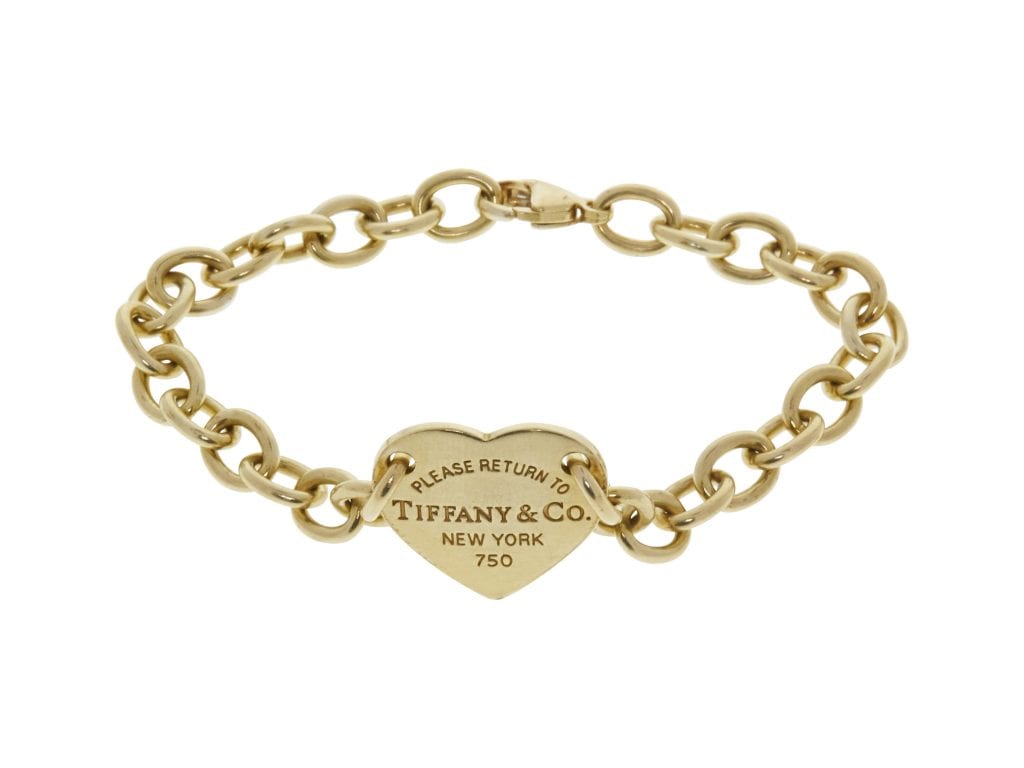 Tiffany T
The latest of Tiffany's iconic jewelry collections, Tiffany T was created by Francesca Amfitheatrof in 2014, this linear, graphic collection embodies everything Tiffany stands for and is designed to be as true and iconic as the New York City skyline.


Other Almost-Iconic Tiffany collections

HardWear, launched in 2017, is a collection featuring links and spheres, whose model and muse is Lady Gaga. Ads for it debuted during the SuperBowl that year, immediately preceding Gaga's halftime performance.

Frank Gehry: Tiffany's partnership with renowned architect Frank Gehry produced some unusual pieces incorporating both traditional and nontraditional jewelry materials, such as wood or stone. Though relatively short-lived, the avant-garde collection still has a loyal following of women who seek out his pieces on collector sites.

During the early 1990s' recession, Tiffany embraced mass luxury, offering both a starting price of $850 for a small engagement ring and boosting silver jewelry. The iconic 1969 "return to Tiffany" silver key ring became an equally iconic motif for bracelets and necklaces, along with Elsa Peretti's silver heart on a silk cord and Paloma Picasso's silver scribbles, all of which would combine with other silver pieces to generate the bulk of the jeweler's revenue.
Meanwhile, as the new millennium dawned, the jeweler established itself as an industry leader in social responsibility, ethical sourcing, and conservation efforts. The jeweler became one of the first to demand a guarantee that any diamond it carries is conflict-free, took a stand against gold mining near salmon migratory areas, and established a foundation for philanthropy for social and environmental causes. It is iconic in the jewelry industry for its leadership in the areas of social and environmental responsibility.
Tiffany's brilliant legacy remains strong, but lately it's working to fix some merchandising missteps. A few years ago, it inexplicably jacked up prices on its silver jewelry—perhaps to shed the "mass luxury" label and re-establish itself as true luxury. But the move backfired and sales plummeted. Though it's struggling to find the next iconic designer or "must-have piece," Tiffany's legendary pieces still retain their value and are coveted worldwide.

Tiffany's Blue Box Café opened in 2017 in its Fifth Avenue flagship. Now you really can have breakfast at Tiffany's.

More about Tiffany:
//= get_template_directory_uri() ?> //= get_template_directory_uri() ?> //= get_template_directory_uri() ?> //= get_template_directory_uri() ?> //= get_template_directory_uri() ?> //= get_template_directory_uri() ?>
©2011-2023 Worthy, Inc. All rights reserved.
Worthy, Inc. operates from 45 W 45th St, 4th Floor New York, NY 10036