Top Jewelry Trends for Fall/Winter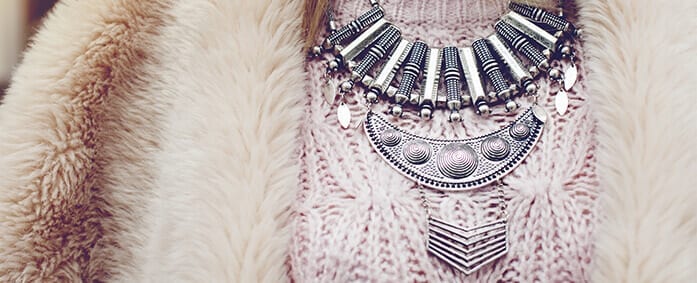 The 2018 jewelry trend forecast is out for fall and winter, and what we're seeing so far is interesting. Beautiful floral designs, some truly stunning geometrics, and plenty of gorgeous gemstones are making their way onto runways. Not surprisingly, statement jewelry is taking center stage.
Bold Necklaces
Ralph Lauren, Oscar de la Renta, and Chanel are just a few of the designers who are offering bold statement necklaces this season. They're among the top jewelry trends for 2018, and are often seen worn alone or with small, understated earrings. Several fashion designers are also showcasing impressive chandelier earrings alongside glittering chokers studded with diamonds and gemstones in a splendid, almost old-fashioned way. Some designs take their inspiration from history's pages, with whimsical botanical shapes; others are purely modern expressions.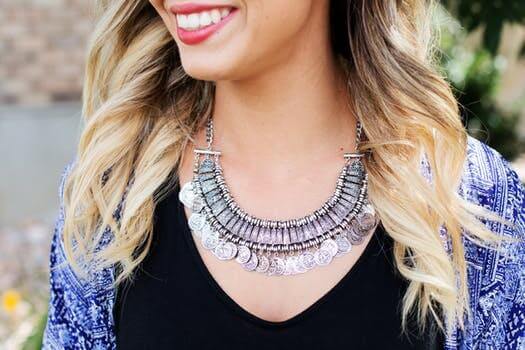 Colored Gemstones
When it comes to fine jewelry trends 2018, colored gemstones are popular once more. Impressively sculpted pieces including bracelets, rings, single earrings, and asymmetrical earrings take full advantage of the color and sparkle that colored gemstones impart, as do incredible matched earrings by designers such as Badgley Mischka, Marchesa, and the Brock Collection. Semi-precious colored stones including turquoise, particularly when set in traditional Native American and contemporary Southwestern-inspired pieces are once again regaining prominence, new designs as well as classic squash blossoms and ovals are enjoying popularity.
Single Earrings
Bold, single earrings are incredible statement pieces that can take just about any outfit to the next level. We're seeing some amazing pieces from designers like Oscar de la Renta, Phillip Lim, Johathan Simkhai, and Hellessy hitting the runways.
Chokers
Metals, gemstones, and of course diamonds – all of these materials are finding their way into designs that make jewelry trends for fall / winter 2018 very exciting. Look for pieces by Alexander Wang, Oscar de la Renta, Anna Sui, Ralph Lauren, and more. Whatever your style, there's a good likelihood that you can find at least one choker to complement your wardrobe. From classic, gemstone studded marvels to sleek, modern masterpieces, there's lots to choose from.
Hoop Earrings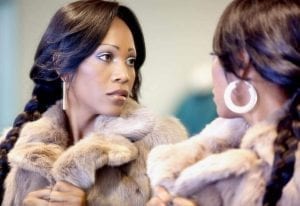 Hoop earrings are back – in a big, big way. While it's true that runway looks are often a bit more impressive than pieces found on the rack, bold hoops are an easy look for anyone to achieve, and this season, they're available in metal and other materials, with or without embellishments. Hoops can be worn to satisfy the single earring trend, but they're still incredible as a matched set. Embrace the look with something fresh and bold, or satisfy your classic fashion sense with diamond-studded hoops in a size that complements your face and pairs well with a variety of your favorite wardrobe items. This is one trend that's been around for some time and is here to stay for the long-term.
Multi Rings
If you want to take your look to the next level, then feel free to get blingy with multi rings. Different colors, geometric shapes, and big bold gemstones (real and lab-created) are making their way onto runways. The trend is fresh and fun, and makes it very easy to add a brilliant pop of color to just about any outfit. Ralph Lauren and other top designers are pairing their rings with bold bracelets, gemstone-studded belts, and more. If massive gemstones aren't your thing, consider stacking more understated rings – little bands are perfect – in groups of two to five. Right hand rings are still trendy, and this update adds a little bit of boldness to a classic style statement.
More Jewelry Trends Fall / Winter 2018
Summer may be the most popular season for sunglasses, but designers are coming out with fantastic styles that add an extra edge to any outfit. Colorful frames, interesting geometric shapes, and embellishments are just a few things to look forward to. Vintage-inspired eyewear is once again making a comeback, making it even more fun to protect your peepers from UV rays. Smart watches are useful, and now that it's clear that they're here to stay, designers are creating interesting new styles that combine fashion and technology in appealing ways.
Rose gold, too, is a continuing trend. This beautiful metal lends itself to all kind of jewelry, and it's particularly appealing when used in delicate, vintage-inspired designs.
With chilly weather on the way, cheer yourself with something new or repurposed and give new life to your wardrobe! Whether it's a single earring or a fantastic vintage choker, a few rings to stack, or some lovely hoops, beautiful jewelry is always in style.
//= get_template_directory_uri() ?> //= get_template_directory_uri() ?> //= get_template_directory_uri() ?> //= get_template_directory_uri() ?> //= get_template_directory_uri() ?> //= get_template_directory_uri() ?>
©2011-2023 Worthy, Inc. All rights reserved.
Worthy, Inc. operates from 45 W 45th St, 4th Floor New York, NY 10036