The Premium of a Brand: Cartier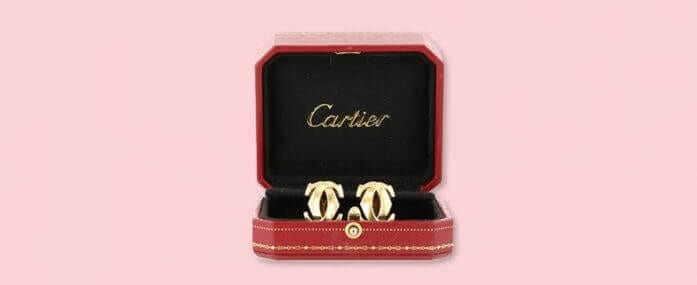 Diamonds are the most valuable gemstones, and the price per carat can go sky-high. Here at Worthy, we auction some very valuable diamonds, some fetching prices exceeding $100,000! In fact, diamonds make up 80% of the value in a piece. However, it turns out that a brand name can be even more value-adding than the diamonds themselves. We saw this first hand during several notable Tiffany & Co. auctions and continue to see the trend with Cartier.
Cartier, the internationally known French brand, has been selling fine jewelry and luxury watches since its founding in 1847. It made its name by creating jewelry masterpieces for royalty and society's elite, delivering quality and impeccable design. By simply having a Cartier tag, a piece can sell for several times more than a similar, non-branded piece. After looking into some of our own Cartier auctions, we discovered that on many occasions, Cartier jewels that didn't display any outstanding gemstone were sold for more than a non-branded, diamond jeweled piece.
Let's see some examples of when Cartier outshines diamonds:
With a classic Tubogas design, this bangle Cartier bracelet was sold at auction last year for $2,250. The timeless Cartier piece, sent to us with the original box and certificate, was made of steel and 18kt yellow gold, with a total metal weight of 10gr. A few months earlier, a brandless bangle bracelet, made of 18kt yellow gold, featuring 16 round diamonds (1.88-2.00 cttw), sold for $1,199 – that's 46.7% less than its Cartier counterpart!

At the same time, this round cut bangle Cartier bracelet was auctioned for $1,350. The vintage item was made of 14kt gold and it displayed 44 round shaped diamonds with a total weight of 1.0 CT. In contrast, this round cut tennis bracelet, also made of 14kt gold and featuring 150 round shape diamonds with a total weight of 2.0 CT (double that of the Cartier bangle!) received a final offer of $648. The non-branded bracelet was sold for 52% less than the branded item.

In this case, it's worth noting that although the former had half the carat weight in diamonds compared to the latter, its stones had higher color and clarity gradings according to the GIA scale (as it can be seen in the chart below). While that can make a difference in value, the gradings were different but still close in GIA scales, so that can't be the only reason for the value difference. Now let's take a look at other types of jewelry.

About a year ago, this bold choker Cartier necklace arrived at our facilities to get ready for auction. The pre-owned Cartier Penelope necklace featured the classic double-C design, one of Cartier's signatures, and was made of 116.6 grams of 18K yellow gold. The item sold for $6,750, marking one of Worthy's highest auction deals for a gem-less jewel. And it even sold for more than this non-branded round cut diamond riviera necklace, auctioned for $4,050. The 161 diamonds of the riviera necklace added up a total of 8.25 CT, not enough to surpass its Cartier diamond-less counterpart.
Leaving stones aside, if we compare the same Cartier Penelope necklace with this gold collar necklace sold for $1,350, the gap becomes even bigger. The necklace, also made of 18k yellow gold, was significantly smaller than the Cartier choker: its total metal weight was 54.5gr. But while the Cartier item weighed 113.9% more than the non-branded one, its final offer was 400% higher.

Bottom line is – if you own Cartier jewelry, you don't just own a pretty necklace or a lovely pair of earrings, but an item that will hold value for a very long time: the value that comes from the name of a premium brand that has been creating the most iconic designs and setting the standards for the jewelry industry for decades.
So keep your Cartier original boxes and certificates, and if you decide to sell your unworn Cartier jewelry and use the money to finance your hobby or the vacation of your dreams, be sure that you will receive Worthy offers!
At the moment, at Worthy.com we're only accepting diamond jewelry and loose diamonds for auction. Do you have Cartier diamond jewelry you want to sell?
//= get_template_directory_uri() ?> //= get_template_directory_uri() ?> //= get_template_directory_uri() ?> //= get_template_directory_uri() ?> //= get_template_directory_uri() ?> //= get_template_directory_uri() ?>
©2011-2023 Worthy, Inc. All rights reserved.
Worthy, Inc. operates from 25 West 45th St., 2nd Floor, New York, NY 10036