Top 10 Featured Auctions in August 2019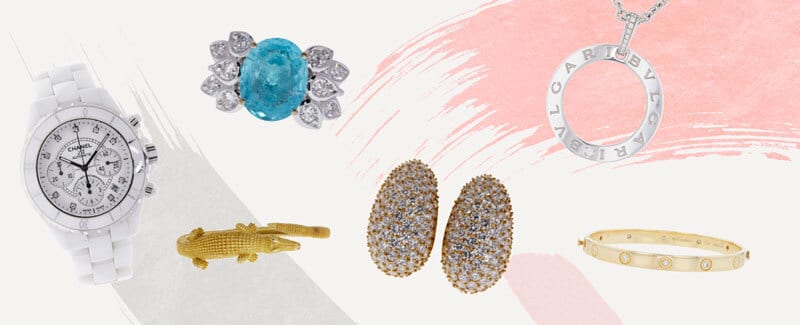 While many pieces of jewelry are beautiful in their own right, for many shoppers (or window shoppers), it's the jewelry brand that first catches their eye. Let's take a look at some of Worthy's favorite jewelry pieces from brands we love.

Branded Bracelets
Remember the Tiffany & Co. heart tag charm bracelet that everyone and their mother had circa 2002? It's just one of many iconic bracelets from famous brands, including the Cartier "Love" bracelet pictured below. Some, however, opt for more unique pieces, like the Kieselstein alligator bracelet or the Denise Roberge toggle bracelet. And then there are well known brands with more avant garde pieces, such as Cartier's "Juste Un Clou" bracelet, a golden nail turned into fine jewelry. As Cartier says, it is "a creative twist on a familiar object".

In Your Face Brands
While some pieces become synonymous with the brand or designer, others leave out the guesswork by simply putting the brand's name right on the piece. Case and point the BVLGARI necklace pictured below.

On the other hand, the Tiffany & Co. diamonds by the yard necklace omits any sort of branding from the design, and with such an elegant, classic look to it, the style has been replicated by all sorts of jewelry companies, from high to low.

Lesser Known Doesn't Mean Less Value
Just because you don't recognize a brand's name doesn't mean a piece is any less valuable. This is where the help of professionals really comes in handy – jewelry experts, like the ones we have at Worthy's office in NYC, make it their job to know everything about jewelry, including those brands that might not be a household name. These are the experts who know just how much your jewelry could sell for and make sure to display it to the right buyers who are ready to buy branded pieces for good prices. By selling smart, you can get so much more.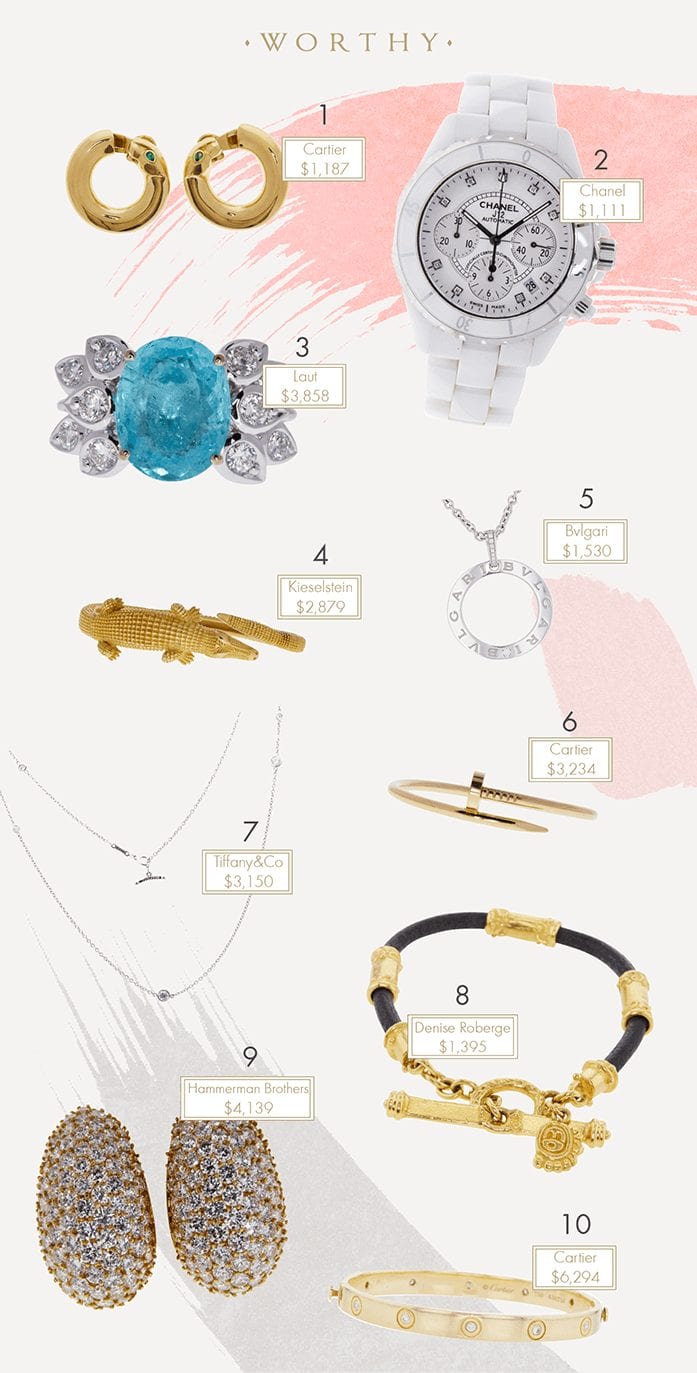 Top 10 Featured Branded Jewelry Auctions

Cartier gold panther earrings. Sold at auction for $1,187.
Chanel "J12" white ceramic watch. Sold at auction for $1,111.
Alexander Laut paraiba tourmaline ring. Sold for $3,858.
Kieselstein alligator bracelet. Sold at auction for $2,879.
BVLGARI BVLGARI necklace. Sold at auctions for $1,530.
Cartier gold "Juste Un Clou" bracelet. Sold at auction for $3,234.
Tiffany & Co. "Diamonds By The Yard" necklace. Sold at auction for $3,150.
Denise Roberge gold and leather toggle bracelet. Sold at auction or $1,395.
Hammerman Brothers diamond and gold huggie earrings. Sold for $4,139.
Cartier diamond "Love" bracelet. Sold at auction for $6,294.
//= get_template_directory_uri() ?> //= get_template_directory_uri() ?> //= get_template_directory_uri() ?> //= get_template_directory_uri() ?> //= get_template_directory_uri() ?> //= get_template_directory_uri() ?>
©2011-2023 Worthy, Inc. All rights reserved.
Worthy, Inc. operates from 25 West 45th St., 2nd Floor, New York, NY 10036