Worthy's 2022 Auction Trends Report
Can you believe that we're in the very last days of 2022? Seems like the year went by in a flash! At Worthy, we were thrilled with our auction results from this year, helping to sell over 70% more items than in 2021. The global resale trend is really hitting its stride. 

Whether you sold an item with us this past year (or in previous years) or are considering selling a piece of jewelry with us in the future, take a look through our auction trends to get an idea of what's selling on our platform.

Types of Jewelry Sold with Worthy
Holding with tradition, diamond rings won the type of jewelry sold contest by more than a mile, coming in at a whopping 86% in 2022. Watches, loose diamonds, and necklaces all tied for second place at 3% while earrings, bracelets, and miscellaneous items took up the bottom. But when it came to show-stopping jewelry, as you'll see below, there was something notable from every category.


Diamonds in 2022
2022 was a remarkable year in one particular way and that was the rise in diamond and fine jewelry resale. Due to a multitude of factors, including the dreaded supply-chain delays, the new diamond market was unable to meet the demands of jewelry manufacturers around the world. This is when pre-owned, upcycled diamonds became a hot commodity and where we at Worthy were able to be a true asset for our 2022 sellers, getting them higher prices for their jewelry than ever before.
The 4Cs
Whether you're on the selling side or the buying side of the table, when it comes to diamonds, the 4Cs are crucial. Here's how our items showed up this year: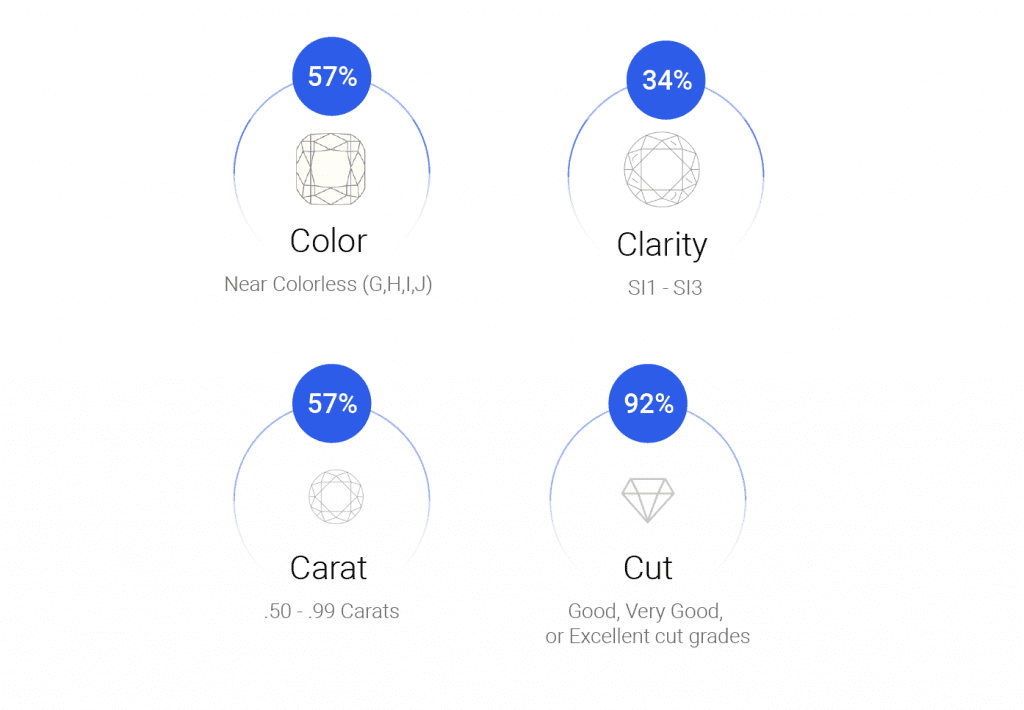 Diamond Shape & Ring Style
The diamond ring category is top of the auctions and the round-cut diamond ring continues to reign supreme. The classic cut made up almost half of our auctions in 2022, with princess-cut diamonds, another classic cut, following behind. While a diamond's shape isn't something factored into a grading report, it is important when it comes to value as some popular shapes, such as round, princess, and cushions, are often in high demand.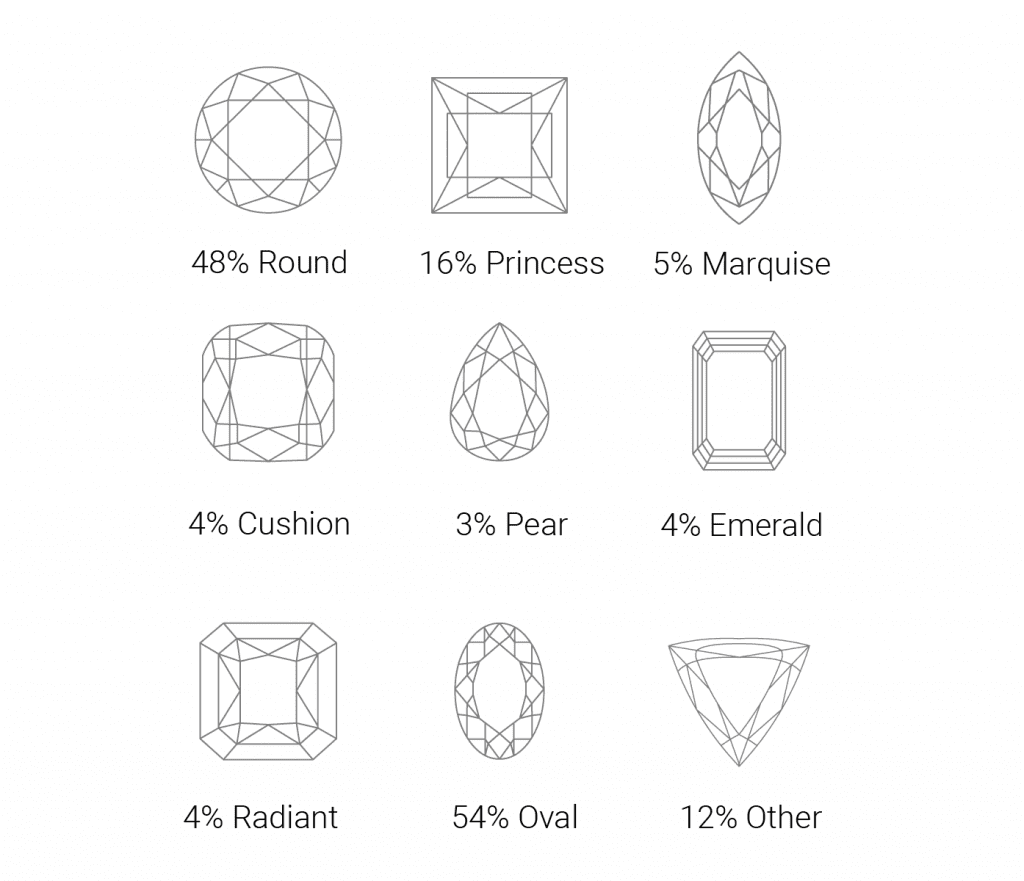 Keeping with years past, the majority of rings we sold in 2022 were bridal sets, followed by solitaire and halo, two popular ring styles. But if you're looking to sell another style, such as a 3-stone ring, don't be discouraged! You're likely to find a buyer looking for exactly what you have.

Best Ring Auctions in 2022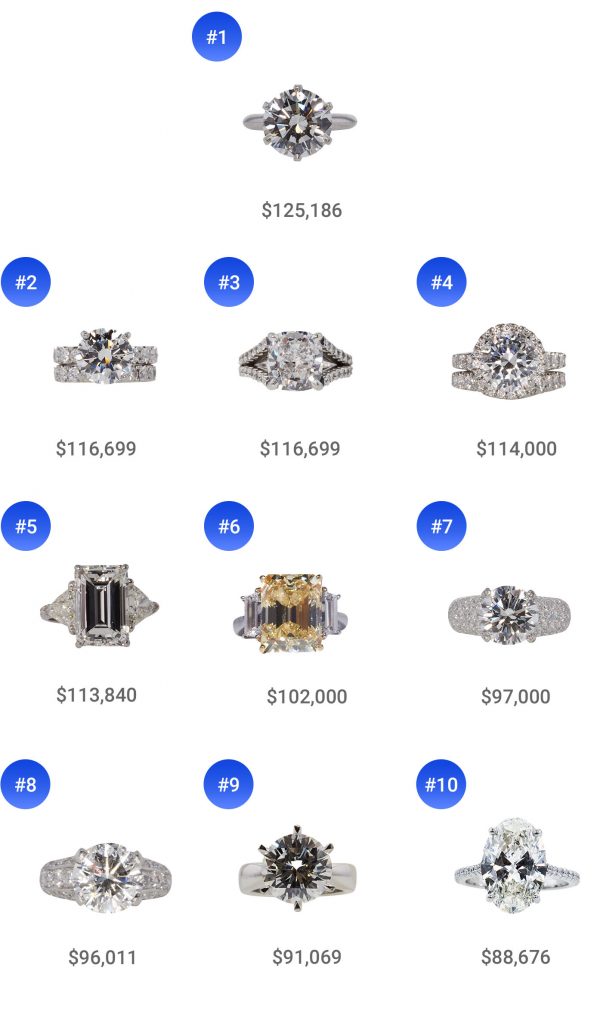 5.25 ct. Round Cut Solitaire Tiffany & Co. Ring, I, VS1. Sold for $111,215. 
5.25 ct. Cushion Modified Cut Solitaire Ring, D, VS2. Sold for $116,967.
5.05 ct. Round Cut Bridal Set Ring, H, VS2. Sold for $105,150.
8.74 ct. Emerald Cut 3 Stone Ring, Fancy Yellow, SI1. Sold for $102,000.
4.01 CT Round Cut Solitaire Cartier Ring, G, VVS2. Sold for $96,500.
4.46 ct. Round Cut Bridal Set Ring, F, VS2. Sold for $94,793. 
5.07 ct. Round Cut Solitaire Ring, H, VS2. Sold for $94,512.
5.04 ct. Oval-Cut Bridal Set Tiffany & Co. Ring, I, VS1. Sold for $88,900. 
5.03 ct. Emerald Cut 3 Stone Ring. Sold for $87,656.
5.46 ct. Round Cut Solitaire Ring, I, VS2. Sold for $74,149.
Best Diamond Auctions of 2022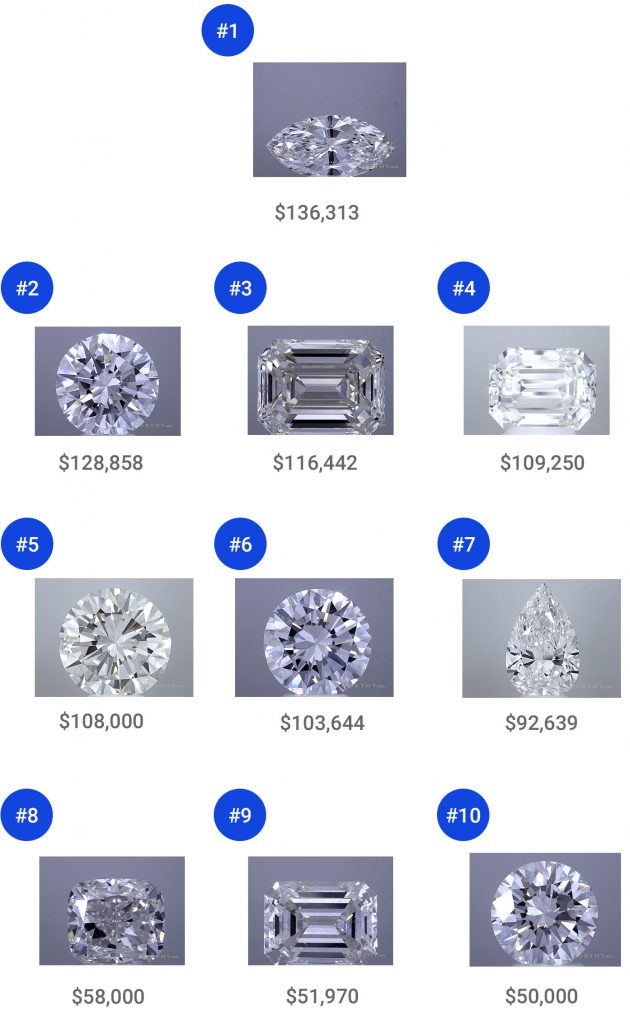 Worthy's 2022 Jewelry Auctions
Necklaces, earrings, and bracelets made up for 7% of our auctions this year, with necklaces coming in strongest at 3%. And while we expected to see pendants as the most common necklace style auctioned, we were pleasantly surprised to see collar necklaces coming into the top four styles at 2%.

Most Auctioned Jewelry Brands in 2022
When it comes to jewelry brands, no one is surprised to Tiffany & Co. coming out on top at 73%. After all, that iconic blue box and an Audrey Hepburn movie weren't for nothing, right? But it was refreshing to see other illustrious brands, like Cartier and David Yurman.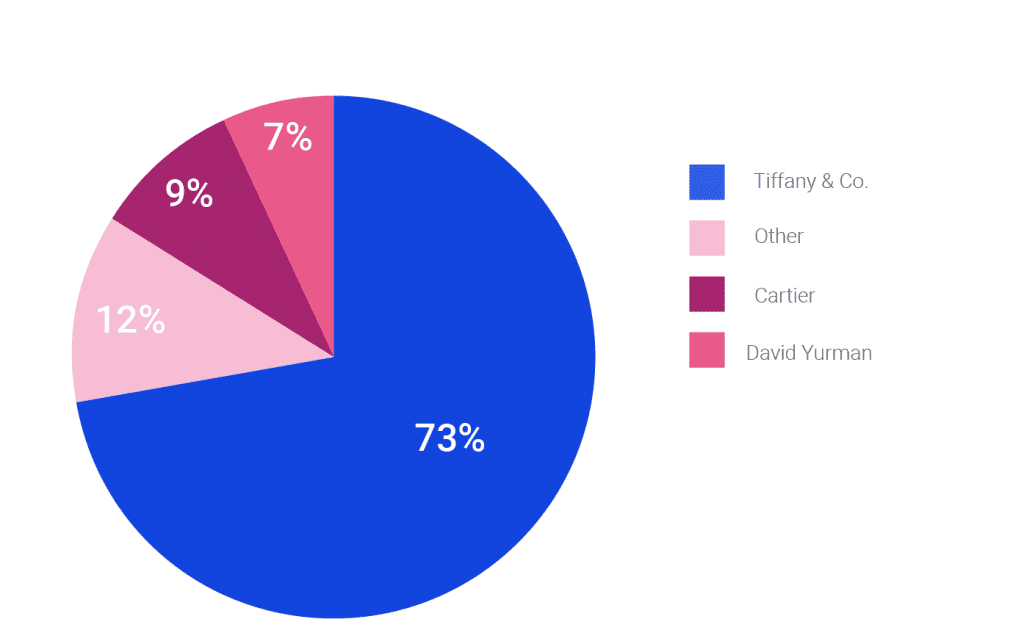 Best Jewelry Auctions of 2022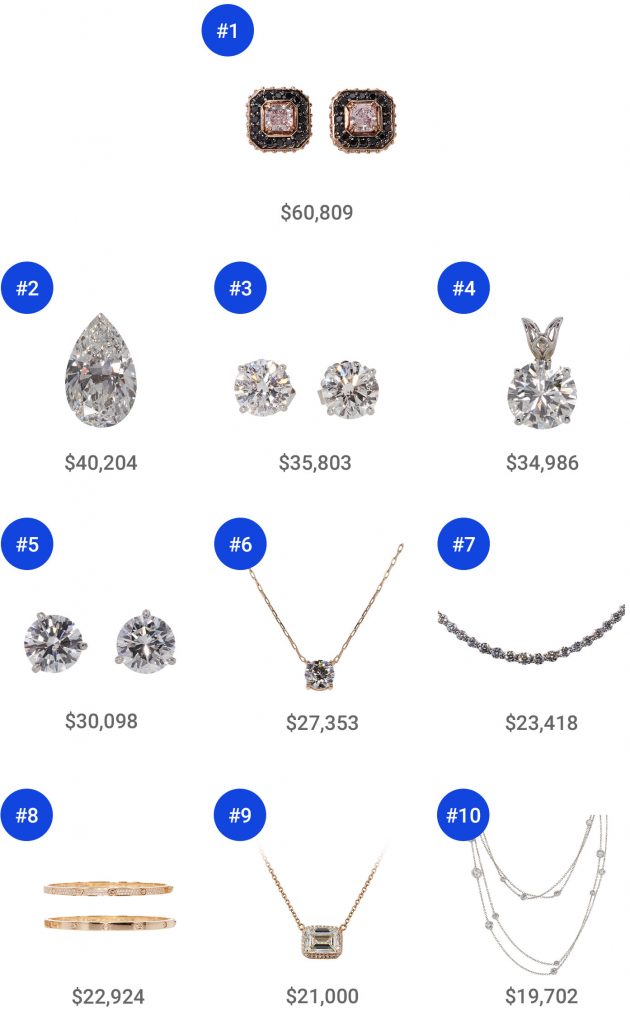 2.40 CT Radiant-Cut Fancy Purple-Pink Stud Earrings. Sold for $61,666. 
5.02 CT Pear-Cut Drop Earrings. Sold for $31,088. 
3 CT Round-Cut Stud Earrings. Sold for $27,689. 
3.88 CT Round-Cut Pendant Necklace, K, VS1. Sold for $28,054.
1.7 CT Round-Cut Stud Earrings. Sold for $23,205. 
2.13 CT Round-Cut Pendant Necklace, G, VVS1. Sold for $25,000.
Tiffany & Co. Victoria Round and Marquise-Cut Riviera Necklace. Sold for $23,050. 
Two Cartier Love Bracelets. Sold for $17,651.
3.52 ct. Emerald-Cut Pendant Necklace. Sold for $19,500.
Tiffany & Co. Elsa Peretti Diamonds by the Yard Jewelry Set. Sold for $15,170.
Best Watch Auctions of 2022

Watch Brand Breakdown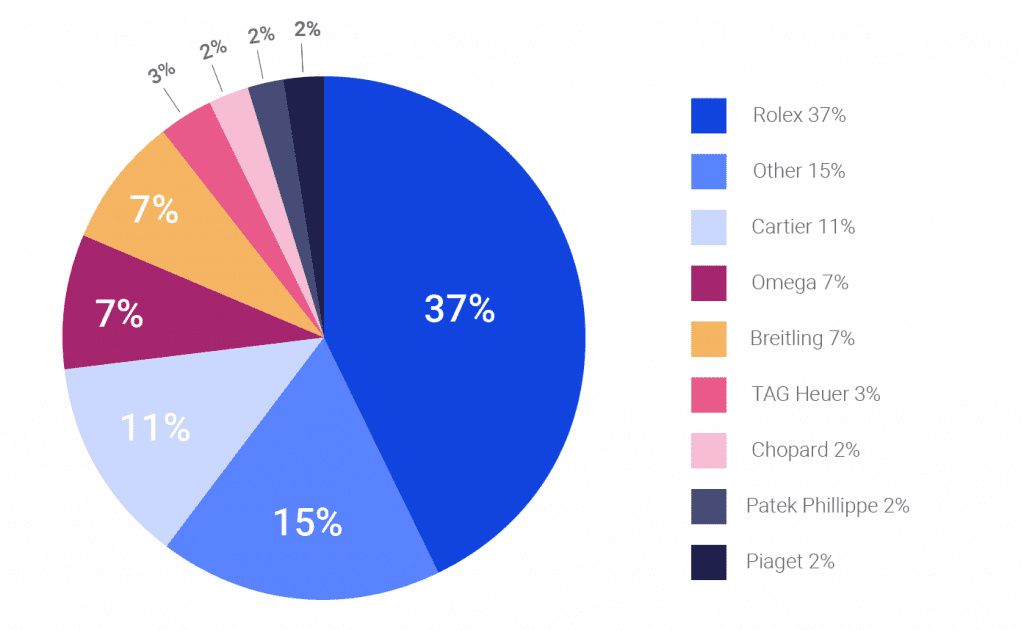 Watch Brand By Deal Amount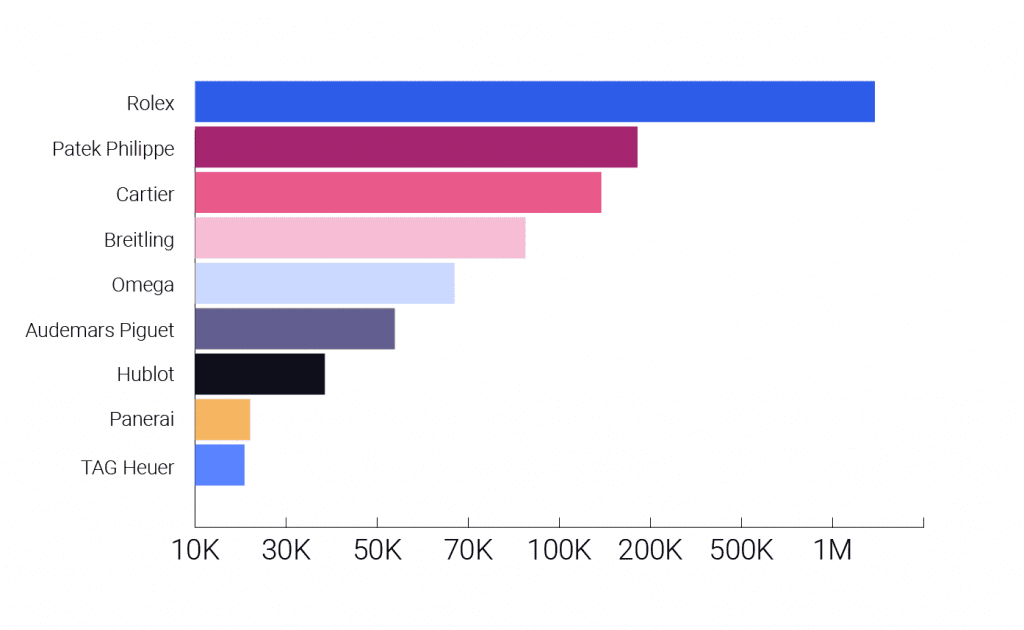 Best Watch Auctions of 2022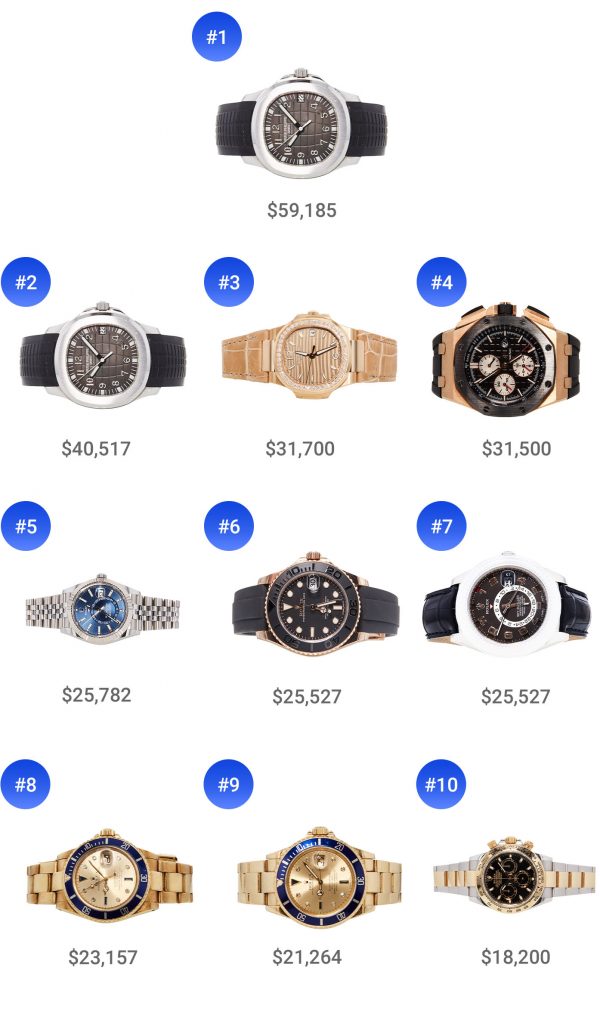 And that's a wrap on our 2022 auctions! We hope you enjoyed this sparkling trends review as much as we did and wishing everyone a happy New Year!
//= get_template_directory_uri() ?> //= get_template_directory_uri() ?> //= get_template_directory_uri() ?> //= get_template_directory_uri() ?> //= get_template_directory_uri() ?> //= get_template_directory_uri() ?>
©2011-2023 Worthy, Inc. All rights reserved.
Worthy, Inc. operates from 45 W 45th St, 4th Floor New York, NY 10036