Jewels of the Royal Wedding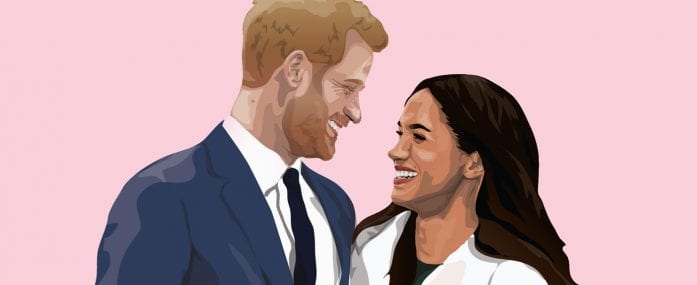 Have you been secretly (or not so secretly) following the upcoming royal wedding on every outlet available? We have too. Whether it's the appeal of the modern day fairytale (beautiful commoner marrying the handsome prince) or an obsession with the royal family sparked by "The Crown", you are not alone. And while there are oodles of details to consider, the ones we're most interested in are jewelry related. Let's review what we know, and what we think we know, before the big day.
Meghan Markle's Engagment Ring – A Symbol of Her Jewelry Style
Since royal brides must stick to more modest wedding gowns that feature high necklines and long sleeves, it's likely that Meghan will follow the footsteps of her sister-in-law and late mother-in-law by choosing statement earrings rather than a cuff or eye-catching necklace. Style experts anticipate Meghan will choose a mix of classic and unique pieces for her wedding jewelry. But let's not forget that as a royal bride, she will also have access to items from the royal collection- a bride's dream come true!
Catherine, Duchess of Cambridge wearing the Cartier Halo Tiara and Robinson Pelham earrings at her 2011 wedding.
Meghan's style in general is both luxurious and understated, and since her engagement to Prince Harry in November 2017, she has take many of her fashion cues from her soon-to-be sister in law, the Duchess of Cambridge. Her understated style choices range from her hats all the way to her well-chosen jewelry. One brand Meghan seems to favor is Maison Birks.
Meghan wears Snowflake jacket earrings from Maison Birks on Christmas day in 2017.
Maison Birks is already quite familiar with the royals as they held the Royal Warrant for Jewelers in 1934. The brand has also been present in Canada since the beginning of the 20th century. Meghan became familiar with Maison Birks when shooting "Suits" in Toronto and it has been one of her favorites ever since. Since her engagement to Prince Harry, she has been spotted in Maison Birks earrings in many of her public appearances. Recently, the famous Mappin & Webb jewelers, who themselves have held the Royal Warrant since 1897, began stocking Maison Birks pieces in their London stores.
Pippa wearing her custom Robinson Pelham tiara at her wedding in May 2017.
This isn't the first time a royal bride has brought a jeweler into focus. In 2011, Kate Middleton chose a pair of diamond earrings from Robinson Pelham, a move that skyrocketed the then lesser-known jeweler's business. Kate's sister, Pippa, chose Robinson Pelham for her own wedding in 2017 and even sported one of their diamond tiaras.
Royal Wedding Traditions
Tradition and protocol are a major part of royal life (Peter Townsend anyone?) and royal weddings are no exception. One tradition that many observers are wondering about is Meghan's wedding ring. All of the royal brides since the Queen Mother have been married with Welsh gold wedding rings and since Meghan's metal of choice is yellow gold, it seems likely she'll keep with this tradition.
Queen Elizabeth and Prince Phillip on their wedding day.
It's also likely that Meghan will wear a piece from House of Garrard. This bespoke jeweler has been involved in royal weddings since 1735, and also holds the royal warrant as jewelers. Garrard is responsible for some of the most iconic royal jewels, including Princess Diana's Ceylon sapphire engagement ring, given as an engagement ring to the Duchess of Cambridge.
The Tiara
No royal wedding would be complete without a tiara, and there has been significant buzz around this topic. One thing we can say for sure is that if Meghan chooses to don a tiara for her nuptials, it will be a first for her. The etiquette of tiara-wearing has gone out the window for the most part but when it comes to the royal family, they stick to hard and fast rules. For one thing, girlfriends and fiances of princes do not wear tiaras until the day of their wedding. Once they are officially part of the family, tiaras are normally reserved for state dinners and white tie events. The Duchess of Cambridge has only been spotted wearing a tiara a handful of times in the seven years since joining the royal family. Queen Elizabeth's first public appearance in a tiara was on her wedding day in 1947. She chose a fringe-style tiara that belonged to her grandmother, Queen Mary, and was gifted to the Queen Mother in 1936 when George VI was coronated.
Queen Mary in 1926 wearing the Cambrige Lover's Knot Tiara (now worn by the Duchess of Cambridge).
Beyond the topic of "will she/won't she?" remains the question of which tiara Meghan will choose. Kate chose the Cartier Halo tiara for her wedding day, a headpiece that was originally gifted to the Queen Mother by King George VI and then given to Queen Elizabeth on her eighteenth birthday. Princess Diana wore a tiara from her family's own collection, the Spencer Tiara, keeping an old tradition of royal brides wearing a tiara from their own family vaults. As Meghan is marrying a descendant of the Spencer family, she could potentially wear this beautiful headpiece.
The late Princess Diana wearing the Spencer tiara on her wedding day in 1981.
No matter what jewelry Meghan chooses to wear on her wedding day, we know she will put lots of care into the decision. After all, there is plenty of historical and family significance to each piece she's likely to be offered, as well as her own personal style choices. Knowing Meghan's style, we're sure she will make a decision fit for a princess.
//= get_template_directory_uri() ?> //= get_template_directory_uri() ?> //= get_template_directory_uri() ?> //= get_template_directory_uri() ?> //= get_template_directory_uri() ?> //= get_template_directory_uri() ?>
©2011-2023 Worthy, Inc. All rights reserved.
Worthy, Inc. operates from 25 West 45th St., 2nd Floor, New York, NY 10036