Who Owns Elizabeth Taylor's Diamond Ring?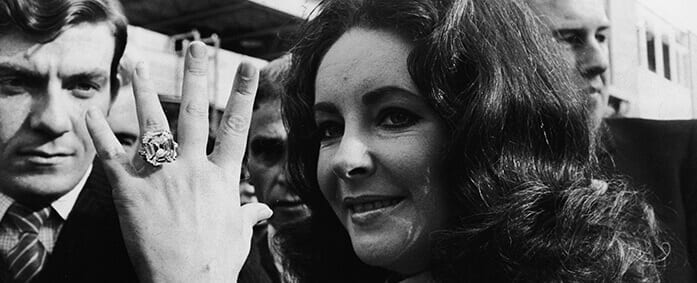 Header Image Courtesy of Express Newspapers/Getty Images
Dame Elizabeth Taylor owned not one but two very famous diamond rings. Also known as the Taylor-Burton Diamond and the Krupp Diamond, the Elizabeth Taylor diamonds are worthy of her celebrity status and were cornerstones of her collection. Let's take a closer look.
The Elizabeth Taylor Diamond Collection
Elizabeth Taylor was one of the world's most prominent fashion icons, and she loved diamonds – so much so that her signature fragrance, White Diamonds, is named in their honor! Over her lifetime, she acquired one of the most significant private jewelry collections including pieces by leading jewelers such as Bulgari, Cartier, Tiffany, Van Cleef & Arpels, and many others. She even published a book on the subject. Called My Love Affair with Jewelry, it was published in 2002. While Elizabeth Taylor's diamond collection was indeed extensive and contained a number of notable pieces, none were as famous as the Krupp and Taylor Burton-Diamonds.
The Elizabeth Taylor Krupp Diamond
The Elizabeth Taylor Krupp Diamond, which is also referred to as the Elizabeth Taylor Diamond, is an Asscher cut that probably dates to pre-1920, an estimation based on the large culet facet at the bottom of the stone (a feature that was mostly phased out after the 1920s). It is a type IIA diamond, chemically pure and offering exceptional transparency, which partly explains why it is of such great value. Its size, a massive 33.19 carats, and its probable source, India's Golconda region, are other factors that contribute to its price.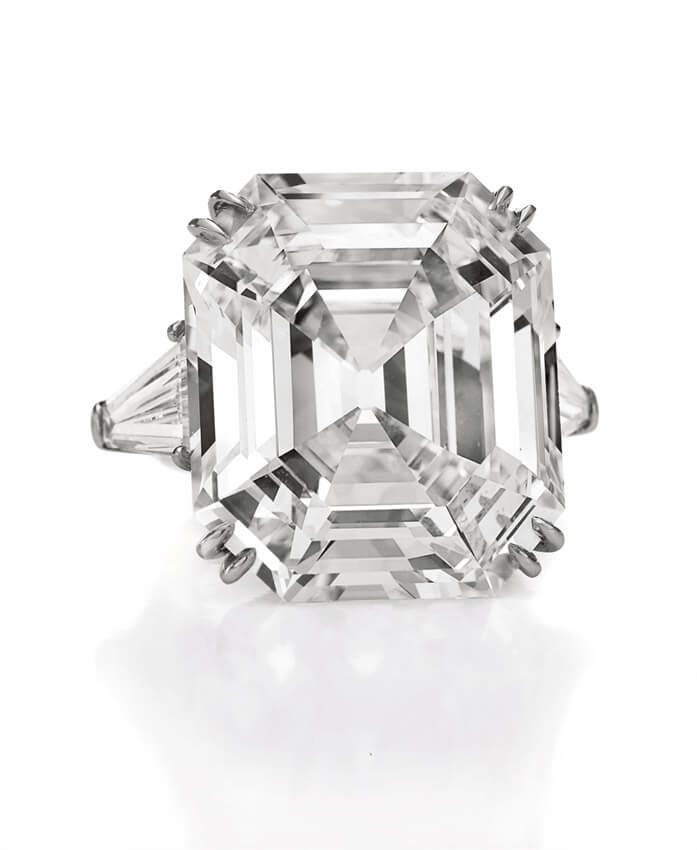 Elizabeth Taylor loved wearing the Krupp Diamond and there are many beautiful photographs that show its size in relation to her delicate hand. She called this exquisite stone her favorite piece, and even wore it in some of the films and movies she made. When she passed away in 2011, the stone was renamed in her honor, "The Elizabeth Taylor Diamond."
The Taylor-Burton Diamond
The Taylor-Burton Diamond is also known as the Cartier Diamond or the Cartier-Burton Diamond. A stunning pear-cut gem that Elizabeth Taylor started wearing this diamond in a ring, but soon opted to have it added to a necklace that covered a scar from an emergency tracheotomy surgery. The stone weighs in at 68 carats and was so valuable that Taylor had a replica made. She often wore the replica in public, while the actual diamond was stored in a vault.
The Elizabeth Taylor Diamonds: Past and Present Owners
The Elizabeth Taylor Krupp Diamond originally belonged to Vera Krupp, who was the wife of a wealthy German industrialist. After she passed away in 1967, her estate was sold. The diamond went to Richard Burton and Elizabeth Taylor in 1968, selling at auction for a price of $307,000.00.
On Elizabeth Taylor's passing, the Krupp Diamond was put up for auction by Christie's. It sold for an astonishing sum of $8,818,500 to its new owners, South Korea conglomerate The E-Land Group, which owns retail malls, theme parks, restaurants, and other businesses.
The Taylor-Burton Diamond was originally owned by Harriet Annenberg Ames, who was sister to the billionaire publisher Walter Annenberg. When she opted to sell it in 1969, it was purchased by Cartier jewelers. They sold it to Richard Burton and Elizabeth Taylor the day after buying it at auction. As part of the sales agreement, the stone was displayed at Cartier before being transferred to Burton and Taylor.
Elizabeth Taylor and Richard Burton were divorced twice – once in 1974, and again in 1976. Shortly after the divorce, Taylor married her sixth husband, Virginia politician John Warner. In 1978, the Taylor-Burton Diamond was purchased by New York jeweler Henry Lambert. He sold it to Robert Mouawad of Mouawad Jewelers in 1979. Today, the diamond is part of the Mouawad family's private diamond collection, which includes the Queen of Holland Diamond, the Jubilee Diamond, and many other famous stones.
In total, Elizabeth Taylor's jewelry sold for $156.8 million. This revenue, along with an additional $5.5 million from the sales of her clothing and some other accessories, went to benefit the Elizabeth Taylor AIDS Foundation, which she established in 1991. ETAF continues today as an important part of Elizabeth Taylor's legacy, supporting organizations that deliver care, services, and HIV prevention education throughout the world.
//= get_template_directory_uri() ?> //= get_template_directory_uri() ?> //= get_template_directory_uri() ?> //= get_template_directory_uri() ?> //= get_template_directory_uri() ?> //= get_template_directory_uri() ?>
©2011-2023 Worthy, Inc. All rights reserved.
Worthy, Inc. operates from 45 W 45th St, 4th Floor New York, NY 10036