The 15 Most Expensive Celebrity Engagement Rings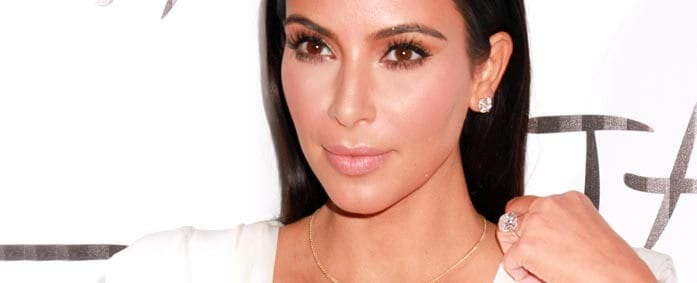 When a celebrity gets engaged, the bling is often blinding. Mariah Carey's ice-cube sized ring got us thinking. How does it compare? What are the most expensive engagement rings of all time? We did the research and discovered ten rings that truly rock.
Here are the top celebrity engagement rings:
1. Elizabeth Taylor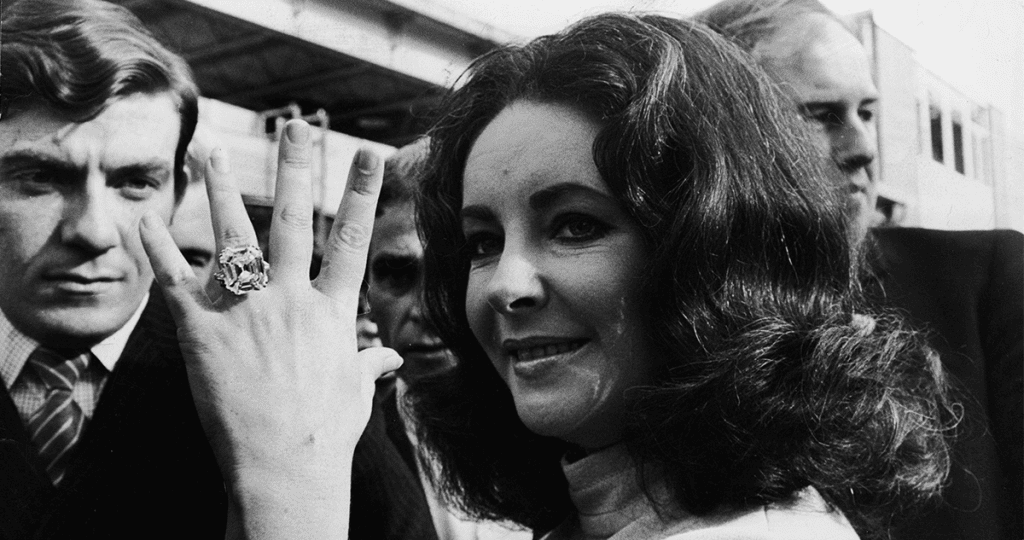 Elizabeth Taylor loved her jewelry so much she wrote the book on it: My Love Affair With Jewelry. The jewel most associated with her is the Elizabeth Taylor Diamond, a magnificent D-color near-flawless 33.19-carat Asscher cut diamond originally known as the Krupp Diamond. Richard Burton gave her the diamond in 1968 and after she received it she wore it almost continually for the rest of her life. At The Collection of Elizabeth Taylor auction at Christie's in 2011, the Elizabeth Taylor Diamond sold for $8.8 million. It set a record price per carat for a colorless diamond of $265,697 per carat. It's probably worth more today.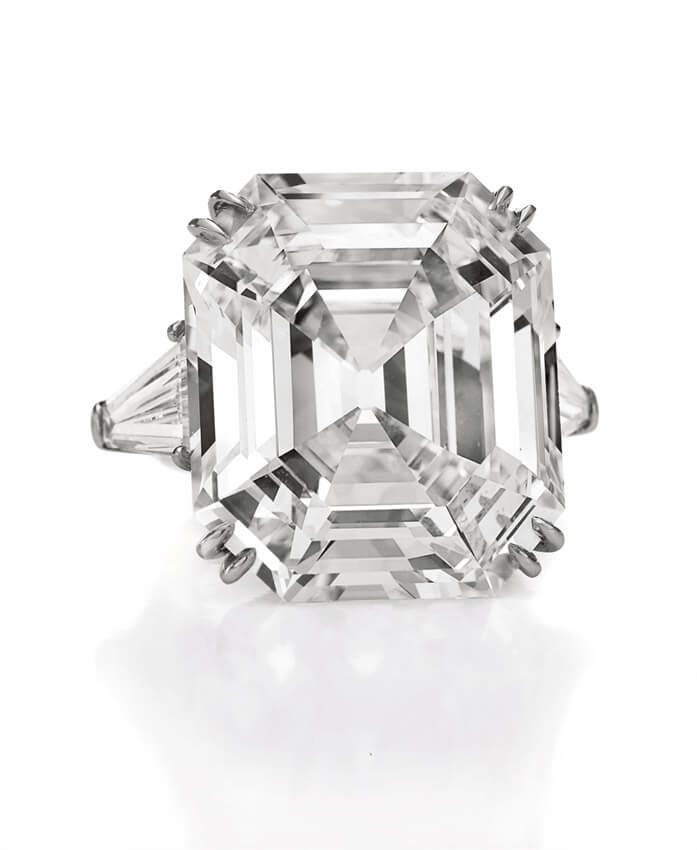 The Elizabeth Taylor Diamond wasn't technically an engagement ring although Elizabeth wore it as one on her ring finger. Her engagement present from Richard Burton was a Bulgari emerald pendant/brooch the first time and a Bulgari emerald necklace the second.
2. Mariah Carey
Mariah Carey's engagement ring from billionaire James Packer, who popped the question at a New York restaurant on January 21, 2016, is a 35-carat diamond and platinum ring. Although that's 2 carats more than the Elizabeth Taylor Diamond, we're guessing that Mariah's gem isn't quite the same quality (just because it's so rare for a large gem to be both D-color and potentially flawless.) Still, 35 carats! That's bigger than Beyonce's engagement ring. And Kim Kardashian's engagement ring. Combined. It's likely to be worth $6-8 million. And Mariah's engagement ring from Nick Cannon belongs on this list also: it's a 10-carat pink diamond with additional pink and white diamonds around it that brings the total carat weight to 17 carats.
3. Elizabeth Taylor
The Elizabeth Taylor Diamond wasn't Elizabeth's only huge diamond. Her engagement ring from Mike Todd was a beautiful 29.41-carat emerald-cut diamond ring she called "my ice skating rink."
In her book, she says during a visit to a Russian museum, the guide told her that a stone of that beauty should be in a museum. She told him "I disagree with you. When I wear it anyone can look at it and I'll let anybody try it on. So more people have probably touched this stone, seen the beauty in the pure sunshine or when it sparkles at night. Anyone who is around me can see it up close. Isn't that better than putting it in a museum?" Taylor continued to wear the ring until she received the Krupp Diamond from Richard Burton. She later sold the ring. With its size, quality, and provenance, it's likely to be worth $6 million today.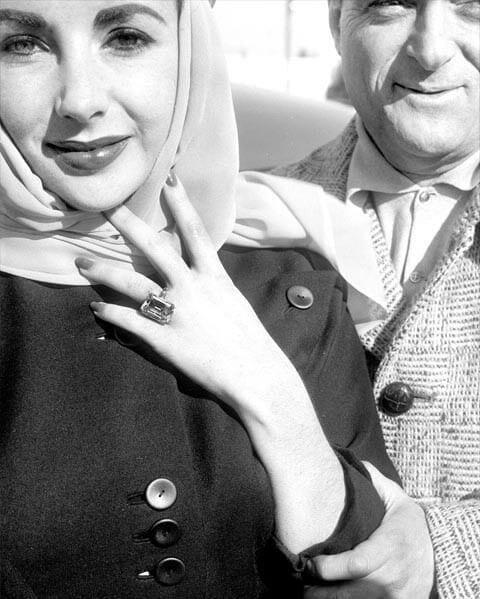 4. Beyonce
Queen B's crown jeweler is Lorraine Schwartz, the most popular choice on the red carpet. So it's not surprising that she created Beyonce's engagement ring too. How many carats is Beyonce engagement ring? Well, the gorgeous 18-carat flawless emerald cut diamond ring with a split shank is worth quite a fortune. It is said that Beyonce's engagement ring cost is estimated at $5 million.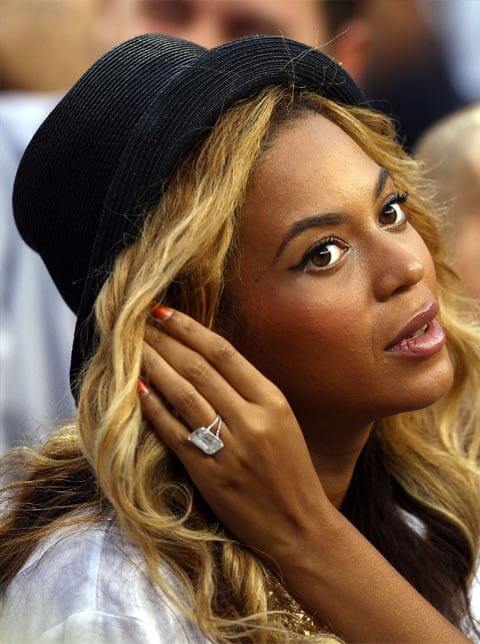 5. Kim Kardashian
After Kim Kardashian and basketball player Kris Humphries split up after only 72 days of marriage, she gave back the ring. The 20-plus-carat ring designed by Lorraine Schwartz was sold at Christie's for $749,000, considerably less than the original $2 million Humphries spent on it, but above the auction estimate of $500,000.
PR Photos

North West holds Kim's Ring
It seems that when Kardashian found her fresh start with Kanye West, he had to up the ante. Kim had no qualms about going back to the same jeweler for her new ring, being more committed to her jeweler than her ex-husband. Her engagement ring from Kanye has a 15-carat cushion-cut diamond by Lorraine Schwartz. Ok, it's a bit smaller but it's better quality. It's a D-Flawless Type 2A diamond probably worth $4 million.
6. Jacqueline Kennedy Onassis
The most expensive celebrity engagement ring of all time was given to Jacqueline Kennedy by billionaire Aristotle Onassis in 1968. The near-flawless 40.42-carat marquise-cut diamond was known as the Lesotho III diamond, because it was the third-largest gem cut from the famous 601-carat Lesotho rough diamond. Aristotle purchased the staggeringly large gem, which is an L color and VS2 in clarity, from Harry Winston.
Jacqueline Kennedy Onassis

Lesotho III Diamond
At the famous auction of the estate of Jacqueline Kennedy Onassis at Sotheby's in 1996, the Lesotho III was the top lot, selling for $2.6 million, well above the estimate of $500,000 to $600,000. The buyer was Anthony J.F. O'Reilly, the chairman and chief executive of H.J. Heinz Co. Ironically, the famously discreet former first lady almost never wore the ring due to its huge size.
7. Paris Hilton
The staggeringly large 24-carat emerald cut diamond engagement ring that heiress Paris Hilton received from Paris Latsis purchased for a reported $4.7 million. After they split up after a few months of engagement, Paris Hilton kept the ring. A few months later she auctioned it off for a reported $2 million to benefit the victims of Hurricane Katrina.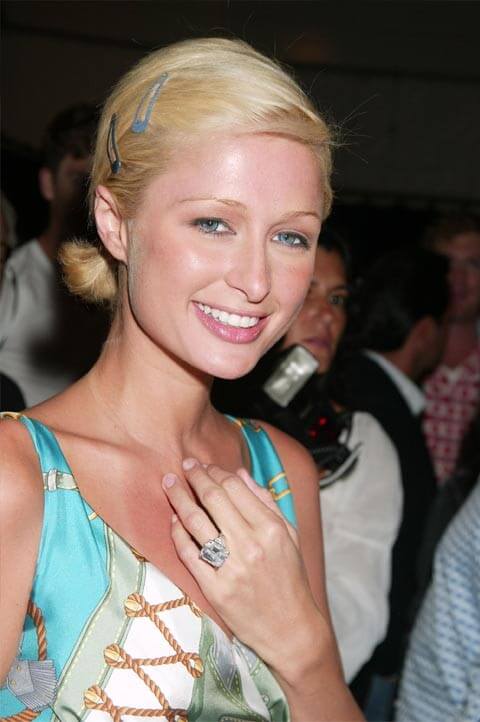 8. Duchess of Windsor
King Edward of England gave up his kingdom to marry her. And when he made that decision in 1936, he gave her this 19-carat emerald engagement ring inscribed "We are ours now." The ring that represents the greatest royal love story of the 20th century was sold at auction at Sotheby's in 1987 for $1.98 million.
Duchess of Windsor Engagement Ring

Duchess of Windsor
9. Jennifer Lopez
Although it was the 6.1-carat Harry Winston pink diamond engagement ring from Ben Affleck that made the headlines, Jennifer preferred her engagement ring from Mark Anthony, which features an 8.5 carat blue diamond. She gave the pink diamond ring, Which was estimated at $1.2-$2.5 million, back to Ben when they split up. She is rumored to be considering selling the Mark Anthony ring. Estimates of its value range from $1-4 million.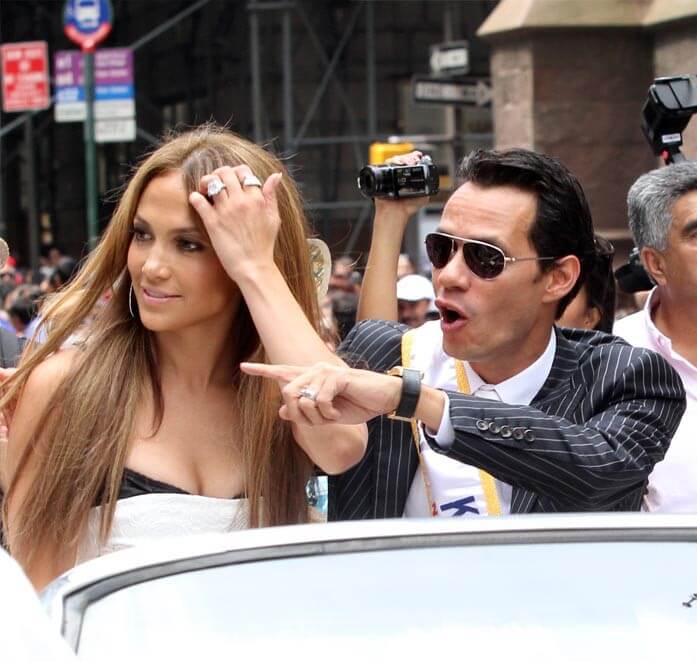 10. Melania Trump
Of course the engagement ring Donald bought for his third wife had to be "HUUUGE." The lovely flawless 12-carat emerald cut diamond from Graff was said to be worth $2-3 million at the time of the engagement but that's probably a bit of an exaggeration. (Are you surprised?) Let's call it a $1 million ring.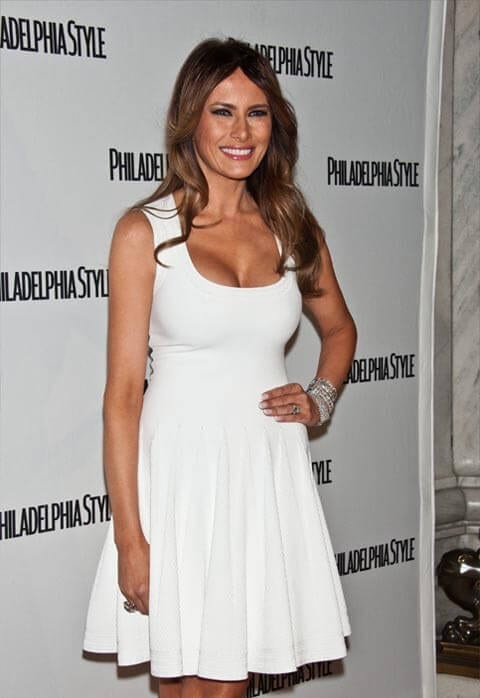 11. Kate Middleton
Not only is the Duchess of Cambridge the proud recipient of one of Princess Diana's most treasured heirlooms, she is also the wearer of an iconic ring that has appreciated in price. Prince Charles gave the massive 12-carat sapphire ring with its 14 solitaires surrounding the central stone to Diana back in 1981, when the ring went for about $47,000. Today, the Duchess of Cambridge's famous engagement ring is worth more than $500,000.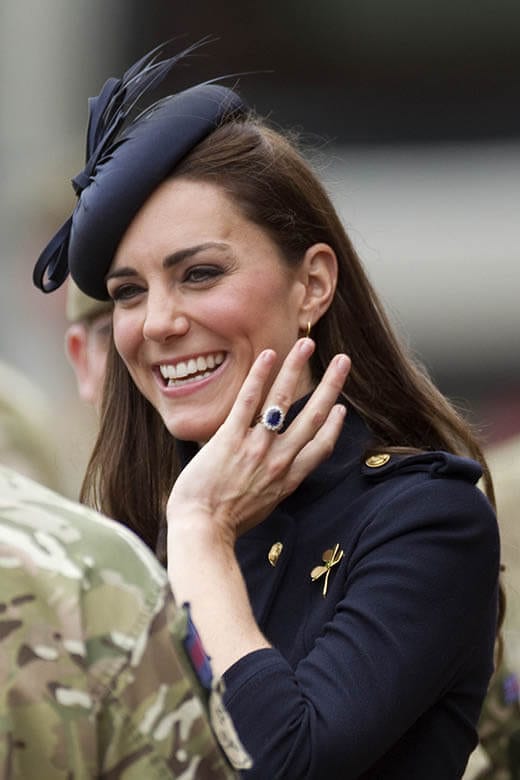 12. Angelina Jolie
Although Angelina Jolie and Brad Pitt have decided to divorce, Angelina's blinding engagement ring is still one of the most expensive celebrity jewelry designs we've seen. With sparkling emerald-cut diamonds flanking a huge central stone, it is valued at approximately $1,600,000.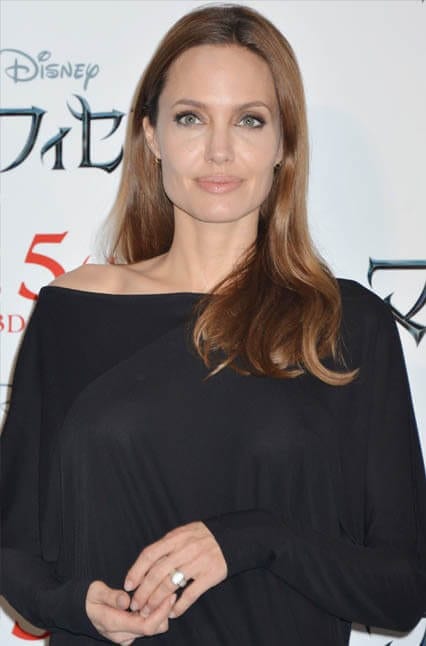 Back in the days of Bradgelina, magazines obsessed over Jolie's ring as Pitt had a heavy hand in its design. Robert Procop, the Beverly Hills jeweler, said: "Brad oversaw every aspect of the creative evolution."
13. Jennifer Aniston
Jolie's wasn't the first ring that Pitt took the driver's seat for design. Pitt worked with Silva Damiani to design Jennifer Aniston's engagement ring.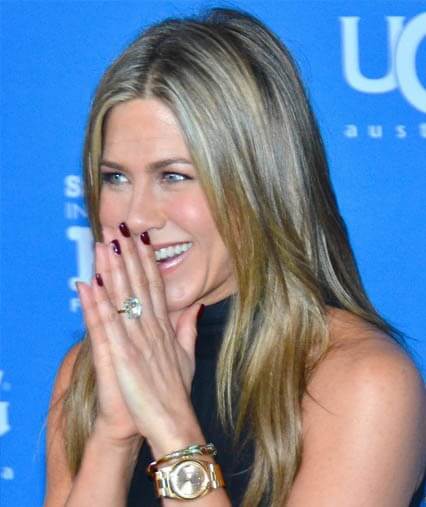 When Aniston found a new man, she also got a new and much-improved ring. The ring she received from Justin Theroux has an 8-carat radiant cut diamond that sparkles beautifully. Jen's ring is estimated at about $500,000.
14. Lady Gaga
Lady Gaga's engagement ring from Taylor Kinney hid a special secret: Inside, it was inscribed with "T♥S" for Taylor loves Stefani, Gaga's real name. The main stone was a massive heart-shaped diamond that was estimated at about 6 carats, and worth about $600,000. The couple got engaged on Valentine's Day in Manhattan.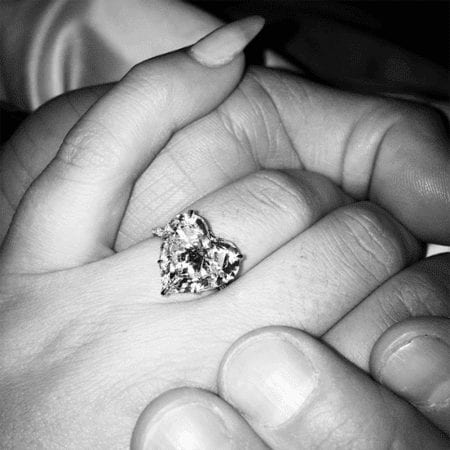 This is one celebrity engagement ring that didn't come with the traditional happy ending. The couple called off their engagement and Lady Gaga returned her engagement ring before taking her new relationship with Christian Carino public.
In October 2018, Lady Gaga made her engagement to Christian Carino official, calling him her fiancé during an acceptance speech at Elle's 25th Annual Women in Hollywood Celebration. The couple chose an incredible oval-shaped halo engagement ring to celebrate their love.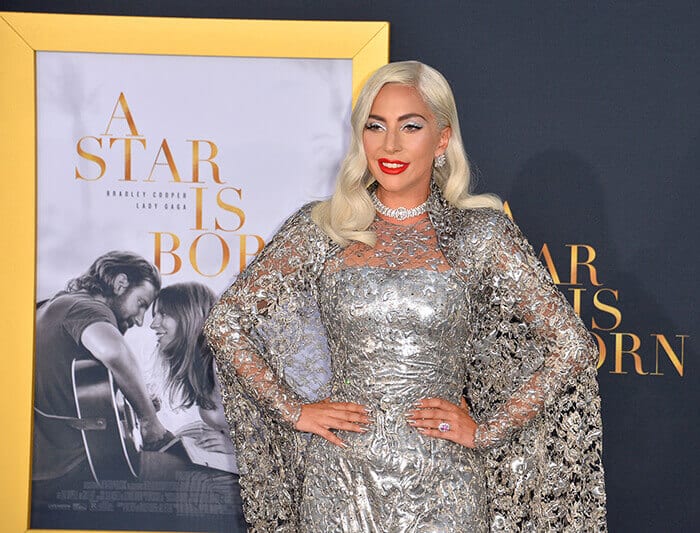 There was plenty of speculation surrounding the ring as Lady Gaga didn't reveal any details about the gemstones it contains or the jeweler who made it. One thing is certain: Like the star herself, it's a unique beauty. The ring appears to contain a dozen white diamonds surrounding a gorgeous center stone that, according to our expert gemologists, could be a purplish pink sapphire. In February 2019, however, the couple called it quits on their engagement. We're still waiting to hear what happened to her ring.
15. Mia Farrow
When 50-year-old Frank Sinatra proposed to 21-year-old Mia Farrow back in 1966, the stunning 9-carat pear-shaped diamond ring he gave her was worth about $85,000 dollars. Although the marriage lasted only two years, this breathtaking ring remains one of the most iconic in history. In today's currency, Mia Farrow's engagement ring would be worth about $1,880,000.
//= get_template_directory_uri() ?> //= get_template_directory_uri() ?> //= get_template_directory_uri() ?> //= get_template_directory_uri() ?> //= get_template_directory_uri() ?> //= get_template_directory_uri() ?>
©2011-2023 Worthy, Inc. All rights reserved.
Worthy, Inc. operates from 25 West 45th St., 2nd Floor, New York, NY 10036