Outstanding Emeralds: Our Favorite Emerald Jewelry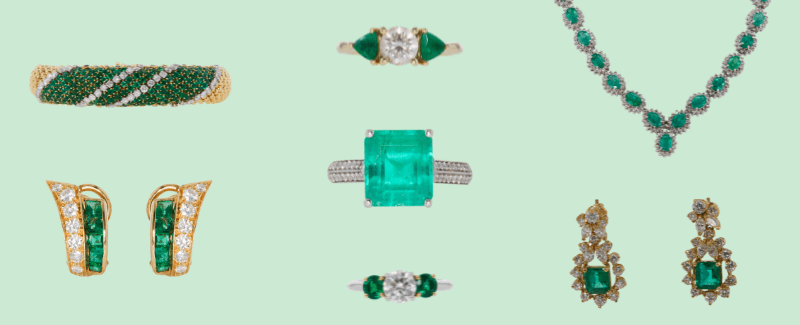 Remember the scene in the Wizard of Oz when Dorothy and co enter the Emerald City? While the set might have looked impressive in 1939 when the movie premiered, we're pretty sure that those big paper walls would have looked that much more impressive with some real emeralds to glitz up the scenery.

But emeralds have a long and rich history off the silver screen. They have been mined and used for thousands of years and thought to bring the wearer good fortune, foresight, and youth as well as be a symbol for rebirth. No wonder emeralds are May's birthstone, with this month being the height of spring – the vivid green color is perfect for the season.

In honor of emeralds being May's birthstone, here are some truly outstanding emerald pieces from our auctions. We hope you enjoy!
Vintage Emerald & Diamond 'Couscous' Bangle Bracelet
This vintage bangle bracelet hails from the famous Maison of Van Cleef & Arpels. This style of jewelry, known as 'couscous' was popular in the 1950s and Van Cleef & Arpels created this same style of bracelet using emeralds, sapphires, and rubies.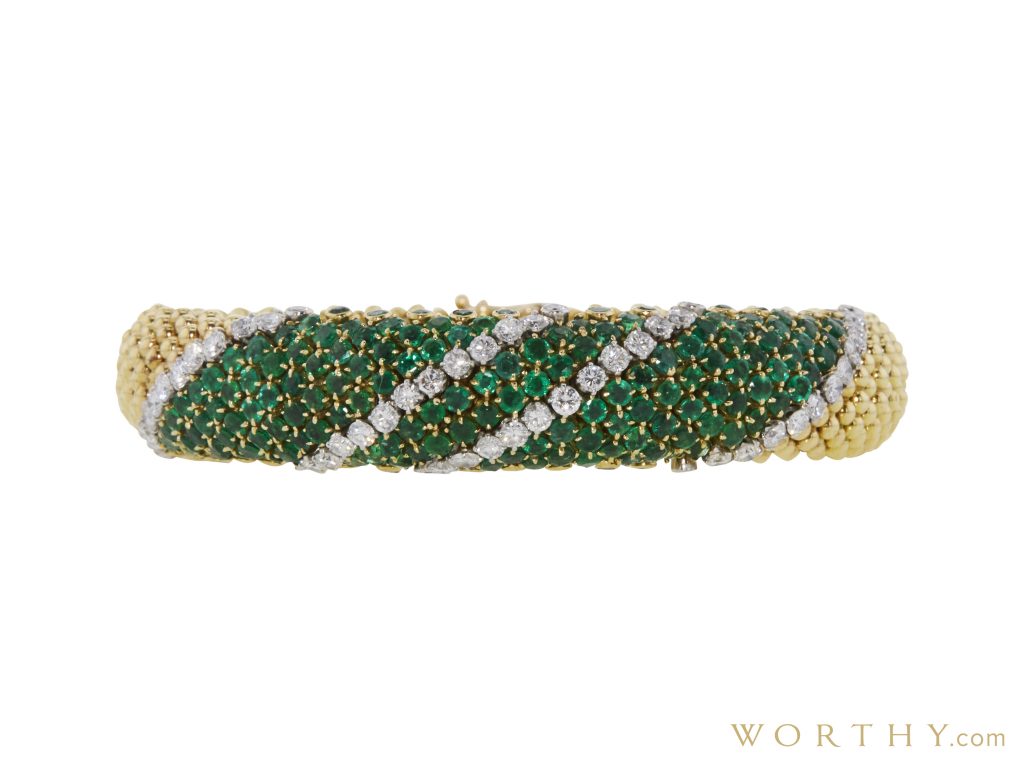 The 'couscous' style was inspired by the Moroccan dish. It involves small spheres of gold or silver along with small, almost pave-like diamonds and gemstones.

The combination of diamonds, emeralds, and yellow gold creates a bold look for this bangle bracelet, which sold with Worthy for $23,914.

Emerald & Diamond Riviera Necklace
Another piece from the past is this emerald and diamond rivera necklace, which includes a whopping 37 emeralds along with 518 very small diamonds. A necklace like this certainly provides the wow-factor- the size, color, and v-shape make it a dramatic piece. But unless you are attending a dinner at Downton Abbey with the Crawleys, you most likely don't have too many occasions to wear it.

Emerald Engagement Rings
This might be hard to believe but there was a time when white diamonds were not the norm for engagement rings. The soon-to-be-wed often chose gemstones, like emeralds, sapphires, and rubies, for their rings since they had so much symbolic meaning behind them. A few famous emerald rings include Jackie Kennedy's emerald and diamond Van Cleef & Arpels ring as well as Halle Berry and Victoria Beckham who both have been spotted in emerald engagement rings.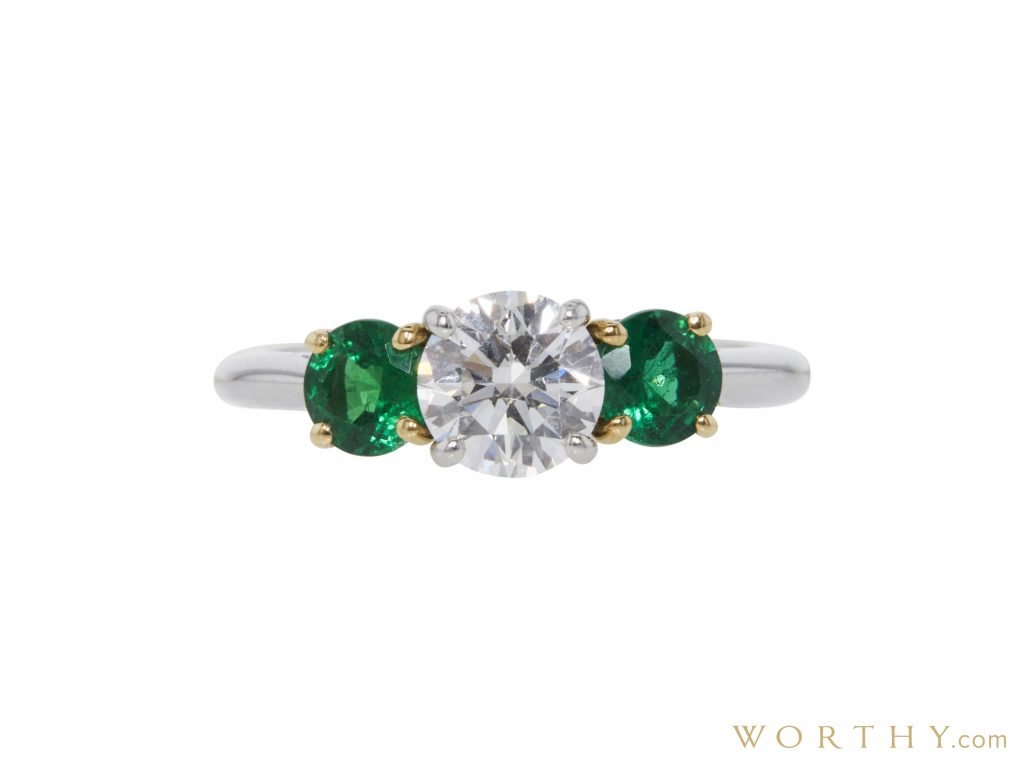 These recent Worthy auctioned rings both include emerald side stone in a 3-stone setting. The green and gold give the ring a vintage flair while the white gold setting is slightly more modern but still a classic.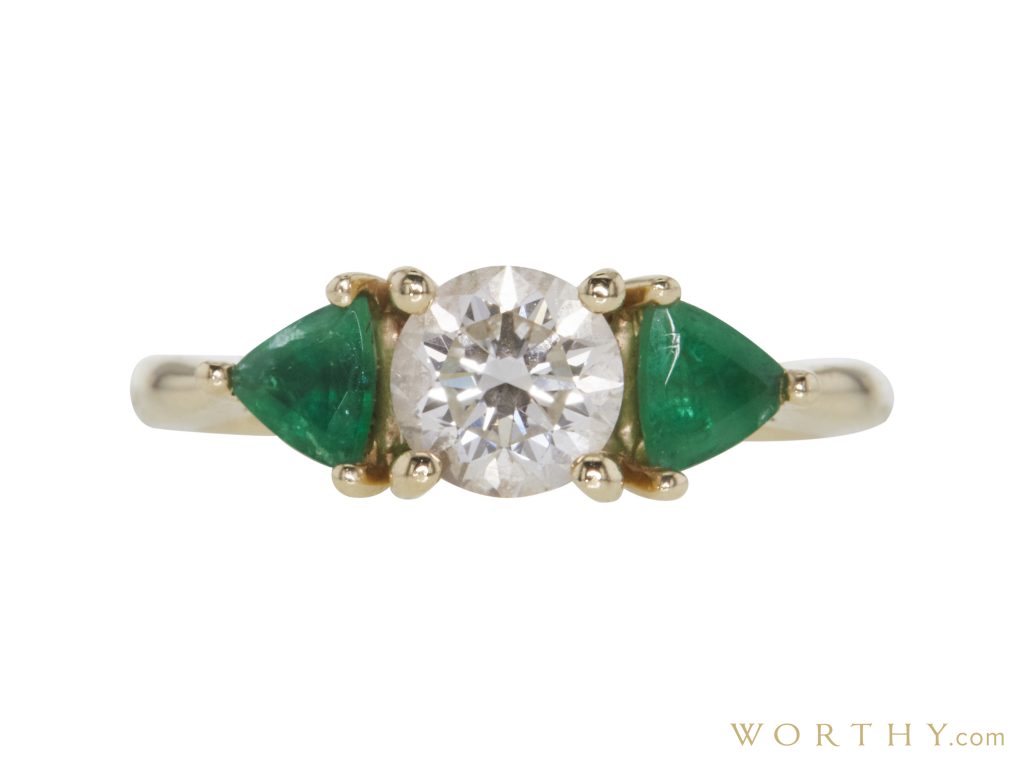 Have a piece of emerald jewelry you'd like to sell? Get in touch with us about selling your emerald and our team will be happy to help you!

//= get_template_directory_uri() ?> //= get_template_directory_uri() ?> //= get_template_directory_uri() ?> //= get_template_directory_uri() ?> //= get_template_directory_uri() ?> //= get_template_directory_uri() ?>
©2011-2023 Worthy, Inc. All rights reserved.
Worthy, Inc. operates from 25 West 45th St., 2nd Floor, New York, NY 10036