The Romance of Antique Engagement Rings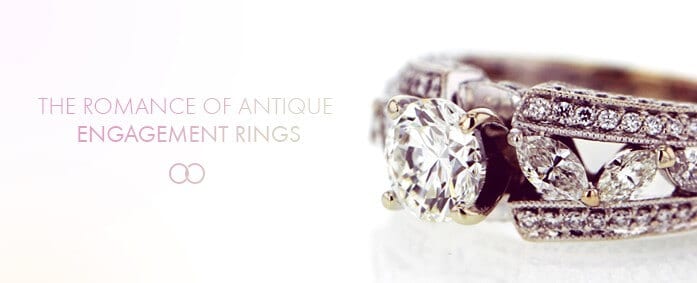 Even some of history's greatest warriors had a soft spot when it came to love. Take Napoleon Bonaparte for example.At the age of 26, the man who would be Emperor of France was still working his way up the ranks of the French army. At the same time he was in love with Joséphine even though she was six years his senior and already a widow with a son.
In March 1796, Napoleon presented Joséphine with an engagement ring. The gold ring, with an origin listed as 18th Century, is adorned with two pear-shaped, one-carat stones, a blue sapphire and diamond that rest side by side facing opposite directions. It was quite a gift for someone of modest means at the time. The wedding immediately followed and off he went to Italy to take on his first command. The rest is history.
The same ring sold for more than $1 million in March 2013, at the Osenat auction house in Paris. Whether it will continue to serve as an engagement ring is as unknown as the buyer. But imagine presenting or receiving such a ring for your engagement.

A story like Napoleon's is certainly one appeal of antique and period engagement rings. To add value and romance to a ring it doesn't necessarily have to involve an historic figure. Even those of more modest means and accomplishments have stories that are special. Buying an engagement ring and knowing the story of those who owned it before brings a kind of spiritual attachment to the jewel.
Another reason for owning an antique or period piece is style. For example, a true Art Deco engagement ring certainly carries more authenticity than a new ring in the style of the era. Or better yet, a ring that could serve as an engagement jewel from the romantic Edwardian and Belle Epoque periods is both appropriate and authentic.
Antique and period jewels, including engagement rings, often have a high level of craftsmanship that is not as common in jewels made today. There's also a distinct and timeless allure in these types of jewels.
Engagement rings from historic brands, such as Cartier, Tiffany and Van Cleef & Arpels carry plenty of weight in a marriage proposal. Combine brand recognition and personal provenance and you pretty much hit the jackpot. For example, the 2.84-carat emerald and 2.88-carat diamond Van Cleef & Arpels engagement ring that John F. Kennedy gave to Jacqueline Bouvier in 1953 would make an engagement a memorial experience for pretty much anyone.
Of course most people don't have the kind of money and connections to purchase such historic jewels as an engagement. But those who have a passion for these antique and period jewels shouldn't be disappointed. There's often a value proposition with buying a pre-owned engagement ring.
An engagement ring is one of the most personal and important objects one could ever give or own. It's also most likely the only jewel that is worn throughout one's lifetime. For many, sharing a rare piece of jewelry is one of the truest symbols of expressing one's love.
//= get_template_directory_uri() ?> //= get_template_directory_uri() ?> //= get_template_directory_uri() ?> //= get_template_directory_uri() ?> //= get_template_directory_uri() ?> //= get_template_directory_uri() ?>
©2011-2023 Worthy, Inc. All rights reserved.
Worthy, Inc. operates from 25 West 45th St., 2nd Floor, New York, NY 10036