Top 10 Auctions from May 2021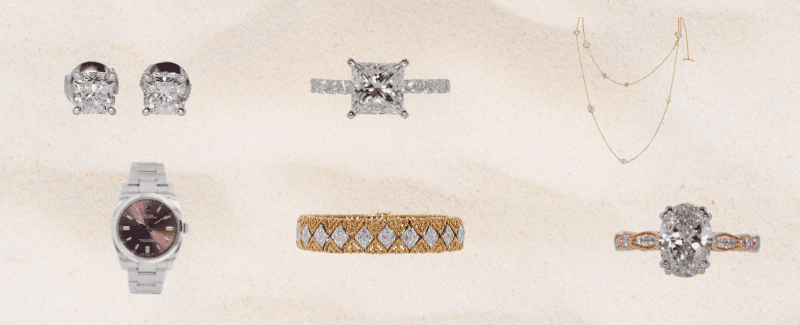 The weather is heating up and we're getting excited for what's sure to be a great summer! Our auctions were full of great items last month so to help pump things up we're looking back at the 10 best items.

Not So Yellow Mellow Gold
When it came to yellow gold jewelry last month, things were not so mellow. In fact, they were a little over the top! May's auctions included a pair of yellow gold and diamond clip on earrings (#7 below), a yellow gold and oval-cut diamond bridal set, and a yellow gold and diamond bracelet! But we could not get enough of the yellow gold Elsa Peretti Diamonds By The Yard necklace from Tiffany & Co.! While this necklace is basically elegance itself, something so stunning might not be for everyday wear. Have something like this that's just been sitting in your jewelry box (even pre-pandemic)? Consider selling it with Worthy to buy something you can enjoy every day.

Not Quite Classic, Not Quite Trendy
Fashion trends come and go but the classics are constant. But what if you want something in between – not classic but not so trendy that there's a chance you'll end up hating it? Enter the three engagement rings on this month's list. The emerald solitaire (#2) is certainly traditional-looking but the choice of emerald over a round diamond for this classic setting makes it just a touch more unique. And the princess-cut diamond ring (#8) certainly gives more of a "wow" factor to this setting than a round would. But whether you chose a trend over a classic or are just tired of looking at the same pieces of jewelry every day, upgrade your jewelry box by selling pieces you're over and jazz up your look!
At Worthy, we use our expertise, technology, and connections to get jewelry sellers the absolute most for their jewelry. Curious about how much you could make from selling a piece of diamond jewelry? Click below to get started.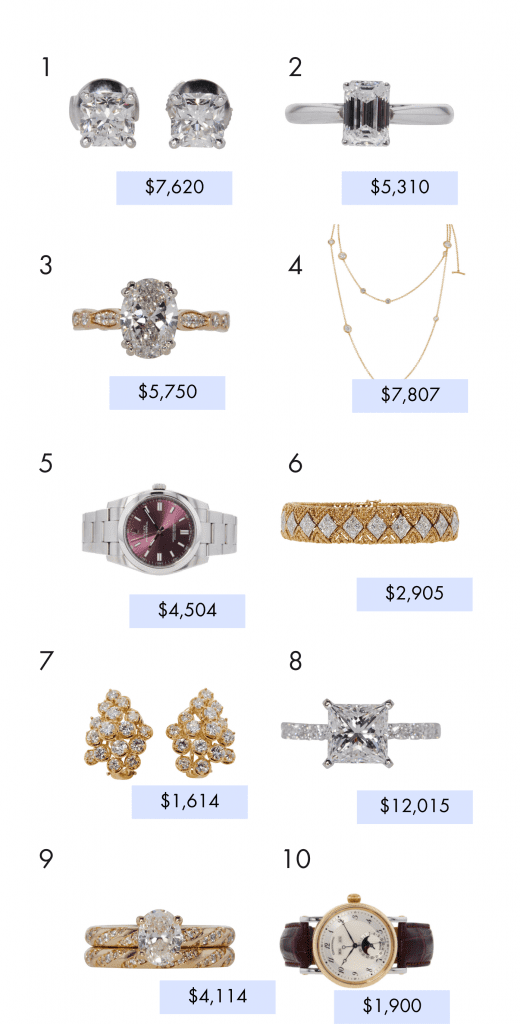 Top 10 Auctions from May 2021

5.8 CT  Round-Cut Tiffany & Co. Lucida Diamond Stud Earrings. Sold for $7,620.
1.2 CT Emerald-Cut Solitaire Ring. Sold for $5,310.
2.01 CT Oval-Cut Solitaire Ring. Sold for $5,750.
Elsa Peretti® by Tiffany & Co. Diamonds By The Yard Sprinkle Necklace. Sold for $7,807.
Rolex Oyster Perpetual. Sold for $4,504.
Round-Cut Diamond and Gold Bracelet. Sold for $2,950.
Round-Cut Diamond Clip Earrings. Sold for $1,614.
2.07 CT Princess-Cut Solitaire Ring. Sold for $12,015.
1.01 CT Oval-Cut Bridal Set. Sold for $4,114.
Chronoswiss Lunar Triple Date. Sold for $1,900.
//= get_template_directory_uri() ?> //= get_template_directory_uri() ?> //= get_template_directory_uri() ?> //= get_template_directory_uri() ?> //= get_template_directory_uri() ?> //= get_template_directory_uri() ?>
©2011-2023 Worthy, Inc. All rights reserved.
Worthy, Inc. operates from 25 West 45th St., 2nd Floor, New York, NY 10036