Choosing Your Earring Style to Fit the Occasion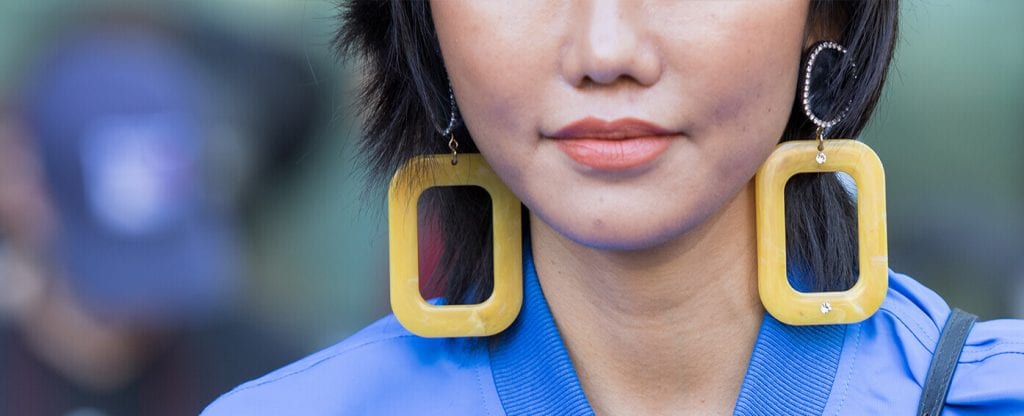 A great pair of earrings complements your features as well as your outfit. In this quick guide, you will learn ten ways to choose the best earrings for any occasion. As you choose, remember that simply liking the design of a pair of earrings doesn't mean that they will be a good match for your features or your outfit. It might be hard to overlook the beauty or trendiness of the jewelry that you're considering but it's important to make sure that the jewelry you choose helps you make the desired impression.
General Tips for Evaluating Jewelry
If possible, try on earrings before making a purchase. It's not always easy to do this, especially if you are buying jewelry online; also, many brick and mortar stores no longer allow people to try on earrings due to hygiene and security considerations.
Whether you can try the earrings you are considering or not, ask yourself these questions:
How will these earrings make me look?
Do they highlight my features?
Do they make my eyes stand out?
Do they complement my face shape?
What impression do they give?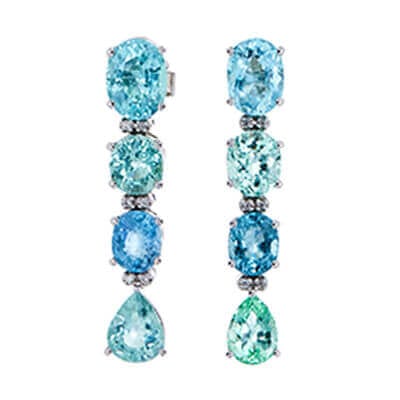 If you are in doubt, it can help to ask a friend for an honest opinion. Knowing how others will perceive your jewelry can help you make a decision. If there is no one to ask, keep in mind that the best earrings for you are those which emphasize your best features. If your face is angular, rounded shapes will soften your look. If you have a round face, long, dangling earrings or hoops can help accentuate your cheekbones. If you have a square face or if your face is wide, look for large earrings as they will help to balance your appearance. Long oval shapes are ideal for almost everyone, as are long earrings that are wider at the bottom than at the top.
It might surprise you to learn that your skin condition affects the way your earrings look. People with smooth, youthful skin can wear just about any style that appeals to them. They look nice in small earrings with flat surfaces as well as in colorful earrings or those with bold textures. People with aging skin tend to look best in larger styles with bolder textures and/or brighter colors. The reason for this is that small earrings without too many features draw attention to the skin. Larger, more interesting earrings bring out a person's overall beauty.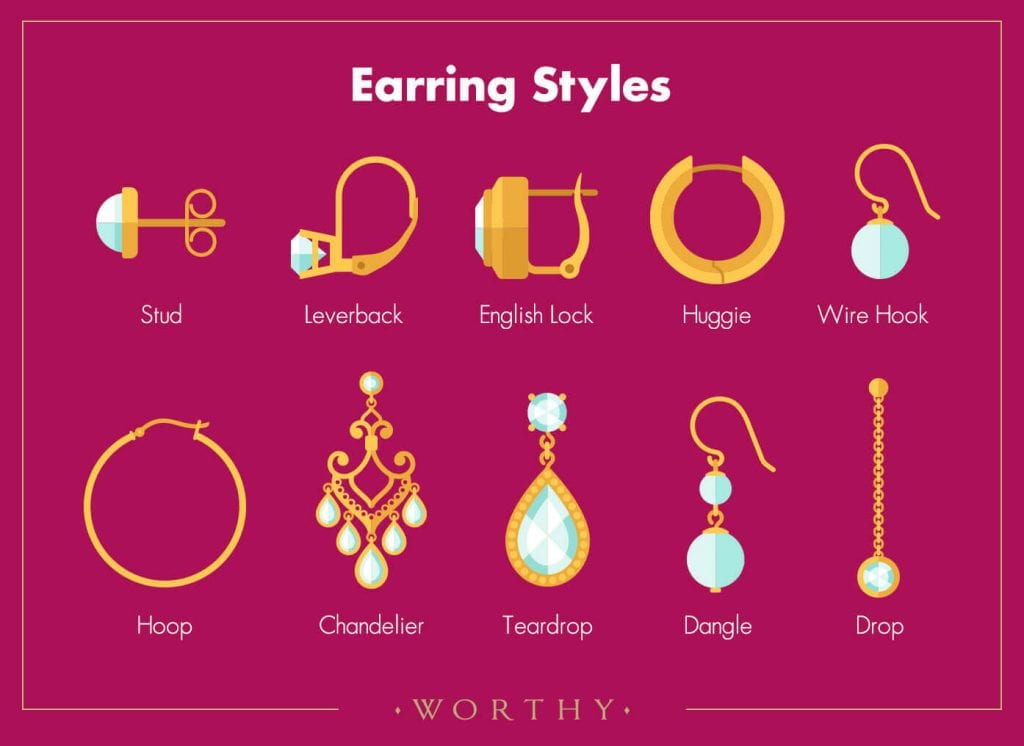 How to Match Earrings to Your Outfit
You might wonder "Which earrings suit me best?" With the right jewelry, even casual clothing can appear sophisticated or elegant. Even so, it's important to remember that the same earrings that look fantastic with work outfits may not be right for a party or a dress-up occasion and vice-versa. That's not to say you should avoid stepping out of the box. A sparkly, elegant pair of earrings can sometimes look amazing with a pair of jeans and a simple top, especially for a fun girl's night out.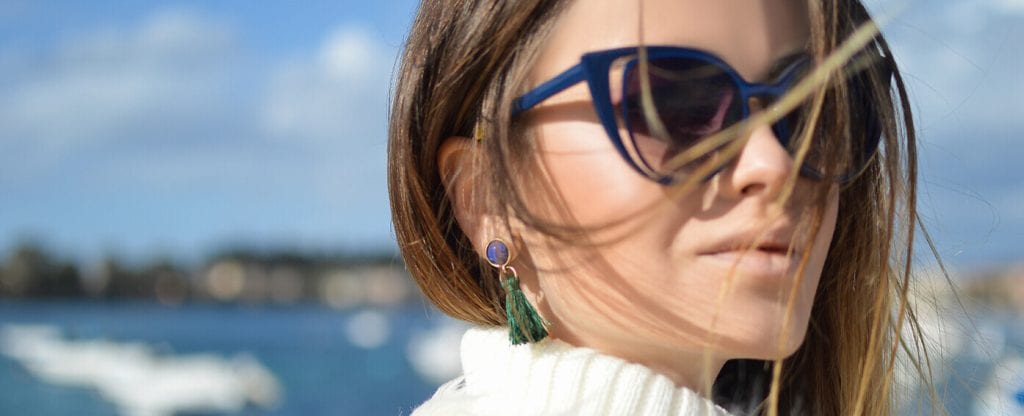 Choosing earrings can seem tricky at times, but there's a simple rule that you can follow no matter what the occasion. This is it: be sure that they and other accessories complement you and your outfit rather than overpowering. Size, color, style, and materials matter as well as the occasion. Whether you're looking for the perfect earrings to wear with jeans or what color jewelry goes with a little black dress, the following tips will help make your choice easier.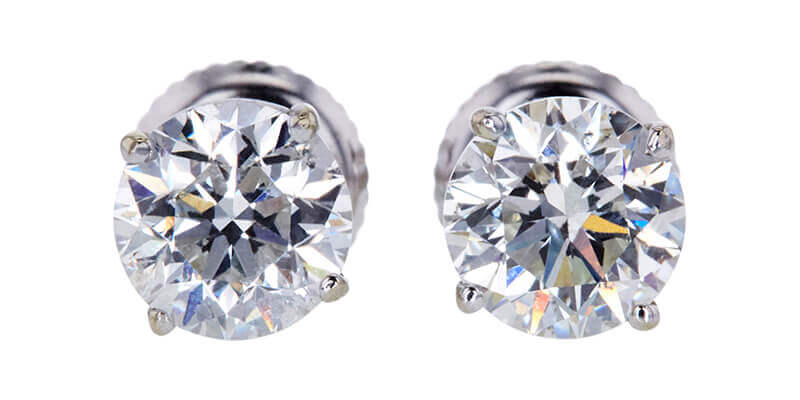 How to sell diamond earrings with Worthy
Stud Earrings
These are usually quite small and come in a variety of shapes. They flatter everyone and are perfect for wearing to work. Many companies with uniform regulations and strict dress codes prefer that their employees wear studs. A nice pair of diamond stud earrings goes with everything from jeans to your favorite little black dress.
Hoop Earrings
This popular style comes in a variety of sizes and is available in round or oval shapes. More angular shapes like triangles, squares, and rectangles are a fun twist on a classic favorite. Small hoops, either plain or adorned with gemstones, might be just the thing for pairing with business casual wear. They are nearly as versatile as studs, so you can wear them with casual outfits too. Small hoops sometimes complement formal attire however they may not be the most interesting choice. Large hoop earrings are great for pairing with casual wear that might not be appropriate for work. They can, however, look nice with some formal styles, offering a fun, youthful appearance.
Chandelier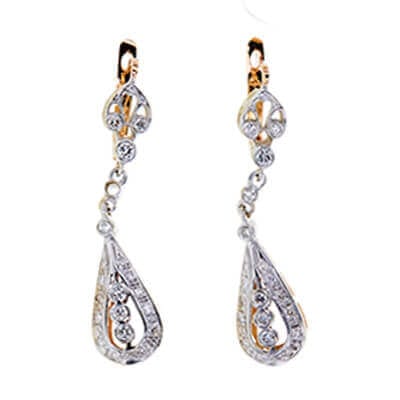 These dressy earrings feature a decorative stud with an elongated drop that dangles below the ear. Sometimes made of metal only, they most often feature an array of sparkling gemstones or semi-precious gems. Chandelier earrings are often the perfect choice for fun nights out as well as for formal occasions. They can also be fantastic for pairing with jeans as long as your top and shoes complement the overall look.
Often embellished with beads, stones, or whimsical shapes, these earrings hang below the earlobe and add interest to your face and your outfit. They come in a variety of designs and widths. Dangle earrings are sometimes colorful and can help you create a coordinated look for casual or business wear. Neutral gold or silver dangle earrings can be a great investment since they tend to complement a variety of outfits. This simpler the style, the more versatile it will be.
About that little black dress, you can wear any earrings in any color, so long as they complement your unique features and are coordinated with other accessories. You can certainly mix and match if you want to, so long as the look is intentional rather than gaudy.
It's a good idea to build up a collection of earrings in different shapes, sizes, and colors. This way, you can check your appearance in the mirror before you head out the door. If you ever find yourself in doubt, go with a classic look such as neutral pearls or diamonds. They complement nearly every outfit and can help you look your best.
//= get_template_directory_uri() ?> //= get_template_directory_uri() ?> //= get_template_directory_uri() ?> //= get_template_directory_uri() ?> //= get_template_directory_uri() ?> //= get_template_directory_uri() ?>
©2011-2023 Worthy, Inc. All rights reserved.
Worthy, Inc. operates from 45 W 45th St, 4th Floor New York, NY 10036