Why You Should Avoid Pawning Jewelry (and what to do instead)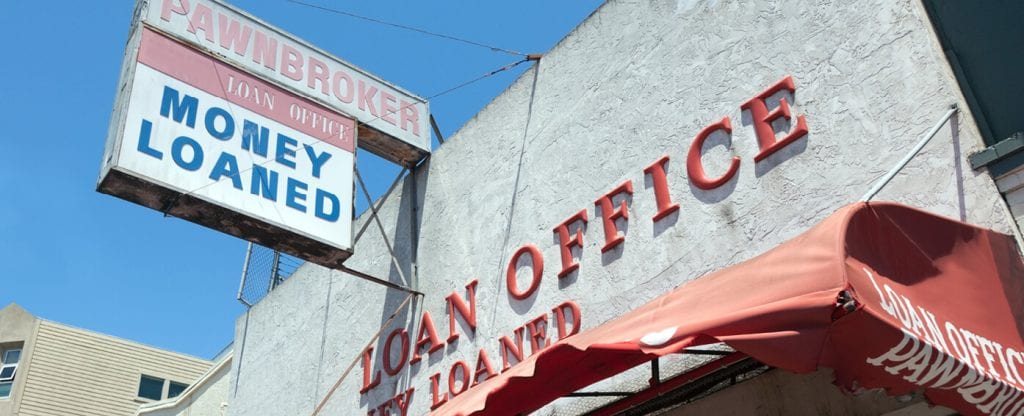 The concept of the pawn shop has been around for centuries. More than 3,000 years ago, prominent Chinese, Greek, and Roman businessmen discovered that they could profit by lending money to peasants who needed short-term loans. Throughout history, famous figures such as England's King Edward III and Spain's Queen Isabella financed wars and exploration by pawning jewelry.
During America's Great Depression, pawn shops served as a method for transforming objects into much-needed fast money. Today, people continue to turn to pawn shops for quick cash.
The reason for the long-standing popularity of pawn shops is easy to understand- it's a simple way to gain quick access to cash. For shop owners, the business model is successful because they are able to buy valuable items at deeply reduced rates and make a decent profit even when sale prices are below retail.
Pawning jewelry might feel like the only choice you have when finances are tight. However, it's important to understand that the same business model that makes pawn shops successful means that you are likely to lose money if you choose to sell your valuables this way.
How Does Pawning Your Jewelry Work?
Pawnshops are regulated by federal, state, and local laws designed to protect shop owners and customers alike. While every business is different, most of these shops are clean, organized, and easy to deal with; in fact, they can be a treasure trove for shoppers who want to purchase items such as antiques, musical instruments, and electronics at good prices.
The deadline for repayment varies; on average, it is between one and four months. People who cannot afford to repay their loans don't suffer any negative consequences, other than losing the items they put up for collateral – such as their jewelry. About 80 percent of loans are repaid, and property owners are able to recover their collateral.
Many pawn shops also offer the alternative of selling items outright. Shop owners make less money with this option, and are able to pay just pennies on the dollar. Depending on the item's value, the shop's overhead costs, and the state of the local resale market, people who sell their jewelry to a pawnshop are likely to receive thirty to sixty percent of the item's estimated value. Still, in a worst-case-scenario in which immediate payment is a must, this might be enough to stave off a financial disaster.
Online pawn shops are available as well. Like their brick and mortar cousins, these shops buy and sell jewelry and other items at cut rates. Because items must be shipped to the pawn shop, it takes longer for sellers and loan recipients to receive payment.
Is Pawning Jewelry Worth It? What To Watch Out For
Keep in mind that pawn shop regulations vary from one state to the next, and not all pawn shops are alike. If you have no option other than selling your valuables at a pawnshop, it may be worth pawning jewelry. However, you should choose the venue carefully and be aware of these things to watch out for.
Ensure that all fees are clearly stated and be on the lookout for hidden charges.

Read the fine print concerning annual interest rates. In January 2017, the U.S. Consumer Financial Protection Bureau filed lawsuits against a trio of Virginia pawnbrokers for deceiving customers by understating annual interest rates by as much as fifty percent.

Be sure to deal only with pawnshops that check ID's on every customer, and that work with local law enforcement to ensure that stolen property doesn't make its way into the store.

Be prepared to bargain with the shop owner. Check online venues such as eBay and Etsy to see what similar items are going for. Understand that the pawnshop will offer far less than retail, since they have costs to cover.

If possible, check a few different pawnshops to determine which one can offer you the best deal.

Read reviews to see what others have to say about the pawnshop you're considering.

Why do people accept such big losses, knowing that other methods of selling valuables are likely to offer far better returns? In short, it's because pawnshops offer instant cash. While this model has helped many individuals work their way out of financial tight spots, it's not ideal for those who can afford to wait a few days for a far better return.
How Much Can You Pawn Your Jewelry For?
If you are considering pawning jewelry that you own, you are probably wondering how much you can pawn your jewelry for. Unfortunately, selling your jewelry to a pawn shop is likely to guarantee you the lowest amount of money in exchange for your valuables due to the pawn shop business model.
Like any business that buys diamond jewelry, how much a pawn shop is willing to pay when you sell your engagement ring or other diamonds will depend on the characteristics of the diamonds, especially the famous 4 C's: carat, cut, clarity, and color.
When you sell your diamonds to a pawn shop, you are likely to get only 50% of the retail value of a diamond back or even significantly less than that. This may work for you if your main concern is getting fast cash to solve a financial emergency. But otherwise, there are far more lucrative ways to sell your jewelry both at stores near you or online.
Alternatives to Pawnshops
It makes sense to sell jewelry you no longer want or need. If you have an unwanted engagement ring, a diamond bracelet that's no longer in style, or a necklace that just isn't you, there are more profitable alternatives to pawnshops.
Consignment stores and jewelry shops near you are sometimes good alternatives, however, the sales process typically takes time, and the selling price is likely to be disappointing since these businesses have high overhead costs.
Also, be very careful if you opt to sell jewelry in person to people you've met online. Follow best practices when meeting potential jewelry customers you met online:
Do not meet strangers alone, even if they seem safe and friendly in online conversations.
Never publicize your address.
Be sure to meet in a safe place such as a police station parking lot in broad daylight.
Accept cash only, and know how to identify counterfeit bills.
When deciding how to sell old jewelry, consider the amount of time you'll need to invest in the process. Will you have to photograph your item and write a description to draw attention to it? Will you need to have it appraised? Will you need to spend time researching pawnshops and other venues, or take the time to drive to and from jewelry shops and other stores that might consign the item for you? Your time is very valuable. By minimizing the amount of time you invest in the process of selling your jewelry, you maximize your return.
While the pawnshop model has helped many individuals work their way out of financial tight spots, it's not ideal for those who can afford to wait a few days for a far better return.
While the pawnshop model has helped many individuals work their way out of financial tight spots, it's not ideal for those who can afford to wait a few days for a far better return.
Another Alternative to Pawnshops: Online Jewelry Auctions With Worthy
You might also opt to sell your jewelry online at a venue such as an online jewelry auction. This option is attractive, as it exposes your jewelry to a wide audience, and as online venues tend to provide safe, secure transactions with no need to meet strangers face-to-face. Worthy is an online auction marketplace that helps clients sell their jewelry for the most money, in a safe and transparent way. Worthy clients benefit from:
Secure FedEx shipping and up to $100,000 in insurance coverage.

Complimentary diamond grading by GIA/GSI, the world's leading gemology labs, ensuring professional, accurate evaluations for every transaction.

Worthy handles pre-sale tasks including cleaning, professional photography, and thorough descriptions designed to appeal to top-tier buyers.

Your item is displayed to a network of professional, vetted jewelry buyers who compete for your jewelry, driving prices up and ensuring the best price the market can offer.

Dedicated account executive, communication every step of the way.

With Worthy, you approve the final bid rather than settling for a lower bid or even a mere percentage of the selling price. While there's no instant cash in hand, the process takes only a few days to complete, and your money is securely transferred to your account as soon as you consent to the selling price. Get started selling your diamond jewelry with Worthy today!
//= get_template_directory_uri() ?> //= get_template_directory_uri() ?> //= get_template_directory_uri() ?> //= get_template_directory_uri() ?> //= get_template_directory_uri() ?> //= get_template_directory_uri() ?>
©2011-2023 Worthy, Inc. All rights reserved.
Worthy, Inc. operates from 45 W 45th St, 4th Floor New York, NY 10036