5 Estate Jewelry Essentials for Your Store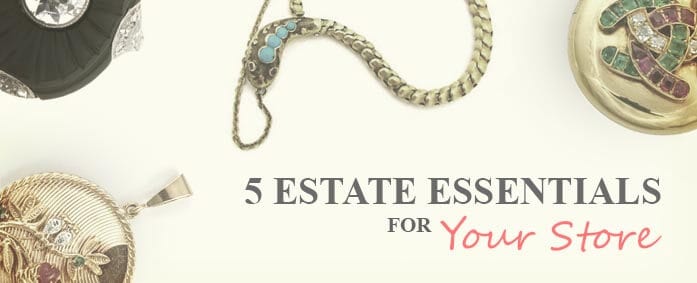 You opened an estate jewelry department within your shop and want to include antique, retro and vintage jewelry. Choosing the right pieces to suit your customer's tastes is always the most difficult part of the process. What are the top sellers in a department where everything is one of a kind? You need recognizable and popular pieces that will appeal to both novice and consummate jewelry collectors. We interviewed antique dealers to find a list of pieces that create magic (and sales) by evoking the lore and legends of the best eras of jewelry's past: Georgian, Victorian, Art Nouveau, Edwardian/Belle Époque, Art Deco and Retro 40s.
Our picks for the top five pieces to feature in the estate department of your store:
1. STONED LOVE
Although Victorian jewelry is full of sentiment and symbolism, the romantic language of jewelry started with the Georgian era. Gemstones, which were originally worn as protective amulets, took on new meaning in the "love notes" known as acrostic jewelry. Terms of endearment were spelled out with the first letter of vivid gemstones, predominantly in rings, brooches and lockets. Acrostic jewelry dates back to 18th century France, when Jean-Baptiste Mellerio cleverly invented the concept of spelling words as well as dates and names with the first letter of gemstones for Napoleon's family. Chaumet also created its original acrostic pieces during this period for both of Napoleon's wives. These jewels quickly spread to England and continued throughout early Victorian times with the most popular words including Regard (ruby, emerald, garnet, amethyst, ruby, diamond), Adore and Dearest. Authentic antique acrostic rings are snapped up as soon as they are found and the more intricately designed lockets and brooches command heady price tags. If you have one in your case, make sure you "read" the letters for customers. You'll soon find out why these pieces are so sought after because you'll need to hunt down more acrostic jewels and restock right away!

2. SNAKE IT
Any jewelry enthusiast knows that many of the symbols, motifs and styles that continue to reign supreme today gained their popularity in Victorian times, which was perhaps the longest period in jewelry history. And oh, what a romantic lot those Victorians were. When Queen Victorian married her prince, Albert, he presented her with the first known British engagement ring—an entwined gold serpent with the Queen's birthstone, an emerald set on the head. And, although snakes had been featured in jewelry for centuries, Queen Victoria's ring, which slithered around her finger and symbolized eternal love became the most iconic motif of the Victorian time period. It was designed into all categories of jewelry and encrusted with various gemstones. A snake or two in your case is worth its weight in gold.
3. LOCK IT
Holding personal messages, photos and mementos of a loved one, lockets are like little treasure troves of secrets kept close to the wearer's heart. Lockets have been around for centuries but took on the shape of padlocks and rock crystal hearts, chased keys, large shields and various other shapes in the Georgian into Victorian eras. But lockets also cross all time frames – taking on the silhouettes and decorated with the motifs of the age in which they were designed. For example Victorian lockets featured the major motifs of the day: horseshoes for luck, forget me nots for remembrance and buckles to hold tight to love. Art Nouveau lockets were decorated with plique-a-jour and various other types of enameling and were set with French baguette cut gems forming designs inspired by Japanese naturalistic motifs. In the Edwardian/Belle Époque style of lockets, old mine and European cut diamonds set into platinum and set a top 18K gold replaced the colored gemstones of the Victorian and Art Nouveau and also featured natural pearls in the center of floral designs. Lockets were not only for keepsakes but perfect for engraving sayings and important names and dates in intricate patterns into the metal of choice. Lockets are a perfect gift for the birth or a child, mother's day, or any sentimental occasion.
4. IN BLACK AND WHITE
Flappers, speakeasies, women hiking up their skirts and gaining the right to vote. Skyscrapers, airplanes and speed in motorcars, the world had changed and nothing was black and white anymore except for the jewelry. Gone were the feminine flourishes, flowers and frills of the Edwardian/Belle Époque, replaced by streamlined looks of the modern and jazz age of the roaring 20s and Art Deco movement in Europe. Black onyx figured into these early designs with the contrast of the ice-y looks of white old mine cut and European cut diamonds against the steel-y look of platinum most prevalent in rings and with a oval or rectangular cut onyx stone. These black and white pieces still look modern today. Very wearable with a contemporary wardrobe, you'll find they appeal to a wide range of customers.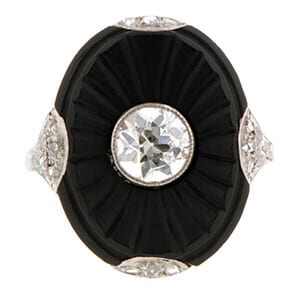 5. SIMPLY CHARMING
Every era introduced a new look in jewelry. After World War II, there was a movement of women into the workforce during the 40s and early 50s. Those who stayed at home entertained and threw cocktail parties in their new suburban developments. The war had an effect on jewelry too: rose and yellow gold replaced platinum and sweetheart jewelry surfaced symbolizing the marriage boom and husbands coming home from the war. Women also started personalizing and purchasing their own jewelry, which looked good with their skirt suits and heels. These two influences converged to create one of the biggest jewelry trends, which swept over the retro 40s and the early 50s: the charm bracelet. Every woman seemed to have one and over the years that would pass they would add new charms that represented milestones in their lives—anniversaries, children's births, sports, hobbies, and a host of other trinkets and tokens that tell the story of their lives. Those that have not been handed down over the years, have been broken up. There are some amazing moveable, sentimental, tongue-in-cheek and artfully designed charms that will add lots of charm to your cases too. They can be added to bracelets or worn as pendants. There are also the themed charm bracelets from Cartier in platinum with precious stones from the late 30s that can be found in pristine condition at estate sales or through dealers. Whichever way you go, may your estate department be charmed with the luck and good fortune that these styles represent.
//= get_template_directory_uri() ?> //= get_template_directory_uri() ?> //= get_template_directory_uri() ?> //= get_template_directory_uri() ?> //= get_template_directory_uri() ?> //= get_template_directory_uri() ?>
©2011-2023 Worthy, Inc. All rights reserved.
Worthy, Inc. operates from 25 West 45th St., 2nd Floor, New York, NY 10036