8 Showstopping Engagement Rings in Movies and TV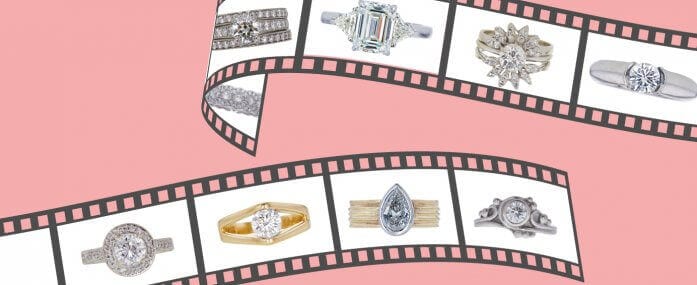 There is nothing more romantic than a silver screen proposal. And it's safe to say that it is usually followed by an equally stunning engagement ring in the classic small velvet box. Here's our roundup of the most exquisite TV and movie engagement rings of the big and small screen.
Grace Kelly's Engagement Ring in the Movie "High Society"
Not many people get to both play royalty and be royalty but Princess Grace of Monaco was one of the lucky few. Grace Kelly became engaged to Prince Rainier III of Monaco in 1955 when he proposed with a Cartier 10.47 carat emerald cut diamond ring. Kelly was meant to begin filming the movie "High Society" in the beginning of 1956 where she played a wealthy socialite on the eve of her wedding. Rather than purchasing a prop ring, Kelly wore her real engagement ring for the filming, which ended a few months before her royal wedding in Monaco. Sounds like a modern day fairy tale.
Rose's Ring in "Titanic"
James Cameron's "Titanic" is filled with jaw dropping props, including the memorable "Heart of the Ocean" necklace worn by Kate Winslet's character Rose DeWitt Bukater. But Rose's engagement ring is itself quite a piece of bling. In the movie, the ring is bought by Rose's wealthy fiance Cal Hockley and fits the late Edwardian/early art deco style of 1912, with a large oval center stone and two graduated baguettes on either side. The ring even gets noticed by the third-class passenger Jack Dawson when he meets Rose on deck after saving her from suicide.
Monica's Ring on the TV Series "Friends"
A perfectionist like Monica Geller would have to have a perfect ring and indeed she does. Chandler proposed with a three-stone Tacori-style ring which featured a princess cut diamond center stone and two triangular sapphire side stones. Fun fact: in the show, the salesman refers to the ring as a vintage ring from the 1920s, however this isn't possible as the princess cut was only invented in the 1960s.
Claire's Ring in "The Time Traveler's Wife"
In the novel-turned-movie, Claire is in a rather unconventional relationship with past and future husband Henry. Even Henry's proposal is unconventional, when he places a beautiful diamond ring on Claire's hand while she's sleeping and, in an effort to change their circumstances, Claire tells Henry no (although, of course, they end up getting married). The ring itself is East West ring, meaning an oval diamond turned horizontally rather than vertically as normally seen.
Carrie's Ring in the Movie "Sex and the City 2"
If Helen of Troy's face launched a thousand ships, Carrie Bradshaw's engagement ring in Sex and the City 2 launched a thousand replicas. Mr. Big gives Carrie a second engagement ring with a large black diamond after she returns from Abu Dhabi with the girls. Why a black diamond? As Mr. Big tells Carrie, "because you're not like anyone else." The ring has a large round black diamond in the center with a diamond halo and diamond band.
The Engagement Ring from "Legally Blonde"
From the first moments of "Legally Blonde", we know Elle Woods is after "The Rock", a six-carat diamond ring from Harry Winston that she expects to receive from her boyfriend, Warner Huntington III. But Elle wouldn't have become the heroine she does if she got the rock. Instead, it makes its way onto Vivianne Kensington's "bony, unpolished finger." The ring, meant to be inherited from Warner's grandmother in Newport, features a pear center stone with two round brilliant side stones on either side. In the end, Vivianne ditches Warner and the ring to become best friends with Elle, proving diamonds don't always have to be a girl's best friend.
Daisy's Ring in "The Great Gatsby"
There is more than enough to look at in "The Great Gatsby"- the clothes, scenery and even the actors are all easy on the eyes. And Daisy Buchanan's ring is perfectly chosen to fit the roaring 20s era movie. The ring features a large cushion cut diamond with a halo of small diamonds and a micropave band. She also sports a matching wedding band to complete the set, along with tons of accent rings, bracelets and necklaces to create her perfectly art deco costume.
Melanie's Ring in "Sweet Home Alabama"
It's hard to imagine a more perfect proposal than when Andrew proposes to Melanie on the showroom floor of Tiffany's in New York and invites her to "pick one". And the ring she picks is just as perfect – a round brilliant solitaire in a Tiffany's setting. Unfortunately, Melanie doesn't keep the ring when she calls off her wedding with Andrew but something tells us she doesn't miss it all that much.
//= get_template_directory_uri() ?> //= get_template_directory_uri() ?> //= get_template_directory_uri() ?> //= get_template_directory_uri() ?> //= get_template_directory_uri() ?> //= get_template_directory_uri() ?>
©2011-2023 Worthy, Inc. All rights reserved.
Worthy, Inc. operates from 45 W 45th St, 4th Floor New York, NY 10036