The Duchess of Sussex and Her Ring Update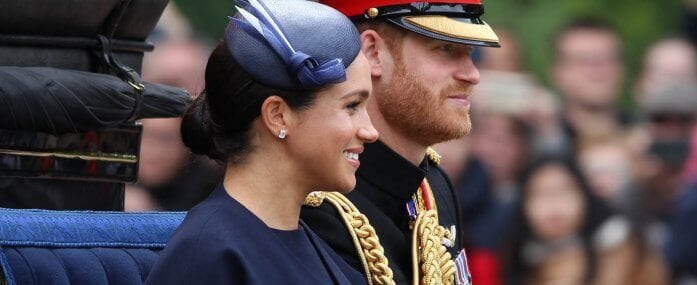 While a lot has happened to Meghan Markle since becoming the new Duchess of Sussex, there hasn't been too much jewelry news… until now! The internet has been bombarded with articles on the Duchess's updated engagement ring over the past few days.
On June 8th, the Duchess was spotted at the Trooping the Colour ceremony with some additional sparkle on her finger. The original thick yellow gold band she's sported since her engagement in November 2017 has been replaced with a thinner band set with pave diamonds. This compliments the eternity band she received from Prince Harry after the birth of their son, Archie.
The ring update is slightly controversial, with some royal experts saying that royal engagement rings are a part of history and don't need anything added. The original ring was designed by Prince Harry, with the center stone sourced from Botswana and the side stones from the late Princess Diana's jewelry collection.
Embed from Getty Images
Meghan's design choice for her ring is a common one. Many women decide to add extra sparkle to their rings by adding a pave band. Thin bands also create the illusion that the main stones are larger (although this isn't really something the Duchess needs to worry about – she already has access to some of the biggest diamonds in the world!).
However, when it comes to value, adding pave diamonds to a ring isn't going to make a big difference. The value of a ring, especially when it comes to resale, is much more focused on carat weight (CW) than total carat weight (CTW). Why? It's a matter of size. One large stone of 1.5 CT is more valuable than a bunch of smaller stones with the same combined weight (CTW). Larger stones are rarer and therefore worth more.
So if you are thinking of following in the Duchess of Sussex's footsteps and sending your ring or other jewelry in for an upgrade, more isn't really more but size is definitely everything.
//= get_template_directory_uri() ?> //= get_template_directory_uri() ?> //= get_template_directory_uri() ?> //= get_template_directory_uri() ?> //= get_template_directory_uri() ?> //= get_template_directory_uri() ?>
©2011-2023 Worthy, Inc. All rights reserved.
Worthy, Inc. operates from 25 West 45th St., 2nd Floor, New York, NY 10036