Worthy's Guide to Asscher Cut Diamonds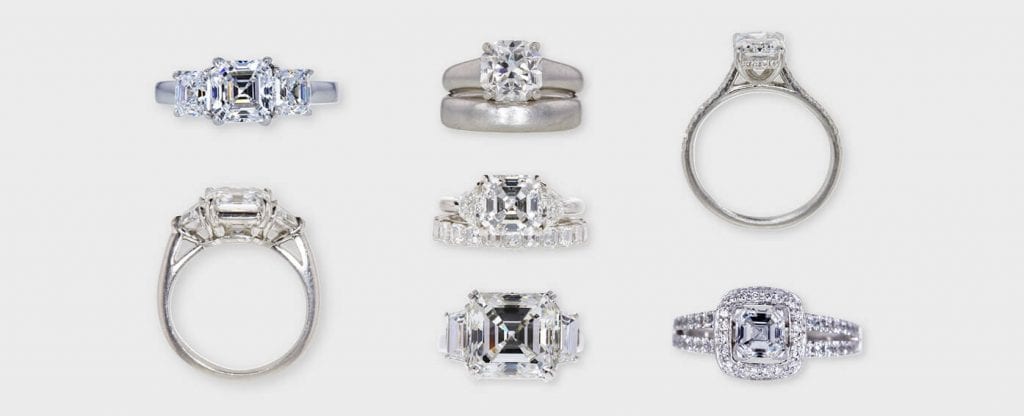 If you love vintage diamond jewelry from the Art Deco period, it's likely that Asscher cut diamonds are among your favorites. This incredible cut shares some similarities with the emerald cut: its geometry is rectangular rather than rounded, and it features stepped pavilions and angled corners that lend a nearly octagonal shape. There are differences, though. While the emerald-cut may be square or elongated, Asscher-cut diamonds are almost always perfect squares. And that's just the beginning!
Asscher Cut Diamond Facts and History
The Asscher cut has a strong association with the Art Deco movement of the 1920s, but it was developed far earlier. This marvelous cut dates back to 1902, when Joseph Asscher of the family-owned Asscher Diamond Company discovered that this shape had the ability to make the most of a rough diamond's natural features while retaining as much of the diamond's weight as possible.
Asscher cut diamonds feature 58 facets, which are larger than those seen in emerald cut diamonds, and which are set further apart. There are three rows of facets on the top of the diamond, and another three rows of facets on the bottom of the diamond. This cut exhibits wonderful fire, though not quite so much as a modern brilliant cut diamond.
While all Asscher cut diamonds share some similarities, you'll find some slight differences in angles, cuts, and proportions when you look at individual stones. Some are slightly rectangular in proportion, although most have a length to width ratios of 1.05 or less, so they appear perfectly square to the naked eye. Occasionally, a slightly longer length to width ratio is used; however, this takes away from the look of the perfectly positioned concentric squares that appear when one gazes down through the diamond's table. Just like the emerald cut, the Asscher cut works best on diamonds that exhibit superior clarity.
Early Asscher cut diamonds can be seen in jewelry that predates the 1920s. During the Art Deco period, the Asscher Diamond Company introduced an update to the cut, building up its crown, making its table a touch smaller, and placing a greater emphasis on the angled corners.
The Asscher Diamond Company held an exclusive patent on the Asscher cut until Nazis entered the company during the second world war, seized all the diamonds, and sent the family and most of the company's employees to concentration camps. With no one left to run the company, the patent expired. When the war ended in 1945, only ten Asscher family members and fifteen of the company's original five hundred diamond polishers survived the Holocaust.
In 1946, Louis and Joop Asscher rebuilt the company and reintroduced correctly cut Asscher diamonds. During the war, other diamond companies had produced similarly cut diamonds, often calling them "square emerald cut diamonds" instead of using the Asscher name. Many of these were proportioned for yield rather than sticking to the original proportion calculations laid out by Joseph Asscher.
In 1980, the Asscher Diamond Company was renamed after being granted a royal title by Her Majesty Queen Juliana of the Netherlands. Today, the company is called the Royal Asscher Diamond Company.
In 2001, Joop and Louis Asscher introduced the Royal Asscher cut. Royal Asscher cut diamonds feature an additional break on the pavilion, which adds 16 more facets. With 74 facets in all, royal Asscher cut diamonds offer even greater brilliance than the original cut. The Royal Asscher Diamond Company retains a patent on royal Asscher cut diamonds, but not on the original Asscher diamond shape.
The World's Most Famous Asscher Cut Diamond
The Krupp Diamond, which is also know as the Elizabeth Taylor Diamond or the Elizabeth Taylor Krupp Diamond, is astonishing. At 33.19 carats, it is an excellent example of an early Asscher diamond, and is believed to have been cut sometime prior to the 1920s.
Outstanding Worthy Auctions featuring Asscher Cut Diamonds
Many beautiful Asscher cut diamonds have gone on to new owners via our auctions.
This show-stopping 3-stone ring featured a 2.19 carat Asscher cut diamond flanked by two shield cut diamonds. It was accompanied by a band with 25 square emerald cut diamonds, and sold for $10,302.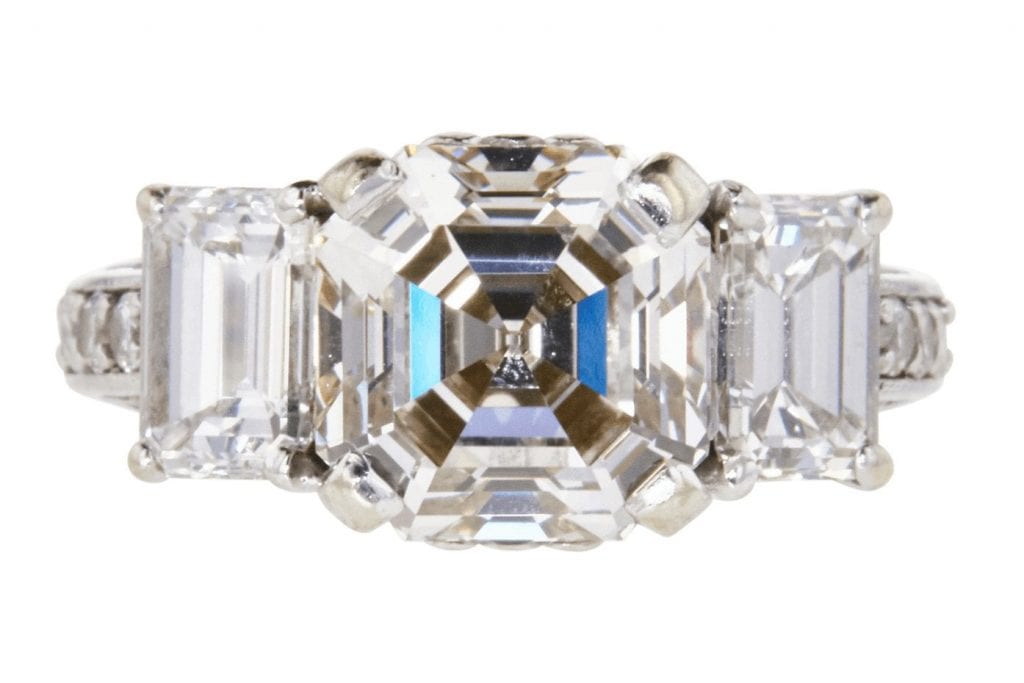 At 8.44 mm long by 8.43 mm wide, the 3.37 carat Asscher cut diamond at the center of this 3-stone ring was almost perfectly square. It was flanked by two emerald-cut diamonds averaging 0.7 carats apiece, and set on a band accented with 10 round diamonds. Despite inclusions (a chip, a bruise, a feather, and an extra facet), this diamond appeared eye clean. It sold for $9,993.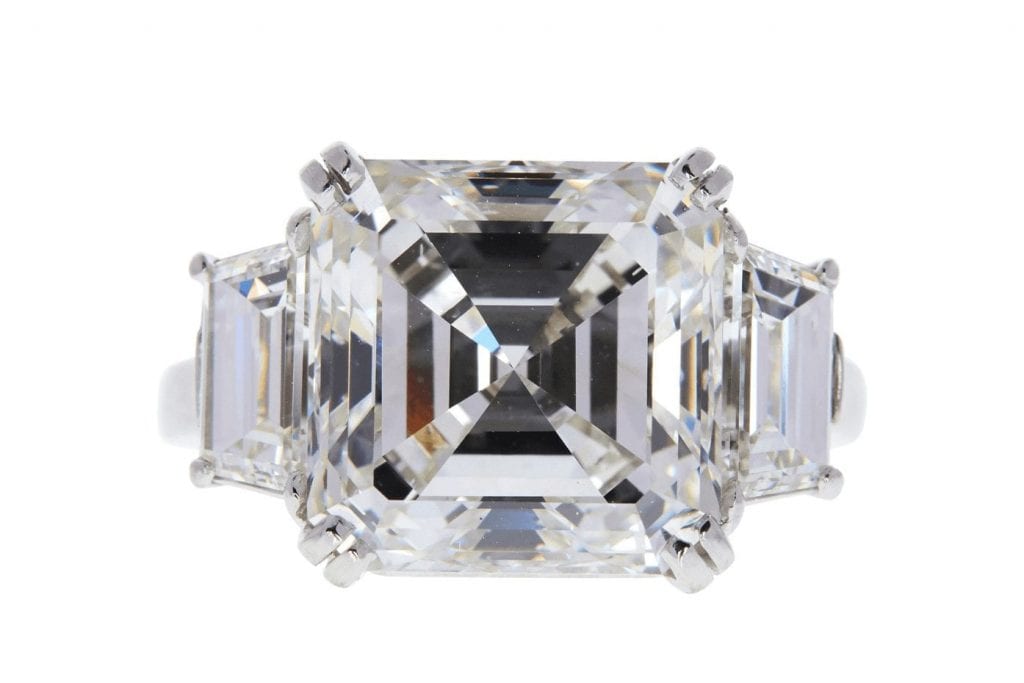 This custom made ring was amazing, with a 7.31 carat Asscher cut diamond positioned between two trapezoid diamonds that averaged 0.75 carats apiece. With I1 clarity and I color, it is an exquisite example of the Asscher cut's mesmerizing appearance. This art-deco inspired ring sold for $51,566.
While this ring has a smaller center stone than some others featured here, it's a good example of the way a brand name can add to jewelry's ultimate value. This platinum Tiffany & Co. bridal set featured a 2.79-carat Asscher cut diamond with G color and VS1 clarity that showed off the stone's facets in absolutely stunning detail. It sold for $24,912.
//= get_template_directory_uri() ?> //= get_template_directory_uri() ?> //= get_template_directory_uri() ?> //= get_template_directory_uri() ?> //= get_template_directory_uri() ?> //= get_template_directory_uri() ?>
©2011-2023 Worthy, Inc. All rights reserved.
Worthy, Inc. operates from 25 West 45th St., 2nd Floor, New York, NY 10036