The Top Jewels and Watches of 2015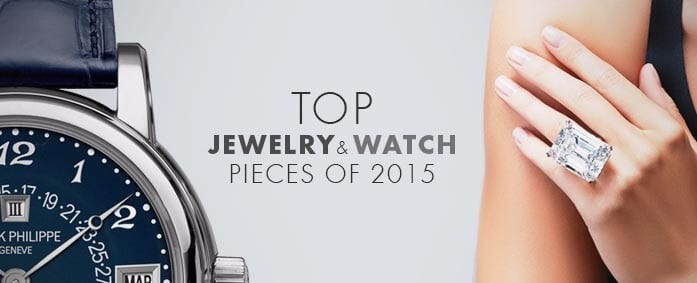 They sparkle, dazzle, and shine with rare beauty. They broke records, set trends, and turned heads. The most important jewels and watches of 2015 will be remembered long after the year ends. We gathered a list of the most expensive jewelry, watches that broke new ground and engagement rings that made waves. Here are the top 12 jewels and watches of 2015:

1. Blue Moon of Josephine
What did you receive for your seventh birthday? For Josephine Lau, it was a 12.03-carat fancy vivid blue diamond. The diamond was purchased by her father, renegade financier Joseph Lau, for $48.5 million at Sotheby's Geneva in November. It set a new world record price for a gem sold at auction, both total and per carat. (Lau's other daughter, 13-year-old Zoe has to make do with a 9.75-carat blue diamond that he purchased last year for only $32.6 million. He named it the Zoe Diamond.)
2. The Sunrise Ruby
Large, fine rubies are much more rare than all but the most exotic of fancy colored diamonds. So it's not surprising that auctions were dominated by record prices for both. The Sunrise Ruby, a fine unheated pigeon's blood red 25.59-carat cushion shape, smashed all records when it sold for $30.3 million at Sotheby's in Geneva in May. It set three world records: the highest price for a ruby, the highest per-carat price for a ruby ($1.18 million per carat), and the highest price for a jewel by Cartier.
3. The Lucara Rough Diamond
As baubles go, nothing touches the Cullinan, a 3,106.75 carat rough diamond discovered in 1905 that, cut into the 530.4-carat Great Star of Africa and several other important gems, now adorns the British Crown Jewels. But this year, a rough diamond was discovered in Botswana that surpasses all rough diamonds except the Cullinan. The 1,111-carat diamond, slightly smaller than a tennis ball, was discovered this year by Lucara at the Karowe mine in Botswana. The type IIa stone is likely to have excellent color when cut. It was a lucky year for Lucara: the company also found an 813 carat rough diamond at the same mine: the sixth-largest piece of rough ever found.
4. A Heritage in Bloom Necklace
Large diamonds are often set in simple rings. Hong Kong retail giant Chow Tai Fook took the road less travelled when it purchased a 507-carat rough Type IIa diamond in 2010 for $35.3 million. The company spent three years cutting a polishing the giant gem and then commissioned world-renowned jewelry artist Wallace Chan to create an elaborate jewel worthy of the diamond. The ornate necklace called "A Heritage in Bloom" showcases a 104 carat triple-excellent round brilliant Forevermark diamond and 23 other D-Flawless diamonds cut from the rough. The necklace is set with 383 carats of white and pink diamonds, jadeite and mutton-fat white jade.
A work of art as well as a masterpiece of nature, the necklace is worth an estimated $200 million.
5. The Sweet Josephine
Name sound familiar? A few days before he bought the Blue Moon, Joseph Lau purchased this 16.08-carat fancy vivid diamond for $28.5 million at Christie's Geneva, a record price for a vivid pink diamond. Maybe Josephine can play the world's most expensive game of marbles with her diamonds.
6. The Perfect Diamond
What makes a diamond perfect? Unrivalled color, clarity, cut, and carat weight. This 100.2-carat internally flawless, D color, Type IIa diamond was sold for $22.1 million at Sotheby's New York in April. It didn't break any records (except for a few New York records) but it was such a breathtaking example of why diamonds are called "ice" that it made the news and this list.
7. The Crimson Flame
Just five months after the Sunrise Ruby set the record price per carat for a ruby, the Crimson Flame came along and broke it. The 15.04-carat Burmese pigeon's blood ruby sold for $18.4 million at Christie's Hong Kong, setting a new world record per carat price for ruby of $1.2 million.
8. Vacheron Constantin 57260
Why? Well, it's complicated. In fact, Vacheron Constantin's Reference 57260 is the most complicated watch in the world. Its name tells its story: the watch celebrates the 260th anniversary of Vacheron Constantin and it has a staggering 57 complications, many invented just for this watch. The company filed 12 patents on technology created for this watch, which took eight years to create. The watch sold to a private collector for an undisclosed sum. Estimates range from $5 million to $10 million, which is downright affordable if you consider that the 1932 Patek Phillipe Henry Graves Supercomplication pocket watch sold for $24 million at Sotheby's Geneva in 2014.
9. Lady Gaga's Heart-Shape Diamond Engagement Ring
Heart-shaped diamonds never make lists like this. The shape is too polarizing, too inefficient, and too difficult to get right. But something happened on Valentine's Day this year that may bring hearts back in a big way: Lady Gaga got engaged. And the ring on her finger is set with a heart shaped diamond estimated at 8 carats. The heart-shaped engagement ring was created by trendsetting jewelry designer Lorraine Schwartz. Another sign of the return of the heart: Nicki Minaj also has an eight-carat fancy yellow heart-shape diamond engagement ring.
10. The Hope Spinel
You may have heard of a gem called the Hope Diamond? It has a pink spinel cousin: the 50.13-carat Hope Spinel. The two gems were the pride of Henry Phillip Hope's collection of 700 rare gems and were kept in a drawer together. This historic gem for $1.5 million at Bonhams in London in September 2015, setting a record price for spinel and a record per-carat price for spinel.
11. Patek Philippe Reference 5016A-010
At the biennial Only Watch charity auction in November, a Patek Philippe Reference 5016A-010 sold for more than $7 million, setting a record price for a wristwatch at the auction. The watch combines a tourbillion, minute repeater, and perpetual calendar with a retrograde date hand that flies back to one after the last day of the month. The special version produced for Only Watch is the one and only 5016A to be produced in steel.
12. The Jewel of Kashmir
The most memorable sapphire sale is a 27.68-carat cornflower-blue Kashmir sapphire that set a world auction record for the price per carat for a Kashmir sapphire at Sotheby's Hong Kong. The emerald-cut sapphire sold for $6.7 million or $242,145 per carat. Christie's sold a 21.71-carat Kashmir sapphire for $4.2 million and Bonhams sold a 7.84 carat Kashmir sapphire ring by Tiffany & Co for $1.35 million, or $172,000 per carat, setting a world-record for a Kashmir sapphire under 10 carats. With prices for ruby in the stratosphere perhaps 2016 will be the year of the sapphire?
//= get_template_directory_uri() ?> //= get_template_directory_uri() ?> //= get_template_directory_uri() ?> //= get_template_directory_uri() ?> //= get_template_directory_uri() ?> //= get_template_directory_uri() ?>
©2011-2023 Worthy, Inc. All rights reserved.
Worthy, Inc. operates from 25 West 45th St., 2nd Floor, New York, NY 10036