Five Iconic Jewels From The Edwardian/Belle Époque Periods
Delicate. Lacy. Lighter than air. The Edwardian and Belle Époque Eras of jewelry from 1895-1915 are known for ultra-feminine styles that are still inspiring jewelry designers today.
When Edward VII and his bride Alexandra of Denmark ascended the English throne, there was a more light-hearted feeling in upper crust society. Queen Alexandra and King Edward VII would become icons of style for all of England and parts of Europe. This was particularly true for jewelry. The Queen often wore chokers, perhaps to cover up a small scar, setting a trend that was widely followed. Edward's donning of jewelry (cuff links and small brooches) also became a popular look of the day.
Belle Époque translates into Beautiful Era in French. All throughout Europe, designs of this time period were influenced by the earlier Rococo period, eighteenth-century jewelry, and the Court of Versailles. It was also a time that rejected the machine-made jewelry that was previously embraced in the Victorian age in favor of hand-fabricated jewels that were ornamental and lavish yet ultra delicate. Fine openwork depicted lace, bows, ribbons and what would become known as the Garland style, which was based on swirling foliate motifs. The pastel colors of the fashions called for white on white looks in platinum with pearls and diamonds.
In 1903, technical advances allowed jewelry to be crafted solely from platinum. The strength of platinum allowed for less of the metal to be used for settings, which provided for the daintiest and finest of openwork, resembling petit point lace. Piercing work and millegrain techniques were also developed, creating a softer, elegant and more refined look in jewelry than ever before.

Here are five iconic designs of the Edwardian/Belle Epoque period that are still influencing jewelry designers today.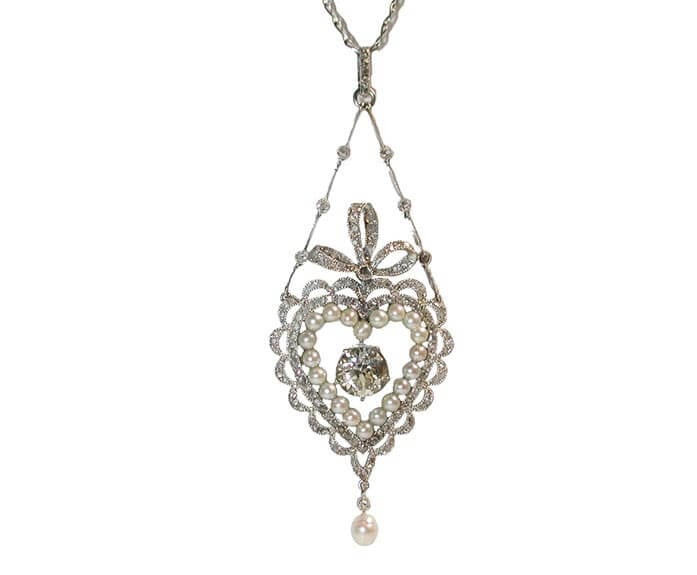 The Lavaliere Necklace
This necklace style has an openwork lacy or garland style pendant with a dangling natural pearl or pear-shaped old mine or European cut diamond in the center, hanging from each side of a chain or from two chains that met and suspended the central pendant.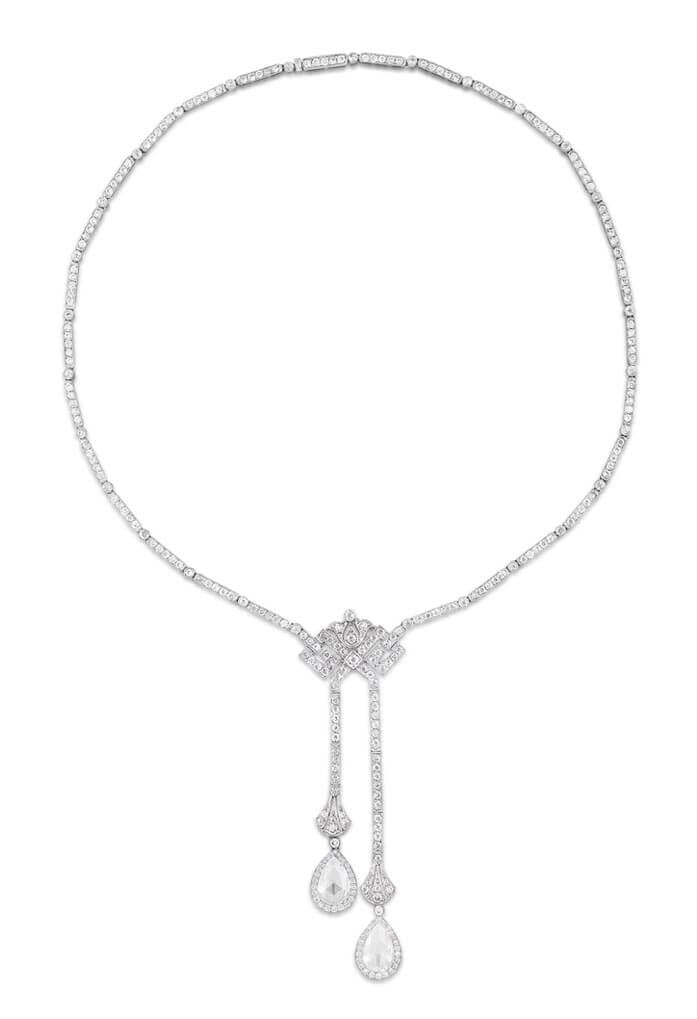 The Negligee Necklace
This necklace is a version of the lavaliere with a center bar or geometric form, usually set in diamonds, which dangled two drops of uneven lengths. The drops consisted of everything from large bezel set cushion cut diamonds to Edwardian cluster motifs set with diamonds, pearls or colored stones.



The Dog Collar Necklace
This choker necklace style was made popular by Queen Alexandra. This style is tight fitting around the neck and adorned with designs ranging from light and flexible garlands to flowers, and buckles and other motifs held by grograin, black velvet, or moiré ribbons. Multi strands of small seed pearls and diamond also were worn with a central garland motif.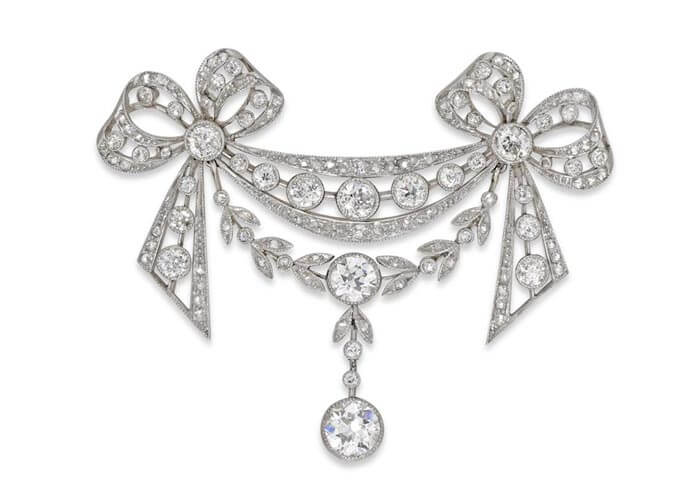 The Swag Brooch
An oval or U-shaped brooch, usually shown in the Garland style or in a intricate lacy pattern with a diamond border; a central mine, cushion or European cut diamond or pearl; and a swag of small diamonds at the bottom of the brooch. Often times these had convertible mechanisms that allowed them to also be worn as pendants.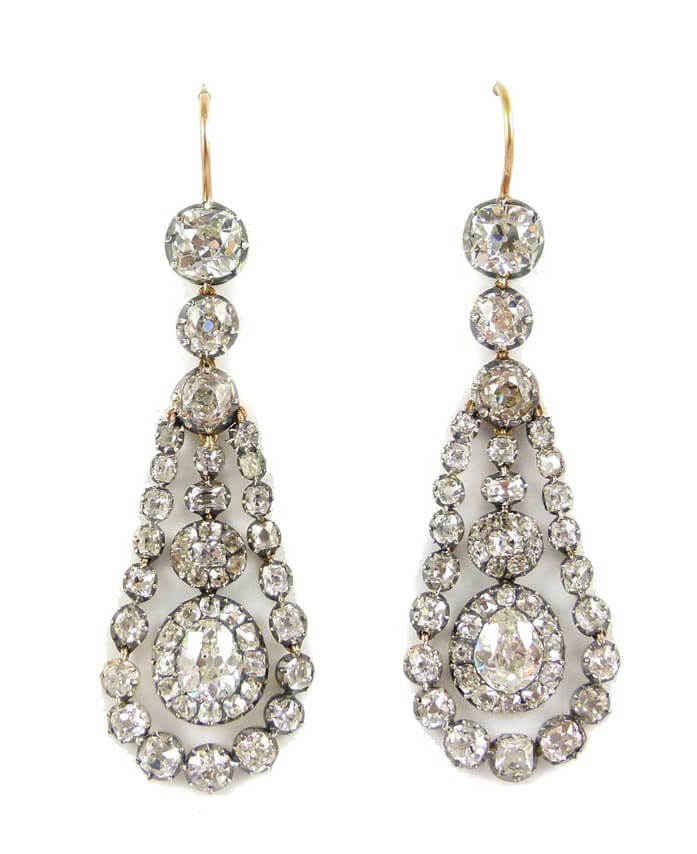 The Pendant Earring
Pendant earrings were around since the 18th century and the earring styles of the Edwardian/Belle Époque era were based on earlier design details and shapes. But the new technology and techniques allowed earrings to be made much lighter—in look as well as feel. While Edwardian and Belle Epoque earrings are ornate they are also elegant. They often feature floral or leaf patterns, with either a baroque pearl, briolette, or pear-shape diamond dangle. These also tend to be smaller than earlier earrings, making them still in demand today.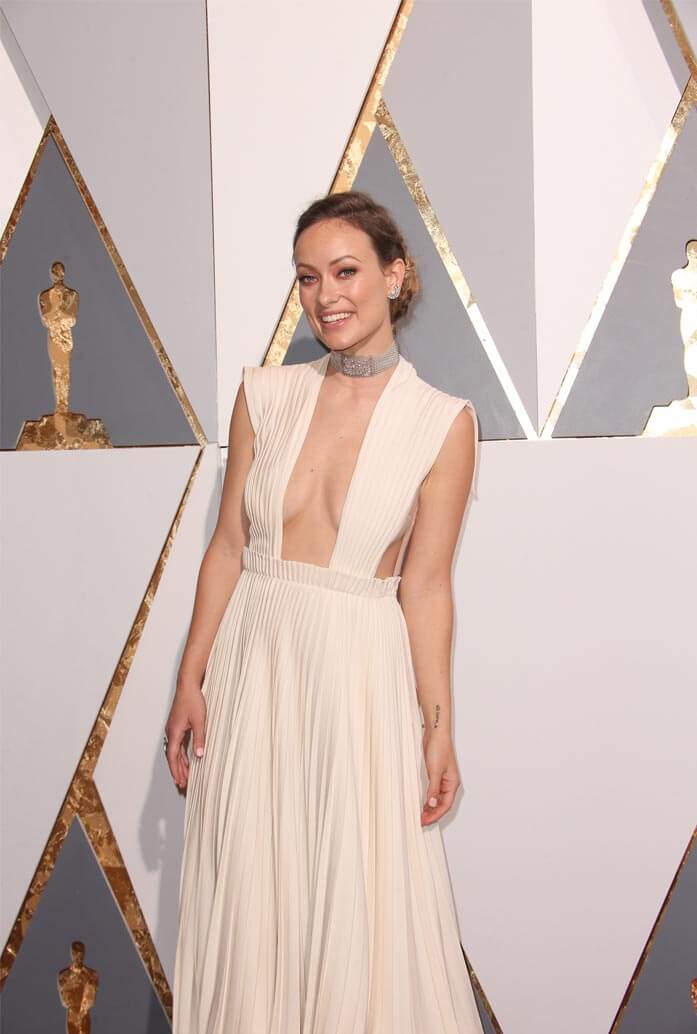 Edwardian Jewels Today
At this year's Oscars, Olivia Wilde drew raves for her Edwardian choker necklace from Neil Lane. It provided an inspired delicate counterpoint for her modern dress, showing the timeless versatility of Edwardian designs.

Speaking of inspiration, the Edwardian Belle Époque era has influenced the collections such designers as Cathy Waterman, Erica Courtney, Penny Preville and a host of other woman designers who understand that women want jewelry that complements their look rather than dominating it.
//= get_template_directory_uri() ?> //= get_template_directory_uri() ?> //= get_template_directory_uri() ?> //= get_template_directory_uri() ?> //= get_template_directory_uri() ?> //= get_template_directory_uri() ?>
©2011-2023 Worthy, Inc. All rights reserved.
Worthy, Inc. operates from 25 West 45th St., 2nd Floor, New York, NY 10036