Engagement Ring Trends for 2016
2016 is shaping up to be an exciting year, with engagement rings trends leaning toward the unique and interesting. Whether you are planning to propose or upgrade to a different engagement ring this year, you'll find plenty of information on popular engagement ring styles here.
Top 10 Engagement Ring Trends
Engagement Ring Trend #1: Multiple Bands
Check out photos from the latest Hollywood affairs, and you'll notice that stacked styles are super-hot right now. A variety of 2019's trending engagement rings take a bit of inspiration from this style, either with twin bands or split shanks connecting a center stone, or multiple stacked bands that can be worn independently. As you shop, you'll notice this interesting trend spilling over into other categories. It's one that spans a variety of styles, metal choices, and more.
Engagement Ring Trend #2: Textured Styles
Textured styles are among 2019's engagement ring trends, with French beading, milgrain, and beautiful diamond studs. Intricately inventive, many of these trending engagement rings also incorporate other features, such as mixed metals, multiple bands, and gorgeous floral touches.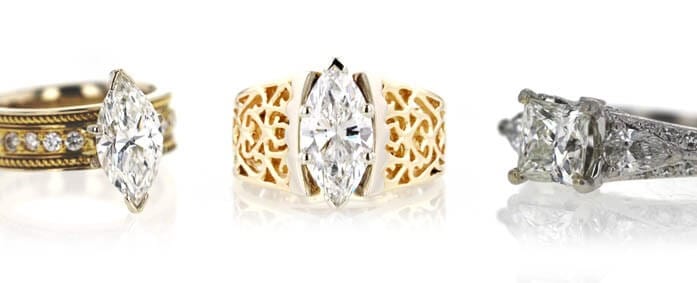 Engagement Ring Trend #3: Mixed Metals
Mixed metals have come in and out of style, and many top jewelers are exercising their creativity by incorporating this feature into bridal jewelry. Some popular styles that embrace this engagement ring trend for 2019 include halo settings in white gold with dramatically contrasting touches of yellow or rose gold, stacked bands in different metals, and more.
Engagement Ring Trend #4: Colored Center Stones
While this style isn't brand new, it is becoming more popular and is among the top engagement ring trends for 2019. You often get a larger center stone for the same money you'd spend on a smaller diamond, and many of these rings also incorporate other trends such as mixed metals, multiple bands, or split shanks. Halo styles are popular, as well. If rubies, sapphires, or emeralds aren't your thing, consider a colored diamond. Pink, yellow, champagne, and chocolate are on trend.
Engagement Ring Trend #5: Floral Inspiration
A top engagement ring trend for 2019 takes its inspiration from timeless, romantic floral motifs. Halo rings with petal shapes are hot this year. Intricately styled laurels, vines, and diamond studded buds are trending too, either on infinity style bands that look like beautiful organic wreaths, or on traditional engagement rings in which the floral motif creates a rose from the center stone.
Engagement Ring Trend #6: Built-in Spin Protection
Sizing beads have been part of engagement rings for years, but this year we're seeing another trend emerging. Built-in spin protection with diamonds and texture along the ring's inner face adds incredible interest and elegance to an engagement ring, and these styles often offer greater elevation in the gallery, which really lights up the center stone.
Engagement Ring Trend #7: Antique Engagement Rings
Antique engagement rings are hotter than ever, particularly mid-Victorian styles that offer a sense of timeless beauty. Incredibly enough, many of the antique engagement rings we've seen recently have some of the same hallmarks as popular engagement ring styles from the last few years. Colored center stones are quite common, as are floral motifs, textured touches, and mixed metals.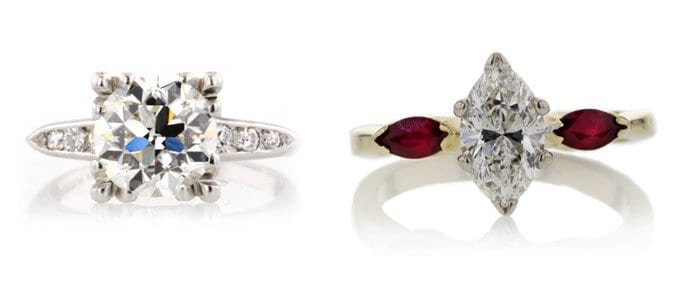 Engagement Ring Trend #8: Pear and Marquise Shaped Diamonds
While everyone has her own favorite diamond cut, pear-shaped diamonds have gained popularity in recent years, and it's not surprising that they are a top engagement ring trend for 2018. Pear-shaped diamonds with halos and pave bands are popular right now, offering lots of elegant sparkle and flattering almost every bride's hand. The ultra-glamorous marquise cut is also making a comeback.
Engagement Ring Trend #9: Classic Brilliant Diamond Solitaire
Believe it or not, the round brilliant diamond solitaire remains one of the top 2019 engagement ring trends, perhaps because it is simple, pairs well with almost anything, and holds its value very well. Two-stone rings are also gaining popularity, primarily thanks to the symbolism of two hearts joining as one.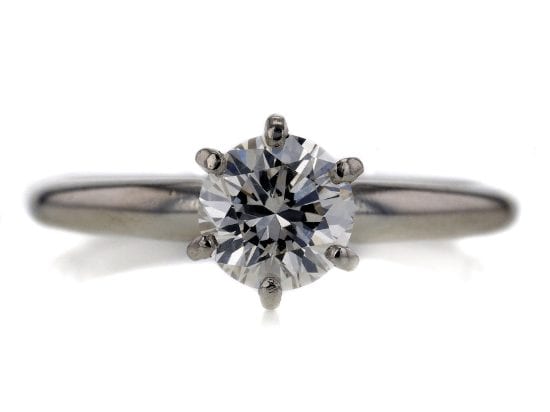 Engagement Ring Trend #10: Halo Settings
Halo settings add incredible sparkle, and let you get quite a bit more bling for your buck, making a center diamond look about three times its actual size. Halos are also used to add contrast and texture, and they're being incorporated into engagement rings that embrace a variety of the trends that are most popular this year. Any stone shape can be framed with a halo, and adding split shanks can really maximize visual impact.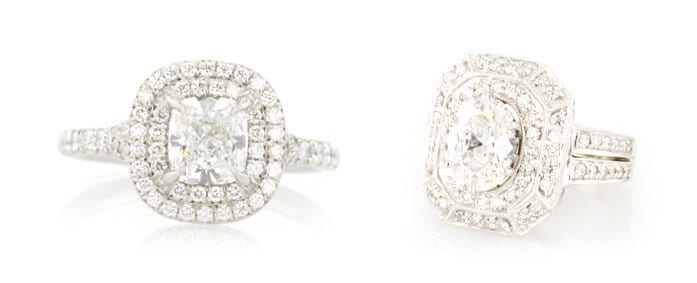 //= get_template_directory_uri() ?> //= get_template_directory_uri() ?> //= get_template_directory_uri() ?> //= get_template_directory_uri() ?> //= get_template_directory_uri() ?> //= get_template_directory_uri() ?>
©2011-2023 Worthy, Inc. All rights reserved.
Worthy, Inc. operates from 25 West 45th St., 2nd Floor, New York, NY 10036