Top Fine Jewelry Brands Of The Eighties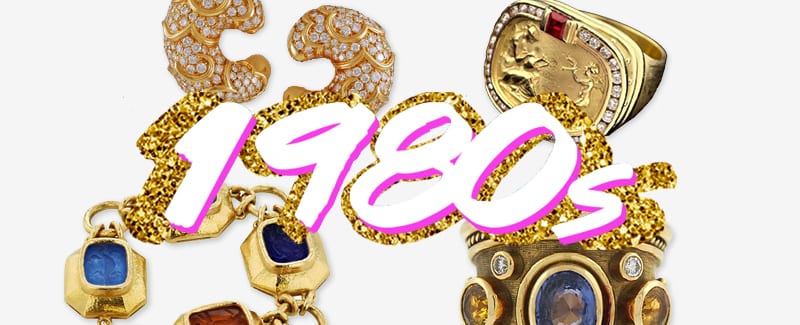 The Eighties.
In all its big-hair, big-shoulders, big-jewelry, and big-money glory, the decade from 1980 to 1989 also was one of tremendous societal change. Although probably more changes happened in the 20th century than in all centuries leading up to it, the Eighties ushered in a transition from rapid change to warp-speed change, forever altering so many aspects of our daily lives:
Computing became personal, music became portable, and telephones became mobile.
Women first outnumbered men in college.
Women entered the workforce en masse, and the dual-career family became de rigueur among middle- and upper-middle-class Americans (lower-income Americans always needed multiple incomes to make ends meet.)
America's economy moved from labor-based to knowledge-based, as manufacturing jobs shifted offshore and/or were automated out of existence.
Wall Street's influence grew as corporate success began to be measured by the share price, CEO salaries rocketed relative to workers' compensation, and mutual funds let ordinary people invest in stocks and bonds.
These are just a few of the great societal shifts of the era. Learn more about that here. Meanwhile, the jewelry industry was undergoing a seismic shift of its own:
Women started buying fine jewelry for themselves. Before that, women typically received their fine jewelry as a gift from a man (or maybe a relative) but rarely did they go out and shop for it themselves.
The designer jewelry movement took off. Until the 1980s, apart from major figures like Jean Schlumberger or Tiffany's other designers, jewelry was not merchandised or marketed as a branded item. The jeweler was the brand; the jewelry was not. But by the late 1970s, designers like David Yurman, Steven Lagos, SeidenGang, and others began marketing jewelry under their own names, and urging—if not flat-out requiring—their retail accounts to do the same. The designer movement later led to other branded jewelry and diamonds.
Gender barriers in the jewelry industry began breaking down. Prestigious all-male social clubs such as the 24 Karat Club of the City of New York finally began to admit women members, while the Women's Jewelry Association was founded in 1983 to give women a place to network when they couldn't get admitted to the men's clubs. WJA today is a powerful organization in its own right.
There is a bit of an Eighties reprise in fashion right now. While far from the football-sized pads of 35 years ago, shoulders are getting bigger, high-waist jeans are back, and neon brights are having a moment. Bold '80s gold is back, especially layered with modern delicate pieces. And when Harper's Bazaar dresses up Yolanda Hadid and Kris Jenner—today's matriarchs of excess—like Krystle Carrington and Alexis Colby of Dynasty fame, you know the Eighties are a bonafide trend!

No jewelry brands could be more iconic of the Eighties than Barry Kieselstein-Cord, SeidenGang, Marina B, Verdura, and the Elizabeths: Locke and Gage.
Read all about Verdura here, and we'll get on to the others in a moment. In the meantime, a brief mention of David Yurman and Steven Lagos: both rose to prominence in the era but really hit their strides as mega-brands in the 1990s. They'll be discussed separately in an upcoming post.

Barry Kieselstein-Cord
American designer, artist, and photographer Barry Kieselstein-Cord founded his eponymous brand in 1972 in New York. In addition to his signature bold gold and silver jewelry, his product line has included (and/or still does include) belt buckles, sculpture, handbags, eyewear, home furnishings, watches, and accessories. His pedigree includes collaborations with fashion designers Calvin Klein and Perry Ellis, and among his famous collectors are Tom Hanks, Sharon Stone, Oprah Winfrey, Wayne Gretzky, Giorgio Armani, Sir Elton John, Barack Obama, and many more. His works are in the permanent collections of the Louvre, the Metropolitan Museum of Art, and other museums, and he has been awarded the Council of Fashion Designers of America (CFDA) award, the fashion industry's "Oscar."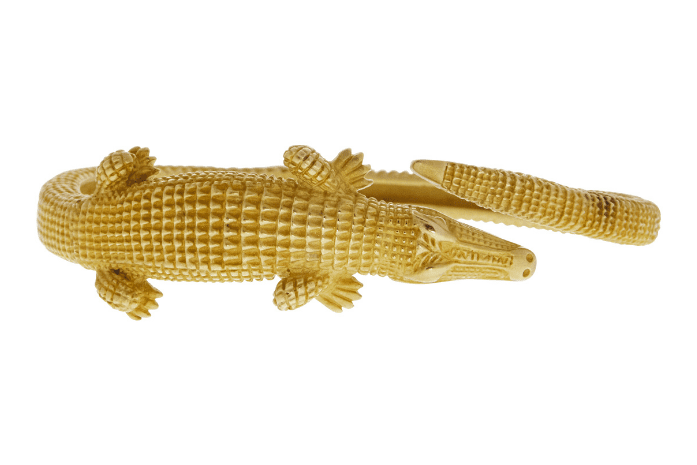 With a degree from Parsons School of Design, Kieselstein-Cord started his professional life in advertising but envisioned a vertically-integrated American luxury brand not unlike Tiffany. His route to fame began with sterling silver jewelry, which was picked up by Danish jeweler Georg Jensen for its New York store.

In 1973 he created a seminal piece: a skull necklace for Mick Jagger. In 1976, he introduced sterling silver belt buckles, which at $275 for buckle and alligator strap, were quite a prestige price point. But it was his aesthetic breakthrough—especially his love of alligators as a design motif—that put him on the map and made his pieces, especially the early pieces, so valuable. As his successes mounted, it allowed for greater variety and the lavish use of 18k gold and precious and semi-precious stones that so identifies Kieselstein-Cord with Eighties style.

SeidenGang
Founded by Carol Seiden and Carolyn Gang, the brand became known for transforming timeless Greek and Roman bas-reliefs into bold gold jewelry. It was the first contemporary jewelry brand to use antiquities as a design inspiration, and like Kieselstein-Cord's affinity for the alligator as a design motif, SeidenGang's Greco-Roman motif and unique green gold alloy quickly became the iconic signature of the brand. Its original pieces remain highly sought after today and are featured on many estate, consignment, and auction sites.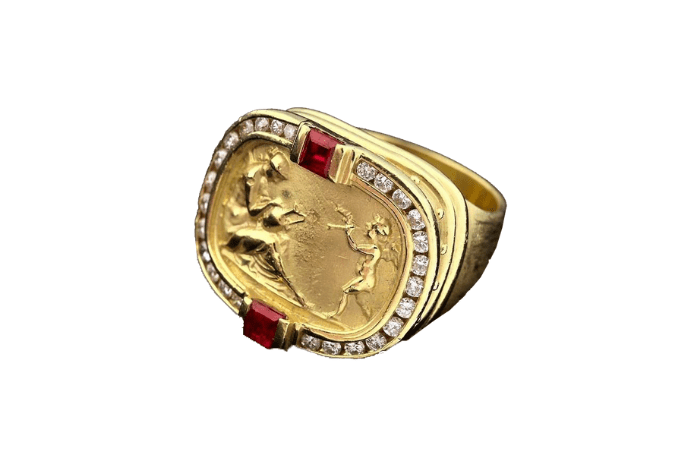 SeidenGang was a trendsetter that greatly influenced jewelry design of the 1980s and early 1990s, much like Courrèges and Halston did for fashion design in the 1960s and 1970s. A walk down the aisles of the major jewelry shows of the time revealed many other companies producing lavish textured Greco-Roman and Etruscan-inspired styles with diamonds and gemstones, even trying to replicate SeidenGang's signature green gold. (And yes, it resulted in some intellectual property battles.)

But the brand was also groundbreaking in that it was one of the earliest to target women directly as customers of its jewelry.
Today, the brand is run by Carolyn Gang. It's evolved beyond only antiquity-inspired pieces to include many modern pieces, and it sells directly to consumers (vs. wholesale-only), but its signature textured 18k gold and lavish use of diamonds and gems is in keeping with its pedigree.

Marina B
Marina B could have easily entered the jewelry world without her own brand. A member of Italy's famed Bulgari family, the designer launched her own line of lusciously bold, candy-color, look-at-me jewelry in the 1980s.

Now 90, the designer lives in Monte Carlo and her brand has passed through several hands: she sold it to a Saudi Arabian sheikh in 1999 and left one year later. By 2011, however, the brand was languishing and it was bought by New York-based Windsor Jewelers, where it remained until 2017 when Guy Bedarida, former head designer and creative director of the John Hardy brand and at Van Cleef & Arpels before that, bought a majority stake. Windsor CEO Paul Lubetsky retained a minority stake. Marina B has a showroom in New York, and the bulk of its jewelry is manufactured in Italy with some in Asia.

Bedarida is known for reviving old legacy brands. He is credited with revitalizing and modernizing Van Cleef & Arpels, developing its uber-popular Alhambra line.

Although John Hardy, a contemporary brand, was healthy when Hardy retired and Bedarida took over, it was Bedarida's only major foray out of the rarified world of legacy luxury brands. When he left in 2015 to return to high jewelry, he was less interested in creating a new brand than reviving a sleepy one.

Enter Marina B. Under Bedarida's leadership, the brand transformed Bulgari's original aesthetic into a modern, wearable group of three collections. The Trisolina collection especially is inspired by Marina's original Trisola collection, made more accessible and suitable for a modern lifestyle.
In a 2018 interview in The New York Times, Bedarida said, "The style and the way you wear jewelry has evolved from when she was designing. Before, a woman was wearing jewelry, and her daughter would want to wear what the mother was wearing. Now it's kind of the opposite. A mother would look at her daughter, 25 or even 20 years old, and say, 'This is cool and fresh.'"
While Bedarida loves the bold Eighties look, he acknowledges that consumers today don't want to flaunt everything. Still, he has a collection for the traditional Marina B customer (which, if current trends continue, may become more and more popular), and he still offers high jewelry, where pieces can easily cost $1 million or more.

"I thought Marina B deserved to be in this world of high jewelry," he said in the Times.

Elizabeth Locke
Like SeidenGang, jewelry designer Elizabeth Locke is inspired by the antique jewelry of the Etruscans, Greeks and Romans, reinterpreting it into her own neo-classical handmade 19k gold jewelry. (The Greco-Roman, Etruscan and Byzantine periods also inspired many more designers who got their starts in the Eighties.)
Locke selects every stone and designs every piece herself before turning it over to the craftsmanship of 35 Thai goldsmiths who bring her designs to life using centuries-old techniques. Her pieces use a variety of gems and other materials, including luminescent stones, Venetian glass intaglios, 19th century micro-mosaics, 18th century Chinese gambling counters, Essex crystals, miniature paintings, and more.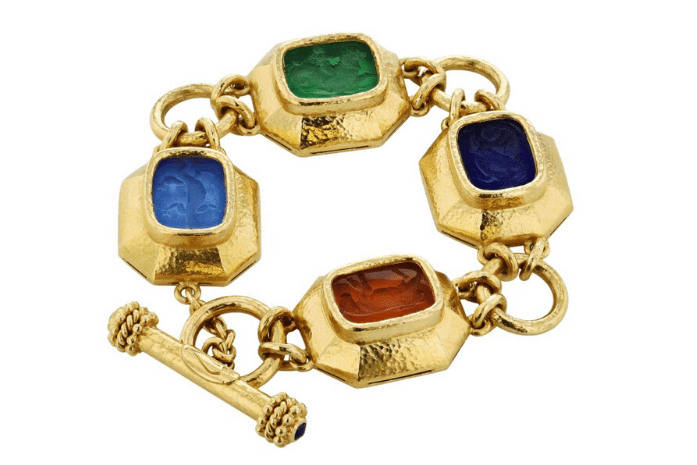 Locke's love of classic design began at age 11, when her father took her to Italy. She vowed to learn to speak Italian and someday move to Italy. She kept both promises: she received a graduate degree in Italian literature from the University of Florence, then spent years running her first business in Italy.

After moving back to the United States, Locke worked as a contributing editor for Town and Country magazine. A story on shopping in Bangkok turned out to be a life-altering event that eventually led her to earn a degree in gemology and launch her life's vocation as a jeweler. She founded Elizabeth Locke Jewels in 1988, inspired by both her experiences abroad and her visual sensibility. Today, she flies around the globe to European markets, antique shows, and auctions on a "continual treasure hunt."

She has two flagship stores: one in Manhattan and another in Boyce, Virginia. Her jewelry also is available through Neiman Marcus and select independent boutiques across the country.

Elizabeth Gage
British designer Elizabeth Gage began making jewelry well before the Eighties—specifically, in the Sixties—though her bold and bright pieces fit the "more is more" Eighties aesthetic very well.

Gage works in 18k and 22k gold, and combines different elements in her work: exquisite stones, ancient bronzes, beautiful carvings, baroque pearls, or anything whose shape and color inspire her. She treats the materials as an artist would a palette, combining them with bright enamel and detailed gold and using metal and stones instead of paint and canvas.

Gage believes fine jewelry can be worn any time, and was the first to coin the phrase "day into night," an essential for modern women's jewelry (and fashion) today. Her pieces have the honor of being in the permanent collection of London's Victoria and Albert Museum, and in the Worshipful Company of Goldsmiths, a guild of jewelers dating back to 1327.

Gage always had a strong sense of design, originally making doll clothes as a child. She trained for six years as a goldsmith, with her first major commission being to create pieces for Cartier in New York in 1968. She went on to win many accolades, including the prestigious Queens Award for Export, British Jewellery Designer of the Year, and the coveted De Beers Diamond Award for her Agincourt ring, described as an engineering masterpiece.

In 2017, Gage was named to Queen Elizabeth II's Birthday Honours List to receive an MBE (Member of the Most Excellent Order of the British Empire), a grade within the British order of chivalry.
While she no longer works at the bench, she still designs every piece that bears her name and employs a team of goldsmiths to bring her designs to fruition. She refuses to tell her age, calling it an "unlisted number."

//= get_template_directory_uri() ?> //= get_template_directory_uri() ?> //= get_template_directory_uri() ?> //= get_template_directory_uri() ?> //= get_template_directory_uri() ?> //= get_template_directory_uri() ?>
©2011-2023 Worthy, Inc. All rights reserved.
Worthy, Inc. operates from 25 West 45th St., 2nd Floor, New York, NY 10036