Top 7 British Royal Jewelry Pieces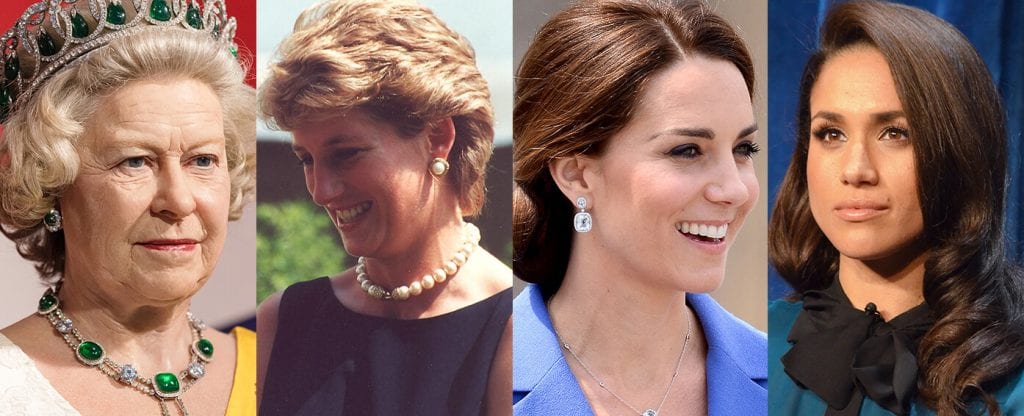 British royal jewelry has captivated the world for thousands of years. We find marvel in everything from the treasures of ancient Egypt to contemporary pieces such as royal blue jewelry worn by princesses Diana and Kate. Many of these treasures can be viewed in museums and in online galleries, and some are still worn by today's royalty.
Meghan Markle's Engagement Ring
Prince Harry proposed to Meghan Markle with a stunning engagement ring that incorporates diamonds willed to Prince Harry by his mother, Princess Diana. The ring is absolutely stunning, with a central diamond flanked by two smaller ones, all set in yellow gold. The overall look is well-balanced, and is perfectly sized for Meghan Markle's hand.
Designed by Prince Harry himself and handmade by British jewelry company Cleave and Company, this royal engagement ring holds a very special meaning. The central diamond was sourced in Botswana, which is one of the couple's favorite destinations; meanwhile the two side diamonds are from Princess Diana's collection. Like Prince William, Prince Harry wanted to make sure that his mother's memory was honored as he proposed to Meghan Markle, who will become an official UK citizen after marriage, and who will eventually bear the Royal title of Duchess of Sussex.
Princess Diana's Engagement Ring
In February of 1981, Charles, Prince of Wales, became engaged to Lady Diana Spencer, presenting her with a ring featuring a 12-carat oval Ceylon sapphire surrounded by 14 diamonds. The ring stayed in the family after Princess Diana's tragic passing, and in 2010, Prince William presented it to Catherine Middleton, now affectionately known as Princess Kate. This beloved piece is often imitated, with manufacturers rendering it both in precious stones and lab-created ones. It's among the easiest royal blue jewelry looks to make your own, if you feel so inclined!
Britain's Coronation Necklace and Earrings
Originally created for Queen Victoria in 1858 and worn by queens at all coronations since 1901, the coronation necklace features a pendant made with the 22.48-carat Lahore Diamond, plus 25 cushion-cut diamonds in sizes up to 11.25 carats along its length. The coronation earrings feature three diamonds apiece, with pear-shaped pendants to match the Lahore diamond. Queen Elizabeth II continues to wear this set today; it's often seen at State Opening of Parliament ceremonies, and it can be seen in her Diamond Jubilee portrait as well.
Queen Adelaide's Ring
Also known as the Queen Consort's Ring, Queen Adelaide's ring is a splendid piece featuring an extended octagonal mixed-cut ruby bordered by fourteen diamonds. The ring's shank is set with fourteen rubies, making for a beautiful presentation. This ring is an original design from 1831, and was presented to Queen Adelaide during the coronation ceremony. It, along with a matching ruby and diamond engagement ring belonging to Queen Adelaide, is part of the royal jewelry collection and can be viewed at the Tower of London Jewel House.
The Timur Ruby Necklace
The Timur Ruby Necklace is a fascinating piece and an important part of the British Crown's jewelry collection. At its heart lies the uncut 361-carat Timur Ruby, which is actually a spinel. This massive stone is inscribed with the name of Indian Emperor Jahangir, who received it in 1612. The Timur ruby passed through numerous hands over the course of the following centuries, finally making its way into Britain's Royal Treasury in 1851, as a gift to Queen Victoria. It, along with three other large rubies, is set in a gold and diamond necklace in 1853. The necklace itself is quite fascinating; it is configured to allow the Timur Ruby to be removed, and to have the Koh-i-Noor Diamond set in its place. Queen Mary had some alterations made to the necklace so that certain diamonds could be removed and used as earrings, however she never wore it. Neither has Queen Elizabeth II, although she has mentioned that she finds the piece fascinating.
The Greville Festoon Necklace
An absolutely astonishing piece by Cartier, the Greville Festoon Necklace dates back to 1929. It originally contained two rows of round diamonds framed in platinum and countless pave diamonds. The necklace's first owner was Dame Commander Margaret Greville, who in 1938 had three more rows of diamonds added, so that it could be worn as a two-strand, three-strand, or five-strand necklace. Dame Greville, a close friend of Queen Mary's, willed her jewelry collection to Queen Elizabeth the Queen Mother. The Queen received the Greville Festoon necklace in 1942, and wore it frequently, often preferring the shorter, three-strand look. Today, the necklace remains part of Britain's crown jewels. It has been photographed being worn by Camilla, Duchess of Cornwall, making a stunning impression particularly when paired with the Greville Tiara.
The Duchess of Windsor's Sapphire Pendant
A stunning 206.82-carat cushion-cut sapphire lies at the heart of this exquisite pendant by Cartier; round brilliant-cut diamonds surround it, adding sparkle while highlighting the stone's incredibly deep blue color. Made for Wallis Simpson in 1951, it is part of the Duchess of Windsor Collection. The entire collection was sold by Sotheby's of Geneva for $53.5 million USD in 1987. Today, the stone is part of a private collection. Although it was scheduled to be auctioned again in 2010, the current owners could not bear to part with it.
Whichever royal jewelry looks are your favorites, you'll find that they're easy to make your own – either with fun replicas, or with jewelry that reflects the styles you love. Scaled down pieces for everyday wear or bold and brilliant looks for special occasions readily reflect your appreciation for famous pieces new and old. Whether you're in love with Meghan Markle's engagement ring or love the look of Princess Diana's sapphires, consider pieces that incorporate the elements you like most – and then enjoy showing them off!
//= get_template_directory_uri() ?> //= get_template_directory_uri() ?> //= get_template_directory_uri() ?> //= get_template_directory_uri() ?> //= get_template_directory_uri() ?> //= get_template_directory_uri() ?>
©2011-2023 Worthy, Inc. All rights reserved.
Worthy, Inc. operates from 45 W 45th St, 4th Floor New York, NY 10036