Top 10 Featured Auctions from November 2020: Ovals and Hoops and Round-Cuts Galore!
Friends, it's here! The most wonderful time of the year! And while this might be one of the weirdest holiday seasons any of us have encountered, we at Worthy want to wish you and your families all the best this year. And as a welcome sparkly distraction, here are some of our biggest and brightest auctions from November 2020.

The Appeal of the Oval
In February 2020 (whenever that was!), we shared some of the expected engagement ring trends for 2020 and of the top items was oval-cut diamond rings and last month's auctions proved that ovals are still hot for buying and selling! The oval-cut ring (# below) is actually part of a rose gold bridal set (another trend in metals!) while ## is a three-stone stunner that really knocked our socks off. ## is actually a cushion-cut diamond, however, the long sides have the same effect as the oval – elongating the wearer's hands to create long, elegant fingers.

When Jewelry Is No Longer For All Seasons
With all the craziness of COVID, you have probably found yourself with less holiday party invites this year. Sure, that means less to think about (ahem, no holiday outfits to plan and stress over) but it also means that those dress-up items, like the Riviera necklace pictured below (##) or the diamond hoop earrings from Roberto Coin (##) don't get much wear time. If you like to get dressed up at home to help you feel more "normal", DO IT! But if you're wondering if those items are even worth keeping around, have a think about selling them. Diamond necklaces and earrings for special occasions are certainly beautiful, but an extra $2k is another type of beautiful!

Selling jewelry has never been easier when you sell with Worthy! Find out more about how it works.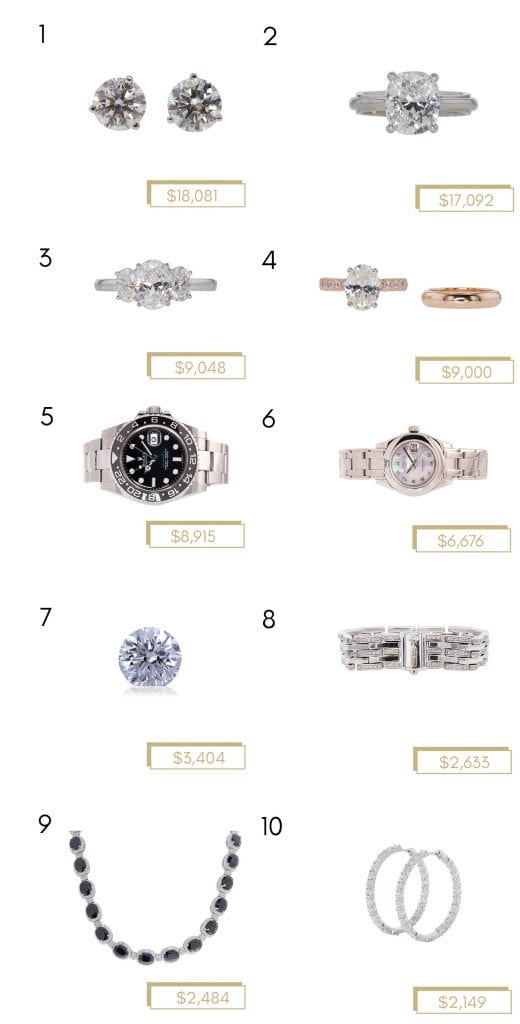 Top 10 Featured Auctions from November 2020
//= get_template_directory_uri() ?> //= get_template_directory_uri() ?> //= get_template_directory_uri() ?> //= get_template_directory_uri() ?> //= get_template_directory_uri() ?> //= get_template_directory_uri() ?>
©2011-2023 Worthy, Inc. All rights reserved.
Worthy, Inc. operates from 25 West 45th St., 2nd Floor, New York, NY 10036