Best Tiffany & Co. Auctions at Worthy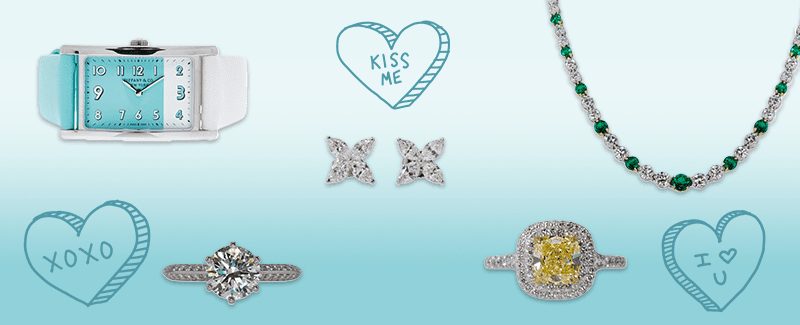 Ah Tiffany's. Did Charles Tiffany ever think that the little blue box would become such an international icon? Today, it's synonymous with luxury, the end goal for many jewelry brands, and a symbol of love. So why not celebrate the month of love by taking a look through Worthy's best Tiffany & Co. jewelry auctions!

There is a whole long and interesting history to Tiffany & Co., and many people are surprised to learn they own something either directly created by Tiffany's (plenty of logos), or at least Tiffany-inspired. And almost since it was established as a jewelry and luxury store in NYC back in 1845, Tiffany & Co. has been crafting beautiful engagement rings, beginning with the Tiffany setting in 1886. Today, the jewelry icon is about all types of love, from their line of male engagement rings to the About Love film featuring Beyonce and Jay-Z featuring the world-renowned Tiffany Diamond.

Rings from Tiffany & Co.
Although the Tiffany Setting is stunning and a classic, Tiffany's designers do create other ring settings, some being very classic (such as the one featuring an emerald-cut diamond in #2 below), and some playing with tradition and incorporating some pizazz (such as the halo setting with a large yellow cushion in #4 below). Moreso than any other type of jewelry, Tiffany rings have a higher resale value than their non-branded counterparts. That's something important to consider whether you're looking to buy something new or sell something you got: you can't go wrong with Tiffany's.

Classics with a Twist
Tiffany's has had dozens of world-famous designers come through their design studios, such as Elsa Paretti and Paloma Picasso, to name a few. The diamond and yellow gold rope necklace (#9 below) was created by Jean Schlumberger whose iconic designs are still sold in the store today. There are also in-house collections, such as the Etoile collection (see the #8 bangle bracelet) and the Victoria collection (see the #5 earrings) which highlight a certain theme in jewelry that is woven into classic designs to give them something unique.

Reselling Tiffany & Co. Jewelry
As one of the best-known jewelry brands, it's no wonder that Tiffany & Co. jewelry can fetch higher prices at auction than other pieces. If you are interested in selling jewelry from Tiffany's, check out our guide and be sure to get in touch with our expert team to find out how much you could make.
Top 10 Best Tiffany Auctions at Worthy

Tiffany & Co. 18k and Platinum Diamond and Emerald Victoria Riviera Necklace. Sold for  $37,000.
2.18 ct. Emerald Cut 3 Stone Tiffany & Co. Ring. Sold for $13,429.
1.50 ct. Round Cut Solitaire Tiffany & Co. Ring. Sold for $11,000. 
1.53 ct. Cushion Modified Cut Halo Tiffany & Co. Ring. Sold for $9,373.
Tiffany & Co. Large Victoria Earrings. Sold for $6,515.
1.13 ct. Pear Cut Bridal Set Tiffany & Co. Ring. Sold for $5,000. 
Tiffany & Co. Lucida Diamond Stud Earrings. Sold for $3,630. 
Tiffany & Co. Etoile Diamond Bangle Bracelet. Sold for $2,753.
Tiffany & Co. 18k and Diamond Station Necklace. Sold for $2,184.
Tiffany & Co. East West Ronda Watch. Sold for $1,154.
//= get_template_directory_uri() ?> //= get_template_directory_uri() ?> //= get_template_directory_uri() ?> //= get_template_directory_uri() ?> //= get_template_directory_uri() ?> //= get_template_directory_uri() ?>
©2011-2023 Worthy, Inc. All rights reserved.
Worthy, Inc. operates from 25 West 45th St., 2nd Floor, New York, NY 10036