Top 10 Worthy Auctions of 2018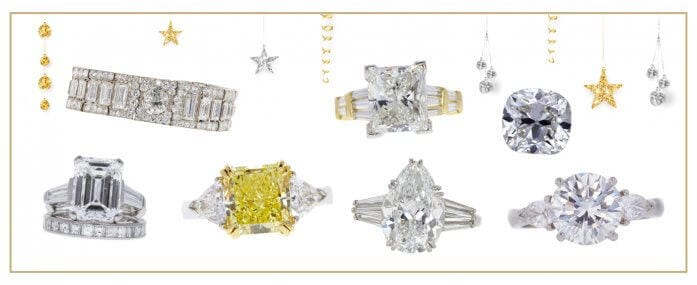 "A Diamond Is Forever." Did you know that slogan, penned in 1948, is still considered to be the greatest brand advertising slogan ever written?
Did you also know that it was written by a woman?
Frances Gerety was a young female copywriter at N.W. Ayer in Philadelphia when De Beers tasked the agency with developing a strategy to link diamonds and marriage in the minds of consumers. Since love and marriage represent a bond that's supposed to last forever, the object assigned to represent it also should be of high value and last forever.
Gerety—who herself never married—had been hired by N.W. Ayer a few years earlier to write advertising copy for "female products." As a woman, guess who got stuck working late in an office probably not too far off Mad Men's whiskey-soaked Sterling-Cooper? Exhausted, she penned the memorable line and went to bed thinking it wasn't that great. The rest, as they say, is history.
A diamond may be forever, but when the marriage is history that rock doesn't represent your forever anymore. As divorce coach Liza Caldwell wrote for this blog earlier this year, selling it could be the way to go. What will it get you? And how will it free you?
Only you can answer the latter, but we can help answer the former.
How does $67,153 sound? That's the average net result from Worthy's top 10 auctions this year. The most expensive lot of the year was a whopping $153,747 (for a ring with a five-carat emerald-cut E color stone). That does skew the average a bit, but if you take that out of the equation, the median net gain from our top 10 auctions was still $55,233. That's a nice chunk of cash to invest (best choice!), pay off a year of college, or do with it whatever makes you happy.
Here's a quick look at our Top 10 biggest auctions of 2018: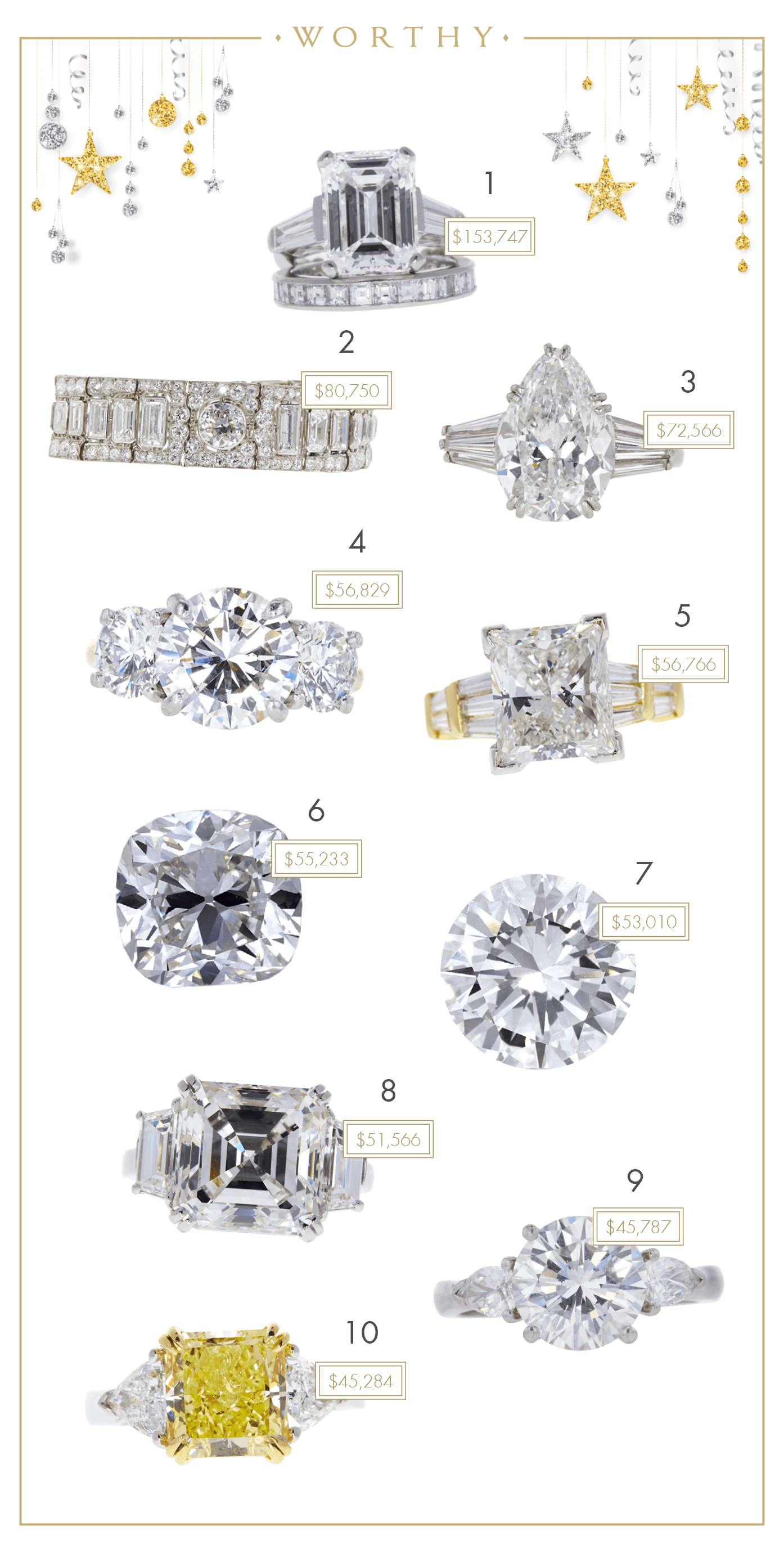 Platinum bridal set with a 5.41-carat emerald-cut center diamond and 0.95 carat total weight (ctw) tapered baguettes. Matching band has 2.45 ctw of channel-set square diamonds. Sold for $153,747.
Antique platinum 10-carat diamond link bracelet is engraved "Cartier Made in France." Sold for $80,750.
Platinum and diamond three-stone ring with a 4.93-carat pear-shape center and 0.95 ctw of baguette diamonds. Sold for $72,566.
Three-stone ring in 14k gold with a 3.74-ct. center diamond, and side stones of 1.04 and 1.08 carat each. Sold for $56,829.
18K yellow gold solitaire ring has a 7.01-carat center princess diamond and 10 tapered diamond baguettes in a bar setting. Sold for $56,766.
A loose 6.47-carat cushion diamond. Sold for $55,233.
A loose 4.01-carat round diamond from a family inheritance. Sold for $53,010.
Art Deco three-stone ring with 7.31-carat Asscher-cut center and two trapezoid side stones, 1.50 – 1.55 ctw. Sold for $51,566.
Platinum and diamond three-stone ring with a 3.21-carat round center and 0.72 ctw of pear-shape side stones. Sold for $45,787.
Platinum three-stone ring with 4.13-carat modified radiant fancy yellow diamond and 1.5 ctw white trilliant side stones. Sold for $45,284.
What if your diamond is more pebble than rock? Most of our lots net less than the $55,000 median, but the value of getting an emotional rock off your shoulder—while also getting yourself some extra cash—can make you feel very rich indeed.
What if you have a brooch or necklace that just screams "granny?" Not that you don't love your granny, but do you want to dress like her? No. The granny-chic trend works when you're 25, but at 45 or 55, it's suddenly way more granny than chic. It becomes chic again in your later years (think Iris Apfel) but in the meantime, you probably will want some more modern-looking jewelry. Here are a few distinctive auction lots from 2018, ranging from some Dynasty-era collars (ABC prime-time, not Ming) to a twinset-worthy circle pendant/brooch that sold for $1,710.
//= get_template_directory_uri() ?> //= get_template_directory_uri() ?> //= get_template_directory_uri() ?> //= get_template_directory_uri() ?> //= get_template_directory_uri() ?> //= get_template_directory_uri() ?>
©2011-2023 Worthy, Inc. All rights reserved.
Worthy, Inc. operates from 25 West 45th St., 2nd Floor, New York, NY 10036