Recreating the Past: The Boom in Conversion Jewelry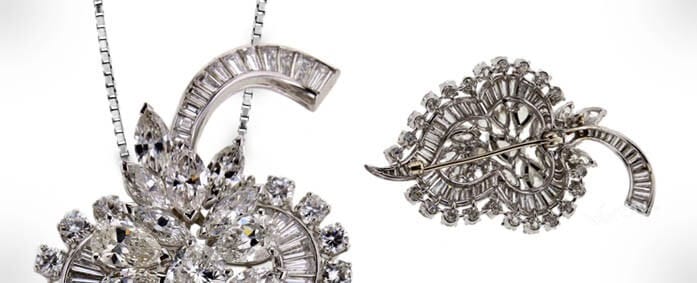 Conversion jewelry began with a simple goal: to give new life to antique and vintage jewelry that wasn't being worn in its original form. Victorian stick pins; small Victorian, Edwardian, and Retro brooches; tie tacks; and jeweled and cut steel buttons were the first pieces which were re-worked into wearable and chic rings and necklaces for a new generation of women. Had these pieces not been rescued by a small group of forward-thinking jewelry collectors, dealers and designers they would probably have wound up in the melt pile when gold prices were high and times were tough.
Making What's Old, New
At the beginning, around 10 or 15 years ago, there were two innovative designers at the forefront of the conversion jewelry wave: Renee Lewis in the United States and Annina Vogel in the United Kingdom. Their seriously expensive collections built around high-ticket antique charms and trinkets were shown in a handful of upscale jewelry stores and showed the potential of creating new styles from modified pieces.
Of course, people have always found a way to transform period pieces. My grandmother was savvy enough to take a European cut diamond set in an Art Deco pin and re-work it into a necklace, which she gave to me 22 years ago. I know antique dealers too who, decades ago, would every now and then transform pretty stickpins in dainty pendants. But in the last few years, more and more antique dealers, jewelry designers, fashion stylists and even big brand houses such as Ralph Lauren have gotten in on the action. Some call their collections "re-imagined," others "rejuvenated" or "re-fashioned." A whole new jewelry category was born: conversion jewelry.
Around seven years ago, I took my grandmother's lead and turned all of the stick pins and brooches I had collected over time into necklaces and launched Estate of Grace Fine Jewelry. Ironically the stick pins and brooches that seem so old fashioned that you might have left them in your grandmother's jewelry box use many of the same motifs that are fashionable in modern jewelry collections today: feathers, double hearts, arrows, keys and locks, crowns, snakes coiled around gemstones, dragons, crescent moons, and horseshoes of every gem and size. Once transformed they combine meaning, sentiment and symbolism, with the soul and three-dimensional character of antiques.

Soon I wasn't alone: suddenly designers and dealers specializing in conversion jewelry are now popping up everywhere, selling through their own websites or other sites like Etsy and Rubylane. They all feature beautiful pieces and their own interpretations. Some of my favorites include D.Jo Jewelry by Dena Bagon, whose parents were in the antique business since she was a young girl. Circa 1700 is by Susan Cohen, who is a screenwriter who also designs exceptional love tokens and sentimental jewelry. Partners Jessica and Jason Sitco of Trademark Antiques specialize in turning floral, insect and other pins into rings. Fashion stylist and costume designer and long time collector Eden Daniels of The Eden Collective offers a bit of everything and that everything is designed to perfection. Hannah Wood of Jewellery Hannah in the UK also has a tremendous following for her conversion jewelry and bespoke bridal rings.
But like the new/old cuts of diamonds coming from India, demand for well-designed antique brooches and pins that are ripe for conversion has raised their prices. Competition between designers offering conversion styles has put pressure on margins too, especially for pieces created from the more popular Victorian styles that were created in large quantities thanks to the industrial revolution. The popularity of reimagined pieces on Instagram has enticed more antique dealers to do their own conversions.

But conversion jewelry continues to be desired by consumers looking for something with a past that has been interpreted for the present. It's still a strong category for jewelers, too, if you follow some simple guidelines and seek out truly creatively reimagined pieces, the kind that inspired the trend in the first place.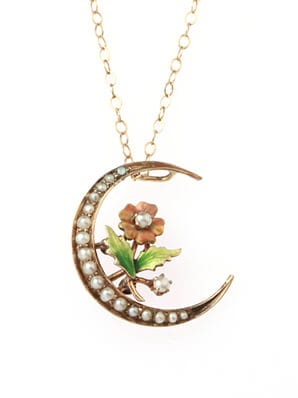 A Buyer's Guide to Conversion Jewelry
Here are six tips to keep in mind if you are thinking about purchasing conversion jewelry.
Follow many dealers who specialize in conversion jewelry on Instagram to get a sense of the market and pricing. You will definitely find that buying a successful piece from an experienced converter is much better than trying to do it yourself.
Keep in mind that unlike authentic antiques, these pieces will not appreciate with time as they have been altered from their original form and are now considered contemporary jewelry. If you are a jeweler, make sure your customers understand that conversion pieces are not as collectible as unaltered antique jewelry.
Like the modern jewelry of independent designers, conversion jewelry is feminine, pretty, and wearable and pieces with meaning and symbolism make great gifts. It's certainly possible that they will one day also be unique heirlooms.
Remember that converting a fine piece in excellent condition from the Georgian to Art Deco period can actually reduce its value and potential for appreciation.
Many conversion pieces are laser soldered and need special care, as do any pieces with enamel or various softer gemstones. Conversion pieces need the same special care as unaltered antique pieces.
Take a look in your own jewelry box and you may be inspired: a single earring can become a pendant. A brooch could become a ring. Look up those working in conversions and inquire if they can re-design it for you. If you are thinking of selling a stickpin or brooch, you may find that there is much more demand than there would have been a decade ago, thanks to the new appeal of conversion pieces.
//= get_template_directory_uri() ?> //= get_template_directory_uri() ?> //= get_template_directory_uri() ?> //= get_template_directory_uri() ?> //= get_template_directory_uri() ?> //= get_template_directory_uri() ?>
©2011-2023 Worthy, Inc. All rights reserved.
Worthy, Inc. operates from 45 W 45th St, 4th Floor New York, NY 10036