Omega Seamaster Aqua Terra Review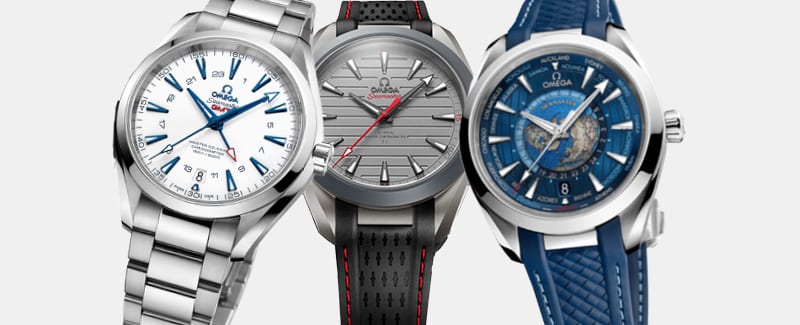 Since its beginning, Omega has held a strong association with sports and adventures of all kinds. Supplying watches to Britain's Royal Flying Corps and the U.S. Army was a great start; since then, the brand has proudly outfitted NASA's astronauts, Olympic athletes, and many others.
Part of the Seamaster line, which was first offered in 1948, one hundred years after the company's founding, the Omega Aqua Terra is a relatively new addition, having been introduced in 2002. This watch is well-suited to active lifestyles thanks to shock-resistant coaxial escapements. At the same time, it offers the remarkable ability to complement nearly any attire. Those looking for a watch that's versatile, attractive, and ideal for everyday wear might do well to take a closer look at the Aqua Terra.
While there are a number of special editions with unique features, the Omega Seamaster Aqua Terra is, at its heart, a classic wristwatch that can be transformed by swapping a leather band for a polished bracelet. Like the Rolex Datejust, it's the ideal candidate for use as an everyday wristwatch.
All About Omega Watches
More About Omega Watches On Worthy
Omega Celebrates The 50th Anniversary Of The Moon Landing · 9 Most Expensive Omega Watches Auctioned At Worthy
Other Omega Model Reviews
Omega Planet Ocean · Omega Constellation · Omega Speedmaster Professional
Omega Aqua Terra History
The Aqua Terra belongs to Omega's Seamaster family, which includes the Bullhead, the Ploprof, the Planet Ocean, and the Seamaster Bond. Initially introduced with Omega's caliber 2500 movement, the Aqua Terra was upgraded to Omega caliber 8500 movement in 2008. It was (and continues to be) offered in different finishes, with versions sized to fit men and women alike.
The 2008 iteration of the Omega Aqua Terra featured a teak pattern on its dial. In most versions, this is a white color; the Aqua Terra Golf edition, also known as the PGA, is one of a few versions that features a black dial. Newer versions of the Omega PGA have green or orange accents.
OMEGA Aqua Terra 96.1113

Sold on Worthy for $1,800.
2013 was another banner year for Omega Seamaster Aqua Terra watches, as it saw the introduction of an updated version that featured Omega Caliber 8505, which offers the ability to withstand up to 15,000 gauss. This level of protection offers resistance to magnetic fields that are commonly encountered during the course of daily life, such as magnetic locks, electronics, security systems, and more. This iconic watch is nicknamed the "Bumblebee" in honor of its striped black and yellow second hand. A black teak pattern dial and yellow seconds lend this Aqua Terra watch a sportier appearance than some others.
Since 2013, Omega has developed quite a few Seamaster Aqua Terra watches that feature different colors and finishes, along with unique complications such as calendars, GMT hands, and more. In 2017, the company began to offer Aqua Terra models with Master Chronometer certification including those featuring Caliber movements 8800, 8801, 8900, 8901, and 8939. It is anticipated that newer versions will offer increased resistance to magnetism.
Omega Aqua Terra watches aren't equipped with helium release valves like those from the Planet Ocean line, but they are suited to recreational swimming and diving, thanks to water resistance to a depth of 150 meters.
Omega Aqua Terra Noteworthy Owners
Omega watches find themselves strapped to many a famous wrist, but many celebs seem to prefer flashier models such as Speedmaster or Planet Ocean. Of course, there are more than a few who have been spotted wearing Aqua Terra watches.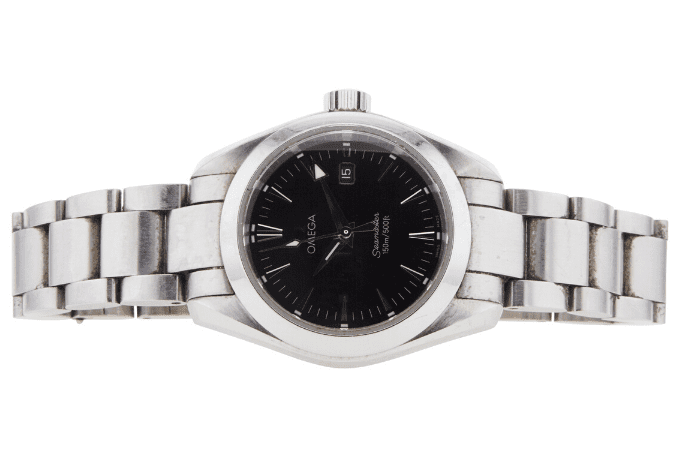 George Clooney was wearing an Aqua Terra watch when he attended the 74th Venice Film Festival in Italy. Frank Reich, head coach to the Indianapolis Colts, has been spotted wearing an Omega Aqua Terra, complete with a blue rubber strap to complement his team's colors. One other notable exception is Rory McIlroy, who won the FedEx Cup while wearing an Omega Seamaster Aqua Terra 150M Co-Axial GMT.
How to Spot a Fake Omega Aqua Terra
Omega Aqua Terra watches are typically designed for sleek simplicity, with fewer complications than many other models. This can make it very difficult to create convincing fakes, but well-equipped counterfeiters do produce very realistic faux Aqua Terra watches that find their way onto the marketplace. The best way to ensure that you aren't duped is to submit the watch in question to professional authentication.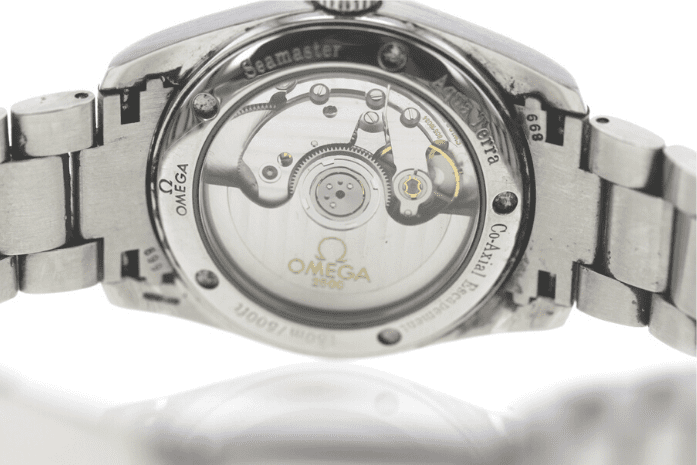 If you're buying locally, from an individual rather than an authorized retailer or shop, an honest seller will not mind accompanying you to a watch dealership where an expert can open the caseback and inspect the movement. In the event that you're trying to make a decision in a hurry, here are a few ways to spot a fake Aqua Terra.
Price is shockingly low; nowhere near market value
No box, receipt, or other paperwork
Omega Logo on the dial should be a separate piece of metal with bridging between the letters OMEGA. If the logo is a decal or has been painted on, the watch is a fake.
Workmanship problems: Look for visible flaws such as spelling errors, shoddy engraving, or uneven letter spacing.
Components appear to be even slightly out of alignment
Poor quality strap or bracelet
Does not have the correct Omega caseback engraving
On most authentic Omega watches, second hand movement should not show obvious one-second steps; instead, the second hand should move by several steps at once, appearing to make a continuous sweeping motion. This isn't foolproof since some Omega watches will display one-second steps as the second hand moves.
Be sure to familiarize yourself with Aqua Terra model features. If you're not planning to visit a horologist, this is perhaps the most important step you can take to prevent purchasing a counterfeit.
Of course, the best way to avoid a counterfeit Omega Aqua Terra is to purchase your watch directly from Omega, or to work with a trusted dealer like Worthy. Our horologists offer exceptional expertise, assuring confidence in the authentication process.
Estimated Value of Omega Aqua Terra Watches
The estimated current retail (MSRP) price of an Omega Aqua Terra watch ranges from $5,400to $48,600. Many models hover near the $6,000 mark; those with jewels, complications, and special features typically come at a higher price.
Pre-owned Omega Aqua Terra watches tend to hold their value well. When in excellent condition, it isn't uncommon for a previously worn Aqua Terra to fetch at least a few thousand dollars. As with all pre-owned luxury watches, individual value varies. Contributing factors include age, condition, rarity, material, current market value, and more. Omega Aqua Terra watches accompanied by original paperwork and presented in a box typically receive better offers than those without.

//= get_template_directory_uri() ?> //= get_template_directory_uri() ?> //= get_template_directory_uri() ?> //= get_template_directory_uri() ?> //= get_template_directory_uri() ?> //= get_template_directory_uri() ?>
©2011-2023 Worthy, Inc. All rights reserved.
Worthy, Inc. operates from 25 West 45th St., 2nd Floor, New York, NY 10036