The Noteworthy Series: Omega Speedmaster Professional Review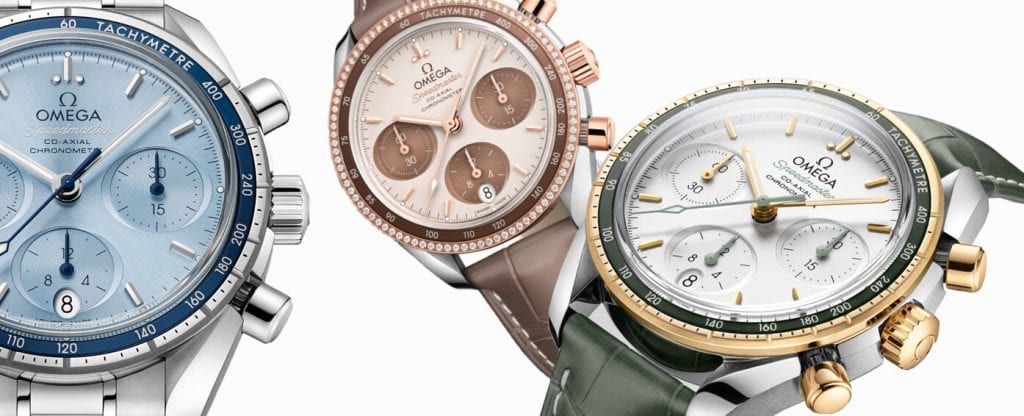 Omega SA got its start in 1848, operating as La Generale Watch Company until 1903, when it officially adopted its current name. Omega watches have always been highly coveted – not just for their incredible appearance, but for their reliability and durability. Britain's Royal Flying Corps chose Omega watches as their official timekeepers in 1917, and the U.S. Army selected the brand for its combat units in 1918. As NASA's top choice, Omega was the first watch on the moon, achieving this notable status in 1969. Since the very beginning, this luxury watch brand has been famous for standing by its motto: "Omega – Exact time for life."
All About Omega Watches
Other Omega Model Reviews
Omega Planet Ocean · Omega Constellation · Omega Speedmaster Professional
More About Omega Watches On Worthy
Omega Celebrates The 50th Anniversary Of The Moon Landing · 9 Most Expensive Omega Watches Auctioned At Worthy
Omega Speedmaster Professional Review & History
Omega's original Speedmaster debuted in 1957, when Omega introduced Ref. CK2915, which was an exciting chronograph designed for sports and auto racing. With a triple-register dial, the first Speedmaster was powered by Omega's Calibre 321 movement, which was developed by Albert Piguet in 1946.
The Speedmaster was updated in 1959 when ref. CK2998 was released, and again in 1963 with references ST105.002 and ST105.003.
We have to back up slightly here because something interesting happened in 1962. Astronaut Wally Schirra wore his Speedmaster Ref. CK2915 during the Mercury Atlas 8 space flight. When his watch emerged unscathed, NASA decided to include Omega as one of three brands to be tested under extreme conditions. This testing was undertaken to determine which watch brand astronauts would wear into space in the future. Omega was proud to win the honor!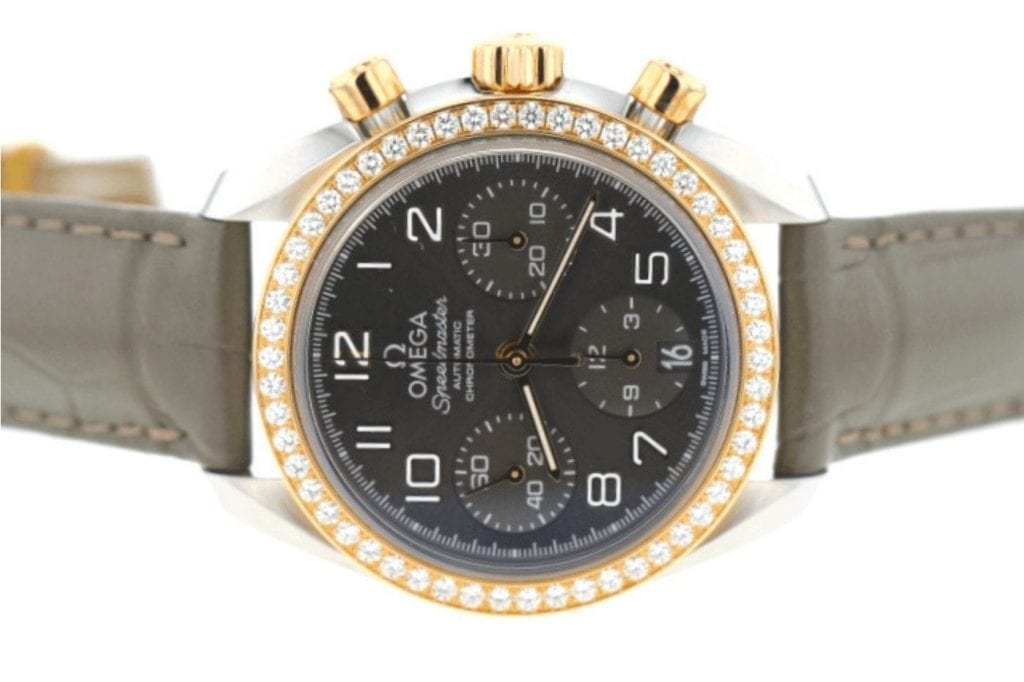 Once NASA accepted the Speedmaster as its choice for future space missions, Omega renamed and rebranded it as the Omega Speedmaster Professional. The word "Professional" first appeared on the dial when Speedmaster reference ST105.12 was released. As NASA's official watch, the Omega Speedmaster Professional was worn on 1965 Gemini missions, and throughout the Apollo missions that lasted until 1972.
During the Apollo 11 mission of 1969, an instrument called the mission timer failed on the spacecraft itself. Neil Armstrong successfully used his Omega Speedmaster Professional as a replacement. As a result, Buzz Aldrin wore his Speedmaster during the first lunar walk, but Armstrong's watch remained inside the spacecraft. Ever since this historic occasion, the Omega Speedmaster Professional has proudly borne the nickname "Moonwatch."
The appearance of the Speedmaster Professional hasn't changed much since the first models were introduced – it's a truly iconic design. Inside, the Speedmaster Professional was updated to Calibre 861 in 1968, and again with Calibre 1861 and 1863, which offer high-grade rhodium-plated finishes. Both of these Calibres rely on hand winding, and with a few very minor differences and some special material releases, these watches remain almost identical to the timepieces worn during those first missions to the moon.
A special Apollo 11 50th Anniversary Omega Speedmaster in gold celebrates one of the most important milestones in space exploration. Currently, the company is working with NASA to develop a new Omega Speedmaster Professional for the planned 2030 space flight to Mars.
Omega Speedmaster Professional Watches Noteworthy Owners
Neil Armstrong and Buzz Aldrin continued to wear Omega Speedmaster Professional watches and at age 89, Aldrin was named a brand ambassador thanks to his famed moonwalk.
Golfer Rory McIlroy wore a 1989 Speedmaster Professional to a press conference after winning the 2019 Players Championship, and Mark Knopfler of Dire Straits is often spotted wearing a Speedmaster Professional, sometimes with a NATO strap instead f with the black leather strap he often prefers.
His Royal Highness Willem-Alexander, King of the Netherlands, is a huge fan of the Omega Speedmaster Professional. Not surprisingly, he is joined by Top Gear presenter Richard Hammond.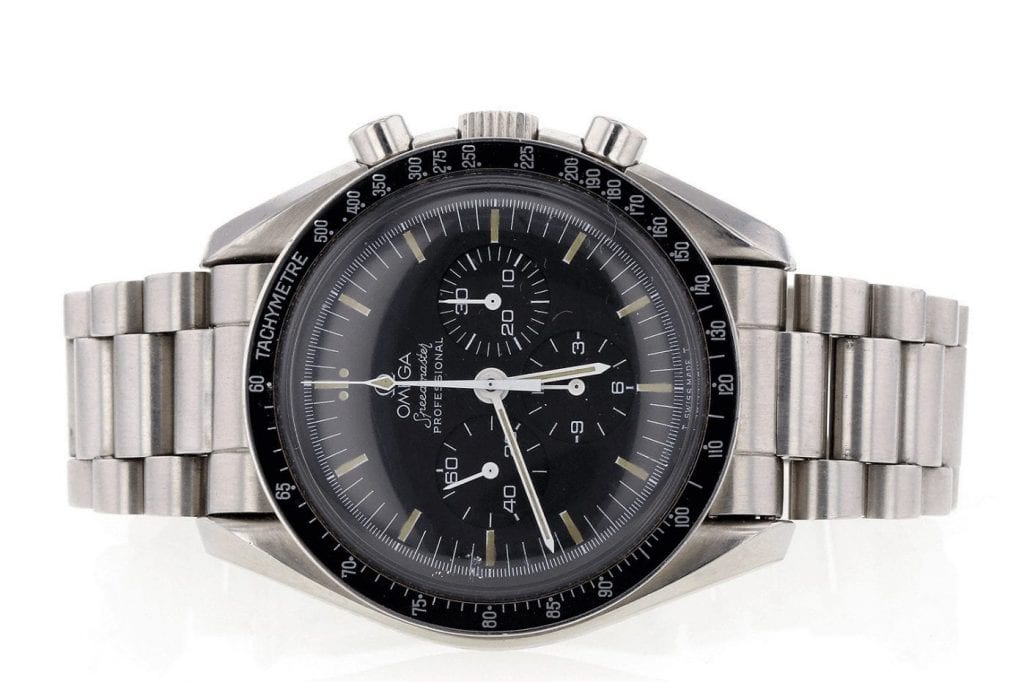 Rheinhold Messner wore a Speedmaster Professional to the South Pole, proving once more that this watch is capable of performing admirably on the furthest reaches of terra firma as well as the surface of the moon.
In movies, you can spot "Speedy" watches being worn by Scott Glenn and Dennis Quaid as they portray the original Mercury 7 astronauts in The Right Stuff. Many actors – both those portraying astronauts and those playing members of the Ground Control staff – can be seen sporting Speedmaster Professionals in the 1995 film Apollo 13.
These are just a few famous Omega Speedmaster Professional wearers!
How to Spot a Fake Omega Speedmaster Professional
You probably won't be surprised to hear that Omega Speedmaster Professional watches are very popular! If you're purchasing a brand-new model, it's best to go directly to Omega or another authorized dealer. If you're in the market for a pre-owned Moonwatch, then you'll want to avoid counterfeits.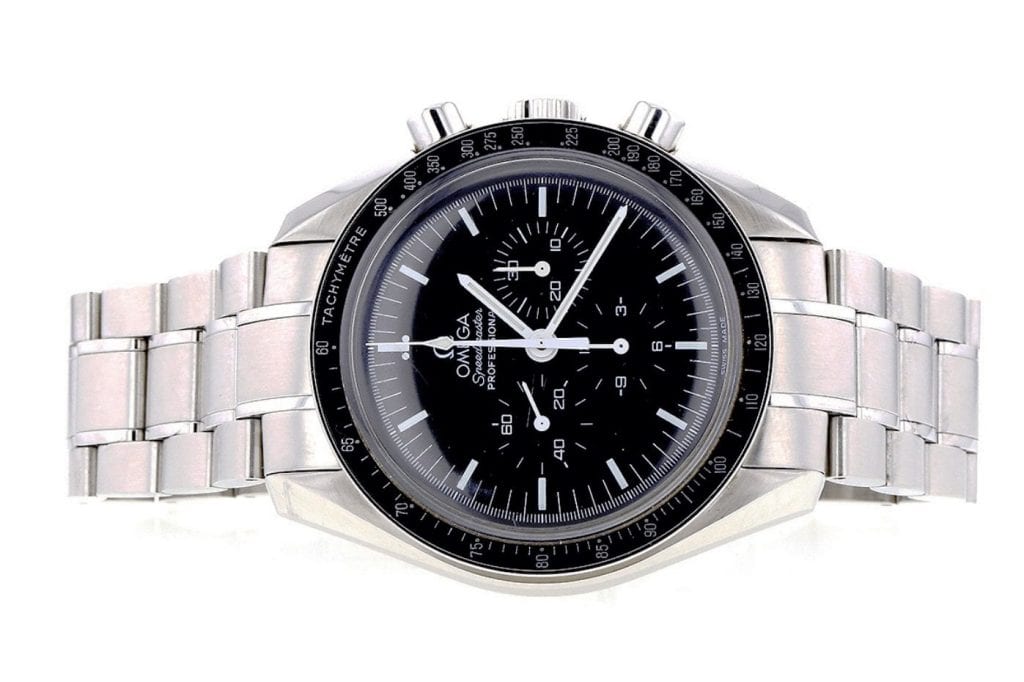 Because they are in such high demand, pre-owned Omega Speedmaster watches are often replicated. Some sellers will come right out and tell you that the watch on offer is a replica and not the real thing. Others will try to trick you into believing that you're looking at a genuine Speedmaster Professional. In case you have the ability to view the watch in person, here are a few things to look out for.
Priced far below market value
No authentication
Obvious craftsmanship flaws such as issues with misspelling, character alignment, incorrect hands, etc.
Subdials are not recessed
Minute hand does not extend all the way to the fraction marks on the dial.
Low-quality bracelet/band components
Wrong dimensions, i.e. circumference, thickness

These days, it's easier than ever for counterfeiters to produce fake Omega Speedmaster Professional watches that look and even act very much like the real thing. These faux Speedmasters are so convincing that sometimes it's difficult for experts to tell the difference without removing the watch's back and looking as the movement inside. While this isn't something you should attempt, fakes are often revealed because they are missing the Omega name on the movement, and the movement is not correct.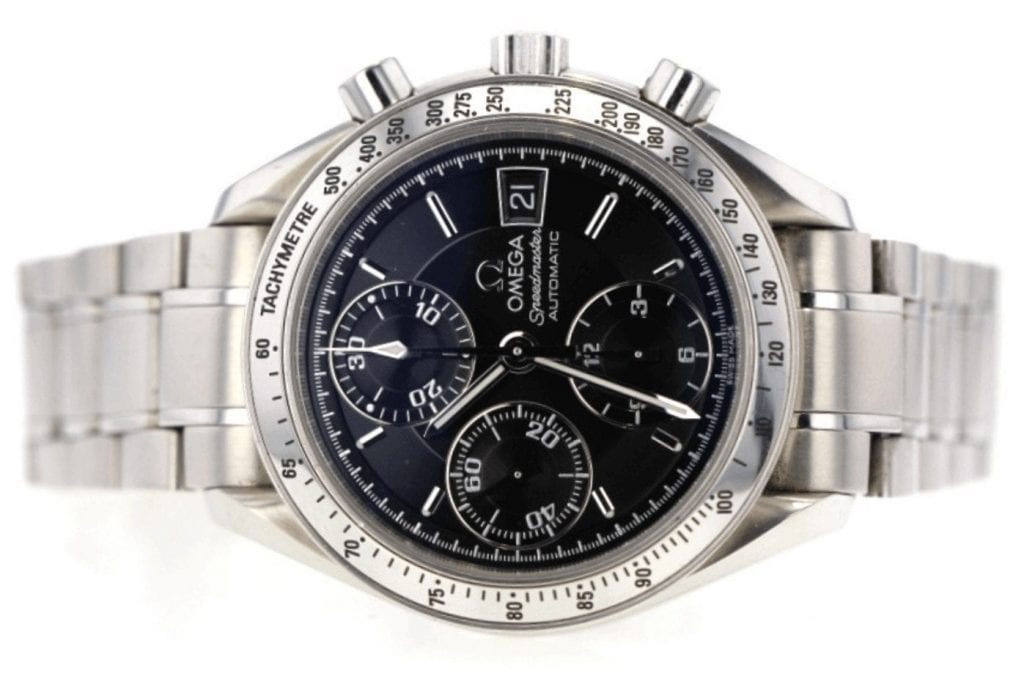 Because convincing counterfeit luxury watches are so easy to come by and eager, novice buyers are often tricked into making a purchase without authentication, it's best to look after your interests and avoid markets with questionable reputations. Choosing to work with a trustworthy seller like Worthy means avoiding all of those pitfalls. Our expert horologists are well-acquainted with all Omega Speedmaster Professional watches, inspecting every detail inside and out before accepting the watch for resale.
Estimated Value of Omega Speedmaster Professional Watches
Currently, the retail price of an Omega Speedmaster Professional watch is between $5,250 and $34,600 Pre-owned Omega Speedmaster Professional watches are often quite valuable, not just because the brand holds its value, but because some of these watches have been worn by cultural icons.
Pre-owned Omega Speedmaster Professional watches are always in demand, and they tend to hold value. Final price is determined by a variety of factors including rarity, condition, and presence or lack of original sales receipt / presentation box. At Worthy's auctions, Omega Speedmaster Professional watches tend to fetch thousands.
If you own an Omega Speedmaster Professional of any age and you are considering whether to sell it, we can facilitate this important process on your behalf, eliminating questions of appropriately marketing you watch to an audience comprised of qualified buyers from all over the U.S and in doing so, ensure that you receive the best possible price.
Other Omega Model Reviews
Omega Constellation Review · Omega Planet Ocean Review
---
//= get_template_directory_uri() ?> //= get_template_directory_uri() ?> //= get_template_directory_uri() ?> //= get_template_directory_uri() ?> //= get_template_directory_uri() ?> //= get_template_directory_uri() ?>
©2011-2023 Worthy, Inc. All rights reserved.
Worthy, Inc. operates from 25 West 45th St., 2nd Floor, New York, NY 10036