Omega Planet Ocean Review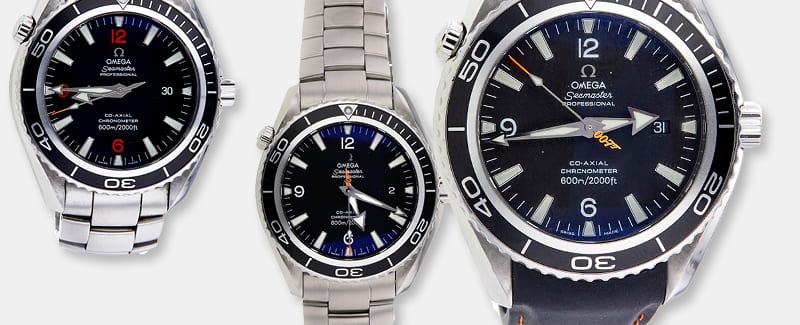 The oceans: For some, they're a playground; for others, they're a workplace. If you spend time on the water and exploring the mysteries that lie just beneath its surface, then Omega's Planet Ocean watch may be the ideal match for your lifestyle.
Swiss luxury watch maker Omega SA was founded in 1848 under the name La Generale Watch Co. In 1903, it incorporated its founder's name as well as the name Omega, becoming Louis Brandt et Frere – Omega Watch & Co. 1982 saw the company's moniker change again, this time to Omega SA, the brand name with which we're familiar today.
All About Omega Watches
Other Omega Model Reviews
Omega Planet Ocean · Omega Constellation · Omega Speedmaster Professional
More About Omega Watches On Worthy
Omega Celebrates The 50th Anniversary Of The Moon Landing · 9 Most Expensive Omega Watches Auctioned At Worthy
Almost since its founding, the Omega name has been associated with adventure. Britain's Royal Flying Corps enlisted Omega watches as their official brand in 1917, and the U.S. Army followed suit in 1918. The Olympic Games chose the brand as the official timekeeping device in 1932 and NASA chose Omega watches for the first-ever moon expedition in 1969.
In 2019, a trio of experimental Omega Seamaster Planet Ocean Ultra Deep Professional watches successfully survived a dive to the bottom of the Mariana Trench. Affixed to the Limiting Factor self-propelled deep-sea submersible, they reached an astonishing 10,928 meters and emerged unscathed. This new world record established the Planet Ocean Ultra Deep Professional as the deepest dive watch ever produced.
Omega Planet Ocean History
The Omega Planet Ocean is part of the Omega Seamaster family, which includes the Ploprof, Bullhead, Aqua Terra, and Seamaster Bond. The Seamaster itself was introduced in 1948, with a design that was loosely based on designs produced for Britain's Royal Navy during the final years of the second World War. The Seamaster Planet Ocean is a far newer design, having been in production since 2005.
Omega Planet Ocean watches offer water resistance to a depth of 600 meters (1969 feet or 60 bar) – almost twice the depth of the deepest dive on record, an astounding 1082 feet (332 meters) depth achieved in South Sinai by Egyptian scientist and diver Ahmed Gabr in 2014. A helium release valve (HEV) and a chronometer certification are two features that contribute to its popularity as one of the most reliable dive watches ever produced.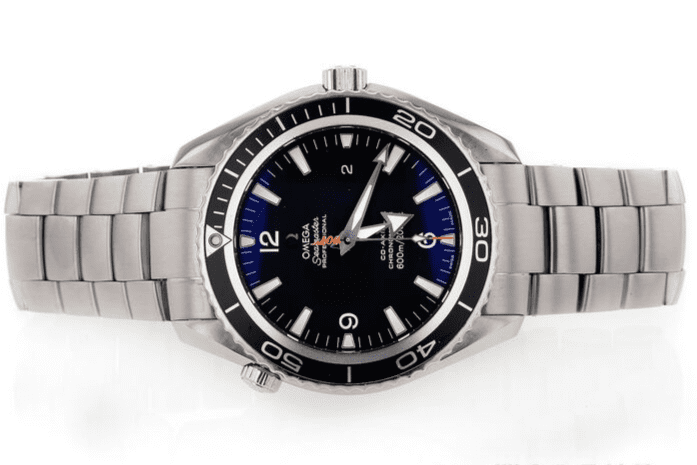 The first Planet Ocean watches were introduced in 2005 as an upgrade to the Omega Seamaster 300, which first entered production in 1960. Through the years, Omega Planet Ocean models have been produced in 38mm, 42mm, and 45.5mm diameters, with a variety of different bezel and numeral options, and in both chronograph and non-chronograph (GMT) versions. A number of bracelet and strap options have come and gone through the years as well. Many designs include at least a touch of orange color and all are equipped with luminous hands which distinguish themselves by appearing incredibly brilliant in the dark.
Almost all Omega Planet Ocean models have some things in common, beginning with an analog display that features luminescent hands. The bezel rotates unidirectionally, and the caseback is a screw-in type that, with the exception of some limited-edition models, is almost always engraved with the famous Omega hippocampus logo. The helium escape valve is a unique feature that allows divers to release helium during decompression, preventing built-up pressure from popping the crystal off the case. It is positioned slightly above the center of the ten o'clock position.
Original 2005 non-chronograph Omega Planet Ocean watches were equipped with Omega's calibre 2500. In 2011, the movement was upgraded to calibre 8500.
During the 2011 Planet Ocean update, the company's designers made a few other changes. Opaque casebacks were swapped for transparent ones and bezels were upgraded from aluminum to ceramic. The coaxial escapement organ received a 13 percent increase in size, and the winding rotor was redesigned to achieve bi-directional winding even with the slightest motion of the wrist. Size differences remained the same and quite a few limited editions were offered including the Seamaster Planet Ocean 600 M 'Skyfall' James Bond watch, famously worn by Daniel Craig as James Bond in the movie Skyfall.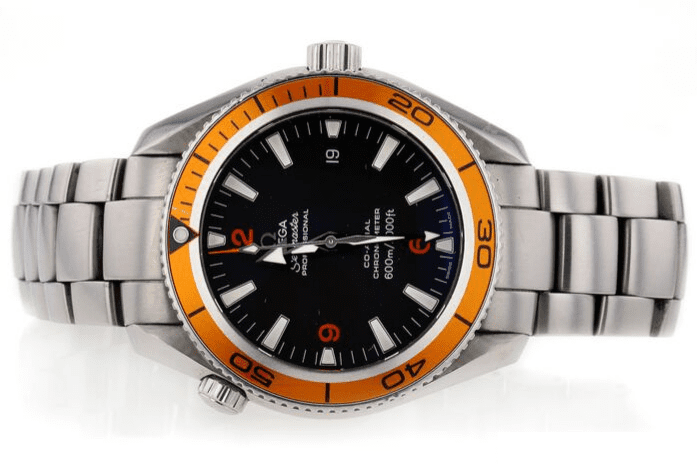 2016 saw Omega Planet Ocean watches receive more aesthetic updates to the cases, faces, and bracelets. In addition, Planet Ocean watches produced from 2016 onward are equipped with Master Co-Axial calibre, which maintains chronometer certification while offering the added advantage of resistance to magnetic fields up to 15,000 gauss. The Swiss Federal Institute of Metrology (METAS) awarded the Planet Ocean watch its highly coveted Master Chronometer certification, making this model the first watch ever to provide this level of magnetic field resistance alongside a 600 meter depth rating.
Omega Planet Ocean – Noteworthy Owners
As you might imagine, the Omega Planet Ocean has quite a few famous wearers. In addition to Daniel Craig, notable owners include actors George Clooney and Tom Hanks, along with Olympic swimmer Michael Phelps.
As the official watch of James Bond, the Omega Planet Ocean received plenty of screen time, with various models including the Casino Royale limited edition and the Quantum of Solace limited edition appearing in every 007 movie produced between Casino Royale and Spectre, in which Bond's watch was updated to the Omega Seamaster 300 Spectre Limited Edition.
How to Spot a Fake Omega Planet Ocean Watch
An Omega Planet Ocean watch exudes quality, making it fairly easy to spot poorly manufactured counterfeits. The bad news is that counterfeiters have access to better tools than ever, making it easier to produce convincing reproductions which are foisted upon unsuspecting buyers who want to find a great deal on a used Omega Planet Ocean.
Since this is a functioning dive watch, proper authentication is an absolute must. We recommend purchasing certified models only. In the event that you're tempted by a watch that appears to be the real deal, there are a few ways to distinguish a fake Omega Planet Ocean from the real thing.
Price is very low; not even close to market value
No box or paperwork
Logo on the dial should be a sperate piece of metal that is applied to the dial; if it's painted on, the watch is a fake
Obvious craftsmanship flaws: Inspect the watch closely, looking for spelling errors, issues with engraving or letter spacing, and watching for visual markers that appear to be of poor quality; for example, if you are looking at a watch with a date display, it should be exactly centered inside its window
On models with a date display, the date should click each time the date is advanced
Components appear to be even slightly out of alignment
Bracelet or strap is of poor quality, or bracelet links appear to be misaligned
Does not have the proper caseback engraving for its model; i.e. the Omega hippocampus, Omega 007, or other appropriate logo
Helium escape valve is incorrectly positioned; on an authentic Omega Planet Ocean (and other Omega Seamaster models), the HEV is located a touch north of the 10:00 marker
The reflective portion of the hands (lume) should cover almost the entire width of each hand. Fakes typically feature less lume and show clear delineation between metal and lume
The luminous dot located at the top of the bezel should be exactly centered, not touching the edges of the triangle that surrounds it
If you pull out the stem as if to adjust the time, the watch's second hand should stop; second hands on many fakes will keep rotating
On most Omega models, second hand movement should show several steps per second, not one-second steps; the second hand should appear to sweep in a continuous motion; note that this isn't foolproof as some Omega timepieces do have second hands that move in one second steps
Have an horologist inspect the watch and remove the caseback. The Omega name is stamped inside the watch's works and there are other distinguishing internal features that help discern real Omega Planet Ocean watches from fakes
It's worth noting that there are many different Omega Planet Ocean models available, each with unique features that can help you distinguish the real thing from a counterfeit. Familiarize yourself with the model you're searching for so that this process is easier.
Unfortunately, high-tech counterfeit watches are highly lucrative for unscrupulous manufacturers who know that it's possible to trick unsuspecting buyers into believing that their replicas are authentic. Since many platforms expressly state that they are not accountable when counterfeit goods are sold to consumers, the best way to avoid a fake Omega Planet Ocean is to purchase your watch directly from Omega.
Estimated Value of Omega Planet Ocean Watches
The current retail (MSRP) price of an Omega Planet Ocean watch ranges from $6,450 to $103,000. Most models fall between the $6,450 and $13,000 mark with a few higher-priced outliers.
Pre-owned Omega Planet Ocean watches often retain value, typically selling for at least a few thousand dollars when in excellent condition. As with all previously owned luxury watches, value is determined on a case by case basis, with a number of contributing factors including age, rarity, condition, the current market value, and more in mind. Omega Planet Ocean watches offered with original paperwork and/or presentation boxes are typically worth more than those without.
If you own an Omega Planet Ocean watch and want to sell your watch for the best price possible, Worthy can help by eliminating guesswork and targeting interested, prequalified buyers who are actively looking for pre-owned Omega Planet Ocean models like yours.

Other Omega Model Reviews
Omega Constellation Review · Omega Speedmaster Professional Review
//= get_template_directory_uri() ?> //= get_template_directory_uri() ?> //= get_template_directory_uri() ?> //= get_template_directory_uri() ?> //= get_template_directory_uri() ?> //= get_template_directory_uri() ?>
©2011-2023 Worthy, Inc. All rights reserved.
Worthy, Inc. operates from 25 West 45th St., 2nd Floor, New York, NY 10036