5 Minutes With Joe Thompson, Editor-in-Chief of WatchTime Magazine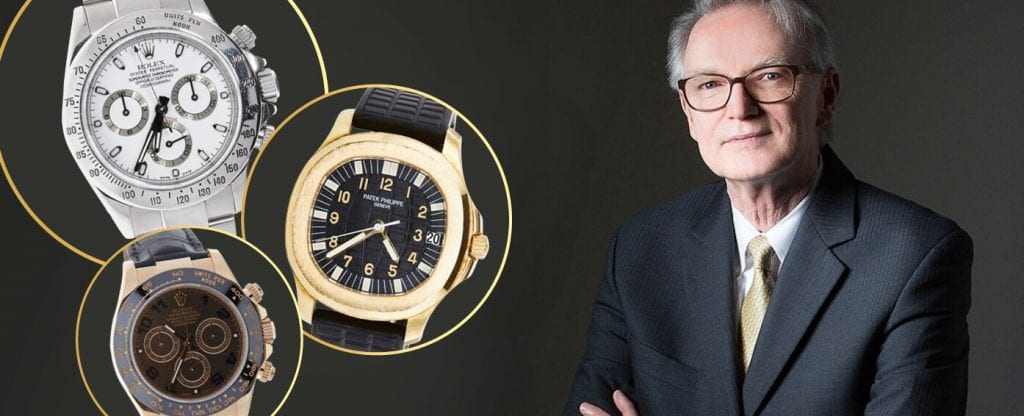 Worthy talked to Joe Thompson, the editor-in-chief of WatchTime magazine, at the inaugural edition of WatchTime New York, a new watch collector's exhibition in New York City in October 2015. Joe has written about watches and the global watch market for 38 years. A frequent visitor to watch production centers in Europe and Asia, he specializes in in-depth, analytical articles on watches and the watch industry.
How many watches are there in your collection?
I don't actually have a collection. I don't have the wallet. But as a reporter, this is the industry I cover and it's fascinating to me. It's still fascinating after 38 years. I have a few watches but I'm not a collector: it would be insulting to a true collector to call me one. I don't have important watches.
What watch are you wearing today?
Today I'm wearing a Seiko spring-drive Kinetic watch. It's sort of a hybrid. It's a little too large for my tiny wrist but I happen to like it. It's a dress watch.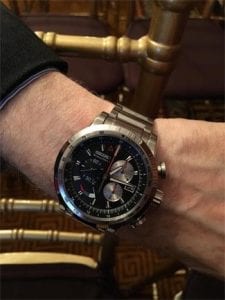 If you could own any watch in the world, which would it be?
It would have to be a Breguet. Because I think Abraham-Louis Breguet was a genius. He was the inventor of the modern style, he was a phenomenal technician and craftsman. He was the inventor of the tourbillion, shock absorption, and many many other things. And he had an unbelievable life. He was in Paris for the revolution, declared an enemy of the state. Jean-Paul Marat, one of the terrible revolutionaries was from Neuchâtel, Switzerland just like him. Marat's sister worked for Breguet. And Marat saved Breguet: he came to him and told him: "you escape tonight, they are coming to get you." Marat knew because he was the leader but this was his friend Breguet and he couldn't let this happen. All of these things interest me enormously and I do like that look. I like the guillochet look, the off-center design that he did. Of course this is doing me no good: I make one friend and 600 enemies. But if it's the end and somebody said we're going to get you any watch, it would be a Breguet, to be honest.
What watch would you recommend for a collector who's just starting out?
I don't recommend. There's a lot of different ways to do it. A lot of guys today are starting out on the vintage side because the looks are great. They are more affordable because they are second hand and you can get really wonderful products like vintage Tudors or vintage Rolexes that have been around and they look great on the wrist. What's great about young collectors today is that they want real watches. They might wear a smartwatch but they know the value of a historical wristwatch. That's one way in. The industry today has all kinds of options. Today you can buy a Swiss mechanical watch for $600. You have lots of options under $1000. Then collectors tend to graduate to starter Rolexes which have become more expensive now. That's why vintage has become big.
What can watch collectors learn from WatchTime magazine?
WatchTime readers tell us they learn a lot from WatchTime's magazine, website, and social media. WatchTime is best known for its independent watch tests of major brands like Rolex, Patek Philippe, Vacheron Constantin, Omega, Breitling, and many, many more. Each watch is evaluated according to nine criteria, with a numerical score assigned for each. A final score is based on a 100-point scale. The brands have absolutely no input into the testing and scoring process. Such independent scored tests are extremely rare in the watch world and very useful to readers.
The magazine's editorial includes in-depth, independent, analytical articles on watch trends, watch companies, industry issues, and technical matters, as well as articles on watch people, watch history, watch markets, watch culture and more.
What was the concept behind WatchTime New York?
The purpose of the show is to bring watch collectors and aficionados together to meet with top watch brands, and with each other, to celebrate their common passion: fine mechanical watches. With 20 watch brands at the show, attendees get to see more watches from more brands than they can from their local watch dealer. They also get in-depth information about the watches from the experts; brand owners, CEOs, and sales and marketing executives are on hand to talk to WatchTime readers. This kind of access to brand insiders and insider information is rare.
Attendees also get to meet, talk to and spend time with other collectors, swapping stories and information about their watch collections and obsessions.
In addition, WTNY offered interesting talks and exhibitions (A. Lange & Sohne and Seiko has watchmakers working on watches on site) and events (e.g. a Watches & Whisky reception with prominent watch blogger Anish Bhatt) that made the show a fun-filled, full-day watch festival.
//= get_template_directory_uri() ?> //= get_template_directory_uri() ?> //= get_template_directory_uri() ?> //= get_template_directory_uri() ?> //= get_template_directory_uri() ?> //= get_template_directory_uri() ?>
©2011-2023 Worthy, Inc. All rights reserved.
Worthy, Inc. operates from 25 West 45th St., 2nd Floor, New York, NY 10036