Collecting Jewelry as Art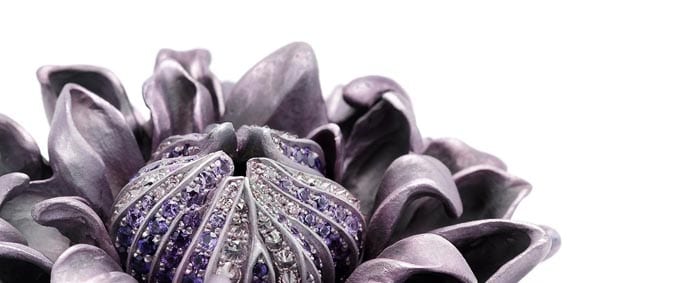 TEFAF, The European Fine Art Fair, held March 11 – 20, is considered almost universally to be the world's most important classic art fair and also the most difficult to enter as an exhibitor.

However, this is a fair that is also trying to find its way in a changing world so there also was a well-curated group of contemporary artists. Among those were seven high jewelry firms. Two are first-time exhibitors in a fair with very little turnover. Others are dealers that offered more traditional antique and period jewels.

Among these seven high jewelry artists, Wallace Chan who stood out, as he usually does. He brought a collection of highly elaborate pieces that combine his vivid imagination with incredible high craftsmanship. He is one of the few high jewelers who does all the work himself, establishing new jewelry making techniques with almost everything he makes.
Part of collecting jewels involves knowing who is doing the type of work that will establish a long lasting appeal in terms of value, but more importantly beauty.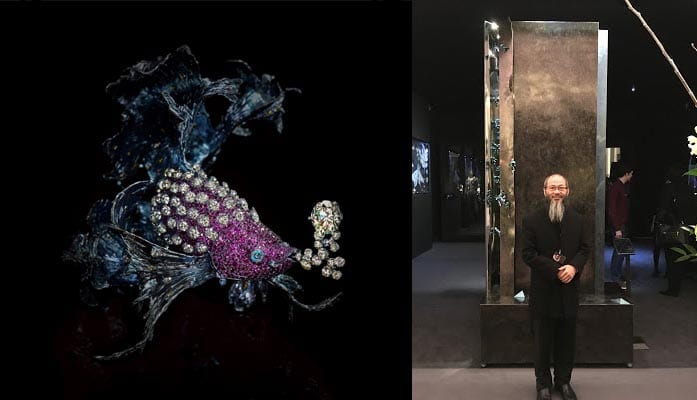 However, the piece that stood out the most wasn't a jewel at all but a nearly 10-foot-high horizontal art installation the trained sculptor and master craftsman created, aptly named, "Dawn of Universe." It is made of titanium, aluminum, stainless steel and a mirror. The colors of the metals are enhanced with shades of green, red and cream with uneven swirls that move with light. In keeping with the jewelry theme it is adorned with a 1,400-carat faceted blue topaz, amethyst and finally with several putti clinging to the structure in playful poses.

Of course he also brought many of his one-of-a-kind pieces to display, among them is his "Gleams of Wave" brooch, made of yellow diamonds, rubies, and pink sapphires and his metal of choice, titanium brooch, that depicts a koi fish in motion, including diamond bubbles.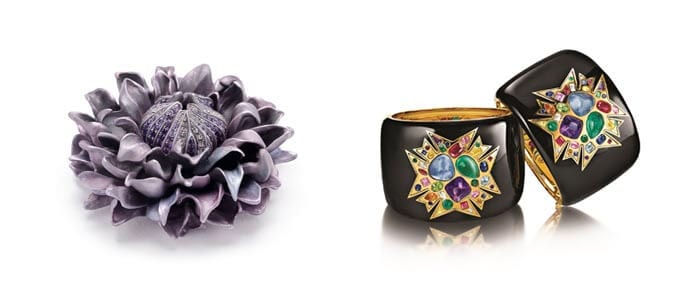 German jewelry firm Hemmerle is known for creating high jewelry artistic works with unusual materials. This year, it introduced a collection called "AL," with pieces made with colored aluminum. One of the best is the "Clematis" brooch, in which bluish aluminum petals open up, exposing a bejeweled pistil.

Two well-known high jewelry artists of the mid-20th Century, Fulco di Verdura and Suzanne Belperron, were represented in a single exhibition. Father and son team Ward and Nico Landrigan successfully revived the Verdura brand name presenting the famed Italian designer's original works and new pieces based on the original drawings. They have recently re-introduced the French Belperron brand, using the same formula.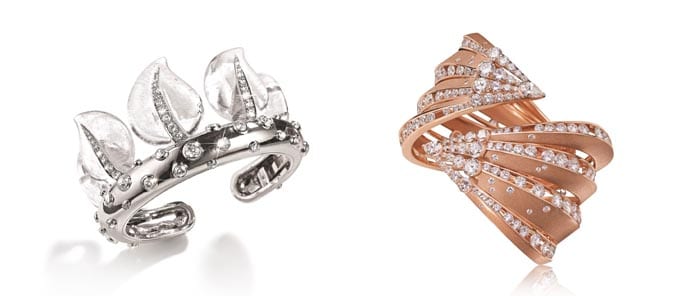 It took four years for the Landrigans to be accepted as an exhibitor, which is a rather short amount of time for TEFAF. It was also perfect timing for relaunching Belperron.

"When Belperron came along we wanted to present it to the world. This is the world," Ward Landrigan said.

Place Vandome jeweler Alexandre Reza was exhibiting for the second consecutive year. Among the collection was the Dune cuff bracelet featuring two pear- shaped diamonds and 152 brilliant cut diamonds weighing 31.48 carats, set on sand blasted and polished pink gold; and an ebony faceted ring featuring an oval cabochon Colombian emerald of 17.83 carats set on yellow gold.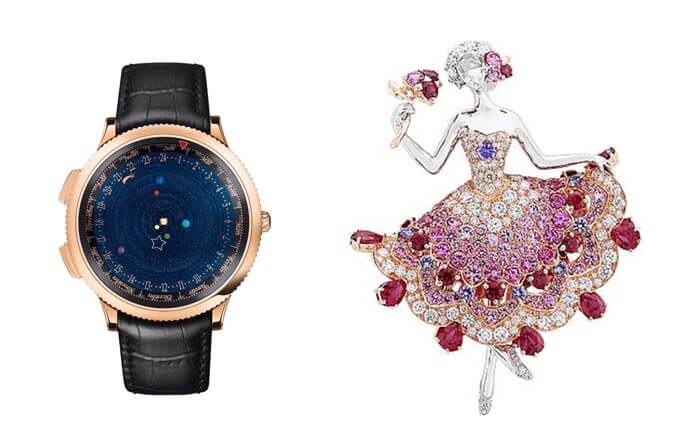 Among the independent high jewelers was international jewelry brand, Van Cleef & Arpels, which brought its elegant old and new pieces to TEFAF. Among them was the Lolanta Ballerina brooch, colorful Hawaiian influenced jewels, and the Midnight Planetarium watch, which displays six plants of the solar system in orbit around a bejewelled sun.

These jewelers are among the best at creating the most collectible jewels of the present day.
//= get_template_directory_uri() ?> //= get_template_directory_uri() ?> //= get_template_directory_uri() ?> //= get_template_directory_uri() ?> //= get_template_directory_uri() ?> //= get_template_directory_uri() ?>
©2011-2023 Worthy, Inc. All rights reserved.
Worthy, Inc. operates from 25 West 45th St., 2nd Floor, New York, NY 10036