Top 10 Auctions for $10K and Over
As we head into the tenth month of the year, we have one question for you – what would you do with an extra $10,000? Home renovations? Ultimate luxury vacation? Set up a college fund or better yet send yourself back to school? So many options!

Let's have a look at some of our favorite items that sold at auction for over $10K and see just what constitutes a bid of this size.

Mega-Diamonds, Mega-Rings
Most diamonds sold set in an engagement ring are around 1 carat and, as with everything, as the size goes up, so does the price (at retail and resale). But as we move into the 2.5-carat range, we start to see the prices soar, with some pieces hovering at 3 carats or more! These types of items are truly one of a kind and whether they were something you inherited or received as a gift, you may be thinking that they are worth holding on to, even if they sit in the back of a drawer (or in this case, a deposit box or safe).

But if you find yourself pining for something out of your price range (a new car, perhaps? Or a custom-built kitchen?) or if your financial future seems at all uncertain, selling items like these will bring you more joy than wearing them could.

Top-Notch Watch
Other big-ticket items we've seen come through the Worthy auctions are Rolex watches. In general, Rolex is one of the top luxury watch brands out there, with retail prices as high as $75,000! These are some of the best watches for investment, and the Rolex Datejust (#2) and Rolex Submariner (#9) are two top models which explains why they both sold for over $10K.

So whether you are a collector saving up for your next major watch purchase or want to trade up for something more modern, selling a pre-owned Rolex can be a great way to finance that next watch purchase.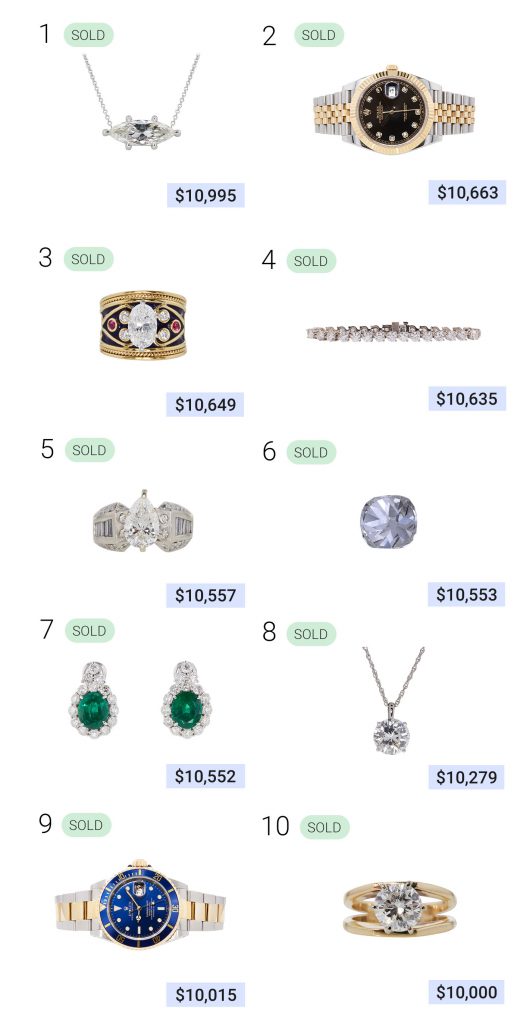 Top 10 Auctions for Over $10K

//= get_template_directory_uri() ?> //= get_template_directory_uri() ?> //= get_template_directory_uri() ?> //= get_template_directory_uri() ?> //= get_template_directory_uri() ?> //= get_template_directory_uri() ?>
©2011-2023 Worthy, Inc. All rights reserved.
Worthy, Inc. operates from 25 West 45th St., 2nd Floor, New York, NY 10036