Worthy's Top Auction Trends Of Q1 2019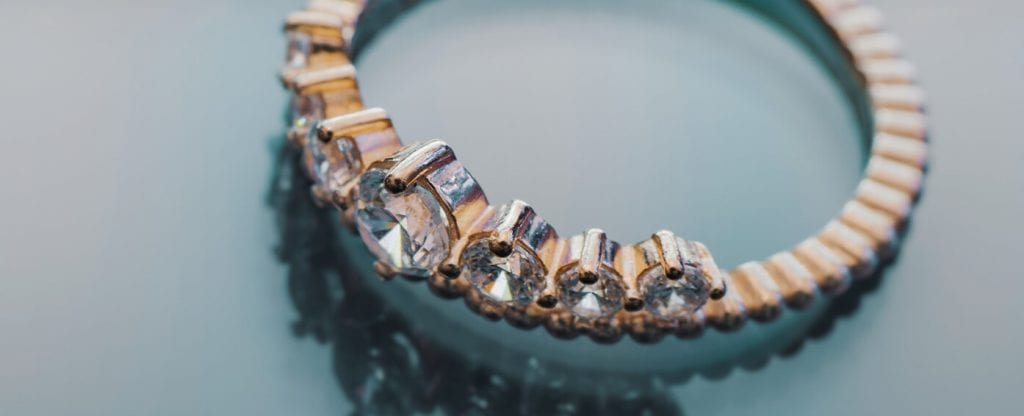 That diamond doesn't spark joy anymore? Time to Marie Kondo it.
Yes, "Marie Kondo" has become a verb. In her now-famous Kon-Mari method of cleaning, the diminutive (4'7") Japanese tidiness expert advises clients to get rid of items that don't "spark joy." While her philosophy also has sparked a lot of wry humor (who gets joy from a dishcloth?) Kondo makes a valid point: items you don't use or wear just clutter up your space, both in your head and your home. So unless you have a profound reason to keep them, you'll ultimately be happier without them.
While Kondo's folding and storage techniques were created to fit the much-smaller-than-American spaces most Japanese live in, a dose of Shinto spirituality also infuses her decluttering process. Kondo treats all items as though they have a soul and advises clients to hold each item for a moment and "thank" it for its service in your life before passing it on.
For many women (and men) a little diamond can have the emotional weight of a huge boulder. If that's you, think how much lighter you will feel when you unload it. Even if it isn't laden with emotional angst, if you don't especially like a piece of inherited jewelry or you would just rather have cash for something else more suited to your lifestyle, go ahead and sell it without guilt. Marie would give you permission, and so do we.
But first, do take a moment to hold it and thank it.
You'd sooner throw that engagement ring in the nearest river than thank it? Pause. If nothing else, thank it for showing you how strong you are or for giving you greater clarity about what you want in your life. Thank the relative that left you the ugly cocktail ring, thank it for the cash it will bring. Whatever it is, thanking it can help mentally close the door it represents and shove a huge boulder off your shoulders.
Know, too, that you are not the only one. Lots of other Worthy clients have done the same with their jewelry. While you're preparing for your own Marie Kondo moment, we thought you might like to see what's been selling. Here are some of the top Worthy auction trends from the first quarter of 2019:
Popular Ring Styles
Not surprisingly, the three most popular ring styles in our first-quarter auctions were bridal sets, solitaires, and halo settings. These three accounted for more than 82% of all our auctions.
Three-stone rings and "other" also accounted for about 15% of our auctions, and the remainder were a variety of designs ranging from clusters to men's rings.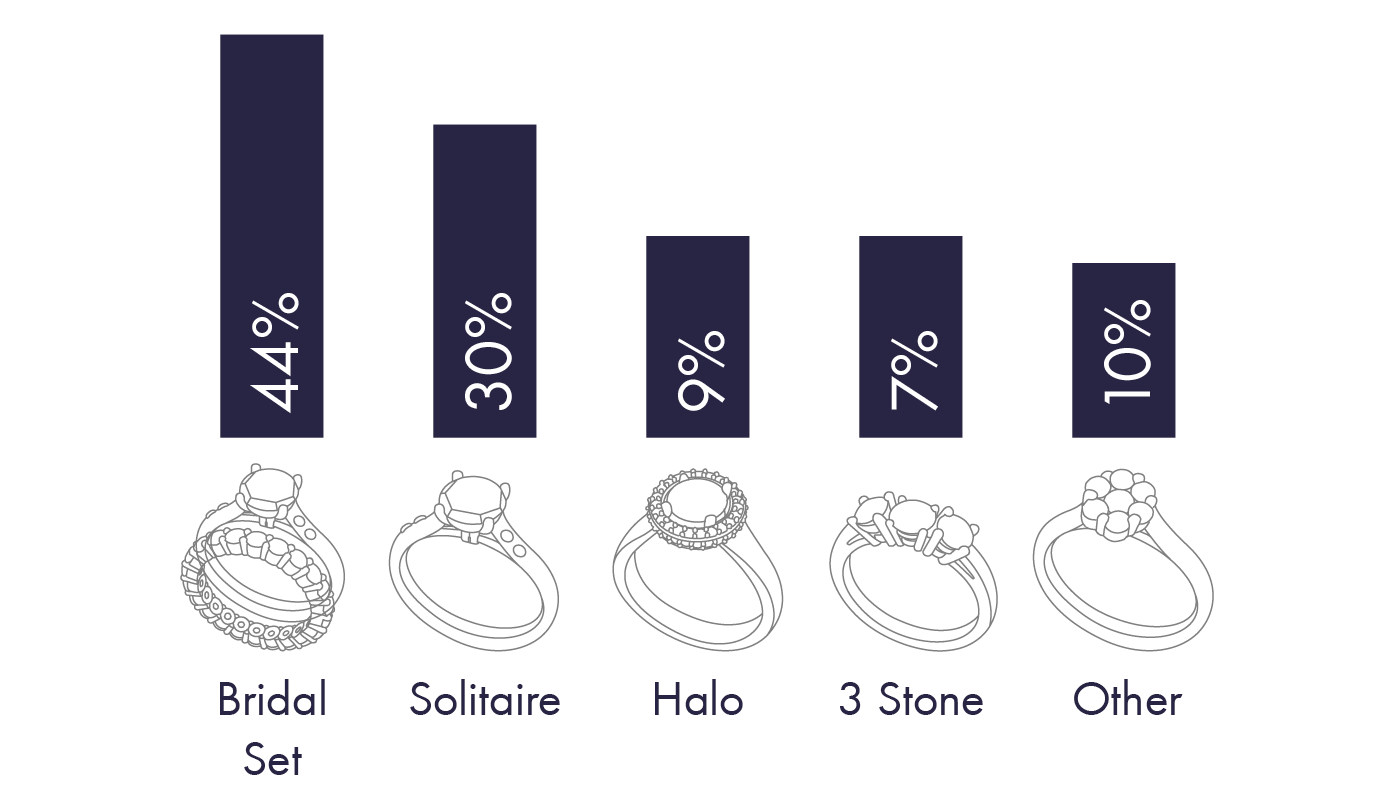 Popular Ring Shapes
The most popular diamond shapes remain (in descending order) round, princess, and marquise. Half of all our auctions in the first quarter were for pieces with round diamonds, and just slightly fewer than one-fourth (21.3%) were pieces with princess diamonds; together accounting for almost ¾ of all our auctions. Marquise stones—a style enjoying a resurgence in popularity—accounted for 7.4%, followed by emerald, cushion, radiant, pear, and oval shapes. Beyond that, a variety of modified cuts each accounted for less than 1% of sales in the first quarter.
Trending Diamond Sizes
As we've pointed out in the past, you don't have to have an Elizabeth Taylor-sized stone to benefit from an auction. 93% of our auctions in the first quarter were for stones under two carats, and of those, the majority were under one carat. In fact, stones under one carat accounted for 61% of our total auctions, while fewer than 7% were for stones bigger than two carats. Here's the breakdown (express graphically).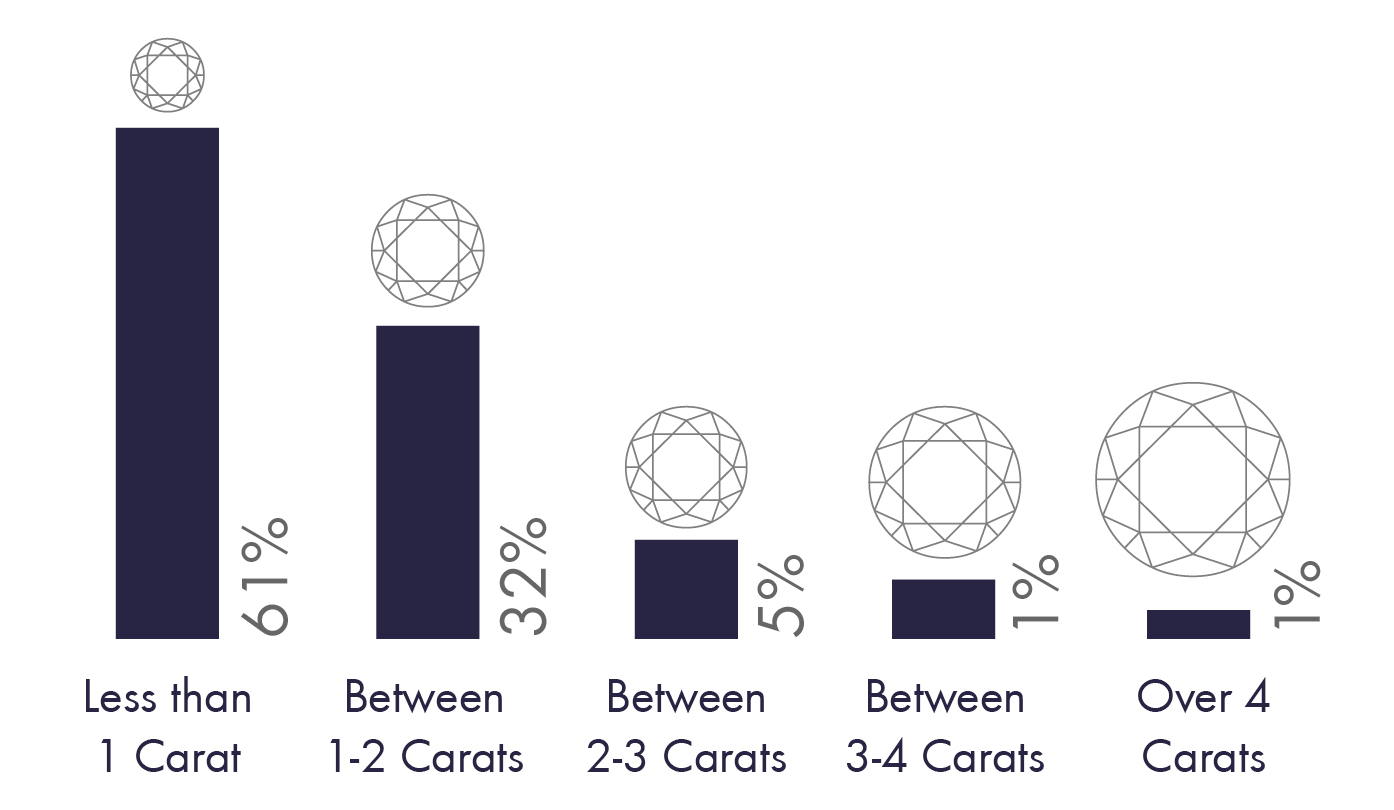 Diamond Clarity Trends
While selling a piece can help bring clarity to your emotions, when it comes to diamonds, clarity can be the best option to sacrifice on a budget. Almost all diamonds have tiny inclusions, but depending on where they are and how they're structured, a good cut or a clever setting can disguise many, if not all. In our first-quarter auctions, only 6% of all stones were top clarity (internally flawless or VVS grades, meaning very very slight inclusions.) 20.1% were VS (very slightly included) and the remainder (more than ¾ of all auctions) were either SI or I grades, meaning they had a higher number of inclusions.

Popular Diamond Cuts
Finally, if you remember when we last talked about cut, the term is sort of the diamond equivalent of football downs with two separate meanings. Although often also used to describe shape, cut means how well the facets return light and provide brilliance, on a scale from Ideal down through Excellent, Very Good, Good, Fair, and Poor.
In the first quarter, 0.10% of our auctions (yes, that is one tenth of one percent) were for Ideal cut stones, showing how much skill it takes to achieve that exacting mathematical proportion on the cutting wheel. The overwhelming majority (91%) of our auction stones were rated Excellent, Very Good, and Good—but about 8% were fair or poor. Still, there's a use for everything and even those stones will find a new life in another piece of jewelry.

//= get_template_directory_uri() ?> //= get_template_directory_uri() ?> //= get_template_directory_uri() ?> //= get_template_directory_uri() ?> //= get_template_directory_uri() ?> //= get_template_directory_uri() ?>
©2011-2023 Worthy, Inc. All rights reserved.
Worthy, Inc. operates from 25 West 45th St., 2nd Floor, New York, NY 10036