7 Ways Divorced Women Can Improve Their Financial Situation Now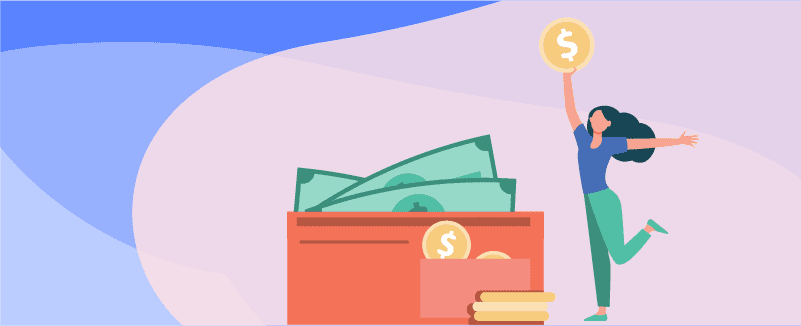 This page includes links to other third-party websites. By providing links to other websites, Worthy does not guarantee, approve, or endorse the information, services, or products available on these websites. Worthy bears no responsibility for the accuracy, legality or content of the external website or for that of subsequent links. We may earn a small commission for purchases made through links in this post at no additional cost to you.
Transitioning from married to single life can be challenging, especially with regard to finances. On the positive side, after a divorce, you are 100% responsible for every financial decision you make which means you do not need your ex-spouse's approval on how much you earn, spend or save. Still, this responsibility can be daunting for some newly-single women. Here are seven actions you can take to improve your financial situation now.
1. Read Your Settlement Agreement or Divorce Decree
I advise clients to review their settlement agreement or divorce decree after it is final and then once a year in order to refresh their memory on the provisions. It is important that you understand the terms of your settlement agreement and the areas which might be subject to modification if a change in circumstances of either party arises. For example, do you know the date on which child support or alimony ends? If you are receiving support, could the amount your ex-spouse pays be reduced if he earns less income, loses his job, or retires? It is imperative that you develop a plan now to replace the income that might end in the next five, ten, or 15 years. You might need to go back to work, get more education or training, change jobs to a higher-paying one, or invest your savings to generate monthly income in the future. I can't tell you how many women have come to me only a few months before their support is reduced or eliminated asking me how they will possibly continue living their current lifestyle. At that point it is too late to develop a plan. If you are the one paying support, you can start planning now for what you want to do with your money once your obligation ends such as paying down debt or increasing your retirement account contributions.
2. Take an Inventory of Your Financial Situation
When you went through the divorce process, you and your spouse had to disclose your assets, debts, income and expenses. You went through that exercise once and now you should do that exercise again as a single woman. The first place to start is with a "net worth" statement. This is where you list your assets (what you own) and debt (what you owe). You can download for free this net worth calculator I prepared for my online course.
You know you are getting financially healthier if your net worth increases from year-to-year. For example, if you have made payments toward your student loans, mortgage, or credit card debt, or made contributions to your retirement account, those actions would increase your net worth. If your net worth decreases from one year to the next, that is a warning sign that you are either getting deeper into debt or the value of your assets (such as your house or car) has gone down. This may be a wakeup call that you need to increase income, decrease expenses, or do both.
3. Match Your New Income to Your New Lifestyle
As a single woman, your income and expenses may be different than when you were married. It is important to match your new income to your new lifestyle. If your expenses exceed your income, you will likely be spending down your savings or going deeper into debt. There are plenty of free websites and apps such as Mint.com that allow you to track where you spend your money. Since you are solely responsible for your spending priorities, once you know where your money is going every month, you'll know where you can cut and where you can increase.
4. Earn More Money
Women who are the primary caregivers for their children often find it difficult to work full-time at a job that doesn't offer flexibility. And when they do work full-time, often that job doesn't pay enough to cover their living expenses. Here is a list of work-at-home jobs that could possibly generate additional income for your household whether you are already working on not.
5. Be Frugal
Living below my means is the #1 reason I became a millionaire before I turned 40. I share my story in this episode of Worthy's Divorce and Other Things You Can Handle podcast. Rejoice in being frugal! When you shop for groceries use coupons. If you can save $8 a week using coupons, that adds up to more than $400 per year. Instead of spending $40 (including tip) on a "mani-pedi" every three weeks, do your nails yourself. That's a savings of nearly $700 per year. Are you a big on-line shopper? Use a rebate site like Ebates. Whenever I need to buy clothes, shoes, electronics or household golds, I check to see how much cash-back each retailer I like is offering. For example, if Macy's is having a 40% sale and the cash-back offer is 10%, you save 40% and then get another 10% off the balance remaining.
6. Pay Down High Interest-Rate Credit Cards First
If you have more than one credit card, look at the annual interest rate for each and prioritize paying down the one with the higher interest rate. Even if the interest rates only vary by a few percentage points, that can make a big difference in what you pay in interest over time, especially if you carry a large balance. Need some cash to pay down your credit card? Explore selling your old engagement ring and jewelry you no longer wear on Worthy.
7. Consult a Financial Advisor
Find a financial advisor who specializes in post-divorce financial planning. If possible find one who holds the certified divorce financial analyst (CDFA) credential. He or she can help you calculate how much income you need to earn, explore ways to cut expenses, invest your money for future goals, and work with your tax preparer to ensure you minimize how much you pay in taxes.
//= get_template_directory_uri() ?> //= get_template_directory_uri() ?> //= get_template_directory_uri() ?> //= get_template_directory_uri() ?> //= get_template_directory_uri() ?> //= get_template_directory_uri() ?>
©2011-2023 Worthy, Inc. All rights reserved.
Worthy, Inc. operates from 25 West 45th St., 2nd Floor, New York, NY 10036