15 Inspirational Quotes for Women Going Through Divorce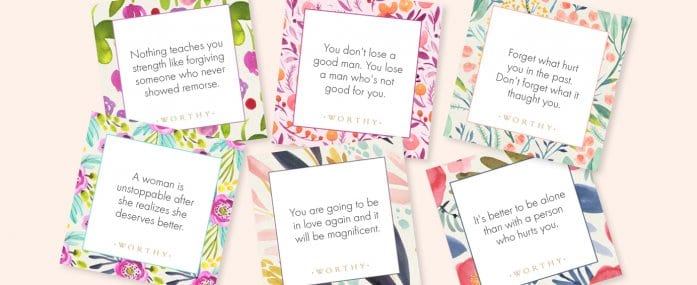 If you have been following Worthy on Facebook or Instagram, you probably noticed how much we love inspirational quotes! The right word at the right time can have the power to lift you up through tough times and shift your perspective on things. And that's especially true when you're going through a divorce. If you need a little help to get back on your feet, we're here for you. Read some of our favorite inspirational quotes about divorce below!
1.You don't loose a good man, you loose a man who's not good for you.
2. Divorce can be a tragedy. Spending your life with the wrong person can also be a tragedy.
3. There is a big difference between giving up and starting over.
4.You are going to be in love again and it will be magnificent.
5. A woman is unstoppable until she realizes she deserves better.
6.Nothing teaches you strength like forgiving someone who never showed remorse.
7. A strong woman doesn't seek revenge. She moves on and lets karma do the dirty work.
8. You can't find the right person until you let go of the wrong one.
9.It's better to be alone than with a person who hurts you.
10. You can't separate a fool from their foolishness. You have to separate yourself from the fool.
11. Once you realize you deserve better, letting go will be the best decision ever.
12. Forget what hurt you in the past. Don't forget what it taught you.
13. What's a queen without her king? Historically speaking, a very effective leader.
14. The past is in your head. The future is in your hands.
15. Tough times don't last. Tough women do.
Follow Worthy on Instagram for a daily dose of inspiration for your fresh start!
//= get_template_directory_uri() ?> //= get_template_directory_uri() ?> //= get_template_directory_uri() ?> //= get_template_directory_uri() ?> //= get_template_directory_uri() ?> //= get_template_directory_uri() ?>
©2011-2023 Worthy, Inc. All rights reserved.
Worthy, Inc. operates from 45 W 45th St, 4th Floor New York, NY 10036