Do Affair Relationships Last After Divorce?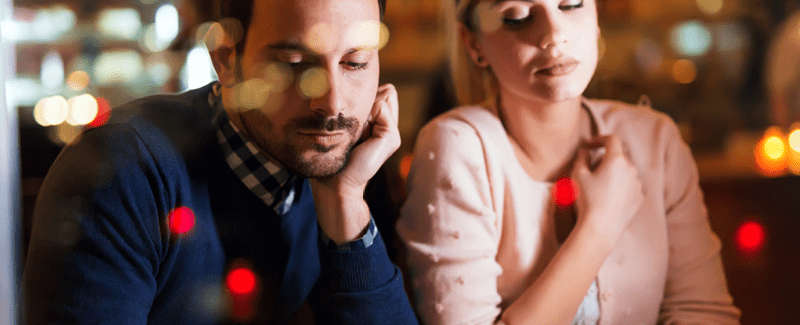 This page includes links to other third-party websites. By providing links to other websites, Worthy does not guarantee, approve, or endorse the information, services, or products available on these websites. Worthy bears no responsibility for the accuracy, legality or content of the external website or for that of subsequent links. We may earn a small commission for purchases made through links in this post at no additional cost to you.
Affairs are a hot-button topic, both in the real world and online. From being cheated on to being the cheater, you can find many people who have been affected by marital affairs.
However, once the affair has "wrecked the marriage," what happens to it? Do the couples stay together after the divorce or do they drift apart?
Get your divorce started online now. Learn more here.
Before I dive in deep, consider these statistics when it comes to affairs:
Only 5 to 7% actually end in marriage
Of that number, 75% end in another divorce
I asked one coach, one private investigator, a relationship expert and therapist to tell me what they thought happens to the "affair" after the divorce is signed and sealed.
View from the Women in Affairs Coach: The Emotional Intelligence of The Couple Is Questionable
Stephanie Stewart of DearCoachStephanie.com is a Board Certified Coach, for women in affairs, so she speaks straight from the source! Her big sticking point is … emotional intelligence.
"Shame and guilt greatly overshadow a relationship that started as an affair, so it's very difficult to be wholehearted. The longevity of the relationship is impacted by their emotional intelligence/management and reasons for being in an affair. Are they truly connected and in love, or are they each filling a void?"
So, her thoughts suggest that ultimately, the "affair couple" needs to consider how and why they entered the affair and if the relationship fills a hole, or is it really love…
View from the Private Eye: Affairs Are a Good Time But Not a "Real-Time"
Darrin Giglio, Chief Private Investigator & CEO of North American Investigations, sees a lot of extramarital affairs, "in action."
Often hired to spy on the suspected spouse, Giglio's findings are sometimes used in divorce court proceedings. Giglio's main point on affairs is that they may be a good time, but not a "real-time." Here's what he had to say
Affairs last as long as both parties are getting what they need.
Affairs aren't "love" by nature, in most cases—instead, they are physical or emotional escapes or both.
When marital needs aren't being met, the affair fills the void, making the affair a "good time" but not a "real" time.
What has brought at least one person into the relationship is not a need for romance and the search for a romantic partner, but actually an escape from their current "non-romantic" partner (as they see them). Such matches are typically doomed to fail. As soon as the escapee's needs aren't met by the partner in the affair, they'll go off looking for someone new.
Giglio counters that these affairs end: "Some happen within hours, others take months or even years. The average long term affair lasts 18 months to two years before one or the other becomes disillusioned with the arrangement. "
An easy process to start your divorce online. Learn more now.
View from the Relationship Expert: An Affair Isn't a Relationship That's "Marriage Material"
Adina Mahalli (MSW) is a certified relationship expert writing on behalf of Maple Holistics. Mahalli feels that people enter affairs because they're unhappy in their marriages and don't know how to fix it. The affair provides a temporary way out, however "once the marriage is over, the need for the person you had an affair with may die down. The affair will only last as long as you need it to. If it served its purpose, whether it be to get you out of your marriage or fill your sexual needs, you'll be over it."
In other words, an affair is a need filler, but not the beginning of a solid relationship.
Mahalli adds, "it's rare for someone to end up marrying the person they had an affair with although it does happen sometimes."
View from the Therapist: Eventually, the Affair Always Dies
Caroline Madden, PhD, a Licensed Marriage & Family Therapist and the author "Fool Me Once: Should I Take Back My Cheating Husband?" has lots to say on the topic, and has written 3 books on the subject.
"How long do these affairs last? They don't. An affair is like a greenhouse. Beautiful things grow in the temperature-controlled greenhouse, but once the plants go into the real world, they die."
According to Dr. Madden:
Most men stay with their wife and family in the long run; the affair is just a wake-up call that the marriage is in trouble.
Affair love vs. real love: The affair is a vacation, but not a real relationship. Once it becomes a real relationship with real-life realities, it ends.
Affair couples aren't often not accepted as a "real couple" afterward. Instead, they're shunned.
If the kids know about an affair, they often hate the other person and view this person as a homewrecker who hurt the other parent.
Take the views of these four experts and derive from it what you will. From my take, all of these experts share that affairs happen to fulfill needs and provide an escape from real-life problems. In the end, they aren't destined to last.
//= get_template_directory_uri() ?> //= get_template_directory_uri() ?> //= get_template_directory_uri() ?> //= get_template_directory_uri() ?> //= get_template_directory_uri() ?> //= get_template_directory_uri() ?>
©2011-2023 Worthy, Inc. All rights reserved.
Worthy, Inc. operates from 45 W 45th St, 4th Floor New York, NY 10036