Top 11 Wellness Resources to Help You Heal From Your Divorce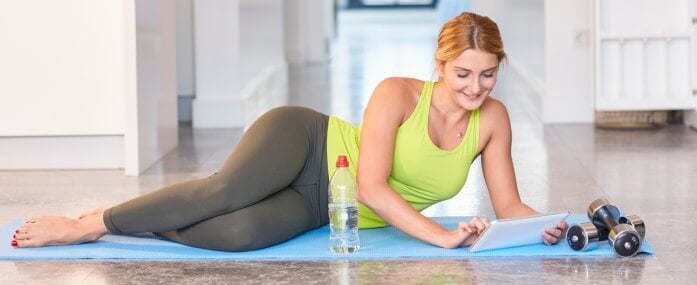 The stress of divorce can take its toll on your body as well as your mind. The good news is that it's never too late to make a fresh start – and treating yourself to some TLC is an excellent way to begin the healing process. With your total wellbeing in mind, here are ten excellent resources to help you heal after divorce.
1. Fresh Start Fitness
You're going to love Fresh Start Fitness, whether you're brand new to the concept of total body wellness, or if you've been working out for a while now. This is not a typical diet and exercise program; instead, it's designed with the unique physical and emotional needs of separated and divorced women in mind. A free, 5-step wellness program to help you heal and thrive after divorce, it was designed by celebrity personal trainer Jennifer Giamo and is brought to you by Worthy. This gentle yet empowering system includes guided meditation sessions, yoga practice, a healthy eating guide, cardio and strength workouts, and more. Fresh Start Fitness is completely free to join and use, and it's very easy to work into your daily routine.
2. Jennifer Giamo – Trainers in Transit
If you dislike the typical gym session, you're not alone. Many people feel a bit lost among the cardio machines and weight sets, not quite sure where to begin or how best to proceed. If you've been searching for an alternative, you may find exactly what you need when you work with Trainers in Transit. This network of personal trainers was developed by Jennifer Giamo for the express purpose of tailoring workouts to individual needs, but there's more: Group classes, nutrition counseling, and personal training regimens are among the site's most popular offerings. Whether you're looking for yoga, pilates, or some one-on-one help creating an effective fitness routine to suit your lifestyle, you'll find that this paid service has plenty to offer. While there's a small investment involved, this service can help speed your post-divorce transformation.
3. Desirae Harper – Fierce and Flawless Life
If you're a hustling single mom like Desirae Harper, it can be very helpful to hear what others have been through. Desirae's Fierce and Flawless Life is a fantastic blog with truly relatable posts on topics that range from life as a single mom to the difficulties encountered during a personal fitness journey that began with a desire to lose more than fifty pounds. Encouraging posts, personal coaching, health, wellness, and fitness coaching are among the top offerings at Fierce and Flawless Life. Desirae dishes on Hollywood gossip, too, so prepare to be entertained next time you stop by for encouragement and inspiration!
4. Jennifer Butler – JennJoy Coaching
If you're considering coaching, Jennifer Butler can help. A writer and transformation coach, Jennifer began her journey during the course of her own divorce and has dedicated her entire career to helping others heal and thrive despite the challenges that come with divorce. JennJoy Coaching offers useful options for everyone, including tailored one-on-one sessions, laser-focused intervention sessions designed to help with next steps during and after divorce, and the Take Back Your Life online program, which is useful for anyone considering divorce as well as those who've already begun or finalized the process.
5. Nicole Amaturo – The Free Life
Mindset is everything, particularly when working toward healing your heart, mind, and body after divorce. Nicole Amaturo has been where so many women find themselves – heartbroken, floundering, and unsure of the next step. Today, she shares her journey and compassion in The Free Life, helping women uncover and heal the blocks that prevent them from enjoying a new, healthy love. Besides opportunities for one on one coaching, The Free Life offers guided meditations, a 5-day unhealthy love detox, a free e-book, and much more.
6. Lisa Lewtan – Healthy Happy and Hip
Great nutrition fuels transformation. Holistic nutrition Lisa Lewtan explains: "My journey led me back to school where I learned how to combine holistic nutrition with my years of personal experimentation and entrepreneurial problem-solving skills. As a certified holistic health coach, I founded Healthy, Happy, and Hip to help type-A go-getters like me regain their health, vitality, and passion for life." Podcasts, workouts, a fantastic blog, and one-on-one sessions are among the most popular features at Healthy Happy and Hip, plus Lisa offers a free e-book to help you shift your energy and attitude for a happier life after Divorce and beyond.
7. Hello Glow
Divorce can leave you feeling frazzled, but that doesn't mean you have to stick to old, worn out routines. Hello Glow helps you regain your well-being inside and out, at any stage of life. With wonderful recipes that look and taste amazing while offering some pretty incredible health benefits, this big, beautiful website also offers natural health tips, simple skincare suggestions, style hints, and a whole lot more. Spend just a little time focusing on life's simple, healthy pleasures. You'll be amazed at how much better you feel.
8. MindBodyGreen
We all want to look and feel better without spending loads of money, and mindbodygreen helps. An outstanding wellness resources website covering everything from healthy eating to mindfulness techniques, this site offers fun extras like weekly horoscopes and informative, entertaining podcasts. You can dig even deeper with paid practices if you like, but the main focus is on thoughtful, accessible free content designed to help people from all walks of life revive and rejuvenate their bodies, minds, and spirits in simple, accessible ways.
9. Clean Plates
Enjoy life in the healthiest body possible with Clean Plates, a website designed to promote the benefits that come with clean eating. Nutrition tips are just the beginning. Clean Plates offers simple, healthy recipes that also happen to be delicious, along with fantastic beauty and style hints, health news, sustainable travel tips, and much more. Helpful videos round out the site's content, much of which comes from well-known visionaries like Mark Sisson, Tyler Gage, and Dr. Taz Bhatia.
10. Hint Water
Water is essential fuel for your body and mind, but that doesn't mean it has to be boring. Hint Water is pure, delicious water infused with wonderful fruit flavors, minus artificial sweeteners or calorie-laden sugars. This woman-owned brand is growing fast, thanks to its efforts to promote a clean, healthy lifestyle while giving back. We love the water as well as the fruity, delicious-smelling sunscreen on offer – but that's not all there is to this site! The brand's blog is a valuable resource, thanks to workout tips, recipes, and more, all very helpful for people of all walks of life including those in the process of regaining vitality after divorce.
11. Covey Club
Lesley Jane Seymour created Covey Club as a place for women to connect and grow after More Magazine closed and readers wanted a way to keep in touch. Connection is vital to personal growth after divorce and beyond, and this site offers something truly unique in its online and real-life gatherings with like-minded women who want to make their dreams reality. Experts share their wisdom via podcast, while the Covey Club blog addresses a variety of interesting topics to stimulate your thought process and help you regain your sense of self. Whether you want to read, listen, or get involved with a new kind of social network just for women, you're going to love what you find at Covey Club.
It's true that time and patience play important roles in healing after a divorce. These resources encourage you to accelerate the process by leaps and bounds, placing your focus on healthy ways to help your body, mind, and spirit thrive despite challenges. Recovering your sense of well-being and vitality is among the greatest gifts you can give yourself as you move forward and embrace the many wonderful possibilities that life has to offer.
//= get_template_directory_uri() ?> //= get_template_directory_uri() ?> //= get_template_directory_uri() ?> //= get_template_directory_uri() ?> //= get_template_directory_uri() ?> //= get_template_directory_uri() ?>
©2011-2023 Worthy, Inc. All rights reserved.
Worthy, Inc. operates from 45 W 45th St, 4th Floor New York, NY 10036