You're Invited: Building Your Financial Foundation for a Fresh Start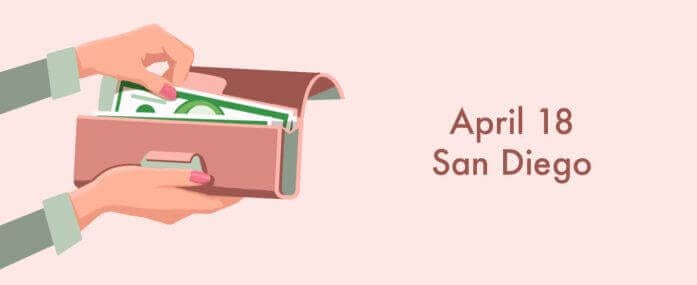 Apr 18th
As a financial advisor, financial literacy volunteer, and divorce financial planner, I have advised countless women on investing and other financial matters. Although my clients have varied in terms of income level, ethnicity, and marital status, they all share one common attribute: anxiety over their financial future. They realize that the money decisions they make today (or ignore making) will determine whether they can live comfortably for the rest of their lives or face the prospect of running out of money.
We all have heard about the wage gap between men and women. But even more critical to women's financial security is the financial literacy gap. Surveys reveal that as a group, women are less financially literate than men. Most women cannot correctly answer all six questions in this quiz. Without understanding how to use debt responsibility or how to invest money so it will keep pace with inflation and grow, millions of women in the United States are at risk of outliving their savings.
Attend a Fun, Unique Event during Financial Literacy Month
April is Financial Literacy Month and Worthy and I are hosting a free event on April 18 in San Diego from 5:30 pm to 7:00 pm to educate and empower women on steps they can take today to build a financial foundation for a fresh start.
The no-cost event, which includes wine tastings, refreshments, and raffle prizes, will begin at 5:30 pm (doors open at 5:15 pm) at the Sorrento Valley location of San Diego's Hera Hub, the first international female-focused co-working space where entrepreneurial women create and collaborate in a professional, spa-like environment.
The sit-down part of the event will begin at 6:00 pm when I will share my story of financial empowerment and explain the five rules I followed to build my wealth from $1,600 to $1M over 15 years.
Rule #1: Invest Every Windfall
Not everyone has a chunk of money with which to start investing. One way to create seed money to start investing is by selling unwanted jewelry such as an engagement ring from a former marriage. We'll show you how.
Rule #2: Live Below Your Means
The most important rule of all!
Rule #3: Contribute to Retirement Accounts
The fastest way to grow money is to put as much money away as possible into retirement accounts. Depending on the type of account, money can either grow tax-deferred or tax-free. The less money you pay in federal and state taxes, the more money you keep for yourself and your family.
Rule #4: Continually Invest Small Amounts of Money
Most people are surprised to learn how quickly money can grow if just small amounts of money are invested on a regular basis. Before my presentation begins at 6:00 pm, attendees will have the opportunity to mingle with representatives of three companies that empower women to generate side-income each month: More Than A Bottle via OneHope, The Legacy Group (marketing representatives of Melaleuca), and Rodan & Fields. Although I believe that only a small percentage of women can successfully generate full-time income through direct marketing opportunities, I firmly believe that most hard-working women can generate at least a few hundred dollars a month which can be automatically deposited into an individual retirement account (IRA).
Rule #5: Pay Attention to Your Investments
I have had my share of divorced and widowed women cry in my office about how little money they have left – a train-wreck that could have been stopped if they had been fully engaged in the financial and tax decisions their husbands had made alone. Let's not let this happen to you.
Leave the Evening with a Financial Foundation for a Fresh Start
In addition to having a fun evening surrounded by like-minded women, attendees will leave armed with information in order to build their financial foundation for their future. As an example, if a woman was to generate a lump sum of $2,000 by selling her ring on Worthy, earn extra income of $400 month through a network marketing business, transfer the money each month into an individual retirement account (IRA), and select investments that returned 6% annually, in 25 years her retirement account would be worth close to $300,000! So whether you are single, married, divorced or widowed, please join us on April 18 for a financial fresh start.
//= get_template_directory_uri() ?> //= get_template_directory_uri() ?> //= get_template_directory_uri() ?> //= get_template_directory_uri() ?> //= get_template_directory_uri() ?> //= get_template_directory_uri() ?>
©2011-2023 Worthy, Inc. All rights reserved.
Worthy, Inc. operates from 25 West 45th St., 2nd Floor, New York, NY 10036