Top 11 Chopard Watch Auctions on Worthy
Chopard got its' start in 1860 when Louise Ulysse Chopard began making precision watches in where else but Switzerland (Jura, to be exact). These watches quickly became the favorites of many of the 19th century's rich and famous, including Tsar Nicholas II. When Louis-Ulysse died in 1937, he was succeeded by his son, Paul-Louis, who moved the company to Geneva, the world's watch capital. In the 60s, the company was purchased by Karl Scheufele III, a fellow watchmaker, who grew the company into the luxury brand it is today.
One of Chopard's signature details is their floating or "dancing" diamonds in their Happy Diamonds and Happy Sport watch collections. These bring an unparalleled uniqueness and elegance to their timepieces. Here we review the top eleven highest auctions for Chopard watches on Worthy, including a few from the Happy Diamond and Happy Sport collections.
Top Chopard Watch Auctions on Worthy
11. Chopard Mille Miglia GMT Chrono
Sold for $1,440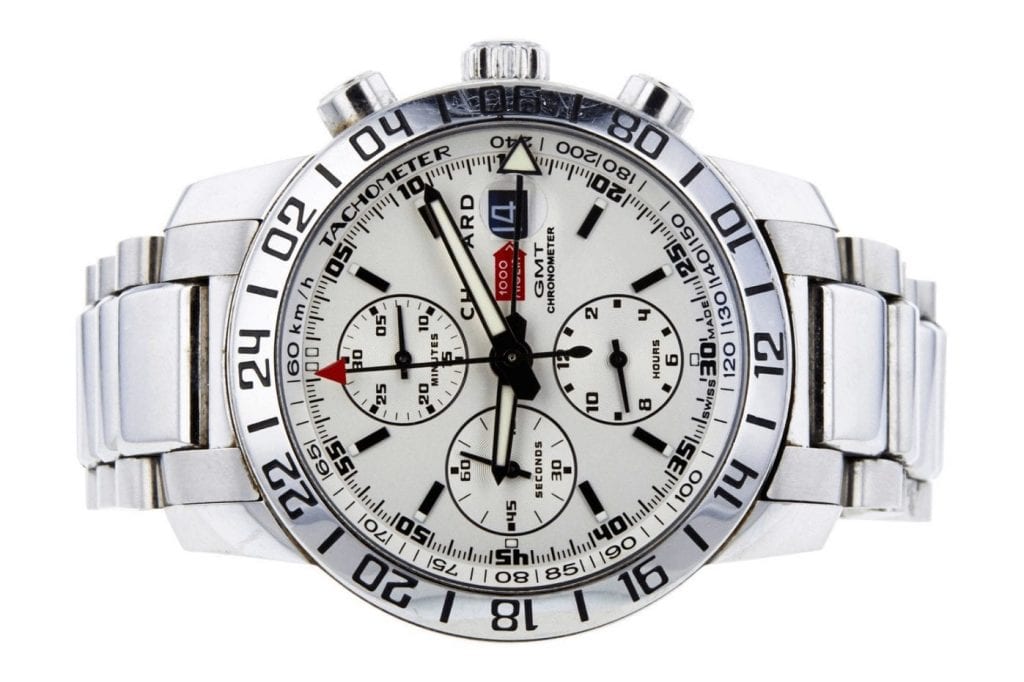 The Mille Miglia line is part of the Chopard Classic Racing collection (which includes the Superfast Power Control featured below) and is an "ode to vintage car racing", particularly the legendary Italian Mille Miglia of which Chopard is the official timekeeper.
This watch features a white dial and a stainless steel case and oyster band.
10. Chopard Classique Femme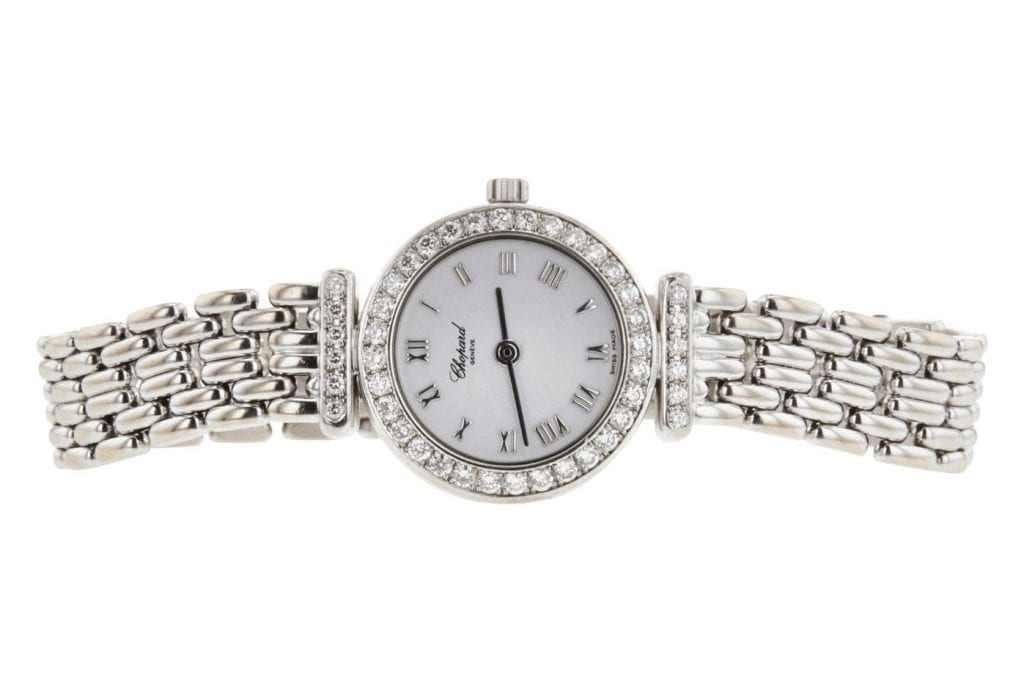 The Classique Femme collection is no longer available, however these watches are still available to be purchased second hand.
The watch features a white gold case and bracelet as well as a diamond and white gold bezel.
9. Chopard Classique Femme Watch in Yellow Gold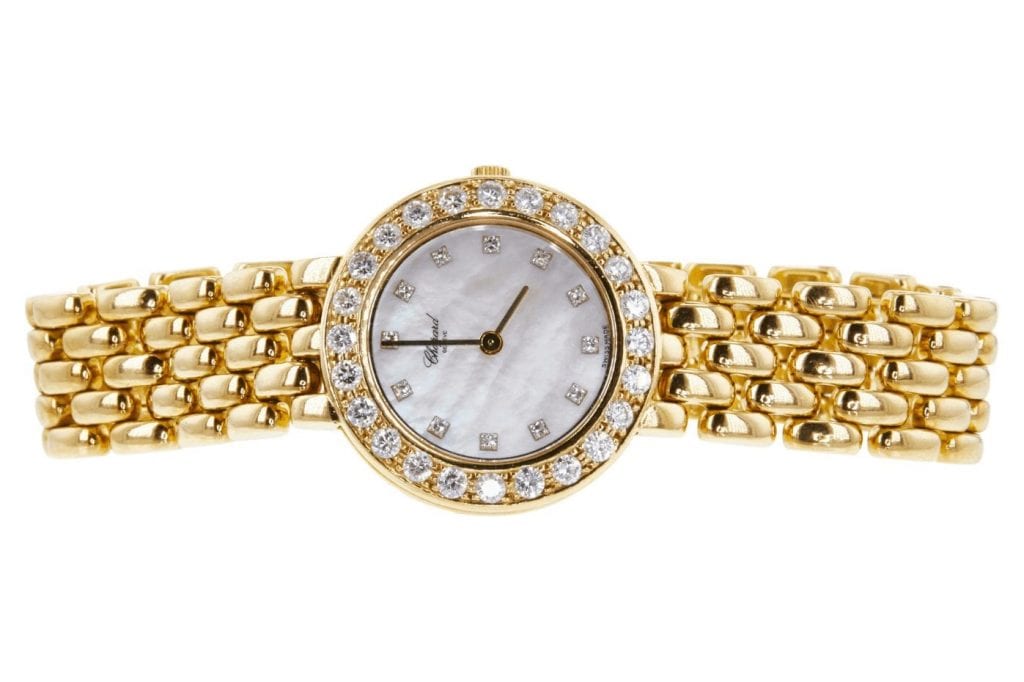 This Classique Femme features a yellow gold case and bracelet, a gold and diamond bezel, and a mother of pearl dial with diamonds at each hour marker.
8. Chopard Happy Sport Automatic
Sold for $1,487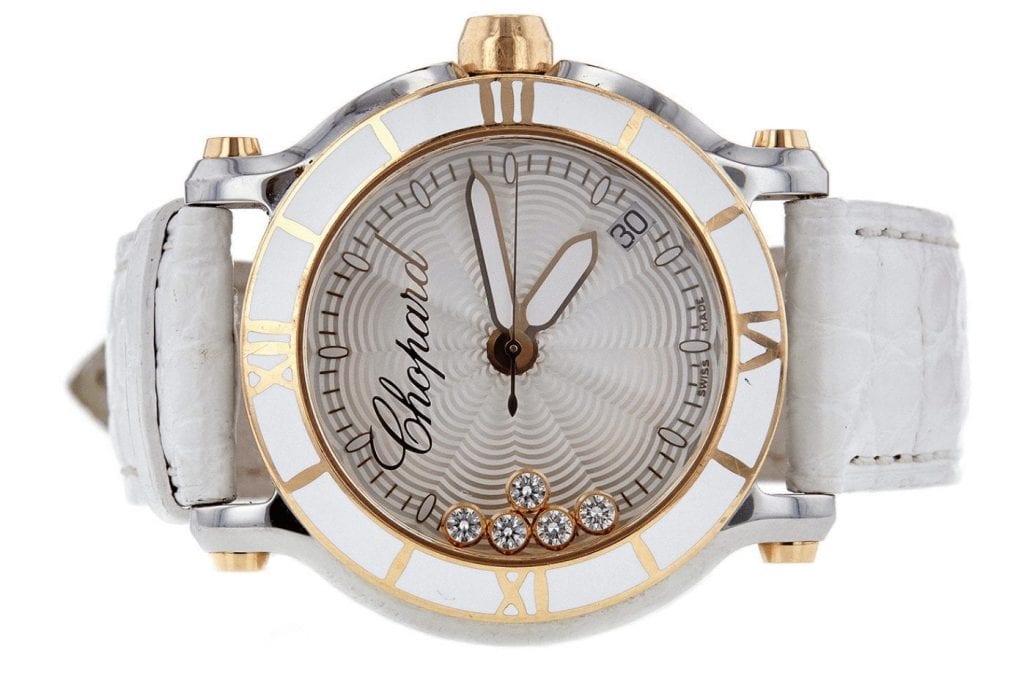 This women's watch features a 36 mm steel and gold case, white leather band, and the signature five floating diamonds.
7. Chopard Happy Sport Quartz
Sold for $1,620
Chopard prides itself on the ingenuity of the Happy Sport collection, which combines stainless steel and diamonds, the first of its kind when the collection launched in 1993.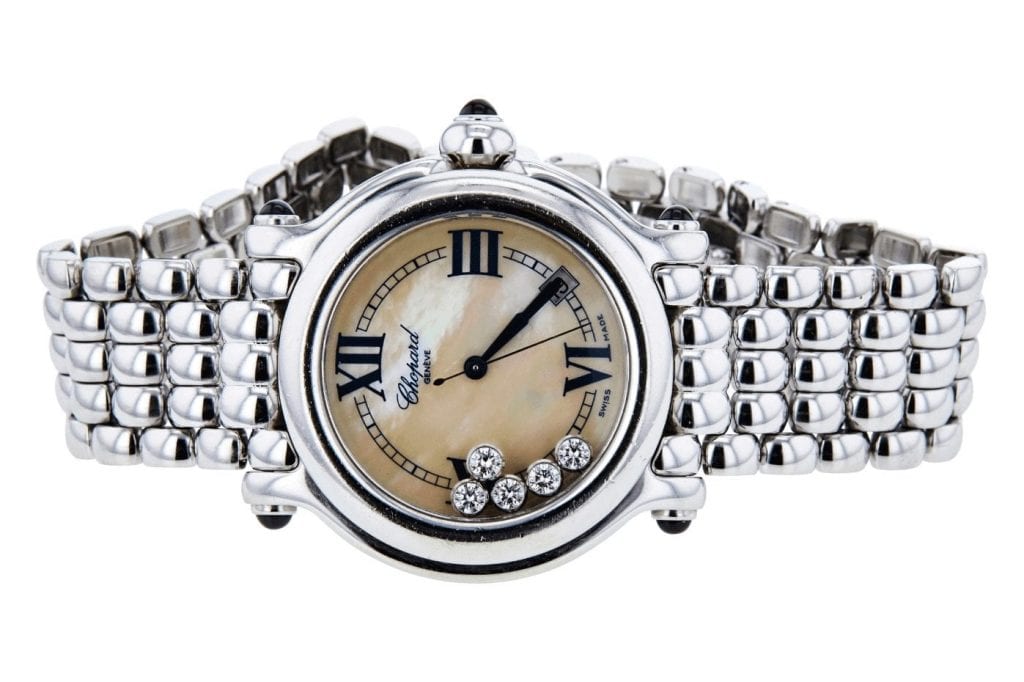 This women'swatch features the signature five floating diamonds and mother of pearl dial. The case, bezel, and bracelet are all stainless steel.
6. Chopard Luna D'Oro Calendar Moonphase
Sold for $1,620
The Luna D'Oro collection was manufactured in the 1990s and was the first Chopard watch to feature a moon phase complication.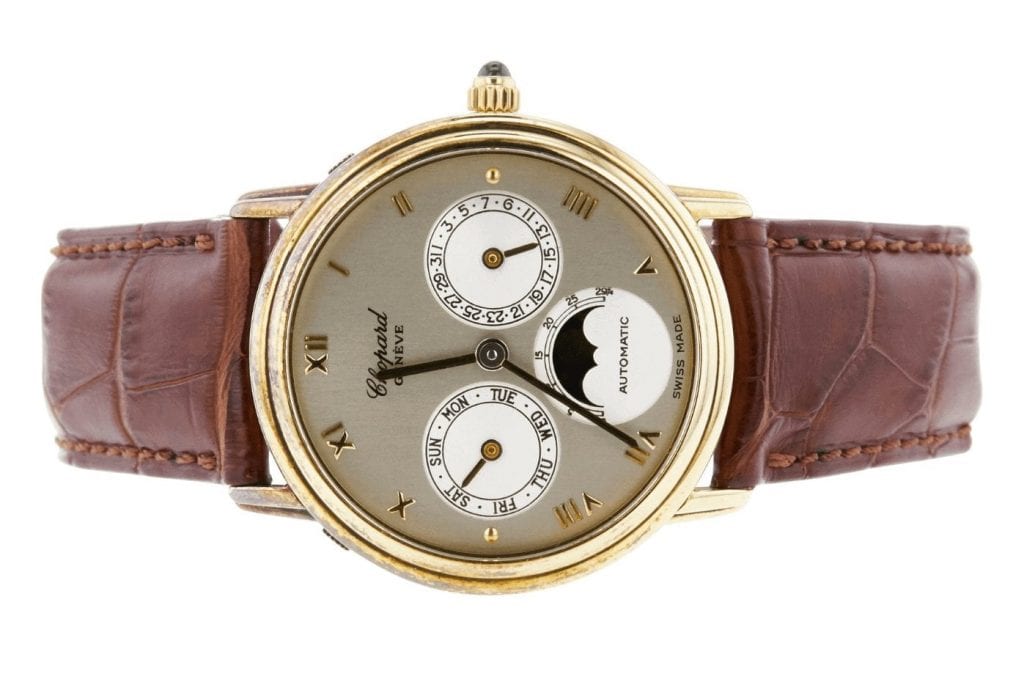 This watch features a yellow gole case and brown leather band. The dial shows the day, date, and the moon phase display.
5. Chopard Happy Sport Quartz
Sold for $1,800
Another version of the all steel Happy Sport, this version features a navy blue dial, accentuating the beauty of the floating diamonds.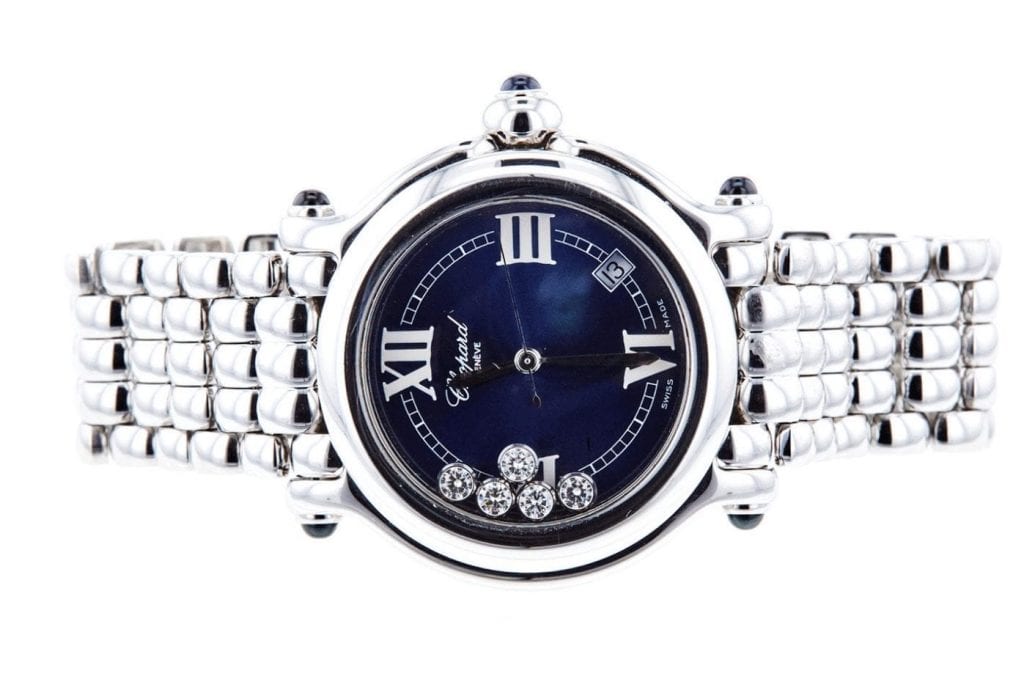 4. Chopard Happy Diamonds Icon
Sold for $1,890
For women looking for a watch with even more sparkle than what the Happy Sport collection offers, Chopard created the Happy Diamonds collection. As the brand says, "Happy Diamonds watches are a true must have for free-spirited women who like to differentiate themselves."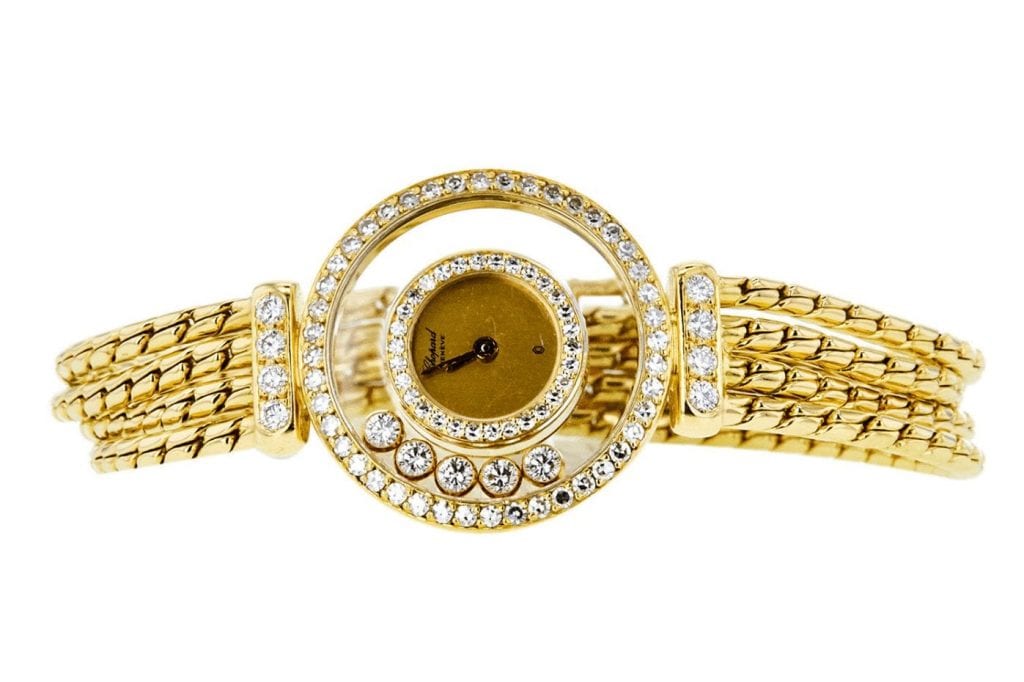 This watch features a yellow gold band and case, both studded with diamonds, as well as the unique transparent ring of two layers of sapphire encasing five floating round diamonds.
3. Chopard Happy Sport Oval
Sold for $3,177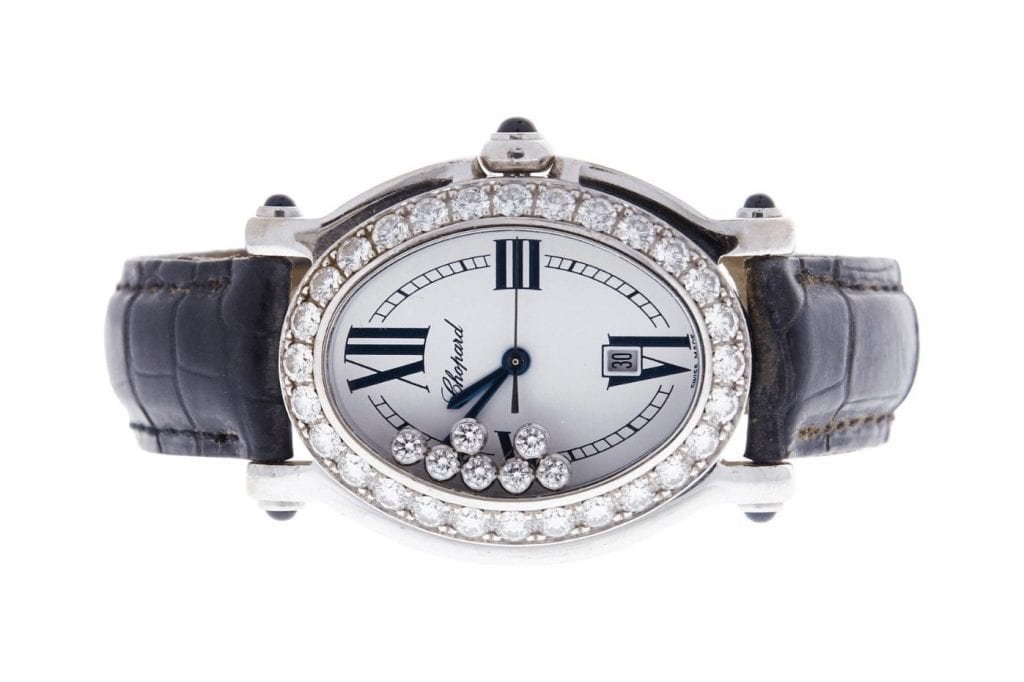 This women's watch has a lot of thought put into the astehtics, with Chopard choosing an oval shape as a symbol of abundance and eternity, "a talisman of a true promise of future joy." The timepiece features hand-guilloché dial set with diamonds and seven floating diamonds.
2. Chopard Happy Sport Snowflake
Sold for $3,247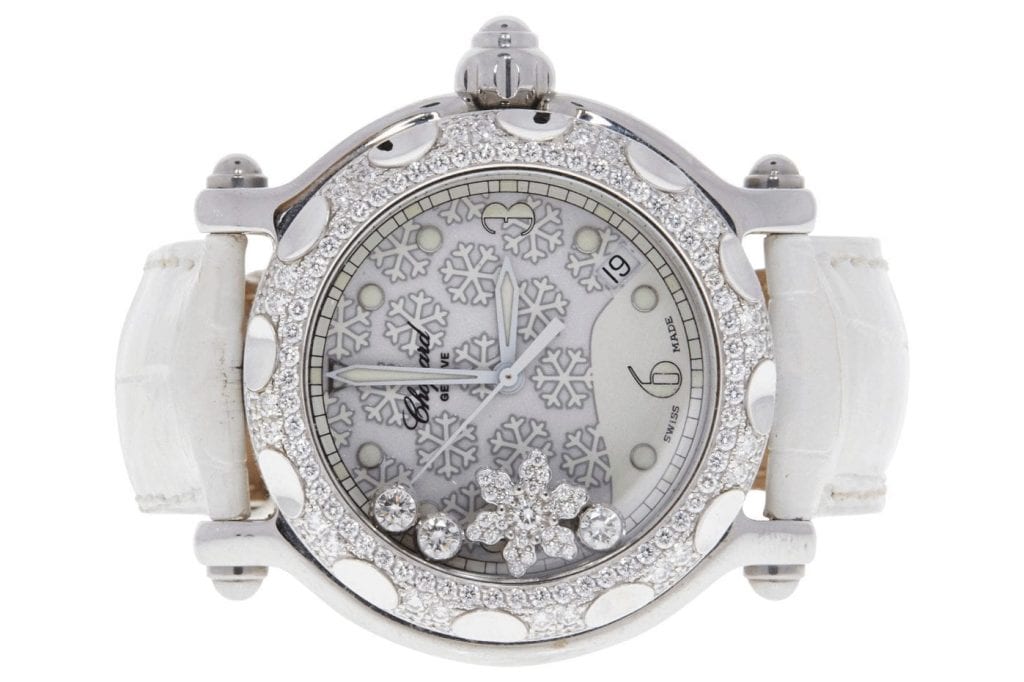 This watch features a stainless steel case with a diamond bezel, as well as three loose round diamonds and a diamond snowflake floating in the dial. The dial itself has a white on white snowflake design. The band is white leather with additional interchangeable bands in blue leather and white silicone.
1. Chopard 1276 Classic Racing Superfast Power Control 1574114
Sold for $10,175
The Classic Racing collection is meant to "build a bridge between automotive engineering and mechanical watchmaking" and the superfast model is meant to be the peak of the Chopard racing watch collection.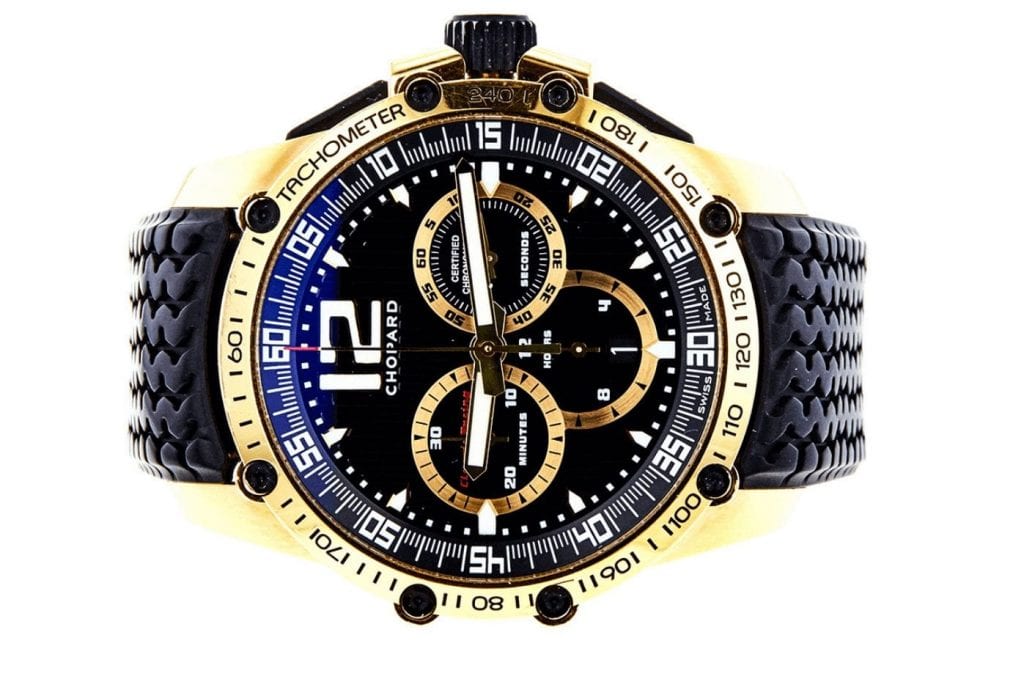 This watch features a yellow gold case that is intended to make an imposing statement on the wearer's wrist. The black dial includes 3 counters and the gold bezel is engraved with tachometer measurements up to 240 RPM.
Do you have a Chopard watch you are looking to sell? With Worthy, you can easily sell a Chopard watch or other luxury watch. Sell smart, get more.
//= get_template_directory_uri() ?> //= get_template_directory_uri() ?> //= get_template_directory_uri() ?> //= get_template_directory_uri() ?> //= get_template_directory_uri() ?> //= get_template_directory_uri() ?>
©2011-2023 Worthy, Inc. All rights reserved.
Worthy, Inc. operates from 25 West 45th St., 2nd Floor, New York, NY 10036