Divorce: The Growth Opportunity You Never Wanted with Alex Boianghu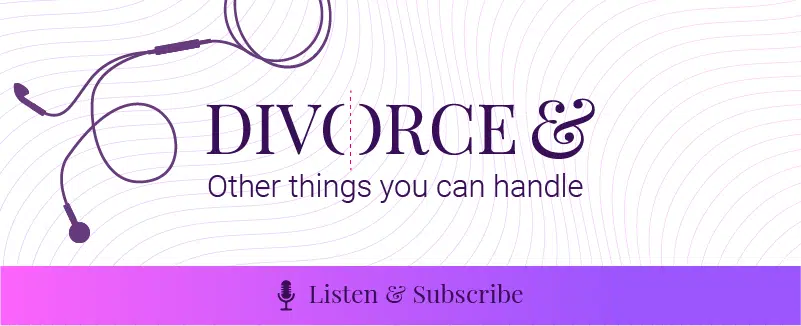 Divorce brings about a season of change. This change allows for opportunities to grow yourself and improve your relationships, both current and future. This time also gives you the chance to reflect upon your own personal journey to wholeness and assess what the relationships you have say about you. Sometimes taking a step back from our modern definition of marriage and divorce, along with all of the assumptions that come with that, can help us better understand the shortcomings and successes we had.
In this episode of Divorce & Other Things You Can Handle, I sat down with Alex Boianghu, a licensed therapist, mediation coach, yoga instructor, and professional relationship consultant. Alex has over 30 years of experience working with couples and individuals to achieve their goals and improve themselves holistically. Together we discuss how divorce is an opportunity for self-improvement, and we break down how therapy can help you assess the health of a variety of different kinds of relationships.
Rethinking the Framework of Marriage
As a collective culture we have added unnecessary layers and expectations to marriage. These layers have been added over thousands of years and they complicate the relationship of marriage, thus making divorce an even more difficult journey than it already is. When we think of marriage, we think of a very specific, modern framing, however marriage is actually just another kind of relationship. We have been taught that marriage is "till death do us part", which can often become more of an endurance test, as opposed to a healthy commitment where both partners are constantly growing into the best version of themselves. Rethinking the modern context of marriage can be helpful as you re-enter the dating pool, and reassess what you want out of a relationship and what you are willing to commit to.
Relationships as a Mirror
All of our relationships are a mirror of ourselves in one way or another. There are often consistencies in our relationships, as we look for qualities in others that help, challenge, or hinder certain aspects of ourselves. It's often the loss of the relationship itself that we are mourning, or possibly celebrating, when it comes to divorce. Though there may be added emotional layers to a divorce specifically, we would mourn the loss of any other kind of relationship, whether it were a friend, family, pet, etc. "Divorce" is the legal word we, as a society, have been forced to use when describing the process of ending a marriage, though the actual process of mourning and healing can take much longer than the divorce process itself.
Therapy is Dangerous
Therapy can be the healthiest thing for you and your relationship, however it can also be the most dangerous. Although therapy is often done as a couple, you are only in control of your own journey. During therapy you will be asked to examine all of the relationships you have, both inside and outside of the marriage. The ultimate point of therapy is not necessarily to stay together, but to grow and strive towards self-improvement. The result of therapy may even be ending the marriage if that is ultimately the healthiest outcome, or deciding to work on yourself individually and then getting back together at a later date. As you go through therapy, it's critical to accept that you will grow and change, which may then lead to division between you and your partner.
One Way Street
There may be times when one partner wants to attend therapy, however the other does not. In those cases, the relationship is actually already done. If the other piece of the puzzle refuses to try for growth and improvement, then there is no saving it. At that point the question becomes a matter of timing and how to mitigate the repercussions. If someone does not wish to go to therapy, then they have turned themselves off to the opportunity for growth and self-improvement. In those cases there is often a lack of responsibility for actions happening as well.
A Healthy Household
The energy inside the home will impact the child's mental health and wellbeing. There are different dynamics that will affect children in different ways. For example, a single parent household with positive energy and fulfillment can ultimately be healthier for a child than a two parent household where the energy is chaotic and negative. When it comes to co-parenting, both parties must be committed to a healthy, positive willingness to co-parent together for the betterment of your children.
About Alex
Alex is an EMDR Certified Therapist, mediation teacher, professional counselor, and yoga instructor. Being a psychotherapist for over 30 years, Alex has had the honor and privilege of working with individuals, couples, and families providing holistic support for all of life's challenges. He loves what he does, and he brings all of his education, experience, and above all, compassion and understanding to help you better understand yourself. From his perspective, the goal of therapy is to let go of outdated ways of living that make you feel "stuck" or "in survival mode", so that you can live in freedom, joy and success.
Alex's Website: Journeytowholeness.health
//= get_template_directory_uri() ?> //= get_template_directory_uri() ?> //= get_template_directory_uri() ?> //= get_template_directory_uri() ?> //= get_template_directory_uri() ?> //= get_template_directory_uri() ?>
©2011-2023 Worthy, Inc. All rights reserved.
Worthy, Inc. operates from 25 West 45th St., 2nd Floor, New York, NY 10036