Top 5 Affordable Vacations for Single Moms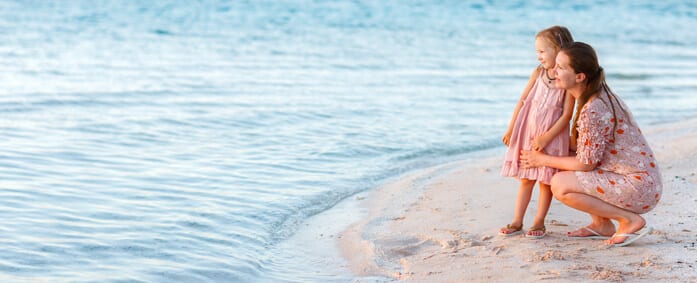 As hard as it sounds, your first holiday as a single-parent can be the time of your and your kids' lives. With around a quarter of American families headed by single moms, affordable vacation options for one-parent families are multiplying. Keep reading to find out the top single parent vacations 2017 has to offer!
Get on Board!
You're not alone in the challenging task of planning a vacation with your children. Luckily, in the recent years many cruise companies have acknowledged this new reality and started offering single parent travel groups and packages. Actually, a cruise is ideal for one-parent families, and not just money-wise. Apart from not charging single supplements, many cruises offer single-mingle meetings, while kids clubs keep the children entertained and making new friends. Disney Cruise Line offers one of the most single-parent oriented packages, in which you can choose to be teamed-up with other single parents. Enjoy the delighting Caribbean Sea and give your family a dream vacation for an affordable price!

Wild Holidays
If you want to take your kids out of the city comforts -and off of the tablet's screen- here's the perfect plan. For those looking for single parent vacation with toddlers, adventure holidays are a great choice for many reasons. Eco-tourism, trekking, biking, rafting, you name it. Adventure travel allows single parents to spend meaningful time with the kids, not only bonding and having fun, but helping them work on their independence and self-empowerment. For a low cost, you can go camping and do all kinds of outdoor activities in National Parks. Check out the availability of single-parent packages, like the bike tours organized by Great Freedom Adventures. Sign up for a budget-efficient vacation and get a meaningful family experience out in the wild!

Resort & Restart
Picture yourself relaxing by the pool, with a book on a hand and a caipirinha on the other, while your children have the time of their lives. What better place to spend that time-off you've been dreaming of than in an exclusive 5-star all inclusive resort? These vacations are ideal for single parents, since you get the perfect balance between time for yourself and family-time. Children have an infinite variety of activities to choose among, like watersports, acrobatics and more! Many resorts offer single parent packages or don't include single supplement, making it an economically convenient option. Some hotels even offer tailored-to-you kids programs. You will be surprised to find out how many other single moms are choosing this option for their holidays.

Euro-Trip
Although taking the whole brood to museums for two weeks doesn't sound like a real vacation, the Old Continent might not be a bad idea. Many European cities are actually a great destination for kids: enchanting castles, magnificent parks, ancient ruins, and even some children-friendly museums, are not only culturally-nurturing but also a lot of fun! In London, take your mini mystery solvers to the Sherlock Holmes Museum, or your Harry Potter fans to the Warner Bros Studio Tour. Rome and its mesmerizing Colosseum will also fascinate them: it's impossible for children not to love a city marked by gladiators stories and slices of pizza. For a colorful and fun experience, visit Barcelona, a city that both you and your kids will fall in love with. Click here to check some affordable family-oriented Europe tours.

Ski Getaway
Are you and your crew winter sports fans? Even if you've never put a step on snow, ski vacations can be a success for one-parent families. All skiing resorts are children-oriented, providing both adults and kids with a lot of fun. Ski holidays have been growing in popularity among single parents, which is why it's highly likely that you'll meet many others in the same boat. Although ski vacations may sound like a luxury hard to afford after divorce, there happen to be many cost-effective options. Luckily North America has a wide range of affordable ski resorts. You can discover some of them here. Mount your bindings and get ready for an exciting holiday!

Are you planning a getaway with your little ones? Share your single parent vacation ideas below!
Do you still own diamond jewelry that lost its emotional meaning? Turn it into a lifetime experience! Sell your diamond ring through Worthy and make it cover the costs of an unforgettable vacation.
//= get_template_directory_uri() ?> //= get_template_directory_uri() ?> //= get_template_directory_uri() ?> //= get_template_directory_uri() ?> //= get_template_directory_uri() ?> //= get_template_directory_uri() ?>
©2011-2023 Worthy, Inc. All rights reserved.
Worthy, Inc. operates from 25 West 45th St., 2nd Floor, New York, NY 10036