10 Tips for Avoiding Summer Vacation Custody Shenanigans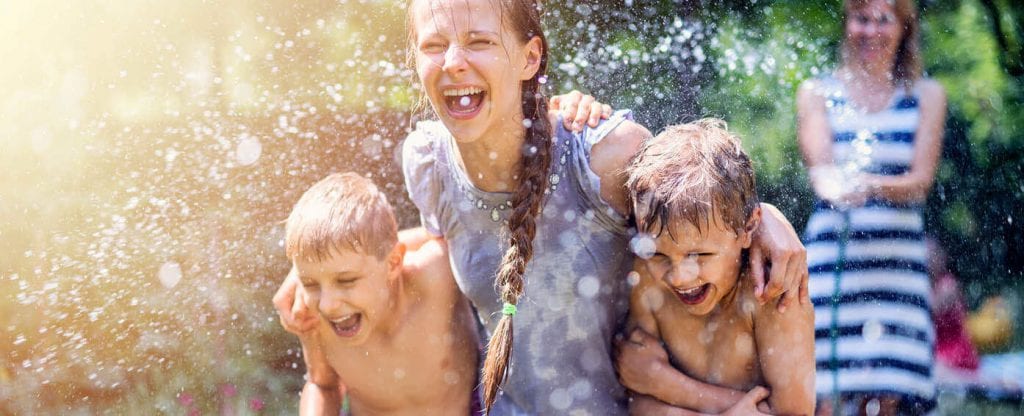 Most parenting plans, custody orders and final Judgments of Absolute Divorce outline specific guidelines for how summer vacations will go down. But as any parent (or divorce attorney!) knows, when it comes to kids, very few things go perfectly to plan. Add a toxic ex or tense co-parenting relationship into the mix, and you're headed for custody headaches.
Luckily, there are some turn-key ways to turn down the heat on potential access schedule SNAFUs this summer. These are the tips we encourage our clients to put into practice:
1. Keep the Overarching Goal in Mind: A Happy, Safe Summer
Beyond the bounds of any court order, your overarching goal for any decisions and communications about summer access should be to make sure your kid has a safe and fun summer. Between our two practices (Elizabeth is a divorce coach, Christy is a family law attorney) we see a lot of clients bicker about the particulars of the access schedule while missing the bigger picture. If your ex-Mother-in-Law is offering to take your kiddo to Disney World for 2 weeks, but gosh darn it the Court Order says your ex only gets 10 days, take a note from our favorite Disney princess, and "let it go, let it go!" If your ex has a last minute opportunity to bring the kiddo on an impromptu camping trip on "your" weekend, think about what serves the greater goal. Don't make them miss out unless you have a genuine concern for their well-being. As long as the kids will be safe, don't deny your kid a great opportunity in the service of sticking to your Court Order.
2. Plan Early
Blunt talk ladies: Last minute planning is what screws up the summer. When we say early, we mean eeeeeearly…in our area, summer camp sign-ups start in January. Scheduling camps and out-of-town trips should happen with plenty of lead time for communicating back-and-forth with your co-parent about your plans. Even if you and your ex have super great communication (good for you!), your Court Order likely outlines key deadlines for communicating with your co-parent about what weeks you'll be taking your child on vacation, how far you are allowed to travel with them, and what information – like flight itineraries – you are obligated to provide. We know it sounds nerve-wracking to be thinking this far in advance, but having things lined up way before the summer helps alleviate stress.
3. Don't Squabble Over Parenting Style Differences
Your co-parent and you likely have different takes on what constitutes ideal summer activities for your shared offspring. Maybe he's fine with parking Jr. in front of the TV for 8-hour stretches, and you think the months off from school are ideal for developing sports skills that might translate to college scholarships in the future. These are not differences worth going to battle over. If your kid is not in danger of physical or psychological harm (rotting their brains in front of the TV will not actually rot their brains), bite your tongue and try to chill. Squabbling about differences of opinion on parenting styles is not going to get anywhere in Court, so don't squander your child's summer over these kinds of fights.
4. Just Say No to Quack
By far the biggest issue we see that leads to any type of visitation woes – summertime or otherwise – is what we call "quacking." Quacking is the unnecessary comments (jabs, really) that parents and ex-partners say to each other. Our clients often excuse incendiary and unproductive comments as "harsh truths" or "defending myself." This kind of back-and-forth is unnecessary and hurtful to your co-parenting relationship and/or negotiation of your separation. Moreover, for those of you in litigation limbo or preparing for a custody battle, quacking is downright harmful to your Court case. Answer the question asked, stick to the subject-at-hand, and get the job done.
5. Keep Things in Writing
All discussions of logistical details should remain in the written realm, ideally in emails vs. text messages. "Keep things in writing" is cliché over-the-counter legal advice for a reason: It limits the risk of miscommunication or details slipping through the cracks. Sticking to written communication is the best safeguard against your kiddo sitting with the camp director at 7 pm because you and your co-parent had a misunderstanding over who was doing pick up that evening.
The other reason to keep things in writing is that, in the event that your co-parenting relationship ever devolves into outright acrimony, you have a record that you can present in Court. Sadly, litigation to modify custody is not uncommon. Even co-parents that have great working relationships for years can land in litigation when big life changes happen, like a cross-country job offer or a disagreement on how to deal with a teenager's mental health needs that emerge in high school. Better to have a record and never need it than need it and have to try to remember years and years of minutia.
6. Giving Your Co-Parent Information As You Get It
If you have your flight info in April, don't wait until July to pass it on. Some of our clients think it's better to be buttoned up and send a massive email with all of the travel info at the same time vs. sending along information as plans fall into place. By all means, feel free to send an email right before your trip that summarizes information, but don't wait to pass on info incrementally just to avoid a drip-drip-drip email chain. Having information early helps avoid headaches that come with accidental double bookings and miscommunications.
7. Don't Forget Those Last Two Weeks!
In our jurisdiction, and likely many others, there is a fun (read: pain in the ass for any working parent) gap between the time that camps end and school begins. If both parents are working, it is important to plan early for where your kiddo will be during this time. Maybe you can plan your vacation during these weeks, or perhaps a week at "Camp Grandma" can be arranged. Either way, waiting until the last minute is a sure-fire way to cause you and your ex to scramble…and likely fight.
8. Three Sentence Emails Are Your Friend
This advice goes for all custody discussions but is especially pertinent during the summer months. Because the predictability of school scheduling provides a built-in buffer for scheduling mishaps, the possibility for miscommunication rises with the heat index. To keep information easy to read— and acrimony free— stick to emails that are short and directly to the point. In most cases, you need no more than three sentences.
Here's our go-to template:
Dear (Co-parent's name),
The purpose of this email is to inform you that ___________ (ie: I am planning to take Suzy to the beach the week of August 19-21, 2019.)
As per our Court Ordered custody agreement, which gives me ____ number of weeks of summer vacation with Suzy, I am informing you of our flight numbers, which are attached to this email.
Please confirm receipt.
Sincerely,
(Your name)
Remember the purpose of your emails is to settle the schedule, not the score. All of your interactions about summer vacation your co-parent should be goal oriented. You are trying to exchange details and finalize plans for your child's summer, not rehash your past relationship woes.
9. Maaaaaybe Consider Vacationing Together
This suggestion comes with the massive caveat that most newbie co-parenting duos shouldn't attempt to pull this off. But more veteran co-parents, or co-parents who split amicably, may want to think through the possibility of a joint jaunt out of town. Whether it is a day trip to an amusement park or a once-in-a-lifetime trip to Disney, if you and your ex-partner are on great terms, your children may love having that special time with both of you. This is certainly not for every family, but if you think you can hack it, consider it. It is a gift to your children to have all of the people they love together in one space having a great time.
10. Let Your Older Children Have Some Say
Older children, especially teenagers, often want to spend the summer with their friends, working, or trying out a cool internship. Do not let your older children miss out on these coming-of-age activities while you cling to "your time" in the final months of their minority. Parenting plans, summer plans, and vacations are all designed to serve your children's best interests. Make sure you are not circumventing that goal by recognizing that your little kid has graduated to big kid.
Summer is a unique time to build memories that your kid can savor for decades to come. Early planning, streamlined communication with your co-parent, and a keen eye on the bigger picture – a happy, safe summer – will help alleviate custody shenanigans. Besides, limiting summer-scheduling-stress increases the odds that you'll find time to sip sangria on a patio with girlfriends on the weekends you're not hauling floaties and goldfish crackers to an overcrowded kiddie pool.
//= get_template_directory_uri() ?> //= get_template_directory_uri() ?> //= get_template_directory_uri() ?> //= get_template_directory_uri() ?> //= get_template_directory_uri() ?> //= get_template_directory_uri() ?>
©2011-2023 Worthy, Inc. All rights reserved.
Worthy, Inc. operates from 25 West 45th St., 2nd Floor, New York, NY 10036