My Ex Has the Kids Over Christmas Break, and I'm Happy About It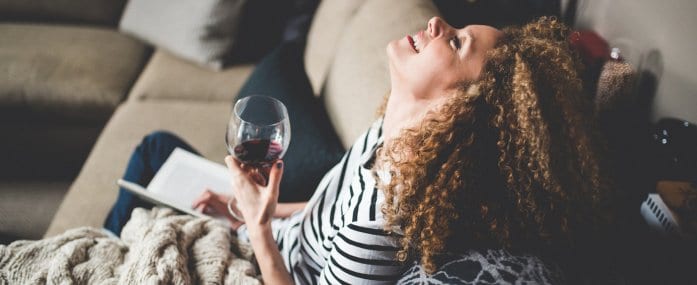 I was sitting on the steps leading to my finished basement chatting with my ex as he said goodbye to our children following a week-long visit to the States when I heard the magical words: "I may be coming back for Christmas break."
"Yessss," I cheered under my breath as I, quite unsuccessfully, tried to foil the smile that had already begun to form around my lips. Time by myself? Hell yeah! Guilt for feeling this way? No way.
Not every parent feels like I do. I get it. I didn't always. The first time my ex-husband took the kids to dinner after our separation, I sat on my family room floor folding laundry, crying. And that time they were gone for only a few hours. When he took them on vacation at the end of the summer that same year, I felt lost and walked around my neighborhood aimlessly as if I was. After years of having too much to do and not enough time to do it, all of a sudden I had countless hours on my hands and not enough to do to fill them. Or so I thought.
In actuality, I had plenty to occupy me, only I didn't realize it yet. Because, the truth of the matter is, when we have too much time on our hands, we tend not to use it productively, a reality I have since rediscovered after my oldest child left for college this past September. These days, I am a lot less busy with kid stuff than I used to be, despite revamping my social life and career years ago as a consequence of becoming a single parent. Regrouping after a life change is a challenge and not always pleasant. However, there is an even worse fate than not having enough to do, and that is getting caught in a loop of thinking negative thoughts when your ex-spouse appears to be having all the fun, and you are feeling left in the dust. Been there, too.

"There is an upside, and that is using the time you have without your children to improve your life and, as a result, the time you spend with them. "
But it doesn't have to be this way nor should it. Time without your children, especially following a separation or a divorce, can be a gift, even if you think of it as anything but that. Sure, you miss your kids. And the moments with your kids, as well as the memories you could be making together. You fear these moments will forever belong to your ex-spouse and perhaps your ex-spouse's significant other. Guess what? They do. And it hurts. However, there is an upside, and that is using the time you have without your children to improve your life and, as a result, the time you spend with them.
As a single parent, it is tempting, if not unavoidable, to burn the candle at both ends. Trying to manage a household while working or going to school or getting your life in order is exhausting. Everyone needs downtime, whether to curl up with a book, watch Netflix, catch up on bills or work, tidy up, bathe, travel, socialize, or do nothing. When my kids were young, I needed time to do all of this (and a whole lot more) but didn't get it. That is, except on those rare occasions when my husband took the kids and why today I am thrilled when I see one of my extended breaks on the horizon. A vacation for my children is also a vacation for me, regardless of whether I leave the country or stay home alone. I have done both and, in between, more. Regardless, the effect is the same: I become a better parent and a better version of me, making a holiday season without my kids all the merrier.
//= get_template_directory_uri() ?> //= get_template_directory_uri() ?> //= get_template_directory_uri() ?> //= get_template_directory_uri() ?> //= get_template_directory_uri() ?> //= get_template_directory_uri() ?>
©2011-2023 Worthy, Inc. All rights reserved.
Worthy, Inc. operates from 45 W 45th St, 4th Floor New York, NY 10036