Worthy Asks: Quarantine & Custody – What Are You Doing?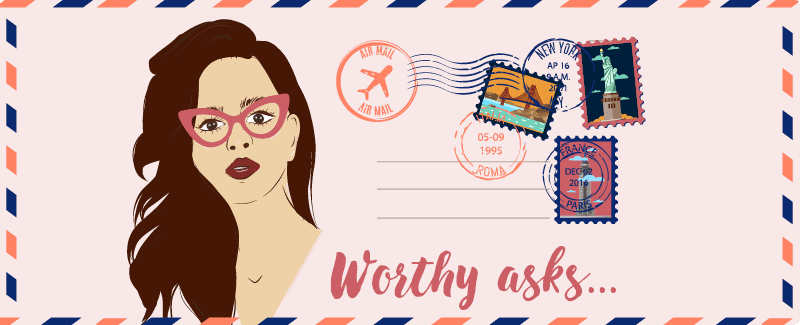 We're all currently in an unprecedented situation (aren't you sick of hearing that phrase?) and coping as best we can. But for many women out there who are separated or divorced, there is the added stress of dealing with a custody schedule in the midst of social distancing.
At the end of March, we asked our Facebook group "Are you maintaining your current schedule or have you made adjustments?" We received almost 100 comments, with all sorts of answers: some praising their exes for being friendly and reasonable, others sharing the difficulties they are facing. While many women told us that they are able to maintain their current schedule, here are a few of the other options they shared with us.
Coming Together In COVID-19
A few women shared that they were able to work with their exes to find solutions that worked for everyone.
Jamie D. wrote "We are actually trying to work together. We both have to work, so we are trying to come up with a game plan. The kids like seeing us work together. Probably come back to bite me, but right now we both need to help each other."
If you are able to focus on the positive and work together, you can teach your children a valuable life lesson.
Larissa T. noted the uncertainty of the times and how plans need to be made day by day, "It is subject to change, we work well together. Our top priority is keeping them as safe as possible which I am not even sure how to anymore. He works for the railroad and I work for the hospital."
This is all so new for all of us and there is no one out there who knows exactly what to do. Do your best and try your hardest to work together.
Jennifer M. is making adjustments wherever she can. "My ex lives with his mom who is ill, and he doesn't really want the kids around her, which I completely understand. So this weekend is his weekend but I'm going to keep them and he is going to try to take them for a few hours to the park. As much as I still have anger toward him for what he did, I'm thankful we are able to talk and compromise and adjust for the kids."
Jennifer shared that her kids speak to their dad over video calls and he plays against them in video games virtually, something they all enjoy, allowing them to connect and enjoy themselves without being in the same room.
For Tricia P., the times are truly extraordinary: "This is the ONE time I can say that my ex-husband isn't so bad. He agreed with me that it's safer to keep the kids in one place. Rather than them going there, he video chats with them every night."
Paula W. and her ex have decided they will put their kids first if things get really bad: "They go there if they want to otherwise they stay with me. If things get really bad and we're not allowed to leave the house, we've decided we can all stay at one house together. We are not going to be without our kids."
Finding The Right Words
Kristin F. found herself in an uncomfortable situation with her ex's family: "We had agreed to split the time the kids are out of school, but my kids informed me his mother told them they are coming to see her at the beach (in another state which is a 5 hour plus drive away). I'm not OK with them leaving the state, so now I have to figure out how to word it, so he one doesn't take them to his moms just to piss me off.
This is a tricky situation. If you find yourself in something similar, here's a good course of action: write the email but don't send it right away. Go back and reread the email. Take out any wording that comes from emotion and might hit a hot button. Bill Eddy suggests the BIFF method which I work with my clients on implementing: The communication should be Brief, Informative, Firm & Friendly.
When Your Children Won't Be Able To See The Other Parent For A While
The American Academy of Matrimonial Lawyers has written some guidelines for dealing with custody issues during these unprecedented times. One suggestion is to encourage closeness with the parent who is not going to see the child through shared books, movies, games, and FaceTime or Skype. Be generous and try to provide makeup time to the parent who missed out, if at all possible. Parents who are inflexible may be viewed poorly by family judges should the issue be taken to court.
When Parents Are On The Frontlines
We also have a few women in the group who are working on the frontlines or their co-parent is. In these situations, some exes are able to work well together.
Kristi H. wrote: "We are keeping the same schedule but had a conversation that if someone at either house gets sick, everyone stays put. We are both healthcare workers, so we are both at higher than average risk. It was the most civilized conversation we've had in over a year."
However, Catherine M. faced some difficulties: "My ex is a firefighter and is currently in flight paramedic school. He told me he transported 3 possible corona cases here in North Carolina the last two days. He was scheduled to get the kids this weekend and I had no choice but to let them go, unfortunately.
Penny M. is being positive but realistic: "Honestly I feel that my kids are safer with their dads since I'm still on the front lines working and I have to take them to work with me when they're with me. Also if the economy completely crashes their dads have WAY more money than I do to provide."
//= get_template_directory_uri() ?> //= get_template_directory_uri() ?> //= get_template_directory_uri() ?> //= get_template_directory_uri() ?> //= get_template_directory_uri() ?> //= get_template_directory_uri() ?>
©2011-2023 Worthy, Inc. All rights reserved.
Worthy, Inc. operates from 25 West 45th St., 2nd Floor, New York, NY 10036