A Second Chance at Father's Day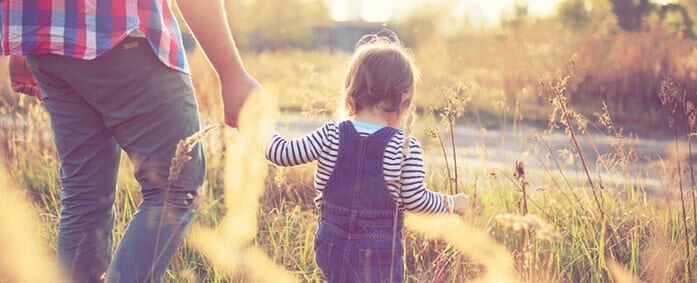 This Sunday will mark the second celebration of Father's Day that my dad and I will share. How is it possible that a woman in her 40's gave her first Father's Day card just last year? It's a long story; but, my tale can be summarized as an unfortunate series of events stemming from my parent's less than amicable divorce.
You could say that I was my dad's Father's Day present because I arrived just one day after the holiday in 1973, and every one of my birthdays since has either been on Father's Day or within a day or two! My parents were divorced by the time the next Father's Day, and my first birthday, rolled around.
I remember seeing my father only a handful of times throughout my childhood, then I never heard from or saw him again after I turned ten. I have a small collection of photos of him and I together when I was a baby. My favorite depicts him holding me in front of a totem pole during a visit to his hometown of Ketchikan, Alaska. After my parent's divorce, all photographic evidence of him in my life disappeared.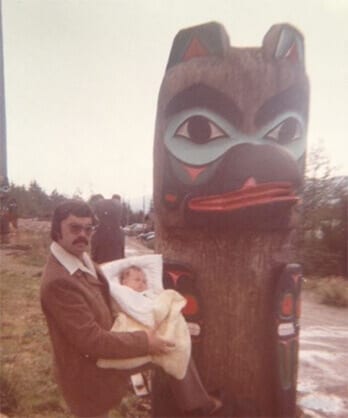 As I grew up, my mom very openly talked down about him. I never recall her saying one nice thing about my father during my entire childhood. She had me thoroughly convinced that he was a terrible person, that he could see me as much as he wanted and chose not to, and that I was better off not having him in my life.
I became a woman thinking the very worst of him. I was ashamed of him and disgusted that anyone would abandon their child as I believed he had. At the same time, I longed to know why he didn't want me? What had I done to make him not want a relationship, and why was I unlovable? I knew that if anyone in the world should love a child, it is her mom and dad; so, why was I unworthy of his affection?
The terrible truth didn't become known to me until a couple of years ago. A younger sister who I had never met discovered me on Facebook, and our newfound relationship eventually turned to a friendship with her mother, and information started to flow in from the past.
My father's ex-wife told me of multiple incidents when my dad's calls went unanswered, cards and gifts were sent that I never received, and visits to my door to pick me up were unanswered, or he was sent away without me. Essentially, I was allowed to grow up thinking that my own father didn't love or want me because it was unpleasant and inconvenient for my mom to continue to have him interfere with her new life.
Although there are many times that I wish I would never have to speak to or see my ex again; the truth is that my children love their dad very much, and he loves them.
A tiny part of me understood my mom's desire to close the door on her former marriage. She re-married, she built a nice, new life for herself, and she didn't want to have to look back. She didn't want her new friends asking about a man who wasn't her husband or to be troubled with visitation schedules and other challenges of co-parenting. Instead, it was easier to let everyone think that I was a product of the marriage she was proud of, and hope that with enough persistence she could make him go away.
Now that I am a parent and have, myself, divorced the father of my children, my mother's acts of parental alienation are so much more concrete in my mind. Although there are many times that I wish I would never have to speak to or see my ex again; the truth is that my children love their dad very much, and he loves them. They would be heartbroken to have one of their parents removed from their life, and the damage to them would be immeasurable!
I recall one moment when I was so frustrated with my ex that the thought of my mother's actions came to mind. I knew that I could never repeat what she had done with my own kids because I would never want to be responsible for destroying another parent, nor would I want to be responsible for allowing my own children to feel unwanted and unloved as I had during childhood!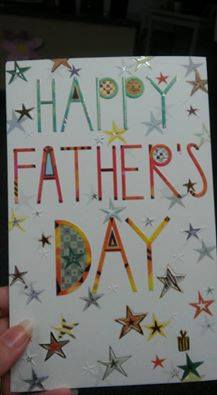 My story eventually found a happy ending. My dad and I now write and call, and we're trying our best to re-build a relationship that was left to wither away decades ago. It is still awkward for us because we are basically strangers; however, the desire is there within both of us! I treasure the stories he is able to tell me about my grandparents and growing up in Alaska because these are pieces of myself that would have never been filled in!
I am excited to share my children, who are his only grandchildren with him so that they, too, may know how all their pieces fit together and grow to be whole!
Earlier this week I was pleased to receive a birthday card with beautiful flowers on it that he drew for me. I am pleased to know that my second ever Father's Day card is on the way to him in the mail!
I feel sad for what happened to us; but, I am incredibly grateful that we now have a second chance.
I am also thankful that I have the opportunity to share my story in hopes that it will enlighten others about the effects of parental alienation. I completely understand that divorce and continuing to deal with an ex after a marriage has ended is incredibly unpleasant and difficult.
What co-parents must always understand is that the relationship between child and both parents is sacred. Sadly, some parents voluntarily remove themselves from their children's lives. I will never understand this! However, as long as there is a loving and appropriate parent who wants to be involved with their child, nothing should prevent them from sharing a loving relationship! This is a matter of loving your child more than you hate your ex!
My warmest Father's Day wishes go out to all the men who are helping to raise and shape children's lives! Fathers, grandfathers, stepdads, brothers, uncles, coaches, teachers, and so many others deserve our praise and admiration for the love, guidance, and support they provide to children every day!
//= get_template_directory_uri() ?> //= get_template_directory_uri() ?> //= get_template_directory_uri() ?> //= get_template_directory_uri() ?> //= get_template_directory_uri() ?> //= get_template_directory_uri() ?>
©2011-2023 Worthy, Inc. All rights reserved.
Worthy, Inc. operates from 25 West 45th St., 2nd Floor, New York, NY 10036