5 Tips for Turning a Breakup into a Breakthrough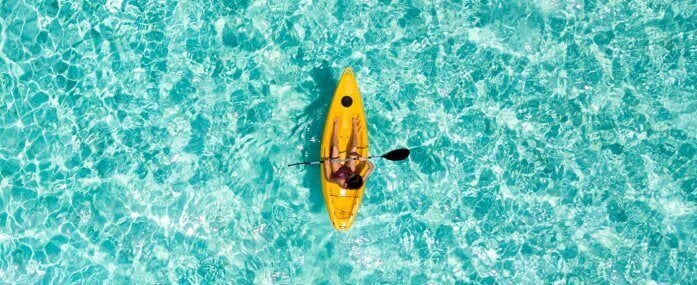 At Hello Divorce, we work so hard every day to help our community find information, tools and resources to help navigate the divorce process, on their terms. But after more than 13 years as a divorce attorney, there's one area I wish all of my clients would spend more time focusing on: self-care.
Divorce is a difficult time, financially and emotionally. But you wouldn't let your finances slip. You wouldn't not write that rent check or mortgage payment because you "just don't have the time." It is every bit as important to pay attention to your emotional health as it is to your financial health. You will get through this time, but you will start the next chapter of your life on much more solid footing if you commit to carving out time to take care of you.
To help you get started, I've culled some of my favorite pieces of advice from Hello Divorce's self-care and wellness contributors.
1. Call Bullshit
Earlier this year, I co-wrote an article with life and wellness coach, Allie Stark. I want to start here: "We live in a culture that inundates us with fear-based messages. Messages that tell us that we are broken and need to be fixed. Messages that tell us we are defined by our circumstances rather than our state of being in the world. This is no less true when it comes to divorce. We call bullshit. The truth is: you are not your divorce—your divorce is simply where you are at right now. Divorce does not mean failure. You are not a failure. You are not broken and you don't need to be fixed." As you think about minding your emotional health, please nod in agreement with me: you are not broken, and self-care isn't about fixing anything. Your divorce doesn't define you. You define you and making a point to take care of yourself during this extremely difficult process is an important step toward starting the next chapter on your terms.
You are not your divorce—your divorce is simply where you are at right now.
2. It's Not About Green Juice
My friend Annie Wright, a psychotherapist, often says, "Self-care doesn't always look like sleep, yoga or green juice." And she is SO right. Self-care is different for each of us. But sometimes self-care becomes this thing that you have to plan and make time for and commit to. It can start to feel like a chore because so many people keep telling you to "take care of you". Or maybe self-care feels silly or selfish, like your time could be better spent checking items off your to-do list. That's why Annie and I created the Self-Care Worksheet, a tool to help you pinpoint the type of self-care you need, and (actually) schedule time for it. If you're not sure where or how to start, downloading this worksheet is a great first step.
3. Get Uncomfortable
In her post, 5 Ways to Reclaim Your (Whole) Self After Divorce, divorce coach Tara Eisenhard writes: "While you were in your relationship, you probably settled into a comfortable routine. You spent your time with the same group of people doing the same types of things. You might have enjoyed this routine because it felt normal and safe. But, as they say, 'life happens outside your comfort zone.' As part of your quest to rediscover yourself, it's a good idea to challenge yourself a bit. You don't have to do anything you'd consider insane (unless you really want to) but venturing outside your standard circle will help to expand your horizons. Furthermore, personal discomfort helps you learn more about yourself and your values. You might fall in love with a new hobby. Or you might determine that skydiving is not for you. In either case, you will have learned and grown from the experience."
4. Let Go of the All or Nothing Approach
Laura Aiello, The Divorce Strategist, is a divorce and wellness coach who helps her clients gain clarity in their divorce process so they can move forward on strong footing. She authored a thoughtful piece about self-care during divorce, and this tip really resonated: "Let go of the all or nothing approach. 'If I can't get an hour massage once a week then I won't do anything.' Time, money, schedules – these will all factor in to what/how you make time for you. Small things count, sometimes even more than big grand gestures. It's the doing it that matters."
5. Still Stuck?
Try One of These 101 Ideas
If you're still not sure how or where to start with self-care, I recommend checking out this list of 101 self-care ideas pulled together by Annie Wright. Within, you'll find suggestions of all sorts, from giving yourself permission to have a good, long, body-shaking cry to hanging twinkle lights in your bedroom (when don't twinkle lights help lift spirits?), to writing out your own list of 25 reasons why you'll be OK. You've got this. Just make sure you're taking good care of yourself in the process.
About the author
Erin Levine is a Certified Family Law Specialist and the owner and managing attorney of Levine Family Law Group, based in Oakland, CA. She is the founder and CEO of Hello Divorce, a platform that helps users divorce on their terms, offering curated articles and resources, DIY videos, instructional form templates, flat-fee legal services and mediation. Learn more or register for a free Hello Divorce starter membership at www.HelloDivorce.com. For advice, inspiration and tips to help you navigate your divorce, follow Erin on Twitter, Facebook, Instagram and Pinterest.

//= get_template_directory_uri() ?> //= get_template_directory_uri() ?> //= get_template_directory_uri() ?> //= get_template_directory_uri() ?> //= get_template_directory_uri() ?> //= get_template_directory_uri() ?>
©2011-2023 Worthy, Inc. All rights reserved.
Worthy, Inc. operates from 25 West 45th St., 2nd Floor, New York, NY 10036