Apple Cider Donuts and a Lesson from My Divorce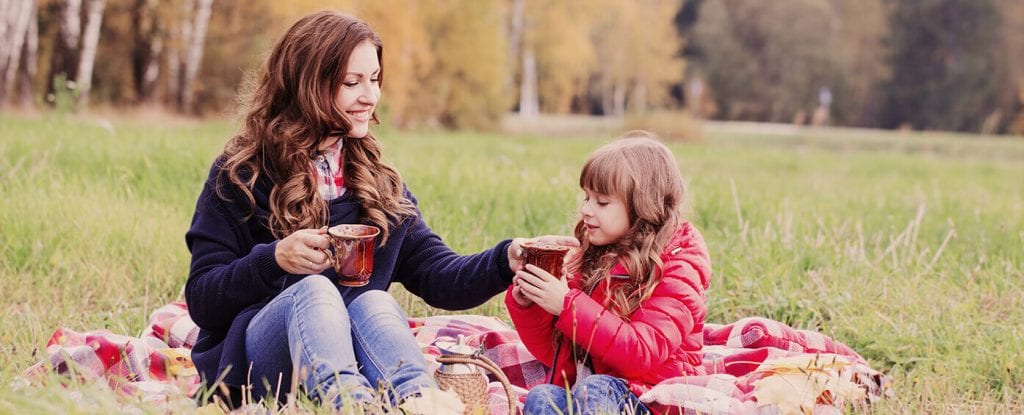 It was going to be the perfect New England fall day. We drove down winding roads, past hundred-year-old cemeteries, tiny bookshops, and churches with white steeples rising above trees whose leaves had turned bright reds and oranges.
And my kid wouldn't talk to me. In fact, once we got to the orchard he refused to get out of the car.
The scenic route hadn't interested him much, and he hadn't wanted to read the books I keep in a basket in the backseat. Nope, he'd wanted to play Minecraft. And I'd said 'no.' Cue accusations that I didn't love him, followed by loud 'harrumphs!' and crossed arms, and then the silent treatment. When we pulled into the farm's large parking field he unbuckled his seatbelt and climbed into the trunk where he spent five minutes refusing to get out.
READ ALSO: My Post-Divorce Dating Advice (Spoiler: It's Not About Him)
Even after I'd wrangled him out of the car using every Mommy trick I knew the day still wasn't going as planned. I've been dating a new guy. I'm almost forty and yet when I'm with him I feel like a giddy sixteen-year-old. He'd hung out with us twice before, once for dinner at Friendly's and then another time playing Legos in the living room, but today the plan had been to spend a more concentrated amount of time together. The plan had not been for him to be stuck at his place, sick on the bathroom floor.
As I urged C through the field and towards the hay bale mountain I fought the urge to sit down in the grass and burst into tears. Was it too much to ask for one perfect day?
Even though divorced moms have to learn a lot about releasing our ideas of how things are going to turn out and not overcompensating, it's hard not to cling to some dreams. And I find that those lost hopes are even more poignant around the holidays. No more family costumes, and I only have him every other Halloween. Thanksgiving is rotated, too. Since my family lives far away when he's with me it can be a small affair. Christmas is split between Christmas Eve and Christmas Day, a schedule that I agreed to without realizing that it made travel to see my family practically impossible.
Not only have our holiday dreams vanished, often along with the house, the family of in-laws, and the ring, there are constant reminders of our split state. Between October to December I, like many divorced women, am forced to see my ex more than any other time of year. And it hurts.
Let's be honest, even if we had good reasons for our split, even if we initiated it, even if he was verbally and financially abusive, at one point in time he was someone we loved. And receiving a snarled, "Whatever, Dena," when wishing him Merry Christmas can sour the holiday, if I let it.
One of the hardest things I've had to learn, post-divorce, is how not to let him under my skin. To not give him the power to upset me, to make me angry, or to react to his actions by feeling bad about myself. And it was exactly that peace and centering I channeled when towing a recalcitrant six-year-old behind me towards the apple cider donut stand.
"We're meeting one of Mommy's friends," I told him, "and we're not going to be rude and bail on her." I've just moved back to Massachusetts, where I spent my early twenties, and had made plans to connect with an old friend.
Instead of spending the whole day wracked with disappointment that it hadn't turned out perfectly, I rolled with it.
The donuts thawed him out and before too long he'd climbed to the top of hay mountain and yelled down at me to take a picture. I sat with my friend and caught up, stripping off layers in the unseasonably warm eight-degrees weather. She took a photo of C and I later that day and even though it didn't include the new boyfriend it was still perfect.
I've grown a lot since my divorce. So much so that I barely recognize the woman that I was with my ex-husband. Instead of spending the whole day wracked with disappointment that it hadn't turned out perfectly, I rolled with it. The anxiety that used to dodge my steps when I was with a man who constantly criticized me wasn't there. I could even laugh at the spectacle we must have made – my kid climbing into the trunk while I tried to talk him out of there, stopping just short of threatening to spend his college savings on a shopping spree in New York.
If you've gone through a divorce you've learned that life isn't perfect. You've also learned that a lot of sadness, fear, and anger can hide behind the happy faces in the holiday cards. But you've also probably learned that even if it's just the two of us in the family photos, even if you only get a night of Christmas before handing him off in the McDonald's parking lot the next day, life can still be as sweet as a crisp fall apple freshly picked from the tree. And it's that sweetness that us divorced moms should focus on during the upcoming months.
//= get_template_directory_uri() ?> //= get_template_directory_uri() ?> //= get_template_directory_uri() ?> //= get_template_directory_uri() ?> //= get_template_directory_uri() ?> //= get_template_directory_uri() ?>
©2011-2023 Worthy, Inc. All rights reserved.
Worthy, Inc. operates from 25 West 45th St., 2nd Floor, New York, NY 10036