Five Ways to Make Your Divorce a Mitzvah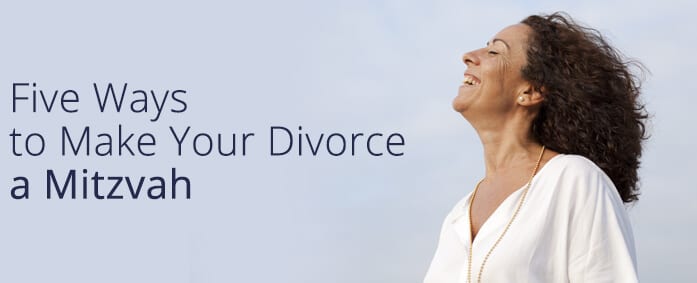 It may be hard to believe, but according to "Rashi," the revered biblical scholar and rabbi from the Middle Ages, "Divorce is a mitzvah." Here are five pieces of advice to help you make your divorce a blessing:
1. Look to Jewish Tradition
Jewish tradition can be an inspiration on how to trasition through divorce and build a new life. Divorce Is a Mitzvah: A Practical Guide to Finding Wholeness and Holiness When Your Marriage Dies, the award-winning book written by Rabbi Perry Netter, draws on wisdom from centuries of biblical and rabbinic teachings, as well as from modern psychological research.
2. Rid Yourself of Negativity
As you split up joint property, consider whether a possession brings you joy. If not, sell it or let your spouse have it. Divorced women often sell their engagement rings and other jewelry that no longer bring them joy to fund something that does, such as a relaxing vacation or tuition money to earn a degree. The Israeli/U.S. company Worthy.com offers a convenient way to determine the true value of your jewelry and convert your gemstone into the cash it and you deserve.
3. Take Care of Yourself & You'll be Better Able to Care for Your Children
Many people navigating the often-painful terrain of divorce are filled with sadness, anger, and confusion. Meeting with a social worker, therapist, or rabbi is a productive way to process these normal emotions. Regular exercise is a great stress reliever, too. All you need is 7 minutes a day, a chair, and a wall for The Scientific 7-Minute Workout.
4. Build New Communities
A difficult consequence of divorce can be the loss of friends and family of your spouse as well as of couples with whom you socialized as a couple. Instead of lamenting passing relationships, actively seek out new ones. Join a singles group at your temple, Jewish Community Center, or in your town. Volunteer for non-profits addressing issues you care about, such as homelessness or cancer research, to work with people who share your values. Or pursue a new hobby and enroll in classes or a club. The options are endless—tennis, photography, ethnic cooking,…
5. When In Doubt, Be a Mensch
Take the high road, even if your spouse doesn't. You'll never look back and wish you had acted differently. Let "no regrets" be your new mantra.
//= get_template_directory_uri() ?> //= get_template_directory_uri() ?> //= get_template_directory_uri() ?> //= get_template_directory_uri() ?> //= get_template_directory_uri() ?> //= get_template_directory_uri() ?>
©2011-2023 Worthy, Inc. All rights reserved.
Worthy, Inc. operates from 25 West 45th St., 2nd Floor, New York, NY 10036